2023 Audi
Q8 e-tron

: Increased Performance and Longer Range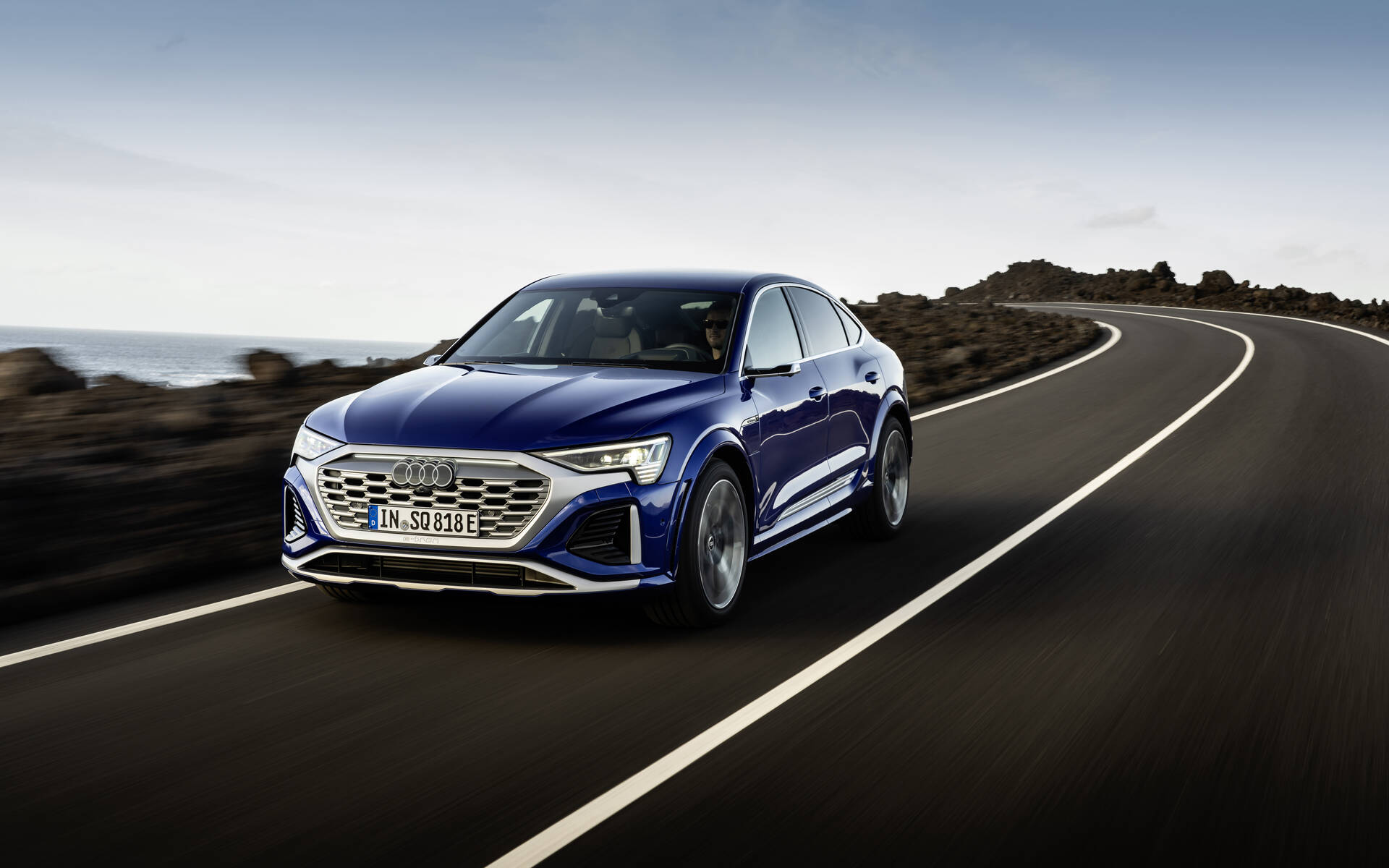 Strong points

Longer range
Enhanced driving dynamics
Top-notch build quality
Three-motor SQ8 e-tron

Weak points

Expensive
Heavy
Costly options
Full report
Audi introduced the e-tron quattro back in 2018. It later added a coupe-like Sportback body style and a three-motor S variant. As a result, the e-tron quattro has become the best-selling electric crossover in Europe, while global sales now exceed 150,000 units.
For the 2023 model year, a mid-cycle refresh is in order. And along with it comes a name change. Say hello to the all-new Q8 e-tron.
In Canada, the vehicle will once again be available in classic and Sportback body styles, as well as two different models—the base Q8 e-tron and the sportier SQ8 e-tron.
Longer Range
In both cases, the electric motors are fed by a larger 114kWh high-voltage battery (106kWh net capacity) with 20 percent improved energy density. Range has been improved by as much as 32 percent in the process.
Based on the WLTP test cycle used in Europe, the Q8 55 e-tron is able to travel up to 582 km, while the Q8 55 e-tron Sportback tops 600 km. With the SQ8 e-tron, range estimates are 494 km and 513 km, respectively.
The U.S. Environmental Protection Agency (EPA) has yet to announce its own ratings, which typically are 11 percent lower and therefore closer to real-world range. If we do the math, that would put the Q8 55 e-tron at 518-534 km and the SQ8 55 e-tron at 440-457 km. Natural Resources Canada will validate these numbers sometime in 2023.
The vehicle charges faster, too. DC fast charging is now possible at up to 170 kW, so getting the battery from 10-80 percent charge can be done in 31 minutes. When plugged into a Level 2 charger supplying 11 kW, a full charge takes 11.5 hours. Another one that supplies 22 kW will cut that time to six hours. 
Enhanced Driving Dynamics
The performance-oriented SQ8 e-tron features three electric motors. The first one drives the front axle, while the other two drive the rear wheels separately, thus enabling rear torque vectoring.
The SQ8 e-tron showed great confidence and agility on mountain roads thanks to precise steering with a quicker ratio than the previous model. Audi engineers have also revised the suspension to mitigate nosedive when braking and body roll when cornering.
From a dynamic standpoint, the SQ8 e-tron makes a pretty convincing statement. The combined 496 horsepower and 717 lb-ft. of peak torque offset its heavy weight. Consider this: 0-100 km/h sprints are achieved in just 4.5 seconds.
The dual-motor Q8 55 e-tron, meanwhile, delivers 402 horsepower and 489 lb-ft. of torque, accelerating to triple-digit speeds in 5.6 seconds. The asynchronous motor driving the rear wheels has been enhanced. It now has 14 electromagnetic coils instead of 12, resulting in a stronger magnetic field for increased torque. Energy consumption, surprisingly, is said to be unchanged. Regardless of the model, ride quality and noise insulation are quite impressive.
Cleaner Looks
A point of emphasis for Audi in the development of the new Q8 e-tron and SQ8 e-tron was maximizing aerodynamics—right down to the smallest details like the logos on the front grille and rear hatch, which now have a flat, 2D design. And for the first time, the brand and model name appear on the B-pillars.
Similar to other products from Audi, the interior of the Q8 e-tron models features a fully digital instrument cluster along with 10.1- and 8.6-inch displays on the centre stack for infotainment, HVAC and other vehicle functions. Material selection, fit and finish are top-notch.
Standard content includes a panoramic roof with power blinds and heated/cooled seats. Massaging seats are optional. Real-wood and aluminum inserts add a touch of elegance, while the sporty S Line packages get carbon fibre.
Pricing and availability
The 2023 Audi Q8 55 e-tron will go on sale in Canada in the second quarter of 2023, followed by the SQ8 e-tron at a later date. Pricing details will be shared closer to launch. We don't expect the base MSRPs to increase that much. Right now, they stand at $86,900 and $109,300, respectively.
So there you have it. Audi has finally addressed the biggest shortcoming of the old e-tron quattro by improving range while also enhancing driving dynamics.  
Share on Facebook