2023 Honda CR-V Hybrid: Saving Gas Apparently Doesn't Come Cheap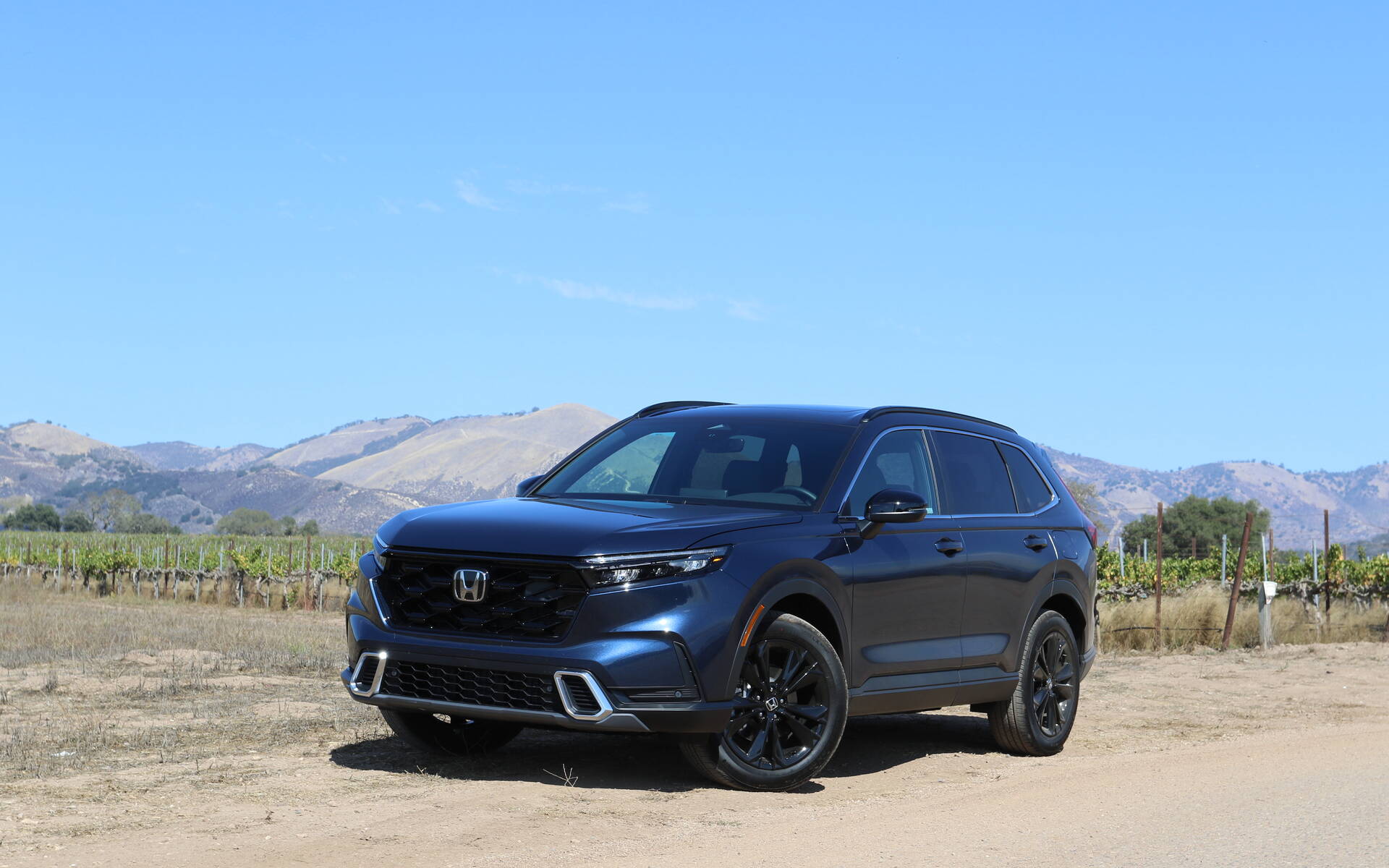 Strong points

Increased torque
Much quieter interior
Good handling
Spacious and comfortable interior

Weak points

High price
Hybrid tech available in top trim only
No plug-in hybrid variant
Full report
Santa Barbara, California – Following our first experience with the completely redesigned 2023 Honda CR-V in Ontario, we flew to California to test drive the all-new hybrid variant.
Remember, the outgoing generation also came with an electrified option, but only in the U.S. We finally have one now in Canada, though in a single trim level only (Touring) whereas customers south of the border can choose from two (Sport and Sport Touring).
Unlike competitors from Toyota and Ford, the Honda CR-V Hybrid is definitely not cheap with a base price of $50,995 including freight and PDI. You can lease one at $875 a month for 48 months or get 60-month financing at a whopping $1,144 a month. Either way, it's a heck of a lot of money for a non-luxury compact SUV, even in top-line trim.
Honda Canada's decision to charge big bucks for the gas-electric CR-V is really questionable. We've been told, however, that more affordable models are likely to be added to the lineup in the future. Now, how many units will be available to Canadians? And which provinces will get the most? We don't have the answers yet. One thing's for sure: demand will be greater than supply, hence the high price.  
Spacious and Silent
Inside the 2023 Honda CR-V Hybrid, occupants will find a generous amount of space front and rear. We spent a full day behind the wheel and didn't feel any soreness anywhere. The fact that the rear doors open almost 90 degrees really makes access easy, while the rear seats can be folded flat for maximum cargo capacity or reclined more than 10 degrees for maximum relaxation. Honda also simplified the latch system for child seats, but we didn't get the opportunity to check it out during the event.
Despite the battery taking up some cargo space, the CR-V Hybrid's trunk remains quite capacious. With 1,028 litres or 2,138 litres depending on the position of the rear seats, families have ample room for their gear.
In front of the driver is a new instrument cluster that's very similar to that of the latest Civic. You can say the same about the overall layout, in fact, including the horizontal mesh insert that conceals the air vents. Meanwhile, Honda's much-maligned infotainment system has been significantly improved with a more intuitive display and physical buttons on the left side.
Efforts were made to reduce noise inside the cabin, and it shows. Granted, the old CR-V was particularly loud under hard acceleration. Soundproofing is way better here, even when compared with gas-powered 2023 CR-V models. Unless you put the pedal to the metal, you'll hardly hear the combustion engine when driving.
Speaking of which, an Atkinson-cycle 2.0-litre four-cylinder combines with two electric motors for a total of 204 horsepower and 247 pound-feet of torque. Output is fairly on par with the turbocharged 1.5-litre engine (190 horsepower), but torque is much more generous (turbo: 179 lb-ft). The difference is immediately felt when you accelerate—the CR-V Hybrid is quicker off the line and also quieter. While not neck-snapping, performance is perfectly suited for everyday use.
Our day was spent a bit around town but mostly on highways and twisty mountain roads, and at the end of it the CR-V Hybrid posted an average fuel consumption of 7.2 L/100 km, making it less efficient than a Toyota RAV4 Hybrid. To be fair, we had a number of hills to climb. In optimum driving conditions, we managed to bring that figure down to 6.4 L/100 km, which is pretty decent for a vehicle of this size.
Sharp and Safe
During the presentation in California, Honda made surprisingly abundant use of the words "fun" and "fun to drive" to describe their family-oriented compact SUV. Part of the test drive involved snaking our way through the vineyards on the beautifully paved roads north of Santa Barbara. And you know what? The CR-V Hybrid took it all in stride, displaying sharp steering and good handling the whole time. It also felt safe and reassuring, especially with powerful and responsive brakes.
Exciting? We wouldn't go that far.
Testing a conventionally powered CR-V and the hybrid variant back-to-back revealed how the extra weight of the latter affects cornering performance. The suspension is a bit softer, too, resulting in more body roll. On freeways and in straight lines, however, the two models handle similarly.  
The CR-V Hybrid proves quieter under acceleration and has more low-end gusto, making for a more pleasant driving experience overall. It's a shame it comes exclusively as a fully loaded, top-dollar offering.
Watch: 2023 Honda CR-V Makes Official Debut
Share on Facebook