2021 BMW 330e xDrive: Do the (Right) Math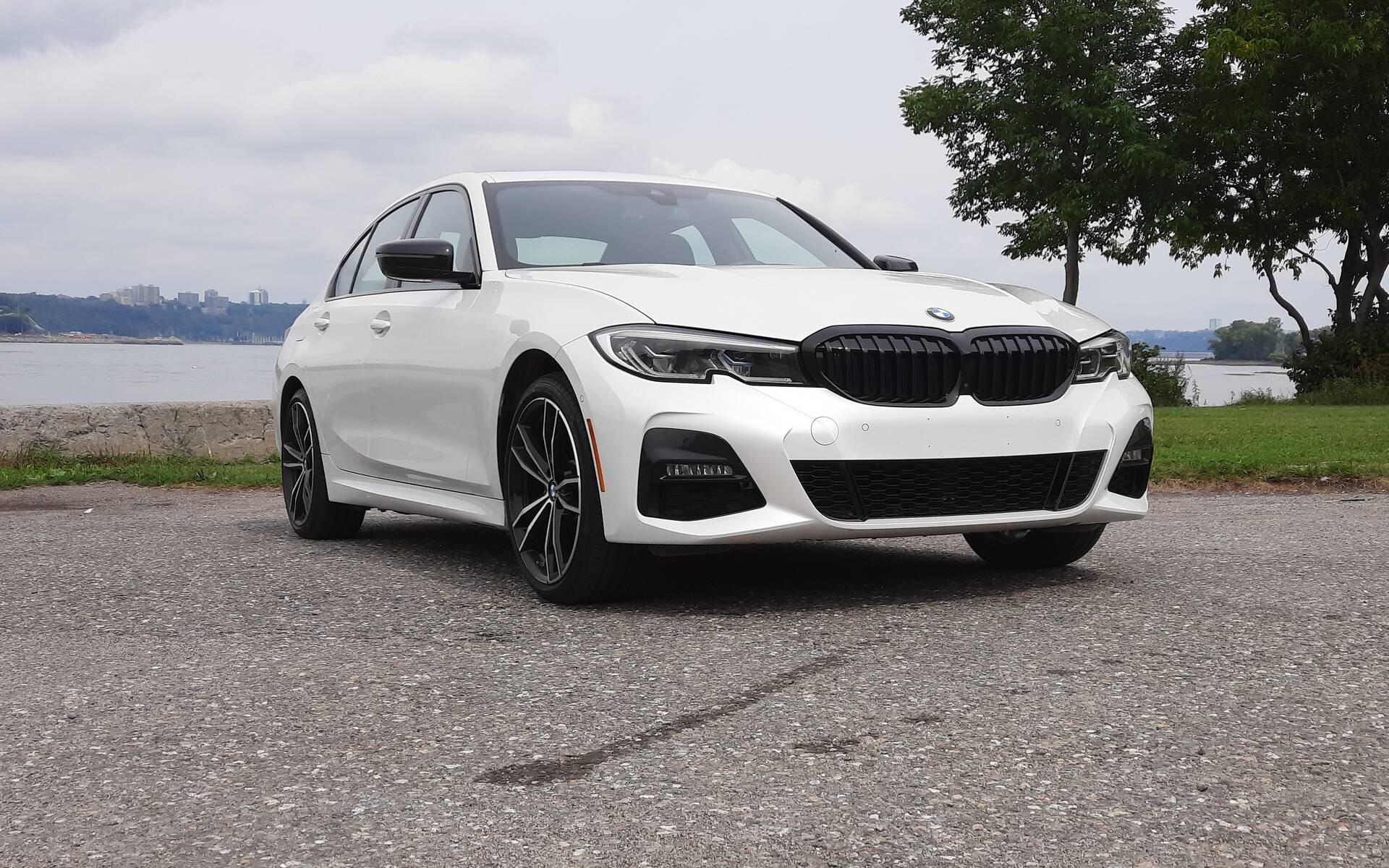 Strong points

Excellent handling
Modern interior with good space for four
Competitive price with EV incentives

Weak points

Decent but not great EV range
Reduced trunk space
330e not as interesting as i4
Full report
While plug-in hybrid SUVs are starting to grow in number, selection is more limited when it comes to cars. In the compact luxury sedan segment, the BMW 3 Series and Volvo S60 are the only ones to offer this technology right now (Mercedes-Benz has opted not to bring its plug-in C-Class to Canada).
Is the BMW 330e a good choice? Of course it always depends on your needs, and you have to do some math before coming to a decision. Plus, there's another BMW model you should consider. More on that later.
FWD or AWD
Assuming you don't want an SUV and you like driving, the German PHEV sedan is certainly an interesting vehicle. In fact, it's an excellent sporty car for the daily life.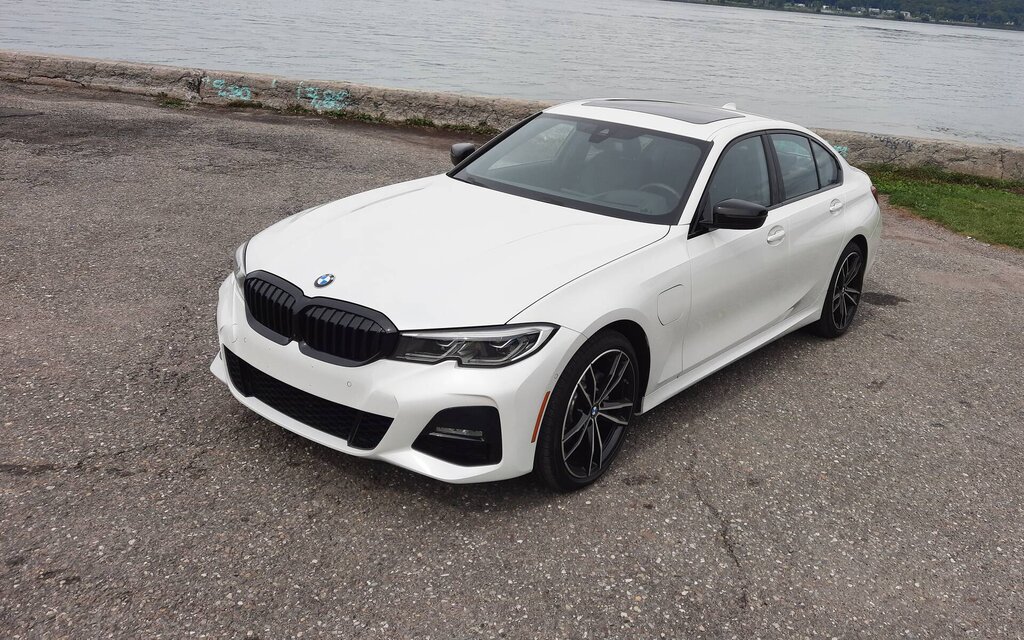 A 2.0-litre BMW TwinPower Turbo engine combines with an electric traction motor to generate as much as 288 horsepower and 310 pound-feet of torque with XtraBoost. What is that? The XtraBoost function is available in Sport mode and offers an immediate 40 horsepower increase for up to 10 seconds. Acceleration from 0-100 km/h takes six seconds, same as the gas-only 330i xDrive which is rated at 255 horsepower and 295 pound-feet of torque. The extra weight of the hybrid components is to blame.
The 12-kWh lithium-ion battery (10.4 kWh usable) is located under the rear seats but somehow reduces cargo capacity from 480 to 369 litres. That's a significant loss. In Electric mode, it allows driving up to a speed of 140 km/h, which is awesome, and provides an official range of 37 kilometres with RWD (330e) or 32 kilometres with AWD (330e xDrive).
Naturally, you can travel a bit farther than that in perfect conditions—about half the distance in winter. You obviously need to develop a habit of plugging the car in after each trip to maximize efficiency and savings.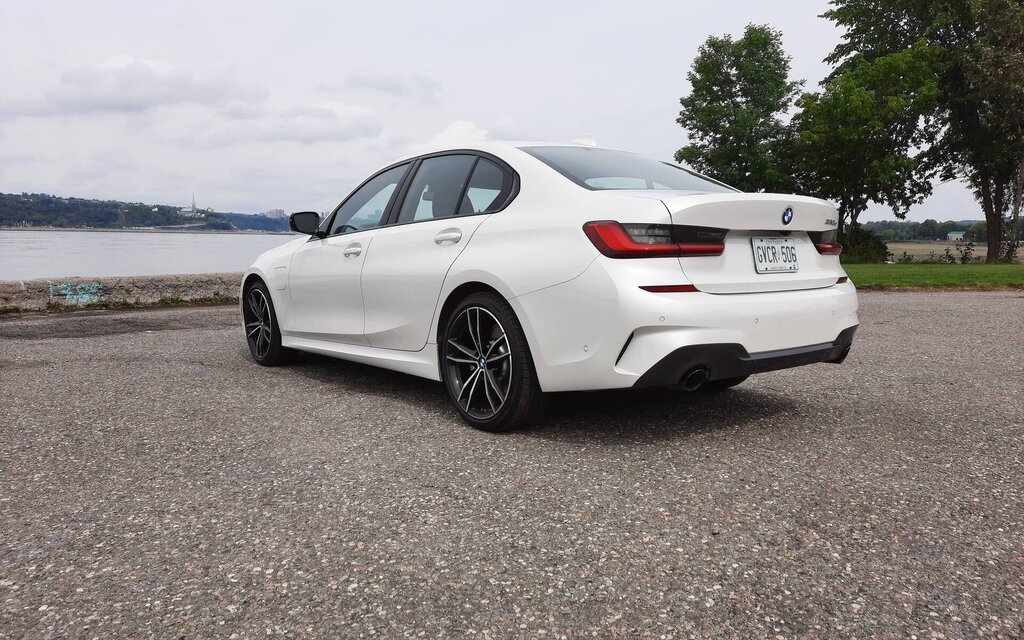 Pleasant Handler
On the road, the 2021 BMW 330e xDrive handles with poise and authority. The super-quiet interior makes it easier to appreciate the silent, effortless sprints on pure battery power. The smooth combustion engine and Pirelli Cinturato P7 tires with low rolling resistance also limit the noise. The ride is firmer than most compact luxury cars, but it's never a problem except on the worst stretches of pavement (an adaptive suspension is available).
The xDrive system continues to shine with seamless torque distribution. It's a rear-biased setup that sends more drive power to the rear wheels under normal driving to increase agility. Blessed with sharp and responsive steering on top of that, the car attacks corners with precision.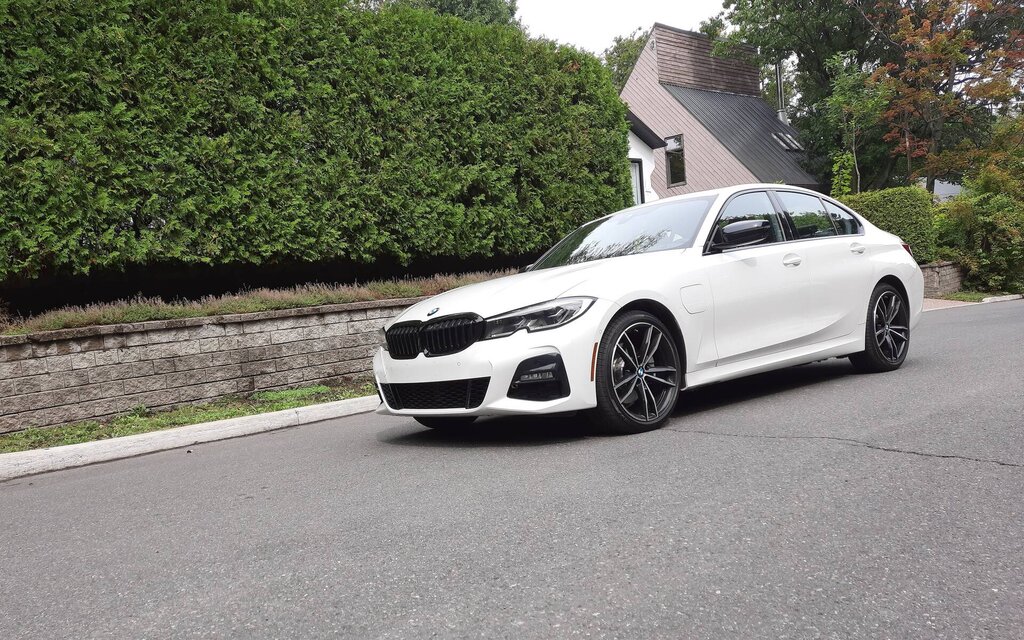 There are many advanced safety and driver assist systems at work here, although some of them are part of expensive packages. Interestingly, BMW says the Active Cruise Control system with Stop & Go function operates from 0-210 km/h and the maximum length of time that can pass before the car starts off again automatically has been extended to 30 seconds.
As for comfort, finding an ergonomic driving position is easy. The seats do a good job of supporting your body—that is if you're an average-sized adult—and while they seem firm initially (including the side bolsters), we felt no soreness after a two-hour trip. The two rear outboard seats offer more space and comfort than you imagine, although young children might find the seat cushions too long. Having a fifth passenger is not recommended due to the massive transmission tunnel.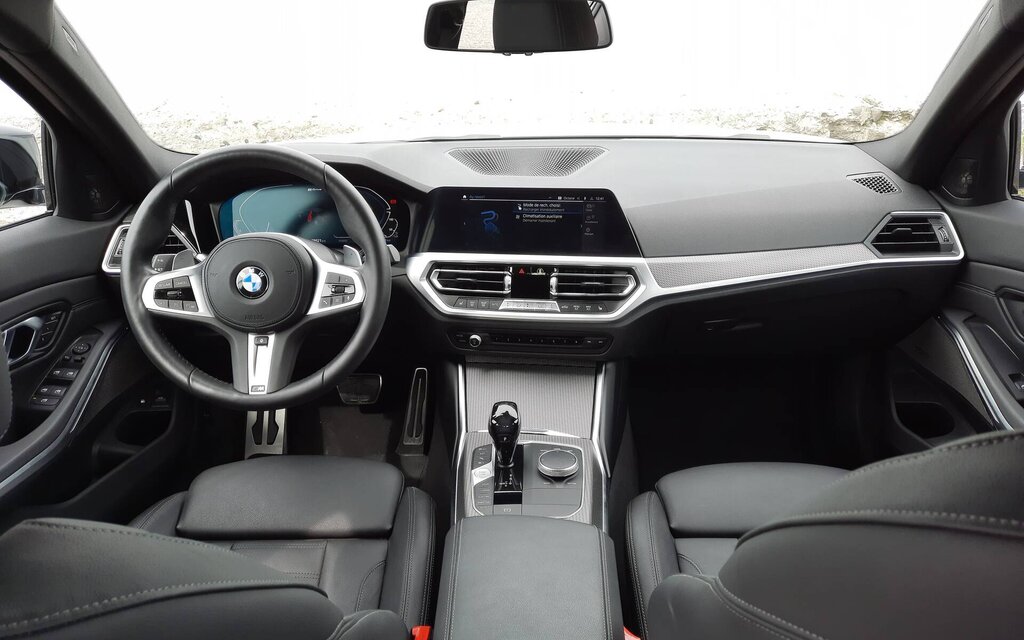 Remember That Name: i4
BMW Canada has wisely set the base MSRP of the 2021 BMW 330e at $44,950 in order to qualify for all EV incentives including $2,500 from the federal government and up to $4,000 from select provinces (Quebec has the most generous program). That means it can cost as little as $38,450 before taxes and other fees.
The AWD-equipped 330e xDrive is priced at $54,000 but gets the same rebates. For the record, the gas-powered 330i xDrive retails from $49,350. It's also more fuel-efficient (8.3 L/100 km combined) than the PHEV variant with a depleted battery (9.4 L/100 km).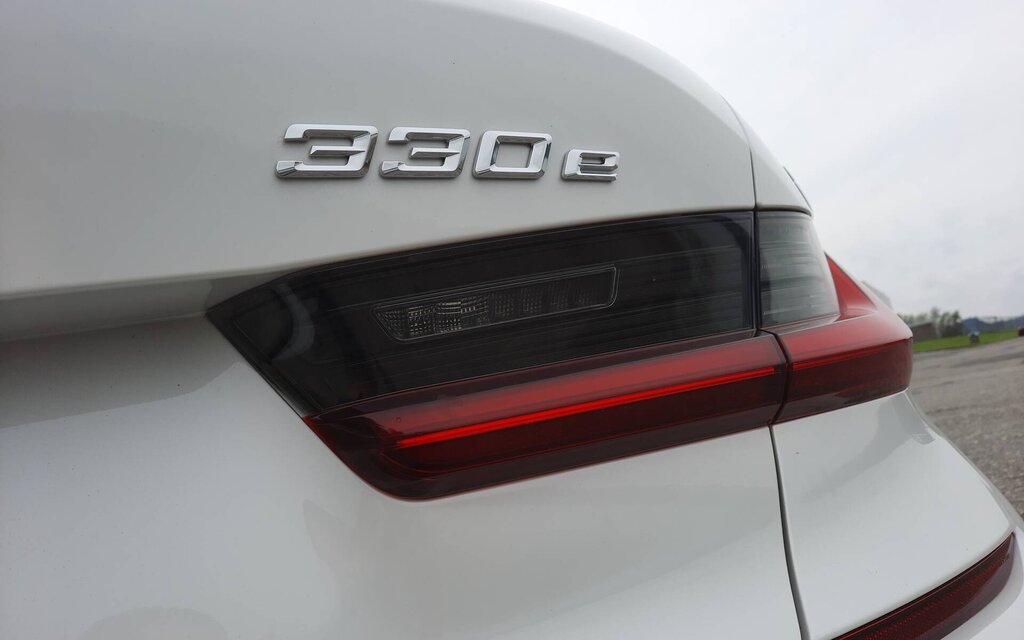 Volvo's S60 Recharge has 35 kilometres of EV range, standard AWD and a base price of $68,200. No government incentives apply and the drive is not as inspiring, so you may want to forget about it.
If you're a fan of the Bavarian automaker and really dig electric propulsion, then you should seriously consider the all-new, zero-emission 2022 BMW i4. Aside from the gigantic grille up front (which is closed), this car looks a lot like the 3 Series and especially the new 4 Series Gran Coupe. While the base eDrive40 model comes with a single motor and RWD, it delivers 335 horsepower and an estimated 475 kilometres of range. The iDrive 8 infotainment system is more advanced, too. Even better, it starts at just $54,990—minus $8,000 if you live in Quebec.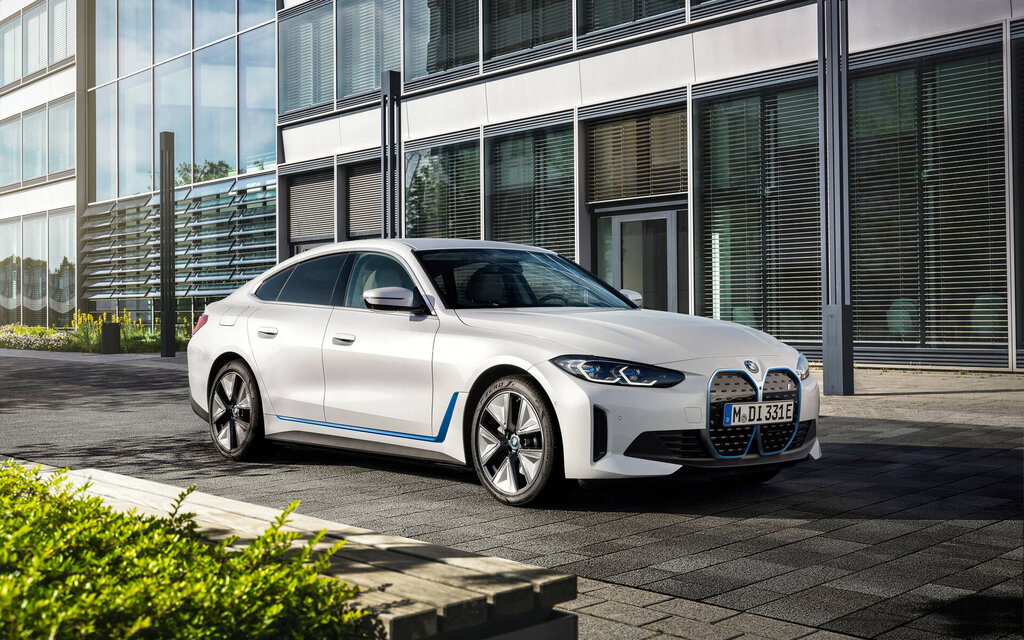 BMW Canada has begun accepting pre-orders for the i4 and the first deliveries are scheduled for the first half of 2022. Sure, availability could be a problem, forcing some customers to wait a long time, but it's definitely a compelling option.
Share on Facebook