2021 BMW X5 xDrive45e: Longer Range, But Not Necessarily the Best Choice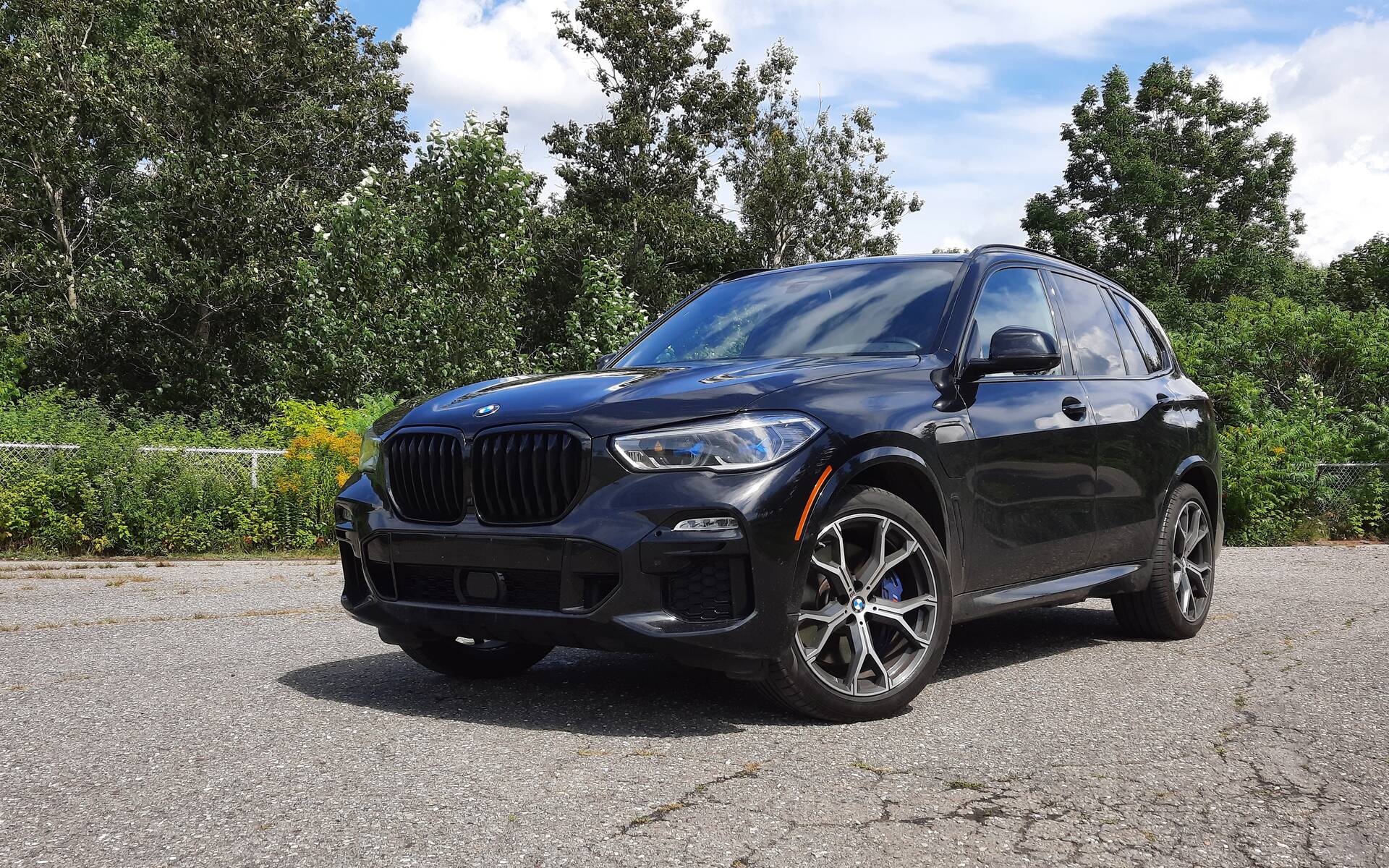 Strong points

A nimble midsize SUV
Sharp looks
Compelling EV range

Weak points

Less powerful than direct competitors
Braking lacks consistency
Beware of pricey options
Full report
While plug-in hybrid SUVs from mainstream companies are beginning to take the industry by storm, luxury brands are generally more focused on pure electric models. BMW is one of those that continue to combine gasoline with some form of zero-emission driving.
Both the compact X3 and the midsize X5 are available as PHEVs. The latter added the xDrive45e model for 2021, marking the first time the current-generation X5 (introduced for 2019) is sold as a proper hybrid. Technology has been significantly upgraded from the previous generation (xDrive40e), as we found out during a weeklong test drive.
Increased Power and Range
With two extra cylinders now, the PHEV variant of the BMW X5 is a lot more convincing than its four-cylinder predecessor. Combined with the rear electric motor, total system output is 389 horsepower and 443 pound-feet of torque. This results in 0-100 km/h acceleration in 6.6 seconds and a maximum towing capacity of 2,700 kilograms (5,952 pounds).
The high-voltage battery has doubled in size to 24 kWh, though the actual usable capacity is 17.1 kWh. Still, that's enough to cover 50 kilometres in pure EV mode according to Natural Resources Canada. Electric-only top speed has also increased from 120 to 135 km/h.
Since the battery is positioned in the underbody of the X5, the impact on cargo space is minimized. The trunk can fit 937 litres, and if the rear seats are folded down you get 2,016 litres. By the way, the X5 xDrive45e is available in five-passenger configuration only. Access to cargo is via a two-piece tailgate, with the small lower section flipping down when you need it.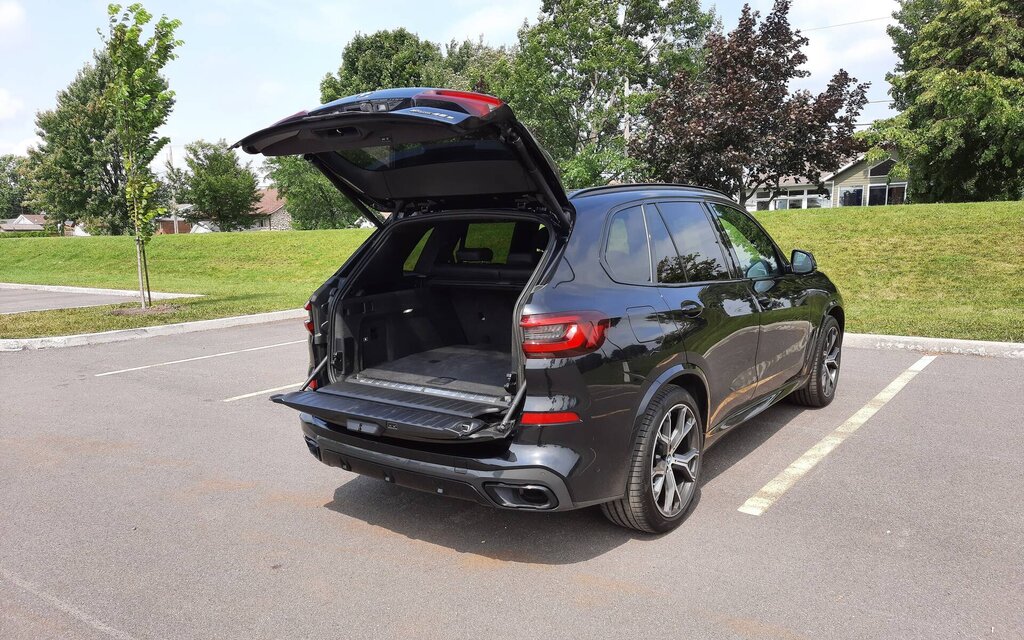 How Does It Fare in Daily Driving?
The 2021 BMW X5 xDrive45e offers five different drive modes which you can select through buttons on the centre console: Hybrid (default mode upon startup), Electric, Sport, Adaptive and Battery Control (which preserves battery charge for a later use in more appropriate conditions).
Performance and efficiency can vary significantly depending on your selection, driving style, traffic and charging habits. Officially, this plug-in hybrid SUV is rated at 4.7 Le/100 km combined, but needs 11.5 L/100 km when the battery is empty. As you'd expect, premium gasoline is required.
A full charge takes about seven hours using a 240V charger (highly recommended) or more than 20 hours via a standard 120V power outlet (a five-metre cable is included and extensions are not allowed). DC fast charging is not possible with this PHEV.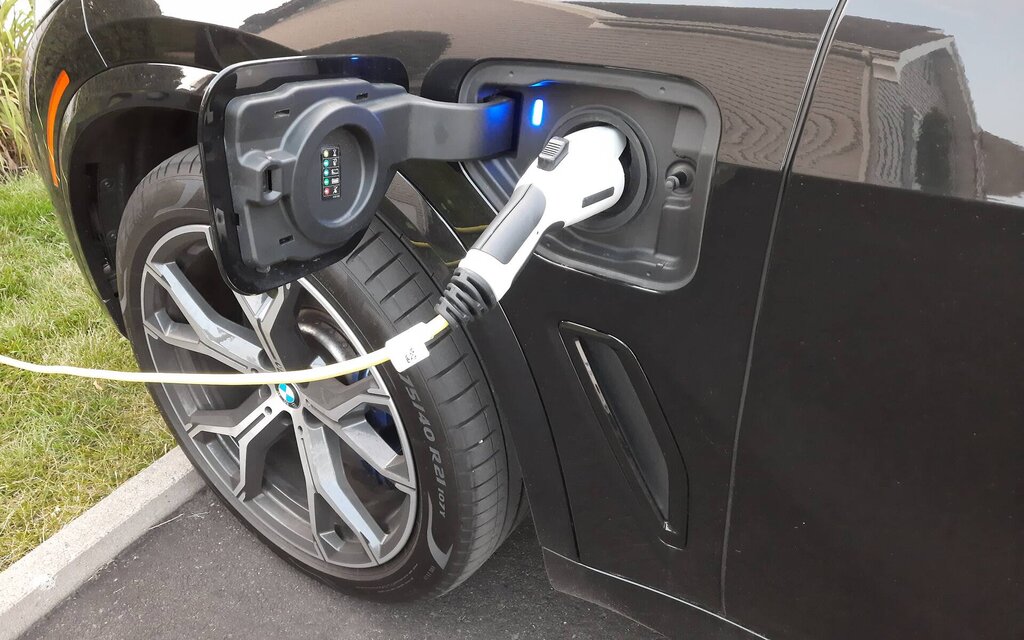 On the road, the 2021 BMW X5 xDrive45e is blessed with a five-position adaptive air suspension and transparent all-wheel drive system. The interior remains quiet at all times, the seats are very comfortable (especially the optional Comfort Seats that are part of the Premium Enhanced Package), space is generous and visibility is excellent.
Acceleration in Electric mode is smooth but not explosive in any way. You can push the throttle pedal through the kick-down position to awaken the combustion engine and get more satisfying results—including better sound effects since the e-motor sounds like a police siren at a distance. In our opinion, the best thing to do is to leave the vehicle in Adaptive mode, which optimizes EV operation while reacting more obediently to the driver's inputs.
We found that steering lacked feedback, braking felt inconsistent throughout the week and the low-profile Pirelli P Zero performance tires part of the tester's M Sport Package clearly favoured on-road traction over low rolling resistance and off-road capability. 
What Are the Competitors?
Priced from $83,500, the 2021 BMW X5 xDrive45e is quite expensive. And with all the available options and packages, it can get crazy ($100,400 in our case, but that's not the end of it). While not eligible to any rebates from the federal and provincial governments, this model arrives with a SULEV rating (Super Ultra-Low Emissions Vehicle) which can bring additional benefits in provinces offering special consideration to drivers of electric vehicles.
In the same segment, you'll find the Volvo XC90 Recharge ($77,600) and Lincoln Aviator Grand Touring ($81,500) with a roughly similar price tag, while the Porsche Cayenne E-Hybrid ($95,500) and Land Rover Range Rover Sport P400e ($100,300) cost a lot more money. You should know that all of them are more powerful than the BMW, though the latter provides greater EV range than all except the Landie (51 km). Alternatively, you'll need to turn to smaller and lesser SUVs, although the new 2022 Lexus NX 450h+ does look very promising.
So, is this greener X5 worth it? As is the case with all PHEVs, you must keep it plugged in every time you're not using it in order to maximize EV range. Otherwise, it's better to just go with the base xDrive40i model, which is $6,000 cheaper, has a healthy 335 horsepower and burns 10.4 L/100 km on average.
On the other hand, if you're willing to spend just $6,500 more, you could order the brand new and fully electric 2022 BMW iX, which delivers up to 516 horsepower, 0-100 km/h acceleration in 4.6 seconds and an estimated range of 475 kilometres. Think about it.
Share on Facebook