2022 Hyundai
Santa Cruz

: Play First, Work Later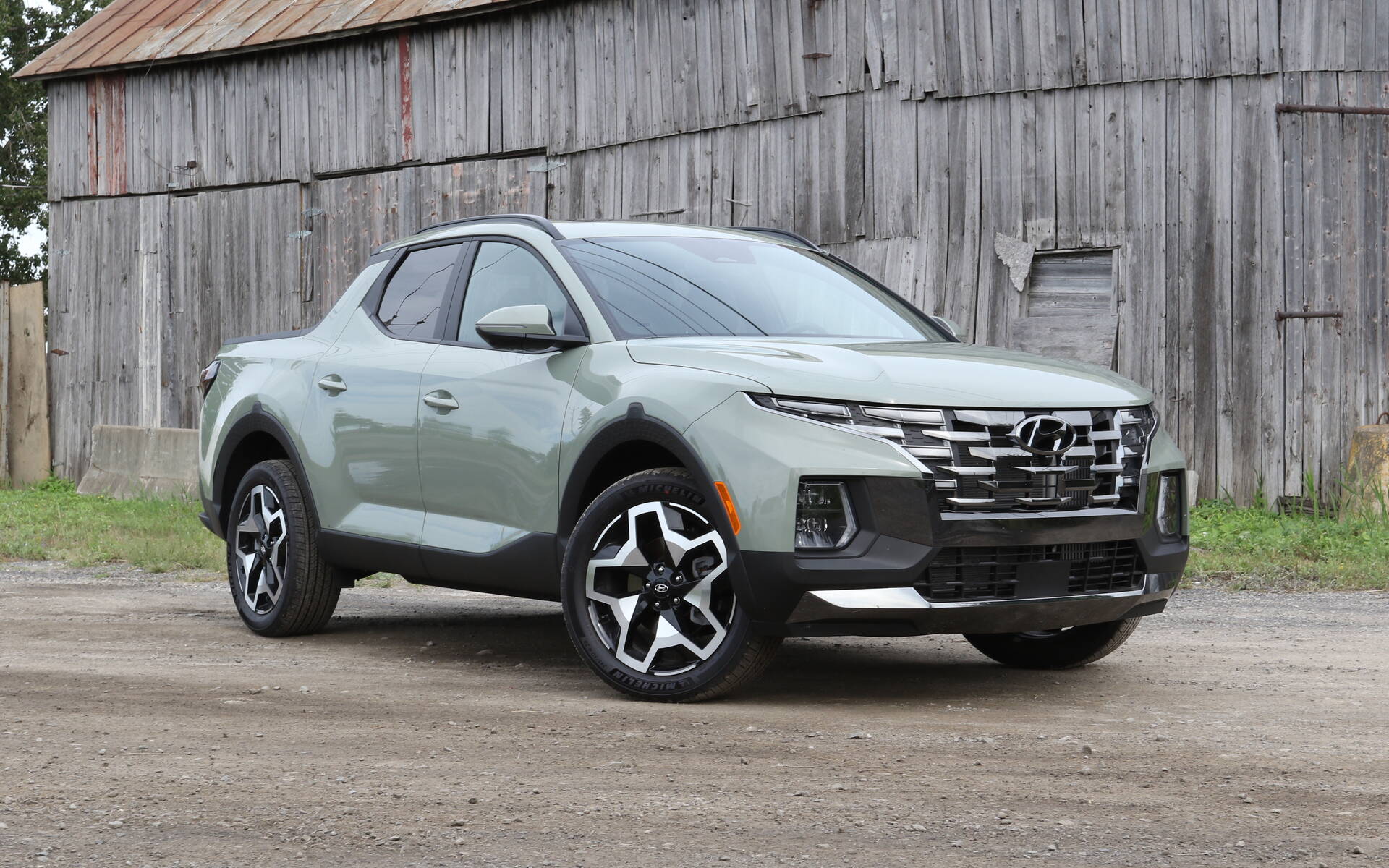 Strong points

Spacious and practical cabin
Potent engine
Smooth ride

Weak points

Unpleasant dual-clutch transmission
Slow throttle response
Not really designed for work
Full report
We tend to forget that pickups are primarily designed for work. There was a time when refinement, driving dynamics and luxurious content were not really a concern for manufacturers. They simply wanted to build tough, capable vehicles that could withstand a lot of abuse.
Now, things have changed. Many people drive a pickup on a daily basis even though they don't actually need one. Hyundai is going a step further with the all-new Santa Cruz. Unlike the Chevrolet Colorado, GMC Canyon and Toyota Tacoma, the first-ever pickup from Korea is not made for work. In fact, the company doesn't even call it a pickup.
The Hyundai Santa Cruz is billed as a "sport adventure vehicle" aimed at outdoor enthusiasts who could use an open cargo bed to haul their gear—bikes, kayaks and camping equipment, not tools and plywood sheets. For these folks, a body-on-frame truck with a six-foot bed would just be overkill.
It Looks Like an SUV
The Santa Cruz's unibody construction is shared with other Hyundai/Kia models including the Tucson, Sorento and Santa Fe. This is nothing new, mind you. Just look at the Honda Ridgeline.
Practicality is big when it comes to these vehicles. Both the Santa Cruz and Ridgeline feature a waterproof and lockable storage compartment under the cargo bed, folding hard tonneau cover, access steps built into the rear bumper, 120V power outlet and LED bed lighting. They also have flip-up rear seats—a must for any modern pickup.  
Inside, a fairly well-appointed cabin awaits passengers. The dashboard is almost identical to the Tucson's and there is decent space for four (the front buckets are particularly comfortable). The infotainment system is intuitive to use, but the touch-sensitive HVAC controls below the screen force you to take your eyes off the road.
It Drives Like an SUV
The aforementioned Ridgeline shares its architecture with the Pilot midsize SUV and drives like one. Similarly, the Santa Cruz drives and feels like an SUV—the Tucson, in this case. There is standard AWD for confident all-weather performance, while the unibody design results in a smooth ride. Steering is precise but not as sharp as the Tucson's, and the softer suspension induces a bit more body roll in corners.
The Santa Cruz can be taken off the beaten path to some extent, like dirt or gravel roads. That's where we put it to the test and it fared pretty well. The ride is obviously louder, but handling remains satisfying and the tires have enough bite provided you don't ask too much of the truck.  
Motivation comes from the same turbocharged 2.5-litre four-cylinder engine you can find in the Kia Sorento or Hyundai Santa Fe. Producing 281 horsepower and 311 pound-feet of torque, it delivers lively acceleration both from a standstill and on the fly. We didn't do any towing, but you should know the Santa Cruz has a maximum capacity of 5,000 pounds.
Our biggest complaint about the powertrain is the eight-speed dual-clutch transmission, which feels oddly hesitant around town (like when attempting to quickly merge onto the highway) and struggles at times to properly engage first gear.
Making matters worse, throttle response is slow, compromising the daily driving experience. We definitely would have preferred a V6 engine and a conventional automatic transmission, a combo that would also prove more reliable in the long run. As for fuel economy, our tester averaged 12.2 L/100 km throughout the week. That number is not very competitive, and likely similar to what a V6 would achieve in the same conditions.
Caught Between the Maverick and Ridgeline
The 2022 Hyundai Santa Cruz carries a base MSRP of $38,499. Standard equipment will please most customers, but you need to select the Trend Package ($2,900) to get the slick 10.25-inch digital instrument cluster, powerful Bose premium audio system, power sunroof and more. The top-line Ultimate model starts at $44,799 and comes with all the creature comforts and safety tech available.
What about the competition? Well, the Santa Cruz is significantly more expensive than the equally new Ford Maverick (priced from $25,900), although the latter doesn't come standard with AWD and tows 2,000-4,000 pounds. It does offer a hybrid powertrain as standard, something its Korean rival has no answer to. Even with the optional EcoBoost engine, alloy wheels and AWD, the Maverick costs less than $35,000. As mentioned, the gap is significant.
On the other hand, a base Honda Ridgeline commands a price of $44,355—on par with the most upscale Santa Cruz. It's larger, has a longer cargo bed, and the V6 under the hood is a strong performer that has proven reliable over the years. Caught between this model and Ford's latest star, the new small pickup from Hyundai may not sell as much as anticipated. Time will tell.
Share on Facebook