2022 Hyundai
Santa Cruz

: We Put Korea's First-ever Pickup to the Test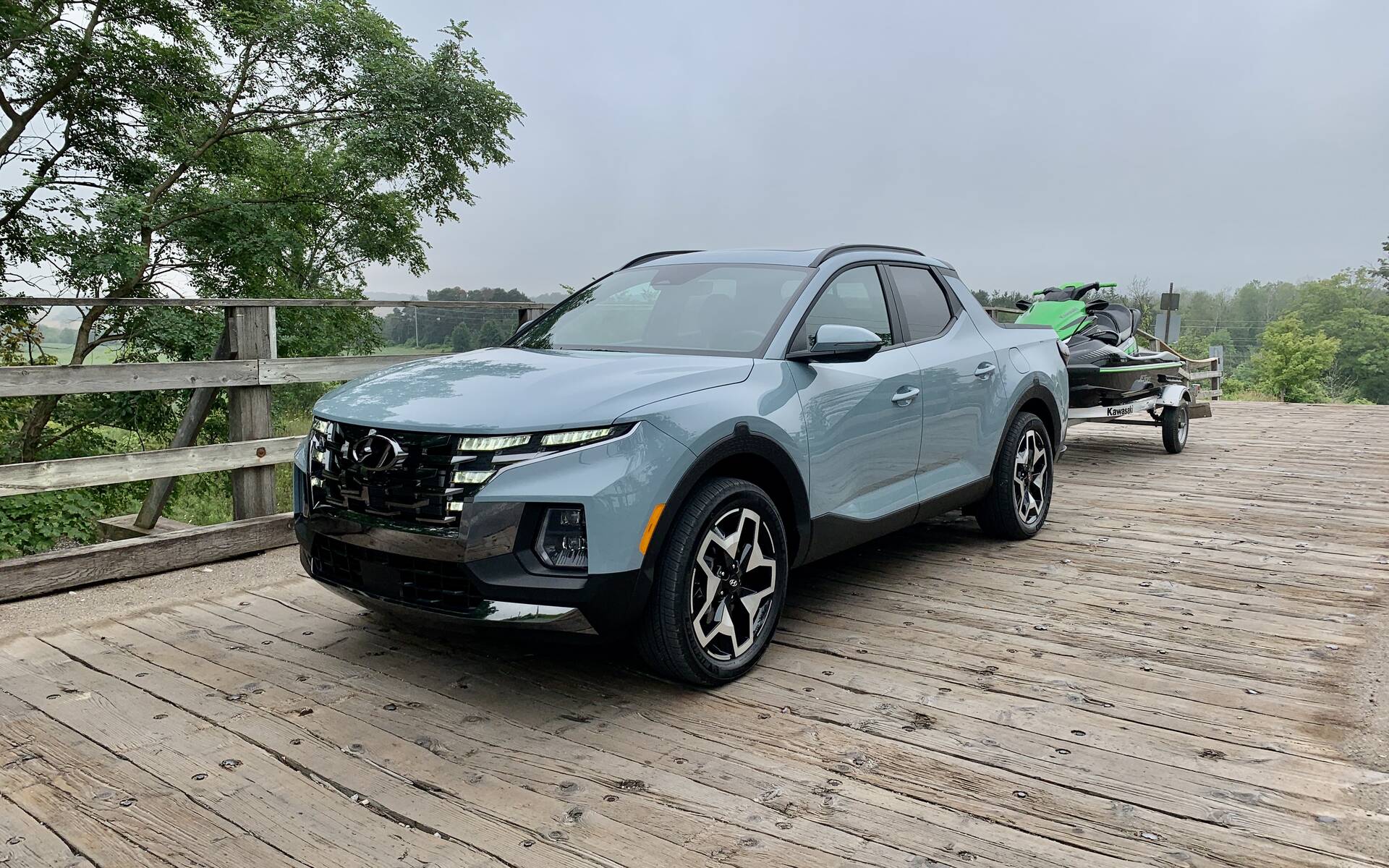 Strong points

Unmatched ride quality for a pickup
Distinctive looks
Tows up to 5,000 pounds

Weak points

No hybrid model
Odd turbo engine-DCT pairing
More expensive than Maverick
Full report
Hyundai is finally launching its long-promised Santa Cruz pickup for 2022. This so-called "Sport Adventure Vehicle" has no intentions to give the big American trucks a run for their money. Rather, it's an alternative to models like the Honda Ridgeline and the all-new Ford Maverick.
The Car Guide recently headed to Hockley, Ontario to put Korea's first-ever pickup to the test. Here's what we found.
Turbo Engine Only
All 2022 Hyundai Santa Cruz models sold in Canada get a turbocharged 2.5-litre four-cylinder engine that's commonly found in other Hyundai, Kia and Genesis vehicles. It delivers 281 horsepower and 311 pound-feet of torque through an eight-speed dual-clutch transmission and standard all-wheel drive.
Just like the similarly powered Sorento from Kia, some turbo lag is present when you hit the throttle hard, but don't assume the Santa Cruz lacks gusto. Said engine is optional in the Santa Fe midsize SUV and it's certainly a better fit than the less powerful, naturally aspirated four-pot that happens to come standard with the Santa Cruz south of the border. We can thank the big wigs at Hyundai Canada for betting all their money on the brawnier, turbocharged model.
It Drives Like an SUV
Using a unibody construction like the Tucson compact SUV, the Hyundai Santa Cruz is much smoother and more comfortable than a real pickup. It's easy to forget there's a 4.3-foot cargo bed behind you as the drive is almost identical to that of an SUV. Even when compared with the Ridgeline, which is also a unibody design, the Santa Cruz impresses with its good on-road manners. 
Remember, this model is not aimed at traditional pickup customers but rather outdoor enthusiasts and people with an active lifestyle, so that smoothness and comfort will certainly prove to be a big draw for potential buyers.
Life Inside the Santa Cruz
When you take a seat in the new Santa Cruz, you will feel in familiar territory as the driving experience mirrors that of the latest Tucson. The digital instrument panel in front of the driver is nice, but we would have liked physical buttons to manage things like the radio and navigation system.
Headroom is generous enough, which is not always the case in Hyundai vehicles. On the flip side, longer seat cushions could really help improve comfort. The rear quarters are not among the most spacious, especially when it comes to legroom, but given the size of this pickup we can't really complain.
Pricing and Fuel Economy
Natural Resources Canada rates the 2022 Hyundai Santa Cruz at 10.6 L/100 km in combined city-highway driving, while our tester posted a slightly better fuel consumption average, even dropping to 9.5 L/100 km at some point. That's more efficient than the Ridgeline (11.5 L/100 km), for sure, but a far cry from the hybrid variant of the Ford Maverick (6.4 L/100 km).
Now, what about pricing? The Santa Cruz starts at $38,499 in Preferred trim. The Trend Package ($2,900) adds a 10.25-inch digital instrument panel, Bose audio and adaptive cruise control. At the top of the line is the Ultimate trim retailing from $44,799.
With prices that range from $45,353-$54,535, the Ridgeline is significantly more expensive than its new Korean rival. Of course, you get a lot more truck for your money since Honda's midsize pickup shares its platform with the Pilot three-row SUV.
On the other hand, the Santa Cruz is vastly undercut by the Maverick that's set to go on sale this fall. Ford is asking for just $25,900 in the cheapest configuration, while a high-end Lariat model costs $34,450.
Towing Pains
According to the manufacturer, the 2022 Hyundai Santa Cruz can tow up to 5,000 pounds. During the media launch, we did a few runs with a trailer carrying a personal watercraft, which represented a combined weight of 1,100 pounds—or 22 percent of the vehicle's maximum towing capacity.
That relatively light load did affect acceleration and made it harder to go up small hills at a steady speed. The transmission also felt burdened by the task at hand. So, if you need to tow on a regular basis, the Santa Cruz may not be the right pick. By the way, the Ridgeline can pull up to 5,000 pounds, too, while a Maverick equipped with the turbocharged 2.0-litre engine and all-wheel drive has a capacity of up to 4,000 pounds.
When is the Hybrid Coming?
Surprisingly, Hyundai has not announced any hybrid variant of the Santa Cruz. You can bet there will be one in the medium term, however.
Of course, the Santa Cruz is sort of a gamble, and the folks at Hyundai are smart to use a wait-and-see approach before investing a ton of money into an electrified pickup. But they shouldn't waste too much time, because the Maverick comes standard with a hybrid powertrain, though with front-wheel drive only. Besides, they already have the technology with the new Tucson Hybrid and upcoming Tucson PHEV. For Hyundai to hit a homerun the Santa Cruz needs an AWD hybrid model before the Maverick gets one.
Share on Facebook