2021 Lexus IS: One Step Forward, The Other Won't Follow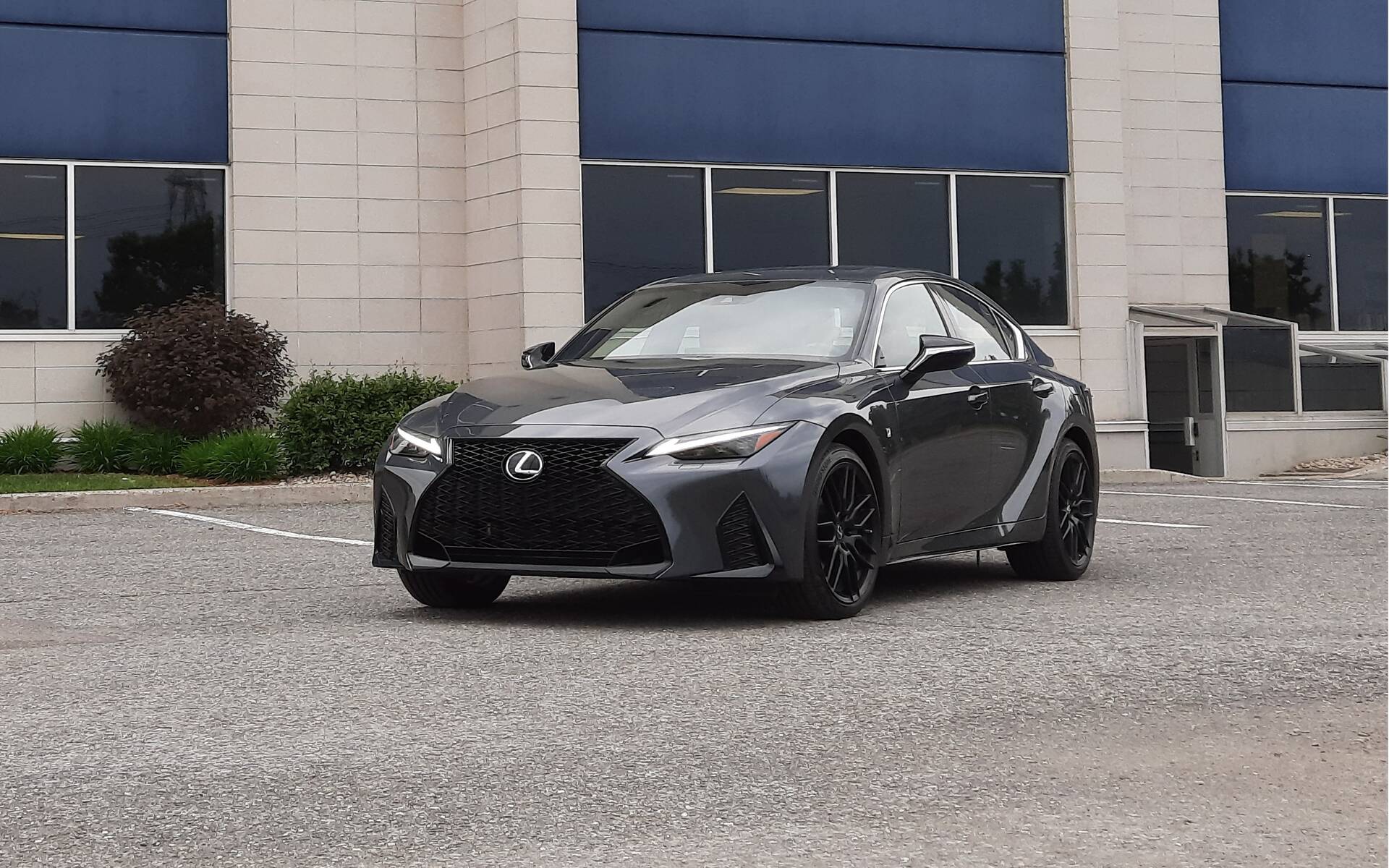 Strong points

Reliable powertrain
Improved suspension and steering
Excellent sport seats

Weak points

Interior is dated already
Tight rear seats
Still no hybrid variant
Full report
For 2021, two compact luxury sedans from Japan introduced new generations to hopefully catch up with the German rivals and also ward off Korea's impressive Genesis G70.
The Acura TLX and Lexus IS are now sportier and more skilled in their respective ways. But when we tested the latter in recent days, we left with the impression that it has one foot moving forward and the other foot stuck in the same place. What do we mean by that? Read on.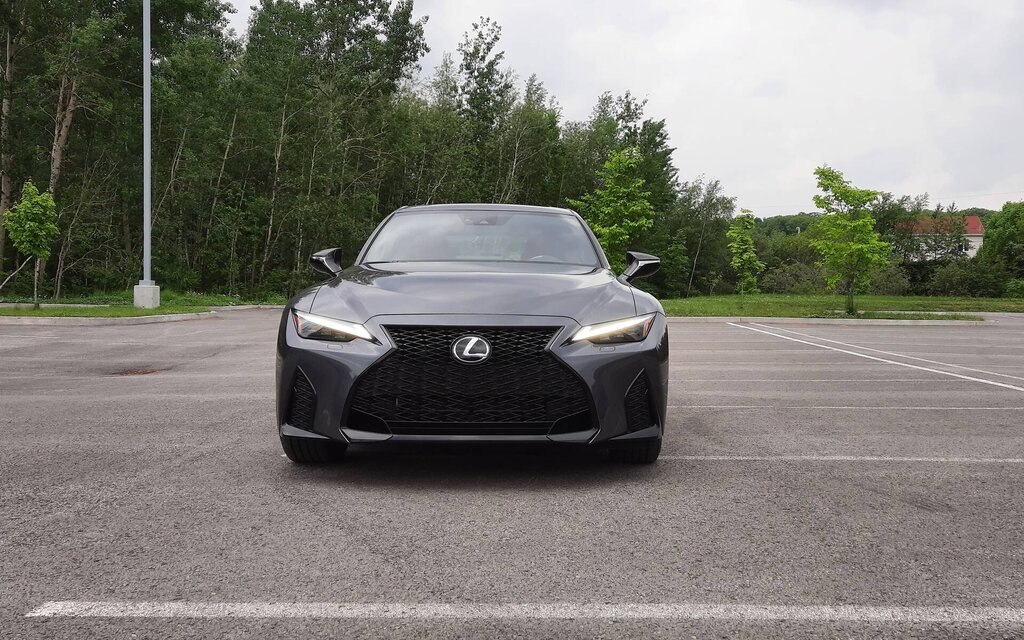 Attractive…
Standing 30 mm longer and wider than its predecessor (though with the same wheelbase), the 2021 Lexus IS marks a subtle but still pleasant evolution in terms of styling. We like the larger grille, the front lighting units which are now integrated into a single, sleeker-looking assembly, the redesigned taillights connected by a thin light bar, and the bigger, more attractive wheels (18 inches standard, 19 inches optional).
Our IS 350 AWD F Sport Series 3 tester stood out with more prominent air intakes and rocker mouldings, wider rear tires, a new rear spoiler and unique tailpipes, not to mention all those "F Sport" badges.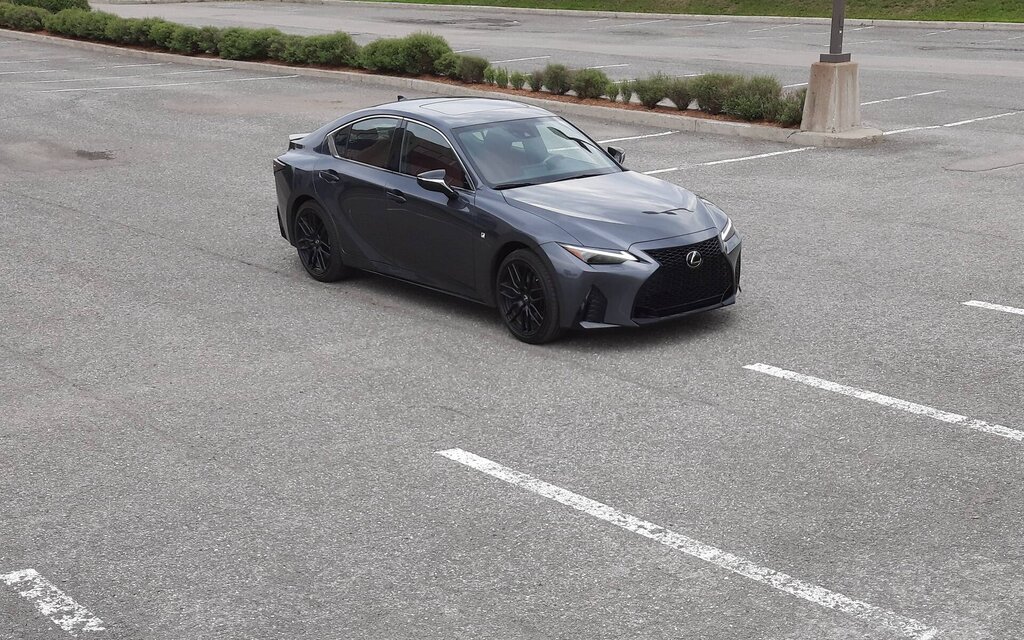 … Until You Step Inside
What a shame it is to step inside the new Lexus IS and find pretty much the same interior as in years past. The dashboard, centre stack, controls, steering wheel, instruments and more have basically not changed. Aside from a rearranged centre console, new touchscreen and round air vents at each corner, it's the same old IS we already knew.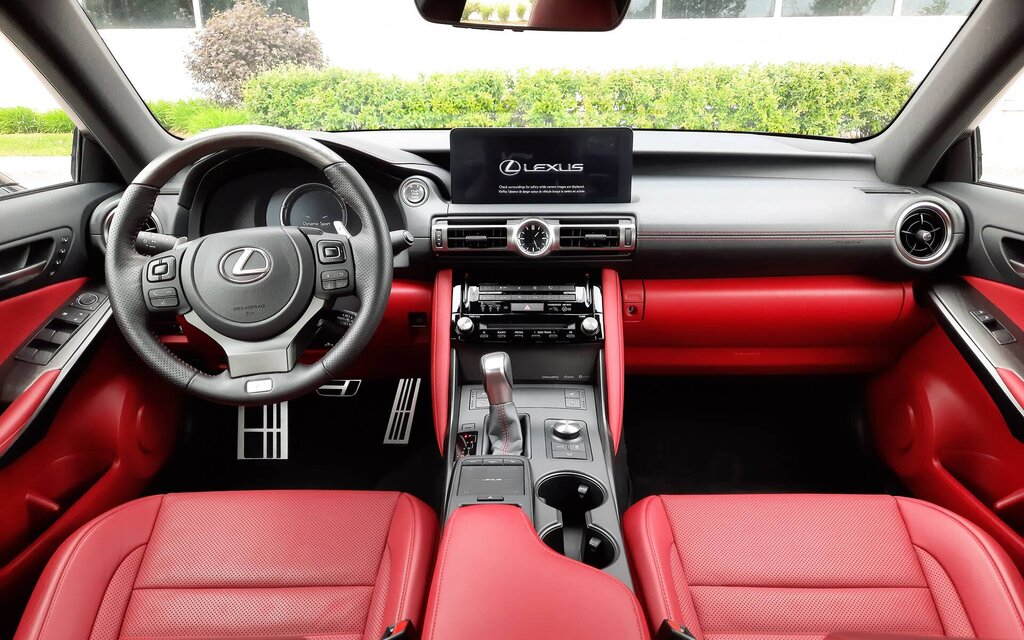 The aforementioned touchscreen is eight inches in size as standard or 10.3 inches in models with navigation. While it sits nearly 80 mm closer to the driver for easier access, we still had to stretch from our perfectly comfortable driving position. You can alternatively use the touchpad that replaces the Remote Touch joystick on the console, but it's not exactly an improvement. As a matter of fact, it creates a lot of distraction and frustration while driving. This is one car where Apple CarPlay and Android Auto are a blessing.
Elsewhere, the only two available USB ports are buried under the centre armrest, and desirable features that you can find in competitors are completely missing here, like a wireless smartphone charger or head-up display. Furthermore, while build quality is commendable, some of the materials and colours are not. Overall, the interior of the 2021 Lexus IS lacks refinement and modern flair.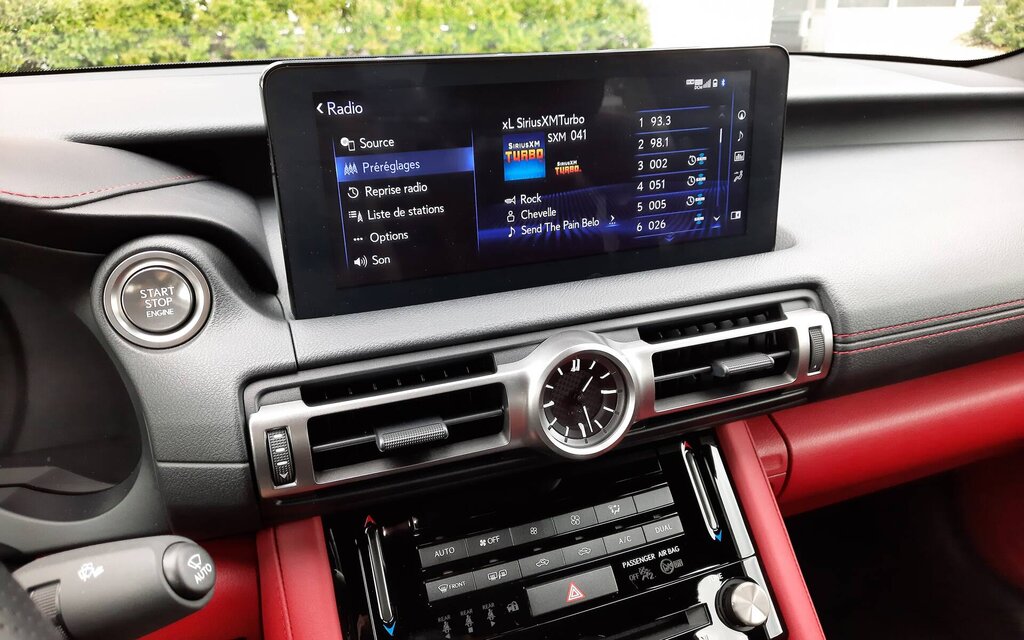 More Control and Safety
Clearly, the automaker preferred to invest time, money and effort in other areas, such as improving the drive and handling characteristics. Developed and honed at a new technical centre in Shimoyama, Japan, the IS happens to be the first product that embodies the new concept of "Lexus Driving Signature."
The car benefits from a more rigid body structure and a thoroughly revised suspension including new forged aluminum A-arms, new stabilizer bars, new coil springs and more. All these components are 17-20 percent lighter, as well.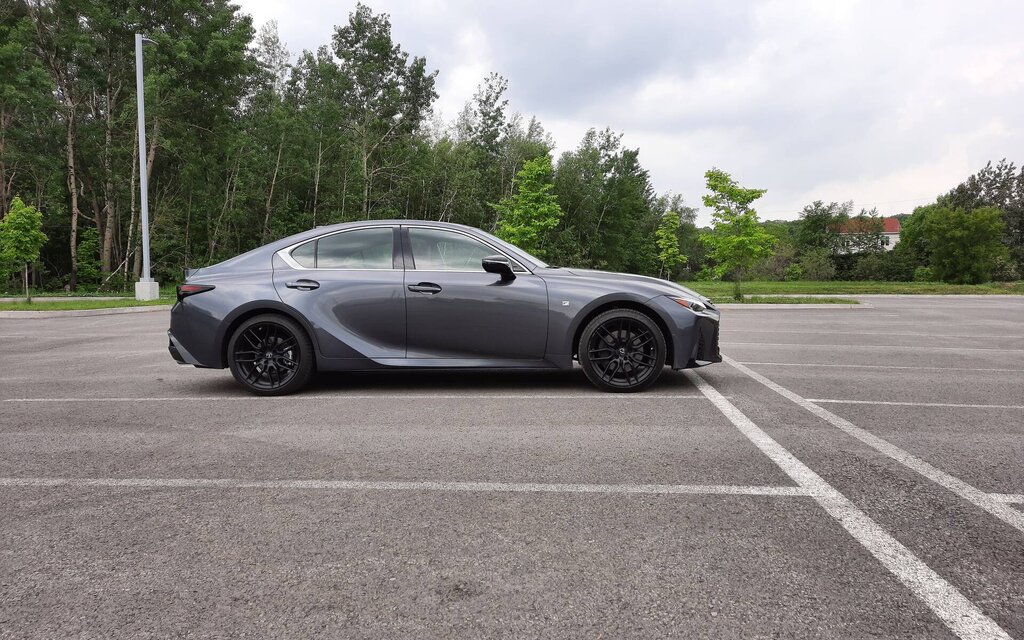 On the road, the result is fantastic. The ride is still smooth thanks to adaptive variable dampers, while agility and stability are considerably improved. Steering is sharper now (maybe not as much as a BMW 3 Series, but still), and the chassis remains extremely flat and solid in corners, allowing confident manoeuvres almost every time. The IS 350's excellent sport seats are models of support and comfort, enhancing the feeling of control behind the wheel. The brakes are generally up to the task and easy to modulate.
You should also know that the Lexus Safety System+ is upgraded for 2021. In particular, the single-lens camera and millimeter-wave radar elements of the Pre-Collision System received enhancements to expand the response range, detecting even a preceding pedestrian in daytime and low-light conditions. Also, lane keeping assist was improved with enhanced recognition of line and road edge.
Same Engines, Alas
Despite all this, Lexus didn't see fit to make changes under the hood. The 2021 Lexus IS returns with the same two basic powertrains, starting with the IS 300 RWD and its turbocharged 2.0-litre four-cylinder engine that produces 241 horsepower and 258 pound-feet of torque. It is mated to an eight-speed automatic transmission.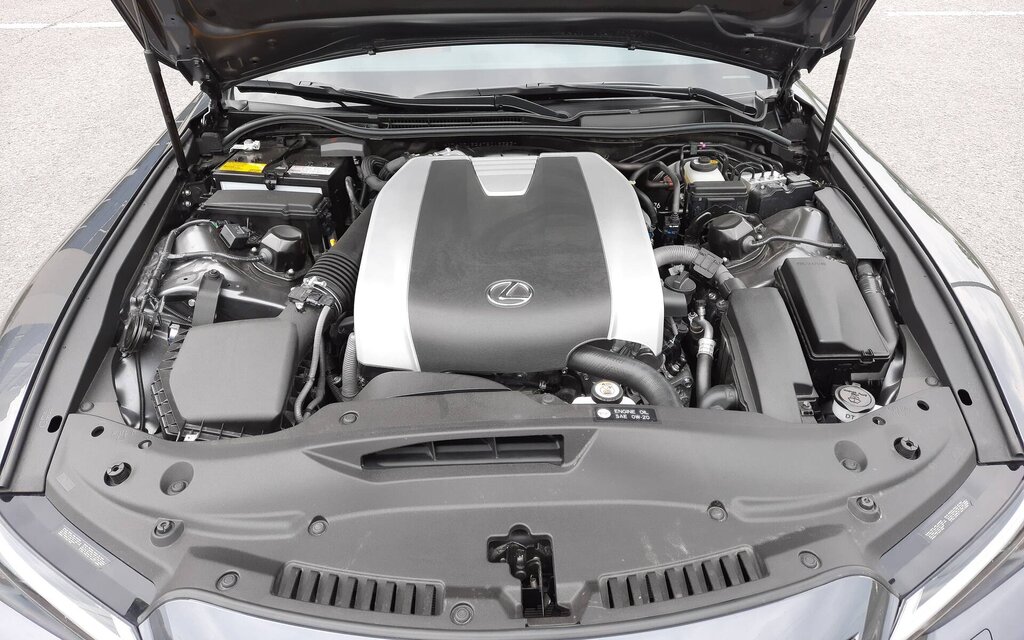 The trusted and reliable 3.5-litre V6 in the IS 300 AWD and IS 350 AWD still generates 260 hp/236 lb-ft. and 311 hp/280 lb-ft., respectively. It also soldiers on with a six-speed autobox that could definitely use revised calibration. This unit hates to be pushed with the pedal to the metal (maybe less so in Sport+ mode) and it doesn't help with fuel consumption (10.8 L/100 km in combined city-highway driving), especially deplorable since premium gas is required. Oh, and not every driver will appreciate the Active Sound Control system which amplifies the notes of the V6 engine through the speakers.
The good news for performance enthusiasts is that Lexus will add a 472-horsepower, V8-equipped IS 500 F Sport Performance model for 2022—a direct response to the BMW M3, Alfa Romeo Giulia Quadrifoglio and Cadillac CT4-V Blackwing. The bad news, at least for environmentally conscious drivers, is that a hybrid variant remains nowhere to be found despite most Lexus products offering one these days. It would have been a nice way to set the IS apart from the competition.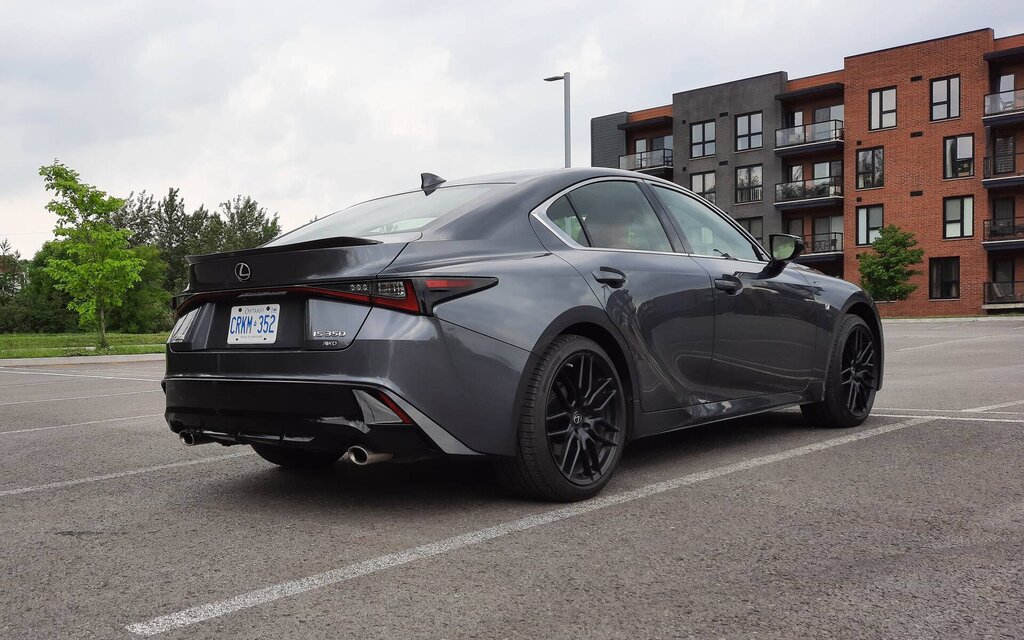 Our Verdict
Ranging from $43,600 to just under $60,000 (excluding destination and handling), the new 2021 Lexus IS sedan is not the evolution we expected despite some admirable efforts to improve driving dynamics. Comfort, reliability and a strong residual value are still hallmarks of this car, but shoppers after a compact luxury car have more modern and attractive options.
Share on Facebook