2021 Toyota
GR Supra

: Is it Any Good in Winter?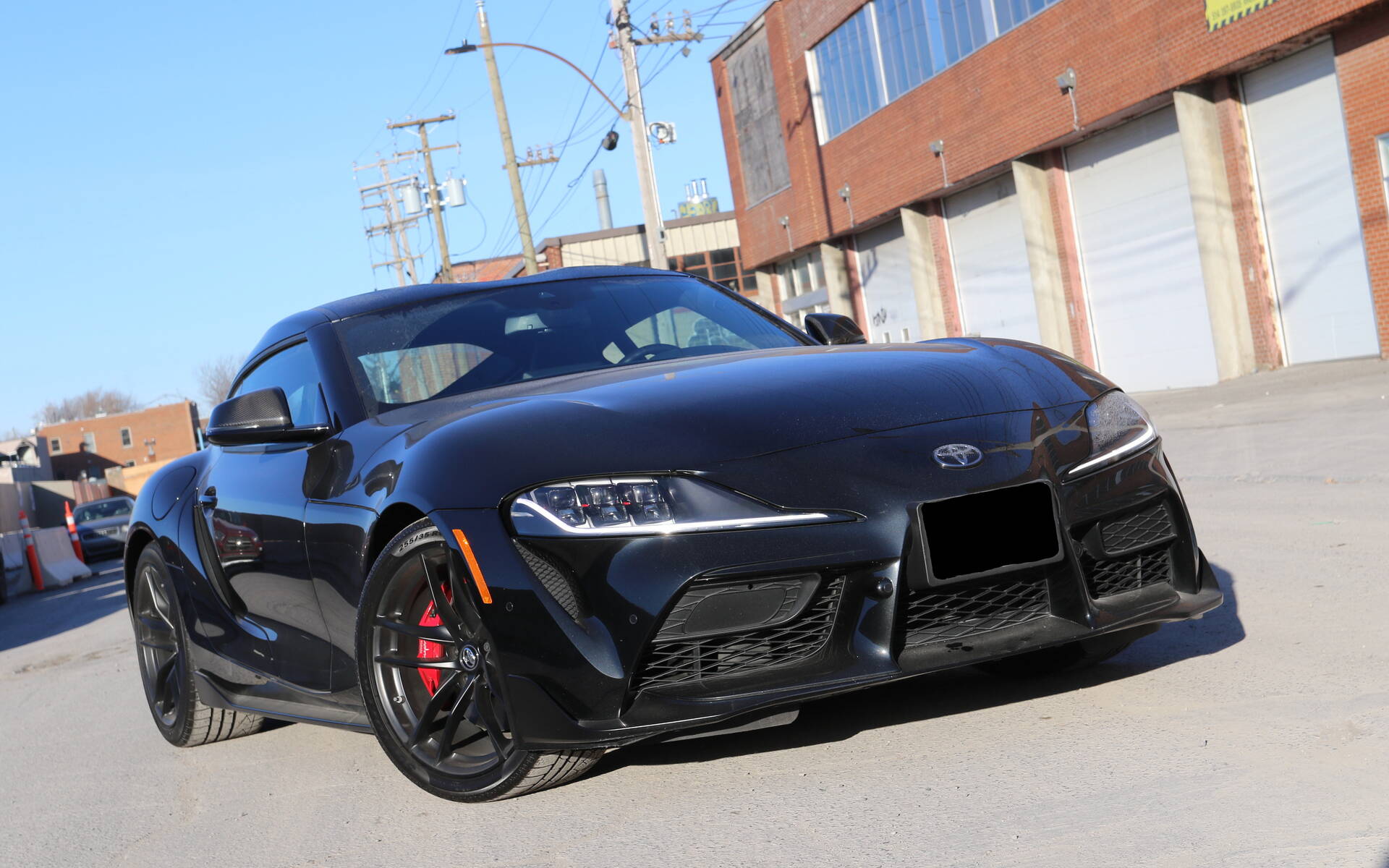 Strong points

Great handling
Sharp steering
Potent six-cylinder engine
Fairly smooth ride for a sports car
Surprisingly good in winter

Weak points

Tight and dark interior
Extremely limited visibility
Still no manual gearbox
Full report
We at The Car Guide typically wait until the summer to test drive sports cars. As a matter of fact, most sports car manufacturers prefer to keep their press vehicles away from the cold and the elements during winter.
This time, however, Toyota did us a favour by putting a 2021 GR Supra on their press fleet.
Yeah, we know, this powerful, ground-hugging, RWD-only sports coupe is not ideal to take on sleet and snow. Yet, a few decades ago, many Canadians seemed happy to drive around with big, V8-powered muscle cars equipped with questionable tires in winter. So what's the worst that could happen with a Supra featuring the latest technologies and rubber?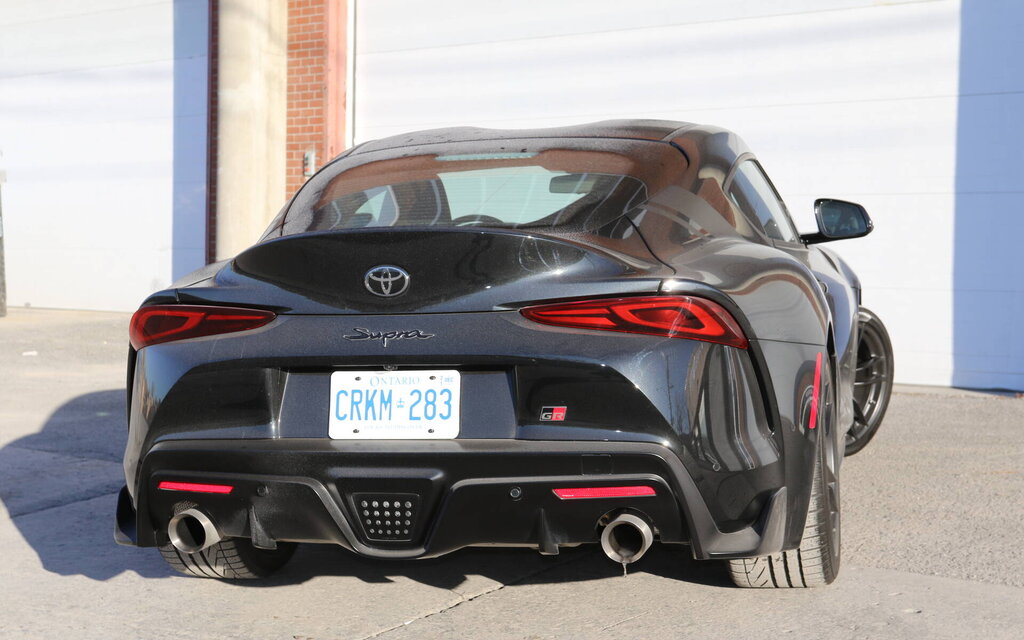 Convincing in the Snow
The first few days of our test drive took place on cold but dry pavement, and by mid-week Mother Nature dumped a significant amount of snow, allowing us to fully validate the winter potential of the GR Supra.
Despite temperatures dropping slightly below zero, the level of grip proved to be excellent. Blessed with Pirelli SottoZero tires, the car was always in a position to showcase its remarkable handling dynamics. The front end, in particular, is beautifully agile and responsive.
The quick, razor-sharp steering provided a tremendous amount of feedback. In dry conditions, the Supra never slipped or missed a beat, attacking corners with authority and relentlessly pushing past the apex.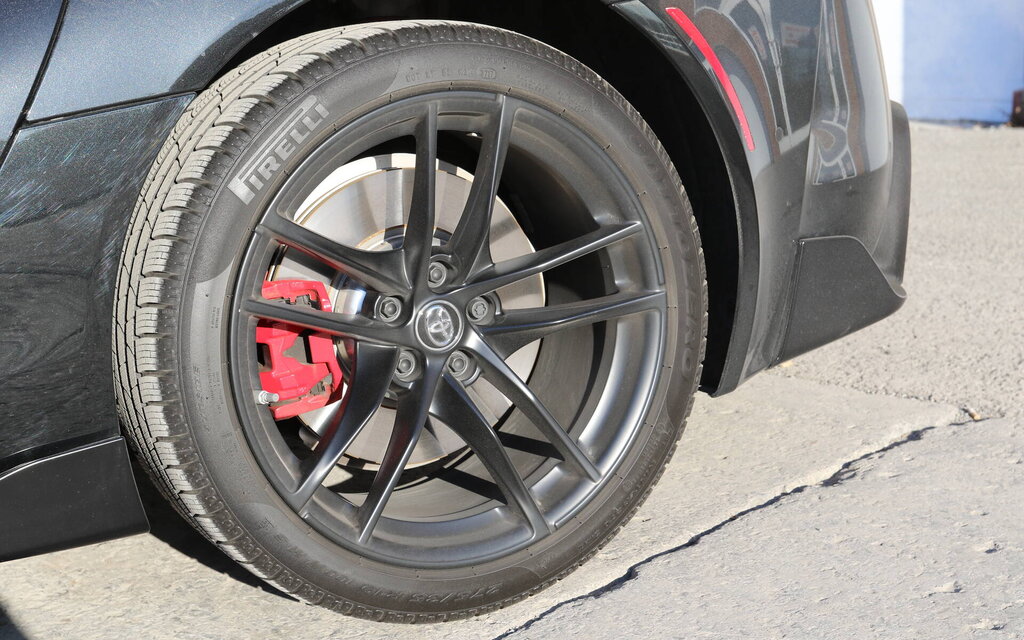 Being short and lightweight, not to mention plenty powerful, we couldn't possibly test its limits on public roads. The turbocharged 3.0-litre inline six-cylinder engine under the hood now generates 382 horsepower—up from 335 last year—and 369 pound-feet of torque via an eight-speed automatic transmission.
More fun could be had with a manual gearbox, obviously—and we're excited to hear Toyota is thinking about it—but in the meantime the autobox is very well matched to the aforementioned engine. Shifting is smooth in normal conditions, and when you start to push the car the transmission is quick to respond.
When it comes to everyday performance, the six-cylinder delivers enough low-end torque to easily sprint ahead of slower traffic. Beyond 4,000 rpm, it's a mad rush all the way to the redline (6,500 rpm), backed by sweet sound effects. It's in that higher rev range that you can feel the rear differential having trouble putting all the available power to the ground when traction is poor. Driving at a rapid clip on snow-covered roads, the GR Supra drifted left and right even with traction control fully active.
If you're more reasonable with the throttle, you will never experience any stress or difficulty. The suspension delivers an excellent mix of comfort and agility. Of course, the ride is stiff on pothole-ravaged streets like the ones in Montreal at this time of the year, but we'd say there's enough smoothness and compliance around the edges—at least by sports car standards.
When parked in the snow, the GR Supra had no problem leaving its spot without the rear wheels spinning. The main thing we had to watch for, naturally, was the occasional snowbank. Where a RAV4 owner could park like it's child's play, the sports car's low ground clearance might force you to get the shovel out of the trunk.
What about fuel consumption? Despite temperatures ranging from -10 to 0 zegrees, our GR Supra never needed more than 10 L/100 km, ending the week with an average of 8.7 L/100 km. That's fantastic for a car with close to 400 ponies.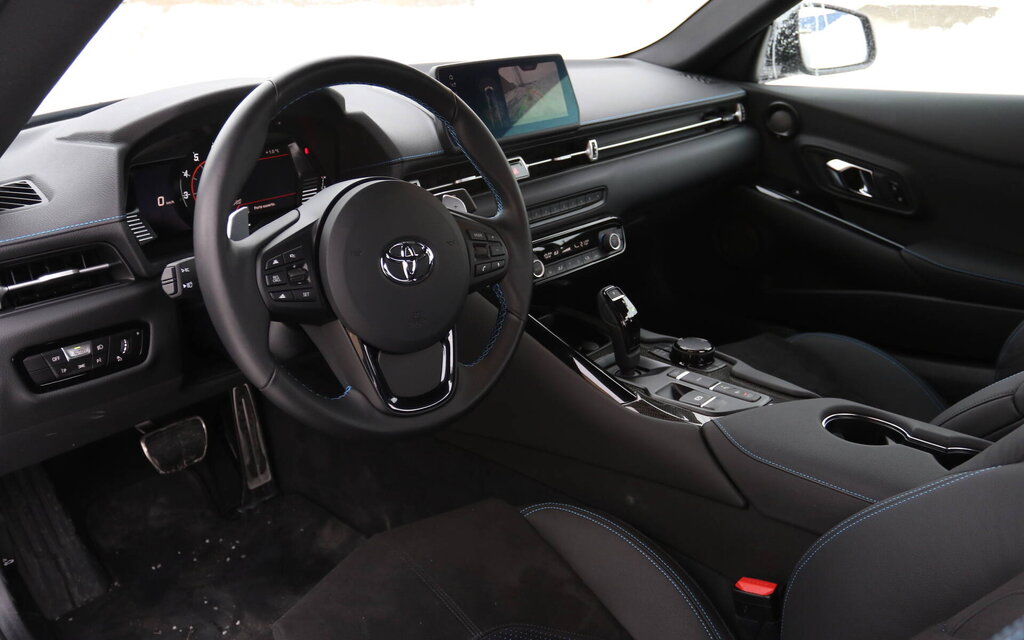 Tight and Dark
As you can see on the pictures, the model we tested was all black from the inside out. Even the headliner was black, so you can imagine how dark it was in there. The GR Supra's cockpit is not particularly spacious, either—claustrophobic people should probably stay away. While headroom and legroom is decent, the tall centre console and bolstered seats will make larger drivers feel cramped.
Once settled in, however, you can appreciate the quality materials used throughout and the superb fit and finish. We found that the heated seats warm up quickly, which is great on cold winter days. The max setting actually proved too hot for our liking. The HVAC system's performance is commendable, as well, and that's a good thing because the small windows significantly reduce visibility all around.
Ultimately, we're big fans of the 2021 Toyota GR Supra, even on snow-covered roads. It's a sports car you can use all year long without really making any big sacrifices.
Share on Facebook