2021 Ford Bronco Unveiled at Last, Has Jeep Wrangler in Its Sights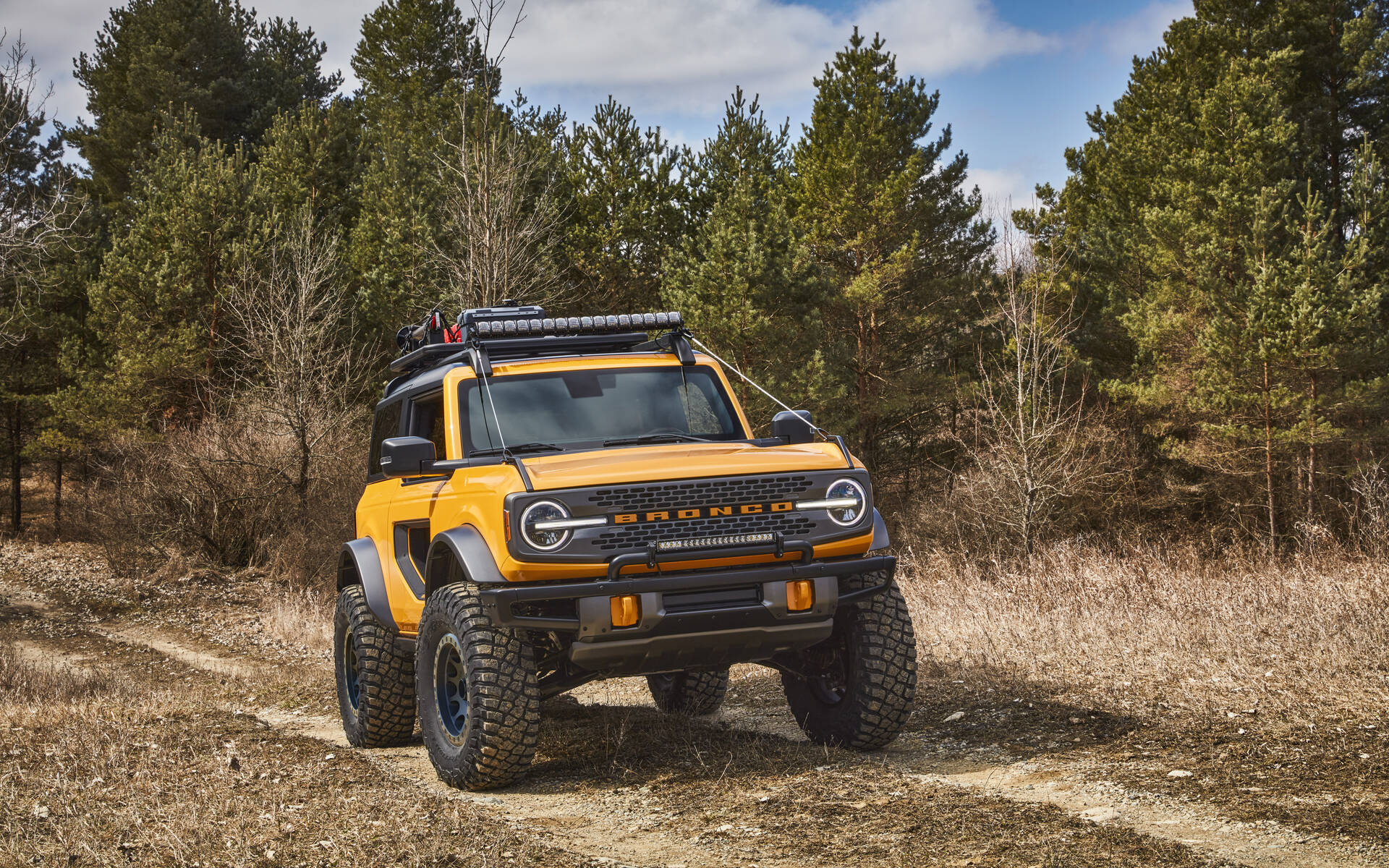 After years of speculation and anticipation, Ford has finally unveiled the brand new 2021 Bronco. In case you didn't realize already, this is the start of an all-out war with Jeep.
Heavily inspired by the original Bronco (1966-1978), the latest generation is an authentic four-wheeler designed, engineered and built to defeat the iconic Jeep Wrangler. Both the two-door and four-door models mix classic and modern styling in a bid to leverage tradition and advanced technology at the same time.
"We've surveyed thousands of people and the consensus was clear: if we brought back the Bronco, we needed to go all in," says Mark Grueber, marketing director for the Bronco.
And that's exactly what Ford has done. Let's take a closer look…
A True Bronco
The 2021 Ford Bronco has strong ties to the past. In fact, the company's design team told us they analyzed the first-gen model from every possible angle when developing the new one.
The most striking resemblance is probably the front end, where round headlights and a rectangular grille take centre stage. The addition of a four-door body style is unprecedented in Bronco history, but it will likely prove much more popular among today's customers than the two-door variant—look no further than sales of the Jeep Wrangler and Wrangler Unlimited as evidence.
Inside, the adventure-ready cabin features rubberized flooring that is easy to wash, plus a number of big, driver-friendly physical controls. It's also future-proof with an available 12-inch touchscreen powered by SYNC 4, wireless Android Auto and Apple CarPlay integration, as well as Ford's Co-Pilot360 suite of driver assistance systems.
Two Turbo Engines
Under the hood of the 2021 Ford Bronco is a selection of two familiar EcoBoost engines, starting with the same 2.3-litre four-cylinder found in the Ranger, Mustang EcoBoost and the late Focus RS. Output is rated at 270 horsepower and 310 pound-feet of torque.
The alternative is the 2.7-litre V6, which has been tuned to deliver 310 horsepower and as much as 400 pound-feet of torque. This sounds very exciting, just like the fact that a new seven-speed manual transmission can be specified. A 10-speed automatic is optional.
The Bronco's maximum towing capacity is 3,500 pounds, similar to the Wrangler Unlimited.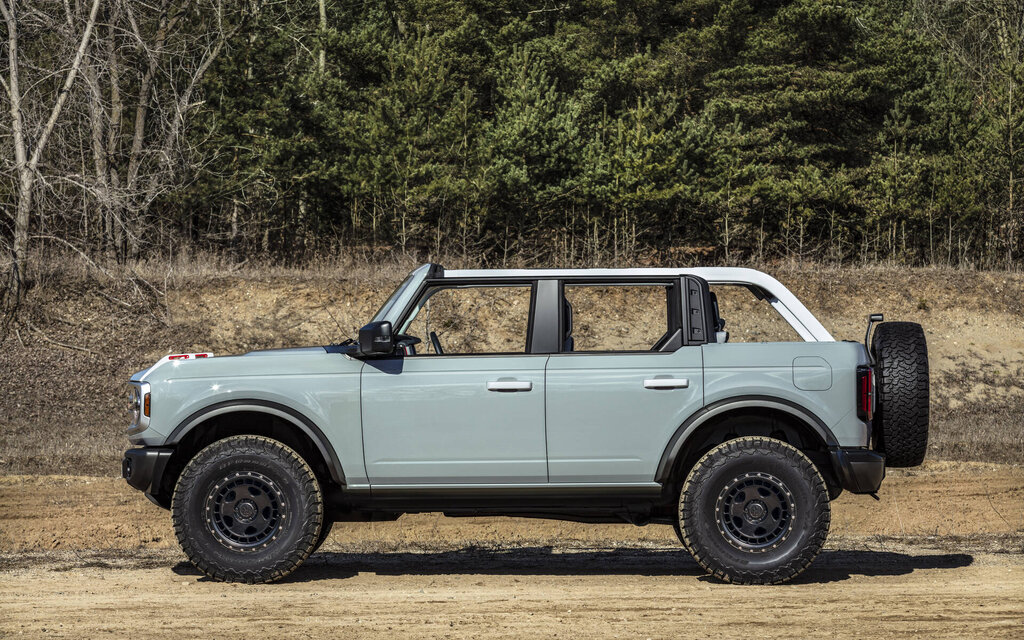 Go-anywhere Capability
As a true Bronco, the new model is built to tackle almost any terrain. Ford brags about offering more ground clearance and larger approach and departure angles than the Wrangler.
The doors and roof panels can be removed, once again matching the Jeep SUV. The former can be stored in the cargo area, which is something you can't do with the Wrangler and many enthusiasts have complained about it.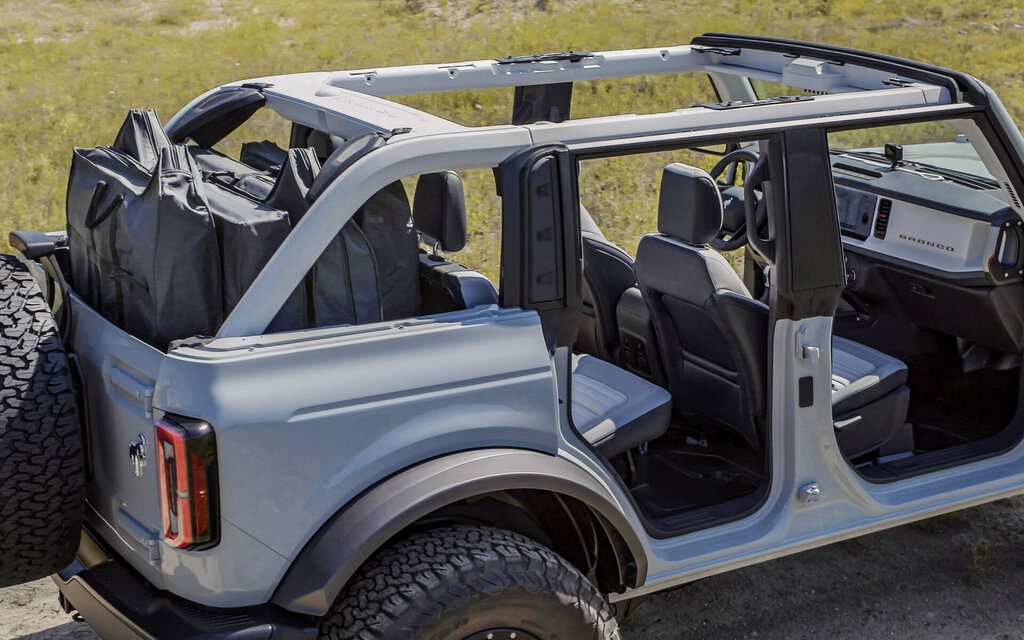 All Bronco models come standard with four-wheel drive and electronic locking differentials, although there are two separate systems to choose from. The base unit has a two-speed transfer case with electronic control, while the more advanced system has a two-speed transfer case with electromechanical control and automatic shift-on-the-fly capability.
Furthermore, engineers have incorporated a G.O.A.T. terrain selector. That well-known acronym normally stands for "Greatest of All Time," but in this case it means "Goes Over Any type of Terrain." Up to seven drive modes are included so you can confidently attack whatever obstacles stand in your way.
How Much?
The 2021 Ford Bronco will be available in six trim levels including Base, Big Bend, Black Diamond, Outerbanks, Wildtrack and Badlands. Any of them can be had with the Sasquatch Package, which adds the advanced 4x4 system and 17-inch wheels on 35-inch tires.
In Canada, the Bronco will start at $40,499 when it goes on sale next spring. That's more money than the Jeep Wrangler commands, but you get more standard content, too. Full pricing details will be announced closer to launch. In the meantime, you can order a copy by making a $100 deposit on the Ford Canada website.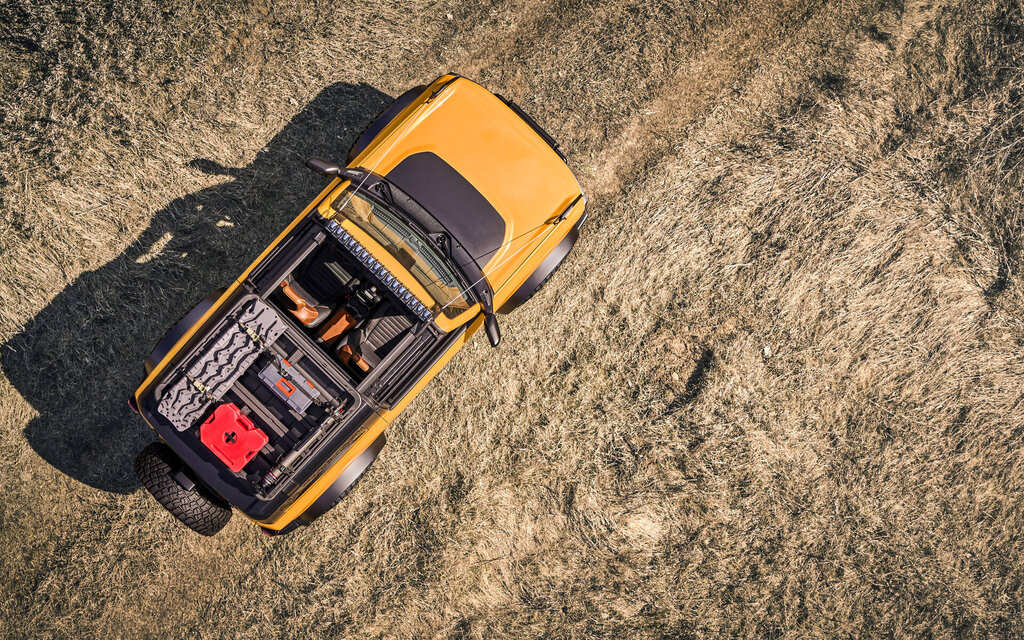 Share on Facebook