How Much Would You Pay for This Fake Dodge Charger Daytona?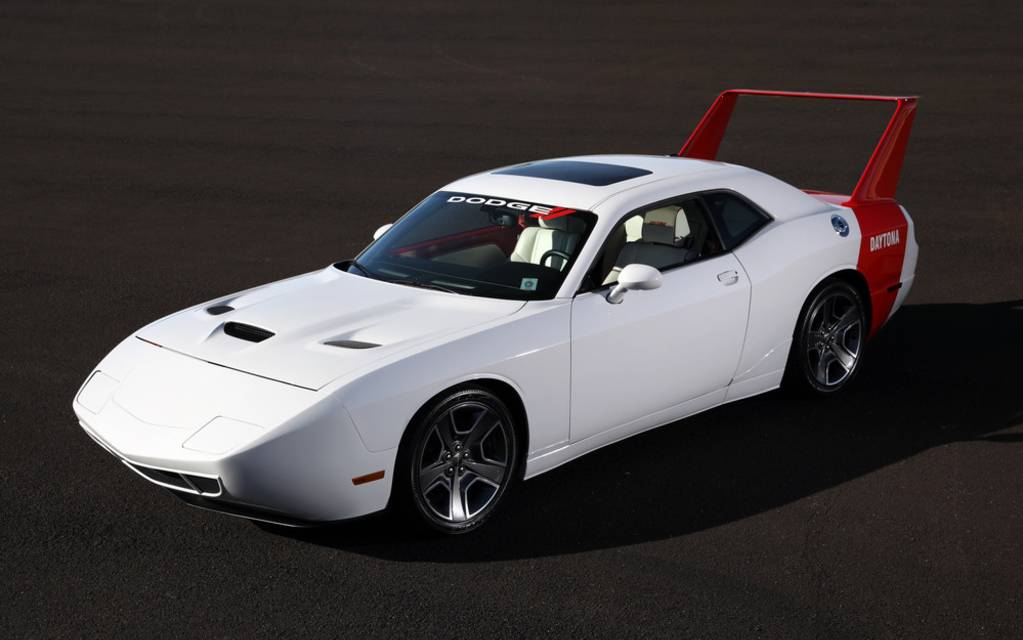 The legendary Dodge Charger Daytona is 50 and FCA celebrated the milestone last summer by introducing a Daytona 50th Anniversary Edition of the muscular, modern-day Charger based on the 717-horsepower SRT Hellcat Widebody model.
That was a nice touch, but the car had very little in common with the original Daytona, which famously sported a huge rear wing and massive, wedge-shaped nose specifically designed to dominate in NASCAR racing (both were limited to 501 units, mind you).
Here's another creation that is closer in terms of styling but weird when it comes to the whole concept. That's because it began life as a 2013 Dodge Challenger.
The front end of the coupe was largely modified to adopt the aerodynamic profile of the 1969 Charger Daytona, with folding headlights on top of that. In the rear, the iconic wing stands tall above the trunk lid and both are painted in a contrasting colour, naturally. Matching race stripes on the rear fenders are included, too. The car rides on 20-inch wheels.
The interior features custom white leather upholstery, red accents and a pistol-grip shifter. The sunroof, power adjustable seats, Boston Acoustics stereo and 6.5-inch touchscreen certainly weren't part of the package 50 years ago.
As for the engine, since this replica comes from a 2013 Challenger R/T, we're looking at a 5.7-litre HEMI V8 producing 372 horsepower (the real Daytona had 7.0- and 7.2-litre V8s rated at 390 and 425 horsepower, respectively). A five-speed automatic transmission handles power, and believe it or not the odometer has just 1,867 miles (3,004 kilometres).
For the second time in six months, which is curious, the car is being auctioned, this time by Barrett-Jackson. It's listed with an unspecified reserve. Interested buyers have until Friday at 3:30 pm EDT to make a bid.
Share on Facebook