2019 Subaru Ascent: Rising Slowly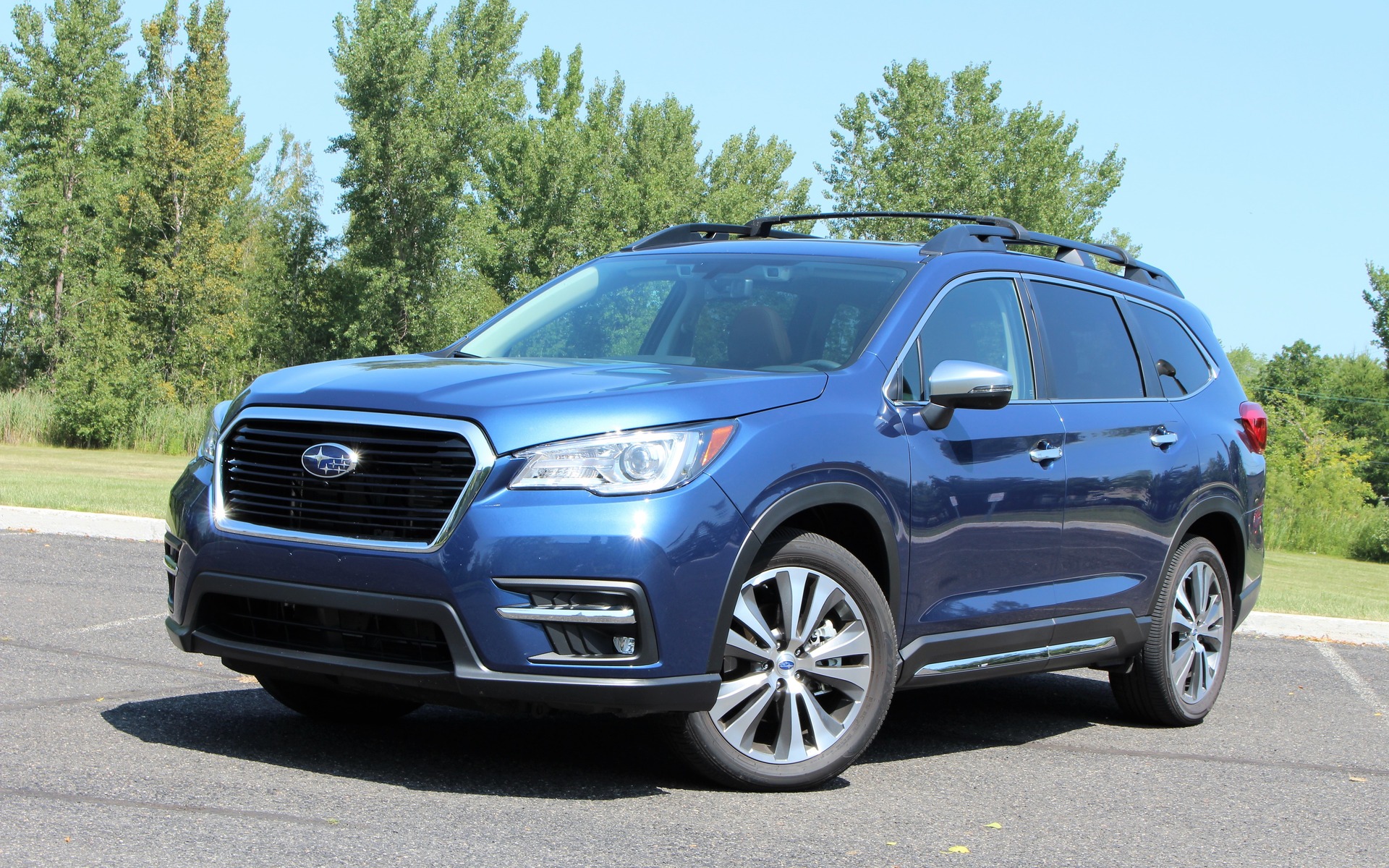 Strong points

Excellent all-wheel drivetrain
Good cargo space
Interesting price

Weak points

Unrefined engine sounds
Uninteresting base trim
Questionable real-world fuel consumption
Full report
We can't blame Subaru for introducing a three-row, midsize SUV on the North American market. After all, more than a million of these family haulers find homes each year in the United States, so there's potential to rake in a lot of cash.
As a direct rival to the Ford Explorer, the Toyota Highlander, the Honda Pilot and the Chevrolet Traverse, just to name a few, the 2019 Subaru Ascent is off to a decent start in that market. However, in Canada, consumers aren't quite as enthusiastic about it. Then again, the Canadian market prefers compact-sized SUVs for now.
This isn't the first time this Japanese manufacturer takes a swing at this segment, having introduced the seven-passenger Subaru Tribeca—or B9 Tribeca during the first couple of years—back in 2005. It didn't sell very well, but the company persisted to keep it in the lineup for nine years.
Right off the bat, the Ascent is a more competitive product because it's bigger in every outer dimension, which means a more spacious cockpit. In addition, its design is more conventional, which fits more in line with the competition, and most SUV buyers don't seem too interested in an offbeat-looking vehicle anyway.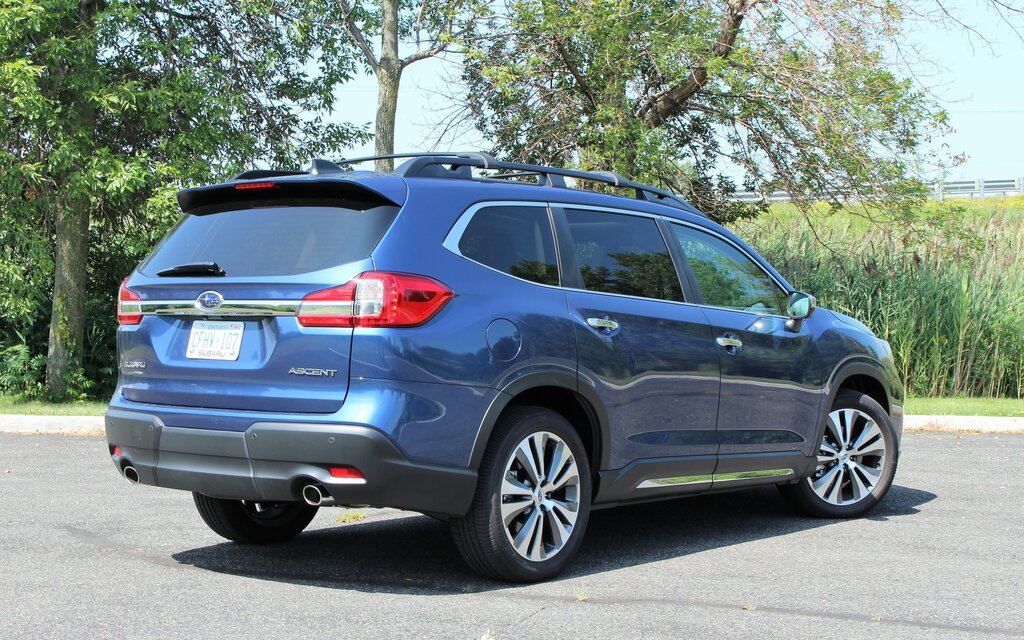 Power comes from a turbocharged, 2.4-litre four-cylinder engine that actually made its debut in the Ascent, but will also appear in the 2020 Subaru Legacy and Outback. Producing 260 horsepower as well as 277 pound-feet of torque from 2,000 to 4,800 rpm, this mill outmuscles the brand's 3.6-litre flat-six that's being phased out, but obviously isn't as refined. Its sound at wide-open throttle won't trigger goose bumps, but the trade-off is great fuel economy.
In fact, the 2019 Subaru Ascent is one of the most efficient three-row SUVs on the market with city/highway ratings of 11.6/9.0 L/100 km, up there with the Mazda CX-9, the Toyota Highlander and the Nissan Pathfinder. In real-world driving, through, we ended up with an average of 11.5 L/100 km during our test, which isn't as impressive.
The 2.4-litre engine certainly does the job, along with the continuously variable automatic transmission it's bolted to. However, we did experience some driveline jerkiness at very slow speeds, which was rather unpleasant. Overall, we prefer the smoothness of a good V6 engine, and we'd be willing to sacrifice a litre of fuel here and there compared to the Ascent's mill.
Properly equipped, the Subaru can tow up to 5,000 pounds (2,268 kg), but curiously, the base trim level is limited to 2,000 lbs (907 kg). It's the same powertrain, so we're guessing it's just a strategy used to get consumers to move up to the pricier versions.
And frankly, the base Convenience variant isn't all that equipped anyway. It includes heated front seats, an eight-passenger seating layout, three-zone climate control and a basic sound system with 6.5-inch touchscreen along with Apple CarPlay and Android Auto integration. Oh, and 19 cupholders. Nineteen. That's not a typo.
Moving up to the Touring adds a power panoramic sunroof, a power tailgate, an intelligent key, blind spot monitoring and rear cross traffic alert, leather-wrapped wheel and shift lever as well as a more enjoyable 8.0-inch touchscreen. It can also be equipped with two second-row captain's chairs for seven-passenger seating. The Limited and Premier trims pile on upscale features like leather upholstery, 20-inch wheels, a heated steering wheel, heated second-row seats, ventilated front seats, a rearview mirror camera, a 14-speaker harman/kardon stereo and more USB ports.
Subaru did a good job of installing the second-row seat cushions high up off the floor and accessing the third row is pretty easy. They can all be folded down to create a spacious cargo area—although not completely flat—surpassed only by those found in the Honda Pilot, the Chevrolet Traverse and the Volkswagen Atlas.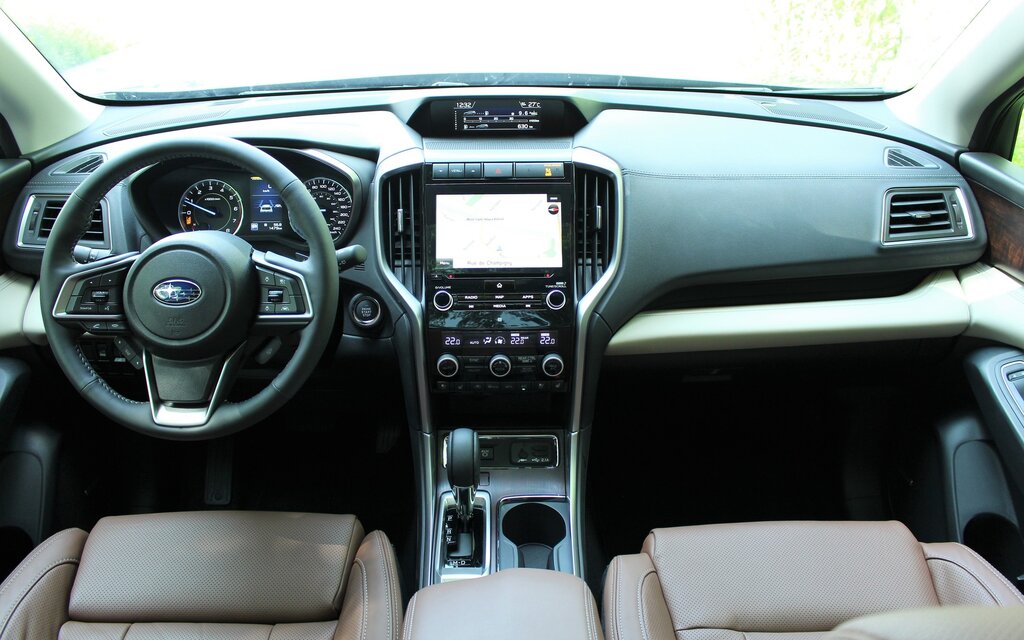 There are also some thoughtful touches inside the Ascent, like the cargo cover that can be neatly stowed in the underfloor when not in use, and there's an optional rear-mounted camera that can display a clean view of what's happening behind through the conventional rearview mirror—although its projection angle takes some getting used to. On the other hand, we would've liked to have an automatic up/down feature for the rear windows, which was lacking even in our top-shelf Premier test vehicle.
The 2019 Subaru Ascent is undeniably versatile, comfortable and especially capable, since it's blessed with the brand's full-size all-wheel drivetrain. This setup is amongst the best in the business for confronting the harsh winter season in Canada.
Starting at $35,995 before freight and delivery charges, the Ascent is competitively priced. The best value comes in the form of the $40,995 Touring edition, although the loaded Premier checks in just below the $50k mark.
In a nutshell, the Subaru Ascent is a good three-row, midsize SUV that has plenty to offer, but doesn't blow away the competition. Also, it isn't the most refined model in its category. On the other hand, both the brand's loyalists and new customers should find something to enjoy in the Ascent. For now, in this category, we'll give our top marks to the newly redesigned 2020 Ford Explorer, the Honda Pilot as well as the new Hyundai Palisade and Kia Telluride cousins.
Share on Facebook