2019 Subaru Forester: Less Quirky, More Practical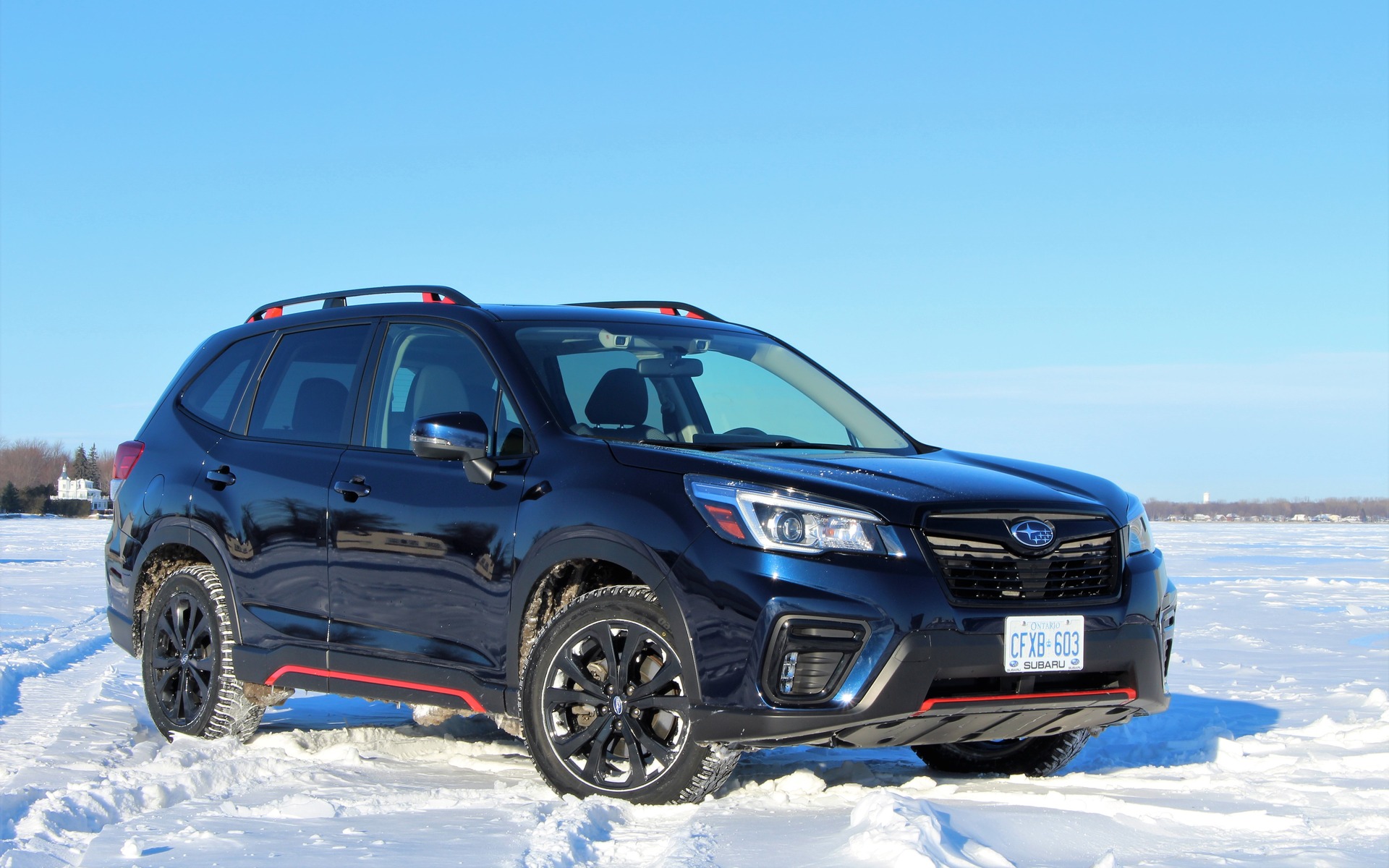 Strong points

Capable all-wheel drivetrain
Good fuel economy
Plenty of interior space

Weak points

Some common features only available in the most expensive trims
Sport trim level not sportier
Generic styling
Full report
The Forester has been thoroughly redesigned for the 2019 model year and has gained a slew of improvements. However, like many other Subaru models, it seems to be stepping away from the brand's traditional quirkiness in order to attract a wider audience.
Subaru loyalists may not be too thrilled, if that uniqueness is what drew them to the brand in the first place. However, like any automaker, sales and market share is top priority. Still, the 2019 Subaru Forester keeps a few eccentricities we won't find in rivals such as the Toyota RAV4, the Honda CR-V, the Ford Escape and the Nissan Rogue.
Of course, the horizontally opposed four-cylinder engine, also called Boxer or flat-four, remains. It displaces 2.5 litres as before, but has been overhauled and now includes direct injection as well as an automatic start/stop system. Output rises from 170 to 182 horsepower, and the engine is slightly livelier than before.
Fuel economy has also improved a little, as the combined city/highway rating dropped from 8.4 to 8.2 L/100 km. In the compact SUV segment, only the CR-V, the RAV4 Hybrid and the Chevrolet Equinox/GMC Terrain with their diesel engine can do better, although the GM cousins will lose that powertrain option after the 2019 model year. During our test on a particularly cold winter week, we averaged 10.9 L/100 km.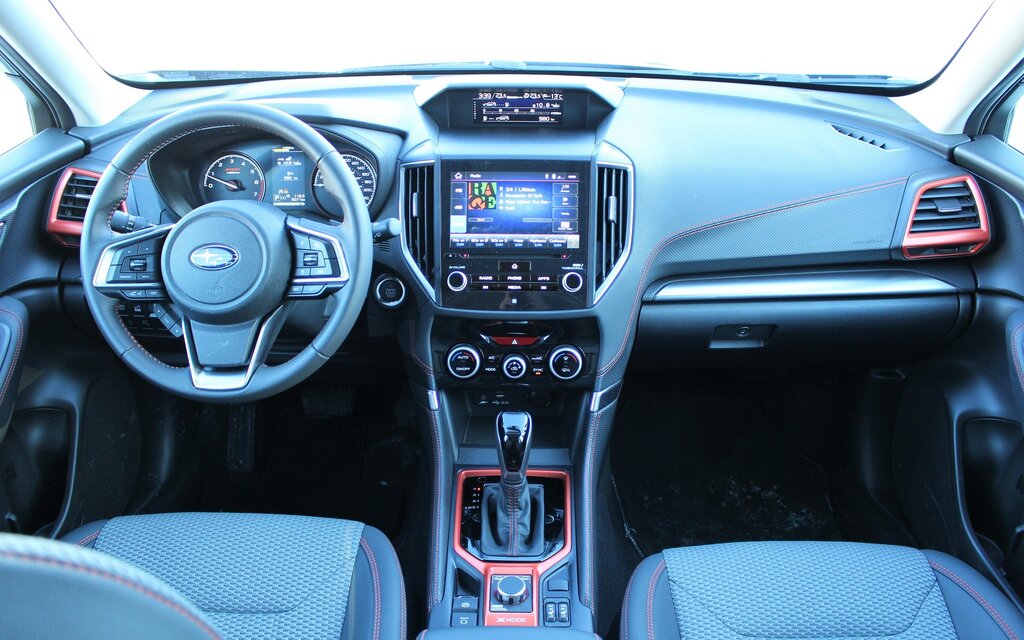 It's worth noting that the Forester is no longer available with a manual transmission, due to poor sales, which isn't a surprise to us. In addition, in the previous-generation model, the row-it-yourself gearbox increased consumption by a significant amount. That leaves us with a continuous variable automatic transmission in the 2019 Subaru Forester, which works well nonetheless.
Also gone is the turbocharged engine option, which made the Forester 2.0XT feel like a family-minded WRX with its 250-horsepower output. An odd decision, given that it's one of the features that helped the Subie stand out in its category for a long time, while more and more competitors are now offering a turbo engine. Oh well.
Replacing the XT in the line-up—well, sort of—is the new Sport trim level, which is the one we tested. It boasts a more dynamic appearance with orange lower-body striping, black 18-inch alloy wheels and a gloss black grille. It looks good, but its drive isn't sportier than the other variants of the SUV.
Inside, we get treated to orange trim pieces and contrast stitching, which is admittedly tasteful. We like the excellent driving position, the big window surface that provides great visibility all around as well as the high seat cushions that enhance comfort in front and in back. Three people can sit across the rear bench without getting into a fight, and Subaru installed an expansive sunroof that brings more light into the cabin.
An effort has been made to enlarge the cargo area opening, making it even more practical. The cargo hold is one of the most spacious amongst compact SUVs with the rear seats in place, and the biggest in its class when the seatbacks are folded down—beating the CR-V and the Volkswagen Tiguan. As is the case with the previous generation model, a power tailgate is available in uplevel trims.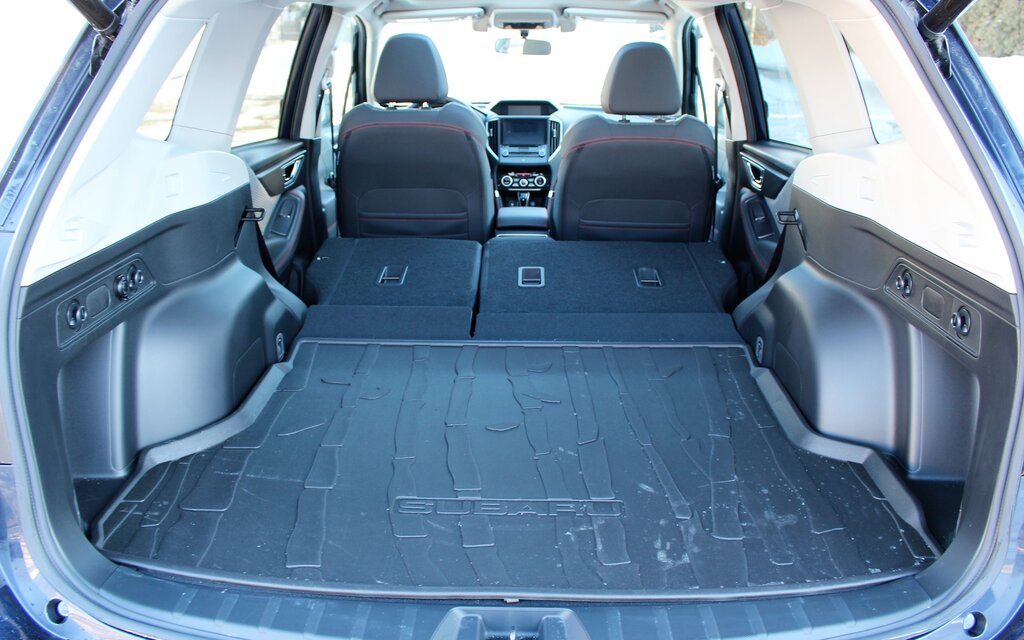 The infotainment system in Subaru vehicles has improved quite a bit in recent years, and the one in our tester is very functional with an 8.0-inch touchscreen—a 6.5-inch display is standard in the four most affordable variants—as well as Apple CarPlay and Android Auto integration. However, navigation and a harman/kardon eight-speaker stereo are reserved for the Limited and Premier trims. Unfortunately, the screen's glossy finish causes reflections in direct sunlight.
The 2019 Subaru Forester is equipped with a full-time all-wheel drivetrain, which can shift a portion of engine torque from a 60/40 front/rear split to an even 50/50, as needed. Reactive, front wheel-biased systems found in other compact SUVs may be good, but none inspire as much confidence behind the wheel as the Forester's setup. For harsh Canadian winters, that's definitely a plus.
Most trim levels include the Subaru EyeSight suite of advanced safety features, which rounds up pre-collision braking, adaptive cruise control and lane keep assist. The 2020 Forester, which will soon be on sale, will include this package on all trim levels, but the base price will consequently rise by a few hundred dollars.
The 2019 Subaru Forester comes fairly well equipped and competitively priced, starting at $27,995 before freight and delivery charges, while our Sport tester checks in at $35K and a loaded Premier creeps in just below the $40K mark. We just wish some more common features would be available in lower-end trims, such as blind spot monitoring, a heated steering wheel and heated rear seats.
The Forester is also very safe, having been awarded a Top Safety Pick+ rating by the IIHS. There was a time when engine troubles plagued some Subaru models, but that seems to have been fixed over the past few years. Solid, spacious, capable and fuel efficient, the Forester is simply one of our favourite compact SUVs right now, despite not being quirky anymore.
Share on Facebook