2018 smart
EQ fortwo

cabrio: City Savings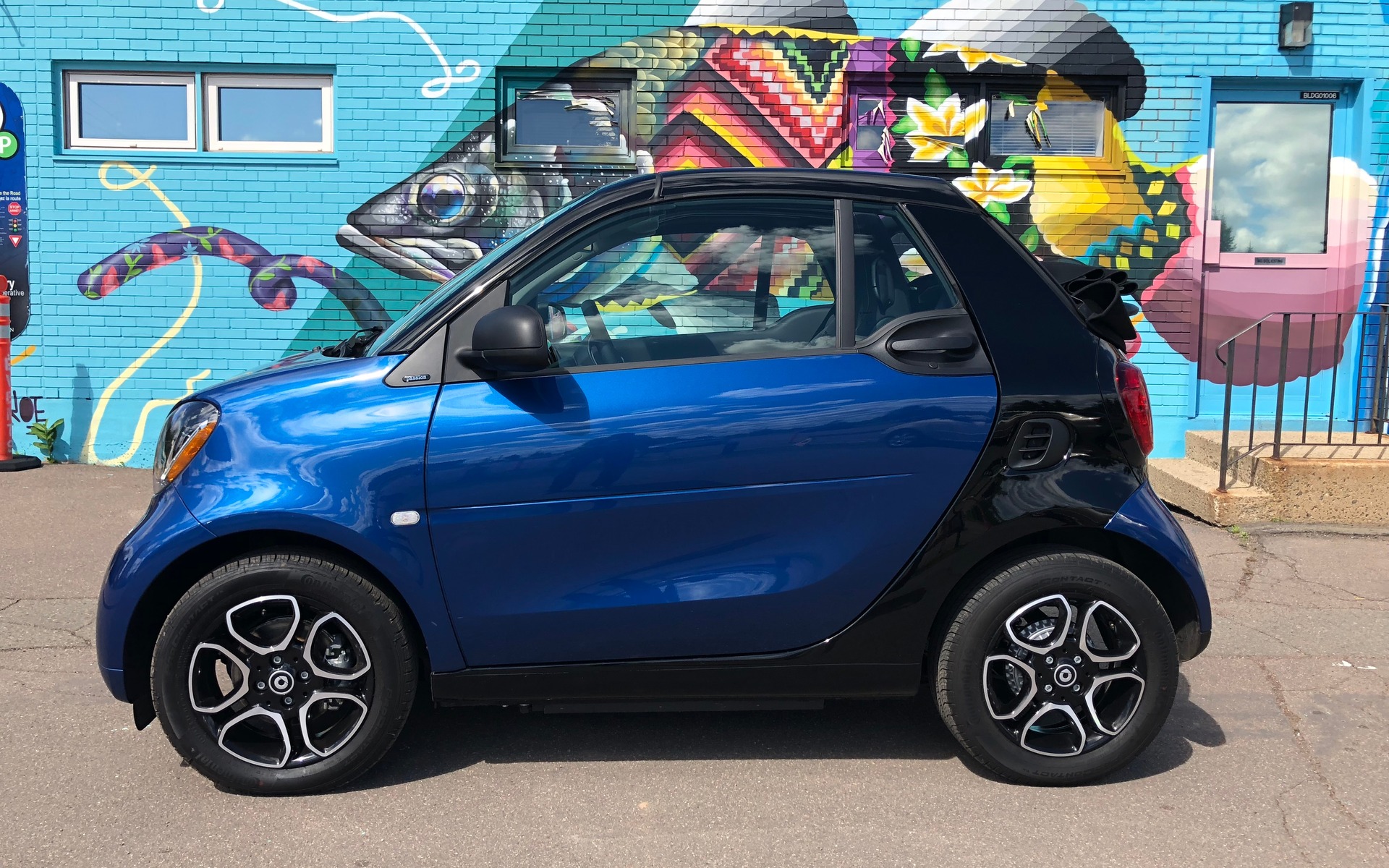 Strong points

Easy to drive and park
Quick performance off the line
Upgraded interior
No extra cost for fuel

Weak points

Minimal cabin space
Mostly ideal for city driving
Short on range
Full report
MONCTON, New Brunswick – Smart has always been a niche subset of the Mercedes-Benz brand with its unique take on city travel offerings. However recently, it has separated itself even more so by becoming one of the only brands, at least for now in North America (and throughout Europe by 2020), that's made its entire lineup all-electric—along with Tesla.
The first embodiment of the all-electric plan was the rebranding of its fortwo vehicle—first displayed at the 2018 Geneva International Motor Show—now known as the smart EQ fortwo. The "EQ" in its name stands for electric intelligence and that nomenclature will be used throughout the Mercedes-Benz lineup—soon to have an electrified vehicle in each segment offering.
The smart EQ comes in coupe and cabriolet form, and for the first time in Canada, we were able to test out the new cabrio version ahead of the 2018 Automobile Journalists Association of Canada's (AJAC) EcoRun event in New Brunswick. It wasn't one of the 19 vehicles driving from Moncton to Fredericton on a two-day fuel-economy showcase, but rather a special 20th entry that spoke to the current and future environmental plans of the smart brand.
So far for 2018, the fortwo is on the right track in Canada considering its pure electric switch. As of May 2018, 139 units have been sold, only 10 units shy of its 2017 totals, so it would be interesting to see how well its 92-km range fared during a quick loop around the city streets of downtown Moncton.
Changing the City Car Mindset
By the looks of some bystanders during my drive, they may still equate the city car with thoughts of Mr. Bean driving in his original MINI, but the 2018 EQ has truly evolved over the years.
From afar one cannot see it, but when inspecting the vehicle at close range, it becomes apparent that it's all in the details. A fun tone is set by a dual-colour paint design; my tester was predominantly Midnight Blue Metallic with touches of black, but there's a wide range of alternative colour variants such as black/orange, white/green or black/black, to name a few. When inspecting its full body, the smart brand starts to flex its muscles with some truly nice touches that include a meshed radiator grille, door mirror caps in Tridion colour, LED headlamps and 15-inch 5-twin-spoke bicolour alloy wheels.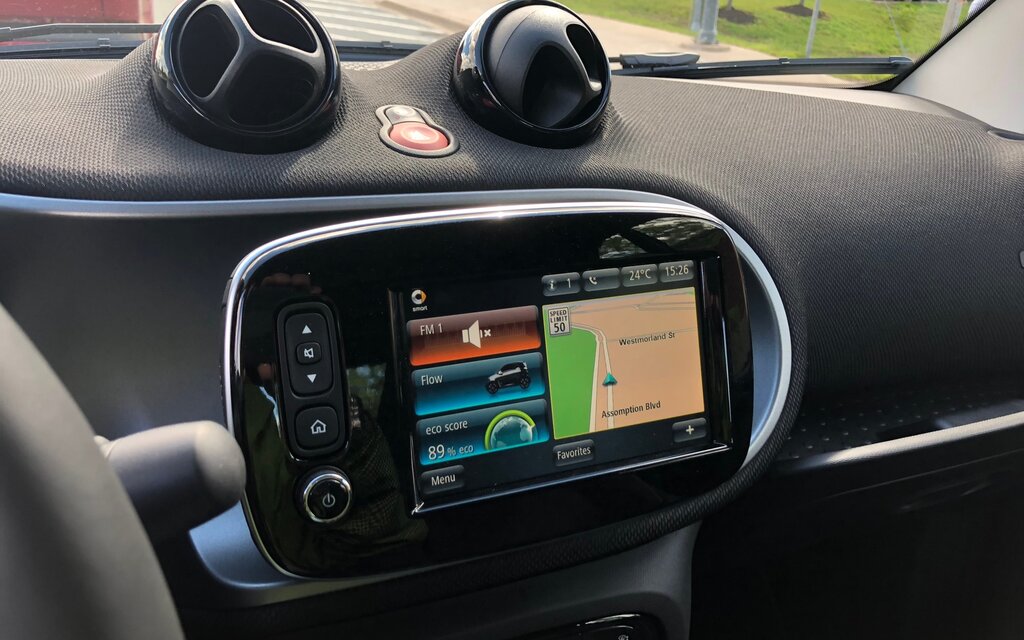 The exterior may surprise, but the interior adds more flair and connectivity totally suited for its expected younger customer. Obviously, this city car is suited for two people, families need not apply, but for the young couple or solo traveller, the smart has everything you need including a retractable roof that can be activated with two presses of a button, even while in motion.
The cockpit is both comfortable and open with minimal amounts of clutter on the dash. The only two things other than the seven-inch infotainment unit was a 3.5-inch instrument cluster along with a circular meter to the far left that showcases the battery power being currently used while driving and how much juice is left before a charge.
For a car that's small in nature, something has to be a bit dinky and that award falls to the climate control unit and gear shift lever. They both look outdated and in need of some TLC. Unfortunately, with all the nice modern touches that surround it, they stand out far more than that area should.
An added bonus is standard heated seats for both the driver and passenger, along with leather touches for the heated steering wheel and shift lever. It would have been nice to have the seven-inch touchscreen come as standard, but that's an add-on for $1,395. Further extras include ambient lighting, a centre armrest, smartphone cradle and forward collision warning.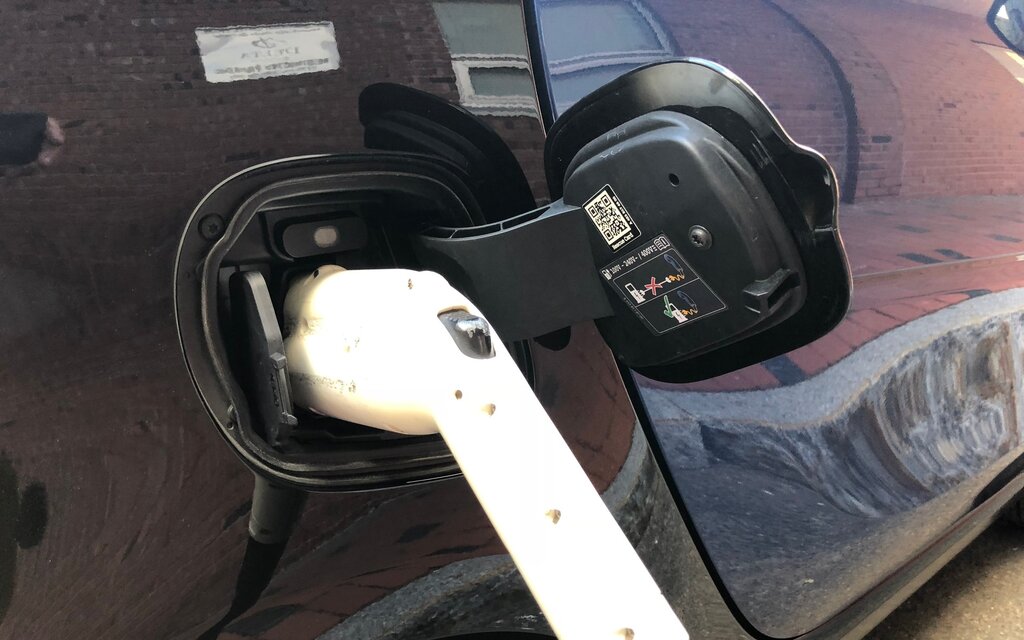 A Comfortable Jaunt Around the City
Considering it wasn't able to go along the EcoRun route, I knew range would be an issue for the EQ. However, to my surprise, when pushing the Eco button near the gear shifter, its 92-km range immediately took an uptick to 114.
In order to preserve this range, I put the top down and went about my ways without the need for air conditioning. Its 118 lb.-ft. of torque through its three-phase synchronous (single) motor and 17.2-kWh lithium-ion battery showed off an instantaneous boost, essential when booting around busy Main St. with all its street lights and pedestrian crossings.
In an age of horsepower numbers, the smart EQ only delivers 80 funnelled through a single-speed transmission, but if it gave you 100 or even 110, would that really balance the scales towards the purchase? If you're interested in buying a city car, you understand that a tight turning radius, being able to weave through traffic and alleyways, and finding minute parallel parking spots is where it wins out. It's only on the highways (which I only went on briefly) when one really gets horsepower envy.
For this sunny day drive, I managed to let the wind flow through whatever hair I have left while passing larger SUVs along the way in total silence. It was comfortable with plenty of visibility despite the odd looks received along the way. For city driving, it all seemed right, especially when you factor in a gas bill of zero dollars and a combined fuel economy equivalent rating of 2.3 Le/100 km.
The EQ can charge up in only three hours on a Level 2 station, when others take four to eight, so there's another positive for a consumer always on-the-go.
Conclusion
Like most EVs, the 2018 smart EQ fortwo cabrio doesn't come cheap at a starting price of $32,050 (coupe starts at $29,050) before freight and delivery charges, but those do come with some incentives in the provinces of British Columbia, Ontario and Quebec. Just keep in mind that some of these enhancements like the touchscreen and LEDs that truly elevate the EQ comes as add-ons. They aren't too costly as it only upped this final tester price to $34,890.
The smart fortwo wasn't for everyone before it became electric, and now, it's even more niche with a range close to 100 km. If you're a city dweller, it serves a purpose and making it fully electric seems like a prosperous path for the small brand in an ever-changing age of mobility.
Share on Facebook