2018 Hyundai Ioniq: Electrification is Becoming Mainstream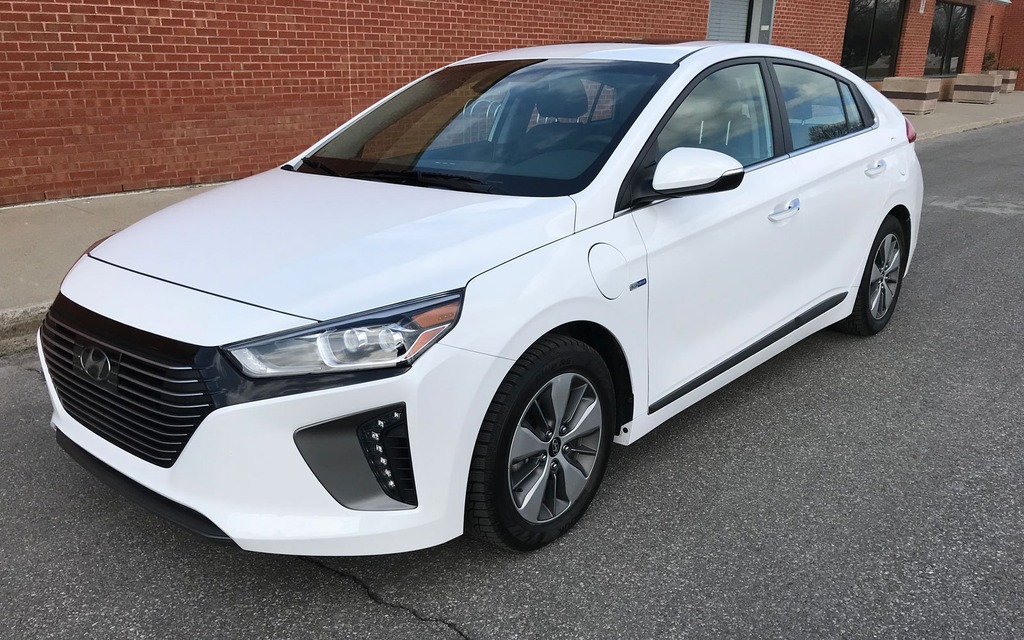 Strong points

Modern looks
Good electric-only range
Quality interior

Weak points

Volume button placement
Price still too high and requires government incentives to be interesting
Gas engine required for heating
Full report
It seems like electric vehicles have been scratching the surface of normalcy for quite a while now. Unfortunately, up until very recently, they have been too pricey or too ugly to consider for most buyers. That seems to be finally changing for good and cars like the Hyundai Ioniq are a prime example.
Dubbed by Hyundai as "Canada's most fuel-efficient car", the Ioniq comes in three separate variants that need to be explained before we go any further. First, we have the all-electric version which is just as you would expect: no gasoline at all and the vehicle runs solely on electricity for up to 200 kilometres thanks to its 118-horspower electric motor. The second variant is the Ioniq plug-in electric hybrid which has a 60-horsepower electric motor as well as a 104-horspower, 1.6-litre gasoline engine to keep you going when the juice runs out. It offers an EV driving range of up to 47 kilometres.
Lastly, we have a regular hybrid that you don't plug in, but still has the ability to run on either electric power alone as well as gasoline power from the same 1.6-litre engine. The electric motor comes with 43 horsepower for this final version.
Hyundai Canada was kind enough to lend me the plug-in electric hybrid version (PHEV) for one week in order to test. I was pleased because as someone who lives in a suburban area and who does short trips to school and work each day, it's likely the best configuration for my needs. My daily jaunts fall well within the 47-kilometre electric range, so theoretically, if I charged it after each trip, I should be able to use no fuel at all. If I want to go on a longer trip, the gas engine allows for this option and also squashes any range anxiety I might feel. Total range is about 1000 kilometres.
In reality, I still used some fuel (as I expected) and my total consumption for the week was 5.3 L/100 km. While it was springtime, the temperature still dipped below freezing at night and the mornings were cold. The Ioniq needs the run the gasoline engine to give you a working heater before you get to your destination and turning it on high will immediately cause it to come to life. Once things get going, it'll shut down and you can go back to the quiet electric drive. If you prefer to conserve electric power as much as possible, you can switch out of all-electric drive mode at the touch of a button.
Other than that, for the most part the Ioniq PHEV is just like any other car and performs its duties admirably. It feels confident and solid on the road thanks in part to the standard multilink rear suspension, smooth dual-clutch transmission and loads of torque available instantly from the electric drive.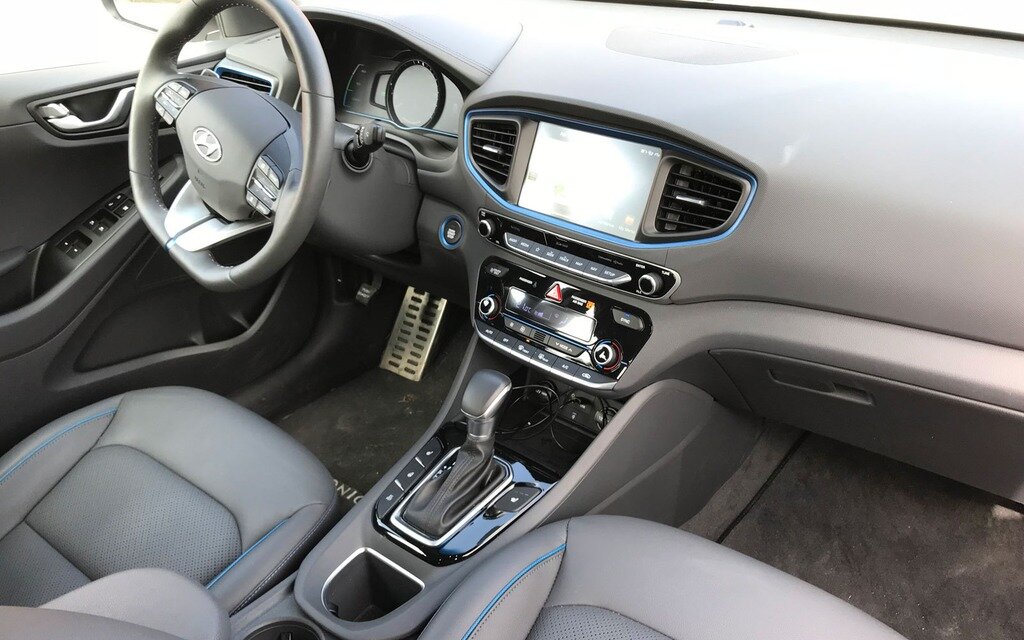 The spacious interior can hold four adults without issue and the hatchback design means loads of cargo space in the trunk. It has a ton of standard features such as heated front seats, heated steering wheel, heated rear seats, 8.0-inch touchscreen display with navigation, Apple CarPlay and Android Auto integration, power sunroof, dual-zone climate control, pushbutton start. It also has a beautiful interior with colour accents.
Ergonomically, there is much to like and almost nothing that needs changing. The steering wheel is comfortable, functional and pleasant to look at. The leather seating surfaces are of similar excellent quality and will hold you in place while providing decent comfort. I'd move the volume dial closer to the driver to be able to get to it without leaning forward, but I can't think of any other complaints. One thing to note is that the all-electric version ditches the standard gear shifter for pushbuttons in case you're one of the people (like me) who prefer the old-fashioned way of putting a vehicle in gear.
One of the Ioniq's best qualities is its looks. It doesn't have that odd styling that electric vehicles have come to be known for. The front is similar to the Elantra and the rear actually is quite attractive despite the vehicle following the Kamm tail design for reduced drag coefficient (a Kamm tail design is part of the reason why you think all electric cars look odd).
So we have a fuel-efficient car which looks great, but how much does it cost? The Hybrid starts at $24,299 before freight and delivery charges, the PHEV at $31,999 and the EV at $35,649. The government will pony up incentives on top of that which vary depending on the province. For example, Quebec residents will enjoy $4,000 off an Ioniq Electric Plus, B.C. $2,500 and Ontario $7,000. I'd say that makes for a pretty enticing reason to have a serious look at the Ioniq. It's still a lot to pay considering the Elantra starts at just $15,999 and it's unlikely someone would recover the difference in saved gas in a reasonable amount of time.
Share on Facebook