2018 Honda Odyssey: a Nod to a Simpler Era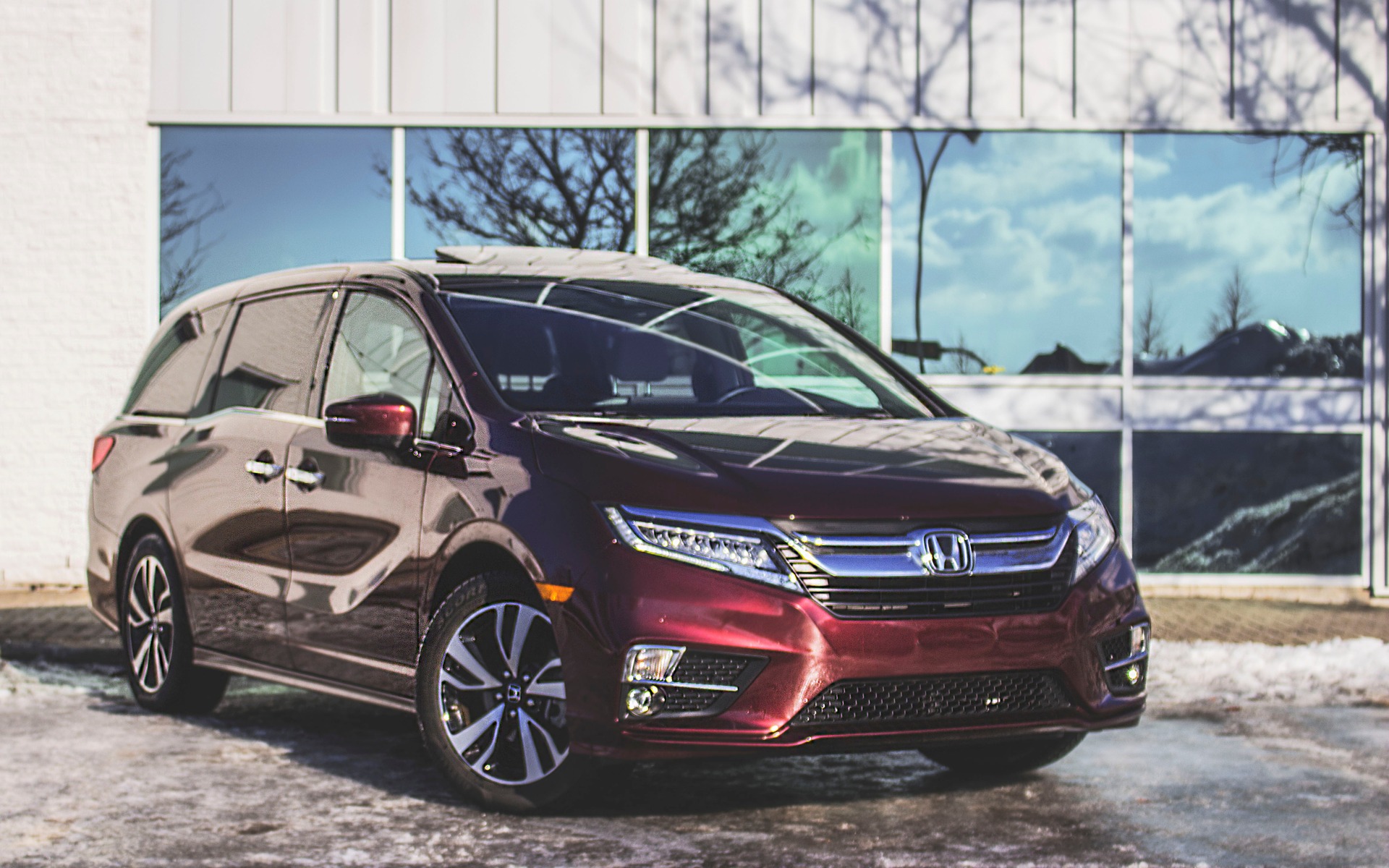 Strong points

Drives like a sedan
Powerful and smooth V6 engine
An ergonomic powerhouse

Weak points

Display audio lacks redundant physical controls
Removable seats are heavy and cumbersome
Can get expensive with options
Full report
Back in the 1990s, the automotive spectrum was rather straightforward. If you were single, or in a relationship, you either drove a compact or midsized car. If you owned a farm, you drove a pickup truck. And if you had a large family, you drove a minivan.
Of course, the minivan evolved with its own stigma of boredom and parenthood imprisonment. As the world moved on, young parents, who had themselves been shuttled in these seven-passenger contraptions as children, didn't want to follow in their parents' footsteps.
Simply put, the new generation of parents is too "cool" and "adventurous" to drive a van. These individuals drive an SUV now, a much more "active" and "hip" vehicle that's more in tune with their "dynamic" lifestyles. Furthermore, now with seven- or eight-passenger seating, sport utility vehicles are leaning more and more onto minivan territory. How can the van survive? Well, Honda may just have the answer with its 2018 Odyssey, by cramming it with cool features parents actually need.
The Power of Sliding Doors
For 2018, the Odyssey receives a mild design overhaul, but still looks, for some reason, rather similar to the model it replaces. Except for new LED headlights and larger "lobster claw" taillights, this is essentially the same modern three-box design we've come to expect from the big H's people hauler. Except now, Honda seems to have understood how to hide the sliding door track underneath the rear glass.
But what really stands out with the Odyssey is its drivetrain and driving dynamics. Being based on the same unibody platform as the Honda Pilot—yes, an SUV—means the Odyssey inherits driving dynamics that resemble those of a large car, kind of like a sedan. On the road, this minivan, thanks to an independent rear suspension, exhibits light-footedness and composure that's hard to ignore, allowing it to remain well-planted to the ground, nimble and plain-out easy to drive.
Give it VTEC!
Under this van's hood sits one of the last survivors of VTEC technology, a feature which should attract the attention of current parents who grew up in the nineties driving Integras and Preludes. While most of Honda's lineup has shifted to turbocharged powerplants, the Odyssey continues to hang onto a naturally aspirated V6. With 3.5 litres of displacement, and fitted with cylinder deactivation, this proven mill remains the carmaker's bread and butter engine, also finding its way in the Pilot and the Ridgeline, as well as powering some Acura vehicles.
For the Odyssey, power is rated at 280 horsepower 263 lb.-ft. of torque. Front-wheel drive is the only way to go throughout the lineup; all-wheel drive isn't an option, unlike its direct competitor, the Toyota Sienna. Two automatic transmissions are offered, depending on the trim level you choose. Entry-level Odyssey trims come with the controversial ZF-sourced nine-speed automatic gearbox. Our tester was the Touring model, which comes with Honda's all-new, in-house ten-speed unit, the same one as in the Honda Accord.
Behind the wheel, the Odyssey is surprisingly peppy, and that V6 pulls hard, all while emitting a rather pleasant intake bark as it hits its cam switchover threshold, typical of VTEC engines of yore. Acceleration from a standstill to 100 km/h is claimed at a brisk 6.7 seconds—quick for a minivan! And that ten-speed automatic, the first Honda-designed transmission to be fitted with planetary gearsets, is a clear improvement over the nine-speed. The new system shifts imperceptibly under moderate throttle, is well suited with the V6 engine and always seems to be in the right gear. The whole combo is rather fuel efficient too—we managed a 10.4 L/100 km average.
Cram it With Toys
The 2018 Honda Odyssey's trick up its sleeve is its ergonomic brilliance. Simple features such an armrest perfectly aligned with the steering wheel, an integrated vacuum cleaner, or a second row of seats that slide sideways are among a smorgasbord of intelligent features the Odyssey has been crammed with.
Among these toys, some stand out more than others. Honda's Cabin Watch and Cabin Talk, which not only allow the front passengers to spy on their kids in infrared vision, but also speak to them either through the car's speakers or available headphones isn't only smart, but also totally cool. At least, it is for parents—if I was a kid and my mom owned a 2018 Odyssey, I'd hate her for buying one.
These toys, which also include a neat "Are We There Yet" game for kids, are controlled via Honda's all-new Display Audio infotainment system, which is a first step in the right direction and a solid improvement over the last system. Unlike the Accord's version, however, which incorporates physical redundant controls for virtually all touch-operated ones, the Odyssey's system still lacks some flexibility, such as the ability to change radio stations while using the navigation system. But the interface is clean, simple, filled with large, easy to comprehend icons, stuffed with the latest connectivity features, and, at last, includes a volume knob!
Overall, as a minivan, the Odyssey, especially in Touring trim, is immensely comfortable and spacious (4105 litres of total cargo space) no matter which seat you're sitting in. But it has some shortcomings. The second-row seats can't be neatly stowed within the vehicle's floor like Chrysler's Stow 'n Go feature. Sure, those benches are more comfortable than the Pacifica's and can be completely removed, but good luck refitting it into place on your own. Each bench weighs 68 pounds!
Another flawed feature of the Odyssey versus its main American rival, which by the way, is offered in plug-in hybrid form, is the absence of a flat load floor. The third-row bench can be folded, but doesn't lie completely flat, resulting in a hump which could prove frustrating when loading objects such as wood planks or a kayak, for example. Finally, a base 2018 Honda Odyssey with an entry price of $34,890 is well priced, but our Touring model skims just over the $50,000 mark—for the average family, that can get rather expensive.
We'd suggest sticking with the vehicle's more attainable trim levels, the only thing you'll miss mechanically is the excellent ten-speed automatic, but you'll still get the powerful VTEC engine as well as Honda's playground for brilliant ideas on wheels. As always, the Odyssey is a minivan only Honda could have created. It's smart, well put together, packed with technology and just quirky enough to make it stand out from an otherwise stale segment.
Share on Facebook