2017 Toyota Sienna: Family First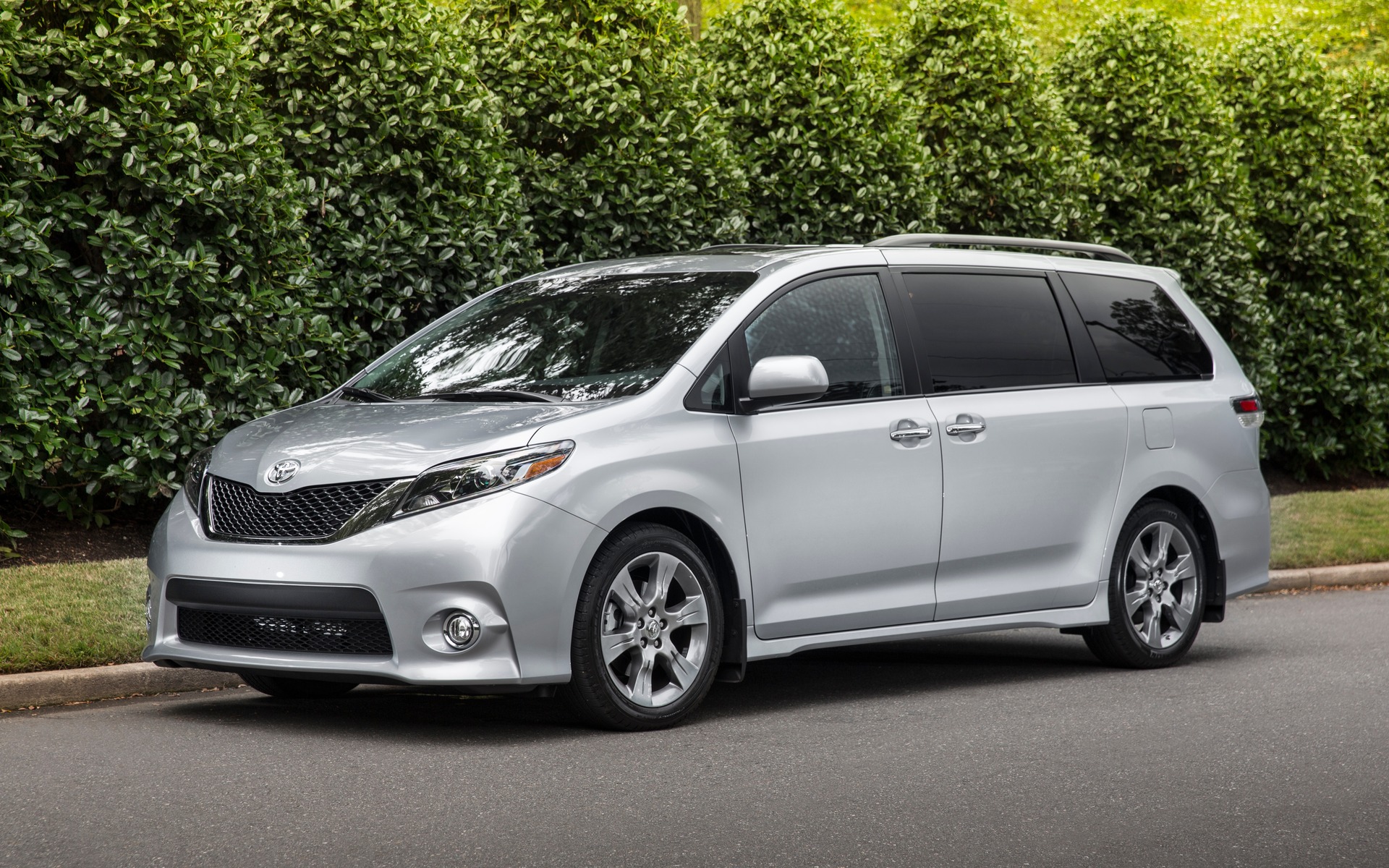 Strong points

Reliability and resale value
Undeniable versatility
Available AWD

Weak points

Its rivals are arguably more fun to drive
Lacks rear-seat USB ports (will be fixed in 2018 though)
Slightly harsh suspension in the Sienna SE
Full report
There aren't many players in the minivan segment anymore, but that doesn't mean they don't deserve their spot in the marketplace. No matter how uncool we look driving one of these rigs, their undeniable versatility is an excellent compromise, and with three kids or more to haul around, a minivan's virtues become even greater.
With a minivan such as the 2017 Toyota Sienna, there's no fighting for shoulder room. No arguments about who's stuck sitting in the middle of the bench seat. No disputes over cupholders. Add a rear-seat entertainment system, and suddenly, road trips with the family become bearable.
The Sienna must do battle with the recently introduced Chrysler Pacifica, the redesigned Honda Odyssey, the still-fairly-new Kia Sedona as well as the aging Dodge Grand Caravan. In this market segment, the one who offers the most innovative features usually gets the headlines, but the Toyota relies on its reputation for reliability and the fact that it's the only minivan to offer all-wheel-drive.
Drag-strip queen
Under the hood of the Sienna lays a direct-injected, 3.5-litre V6 engine. New for the 2017 model year, it develops 296 horsepower and 263 pound-feet of torque, making it the most potent powertrain in its segment. It's connected to an eight-speed automatic transmission that sends all that muscle to the front wheels as standard.
Yes, the Sienna is pretty quick, but that doesn't necessarily make it fun to drive. Ok, in a straight line, it's not that boring, but as soon as the road gets twisty, the vehicle's sheer mass and high centre of gravity will come into play.
Towing capacity is rated at 3500 pounds (1588 kg) in every Sienna except the base and XLE AWD trims that are limited to 1000 lbs. (454 kg), which is odd because they are mechanically identical to the other ones. As for fuel economy, its city/highway ratings are set at 12.5/8.9 L/100 km—13.4/9.6 L/100 km with AWD—while we averaged 11.5 during our winter test.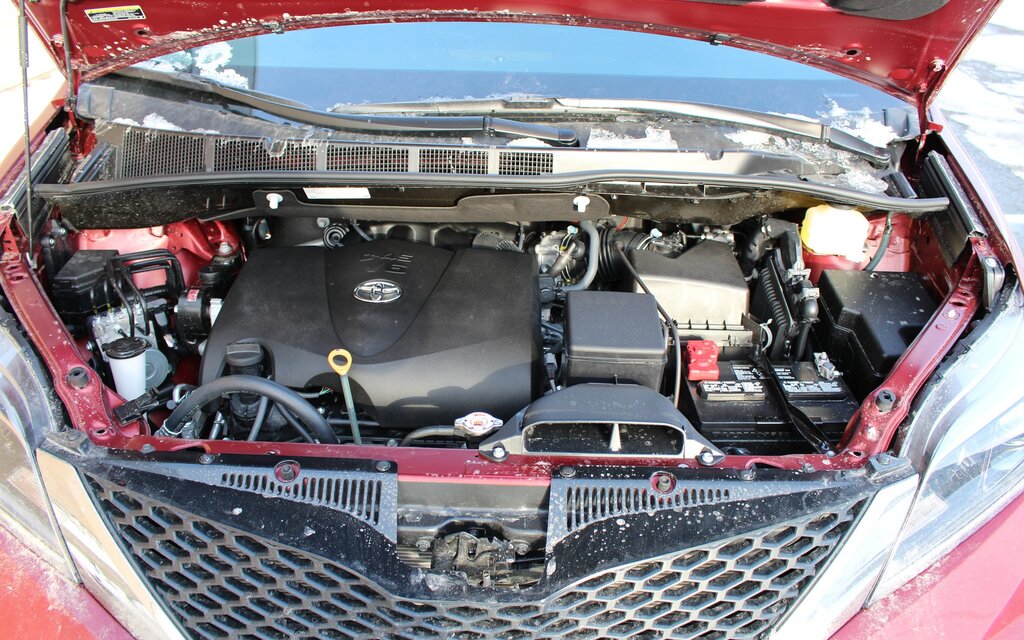 Many versions of the 2017 Toyota Sienna are available, but those who want to display a little more character will likely choose the SE trim. It benefits from sportier bumpers, side skirts, a rear spoiler, blacked-out headlight clusters and LED taillights, while it rides on 19-inch dark alloy wheels. A racy looking minivan might sound oxymoronic, but the Sienna SE does indeed look good.
It also includes sport tuning of the steering system and the suspension for an enhanced driving feel. Although it does cure some of the Sienna's numbness, the compromise is a firmer ride that doesn't always fit too well with the vehicle's occupants.
As mentioned above, AWD is optional, but only on the LE and XLE grades, and that means spending at least $40K. In addition, adding AWD also means the Sienna will be equipped with run-flat tires—there's no room left underneath the floor for a spare—which are costlier to replace.
Room to grow
Amongst minivans, only a few litres separate the worst from the best in terms of passenger and cargo space, so the 2017 Toyota Sienna doesn't really stand out here. Needless to say, it's extremely roomy inside, much more than a more-fashionable SUV.
The third-row bench can be stowed flat in the floor by pulling on a handle and a strap on its seatbacks, and there are 12-volt and 120-volt power outlets in the rearmost portion of the cargo area. The second-row captain's chairs can be turned into a three-passenger seat by adding a clip-in cushion and seatback. The latter can be folded up and strapped into the wall of the rear cargo area. However, this middle seat isn't very comfortable, especially for adults.
Up front, we liked the comfort level of the seats, although in typical minivan fashion, there's not much lateral support. Nothing beats rotary dials for adjusting climate control settings, and the Sienna SE includes a good list of features including heated front seats, three-zone automatic temperature control, leather upholstery, sport-style gauges and a six-speaker stereo with seven-inch touchscreen.
The Technology Package adds rear-seat entertainment with a Blu-ray player, RCA input jacks, wireless headphones and a 16.4-inch, widescreen overhead monitor that can be split in two screens. However, two separate, seatback-mounted monitors would be a better and less distracting (read: nauseating) solution.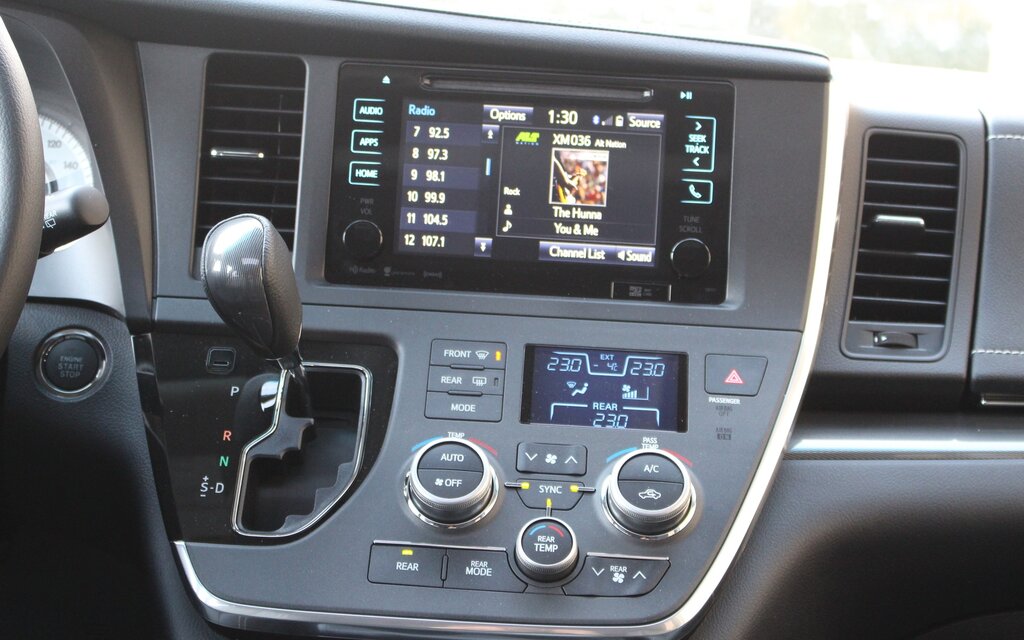 The package also includes navigation, an intelligent key system, a power sunroof, blind spot monitoring and rear cross traffic alert, but all that costs an extra $5,350 over the $40,505 MSRP of the Sienna SE. These features are all included in the Sienna Limited, which is priced at just under $50K. Overall, we'd choose a moderately equipped LE trim and purchase a good third-party rear-seat entertainment system.
If we'd like a full complement of advanced safety driving aids, we should wait for the 2018 Toyota Sienna, which will include the company's TSS-P suite on all trim levels. That package rounds up precollision warning with pedestrian detection, adaptive cruise control, lane departure warning and lane keep assist as well as automatic high beams. A new Entune infotainment system will also be available with up to five USB ports spread across the cabin, as will be a 360-degree camera system. However, we're expecting the price to go up a little in order to absorb these new features.
The 2017 Toyota Sienna is arguably the least fun-to-drive minivan currently on the market, and it's not the most innovative either. That last criterion would go to the Chrysler Pacifica Hybrid and its amazingly fuel-efficient powertrain. However, the Sienna remains a solid purchase, because its reliability has been proved and it holds its value over time. That's peace of mind for parents.
Share on Facebook