2017 Kia Soul SX: The Facultative Turbo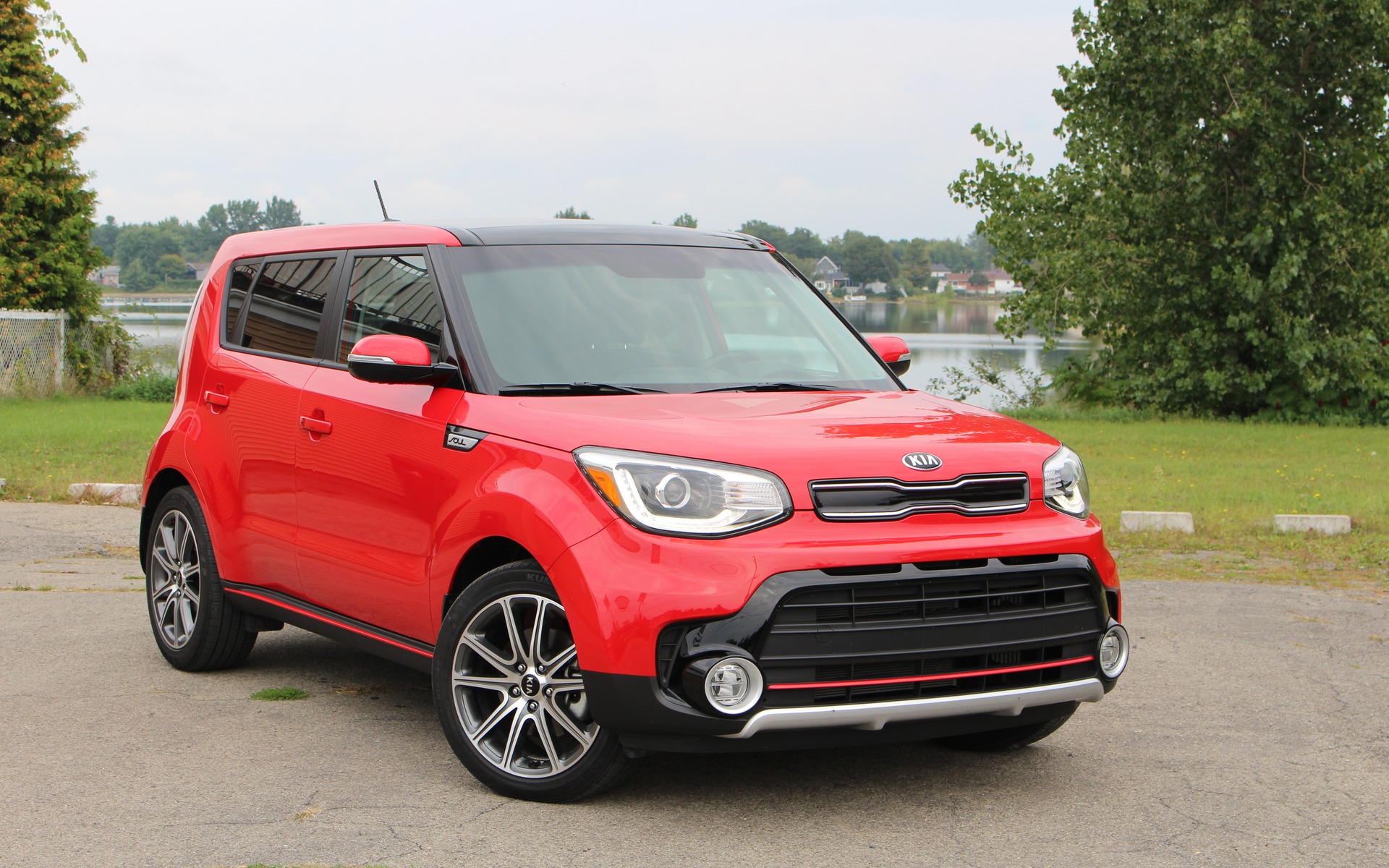 Strong points

Cheery character
Good amount of interior space
Lots of available features

Weak points

Turbo engine lacks punch
Well-equipped versions don't come cheap
Tight rear seat for three
Full report
For the 2017 model year, Kia decided to give its Soul a little more muscle. An easy task, since such a powertrain was readily available. Does it make is a better vehicle?
The funky little Soul hit the Canadian market in Canada in 2009, as a 2010 model. It was relatively unique, a vehicle halfway between a hatchback and a crossover. Over time, its main rival, the Nissan cube, came and went, and the Kia has become surrounded by a slew of subcompact SUVs, of which most offer an all-wheel drivetrain. The Soul didn't, and still doesn't, but that isn't preventing it from selling well in Canada. As a matter of fact, 2015 and 2016 were the Soul's best years on the sales charts, and 2017 is looking almost as good. Its main rival is now the new-for-2018 Toyota C-HR.
In addition to the 1.6-litre and 2.0-litre engines, which develop 130 and 161 horsepower, respectively, the 2017 Kia Soul is now offered with a turbocharged, 1.6-litre four-cylinder engine. This one punches out 201 hp and 195 pound-feet of torque from 1500 to 4500 rpm. The only transmission it can be bolted to is a seven-speed, dual-clutch automatic, which feeds power to the front wheels.
Not only is the turbo mill the most powerful of the bunch, but it's also the most fuel-efficient. Of course, we're not counting the Kia Soul EV and its fully electric powertrain. The Soul SX boasts a combined city/highway rating of 8.5 L/100 km, which is a few tenths below what the other gasoline engines can muster. We managed 8.6 L/100 km during our test.
So with more muscle and more efficiency, it's the best of both worlds, right? It is on paper, but in reality, it's not all that impressive.
The turbo engine allows the 2017 Kia Soul to pick up speed pretty quickly, but once it steps out of its torque peak above 4500 rpm, it quickly runs out of breath. Not a big deal in a vehicle like the Soul, but more of a concern in Hyundai and Kia's sportier cars such as the Elantra Sport, the Veloster and the Forte SX.
Still, it makes us wonder if we'd really pay the extra dough to obtain the turbocharged engine, because the extra performance above the 161-hp, 2.0-litre four isn't all that great. At least it can run on regular gasoline.
The 2017 Kia Soul SX looks pretty neat with its 18-inch alloys, LED fog lamps, sporty bumpers and red lower-body striping. It's tasteful without being overdone, and suits the vehicle's playful character nicely. However, there's not much visual distinction with the Soul EX, which further puts the extra coin into question.
Inside, Soul SX exclusivities include leather and cloth upholstery with orange stitching and a flat-bottomed wheel. That's it. The rest of its features can be added to the EX trim.
By opting for the Tech Package on either the EX or the SX, we get power-folding outside mirrors, HID headlights, a panoramic sunroof, an eight-speaker Harman Kardon sound system with eight-inch touchscreen and navigation, dual USB ports, LED ambiance lighting as well as blind spot monitoring and rear cross traffic alert. That adds more than $4,000 to the price an already well equipped Soul, so it's more or less worth it. We really like the panoramic roof, though, and that's included in the $25,995 EX Premium.
Interior space is actually quite good in the Soul, due to the high roofline. Occupants sit straight, with an SUV-high outward view, and overall visibility all around is fine. Four passengers will be at ease, and as usual in small cars and SUVs, the middle rear seat isn't too comfy for lack of width and because of a firm cushion, but can handle a fifth person in a pinch. The Soul can also swallow a fair amount of stuff in its cargo hold, aided by a square cutout and a maximum volume of 1402 litres. Even with the rear seatbacks in place, there's still 532 litres of cargo space, which is almost as big as the average compact hatchback.
The 2017 Kia Soul starts at $17,395 before freight and delivery charges, but that's for a base LX trim with a manual transmission and no air conditioning. The Soul LX with the six-speed automatic is priced from $19,995, and includes A/C, Bluetooth connectivity, keyless entry and cloth upholstery. On the other end of the spectrum, our loaded Soul SX with the Tech Package is listed at $29,995. The sweet spot is the $23,395 Soul EX+.
The Soul may not get all the attention because it doesn't offer all-wheel drive, but with a good set of winter tires, not everyone wants or needs it. Kia's little crossover is stylish, spacious and fairly fun to drive. However, it doesn't need a turbo engine to be enjoyable.
Share on Facebook