2018 Dodge Durango SRT: The Hellcat's Burly Cousin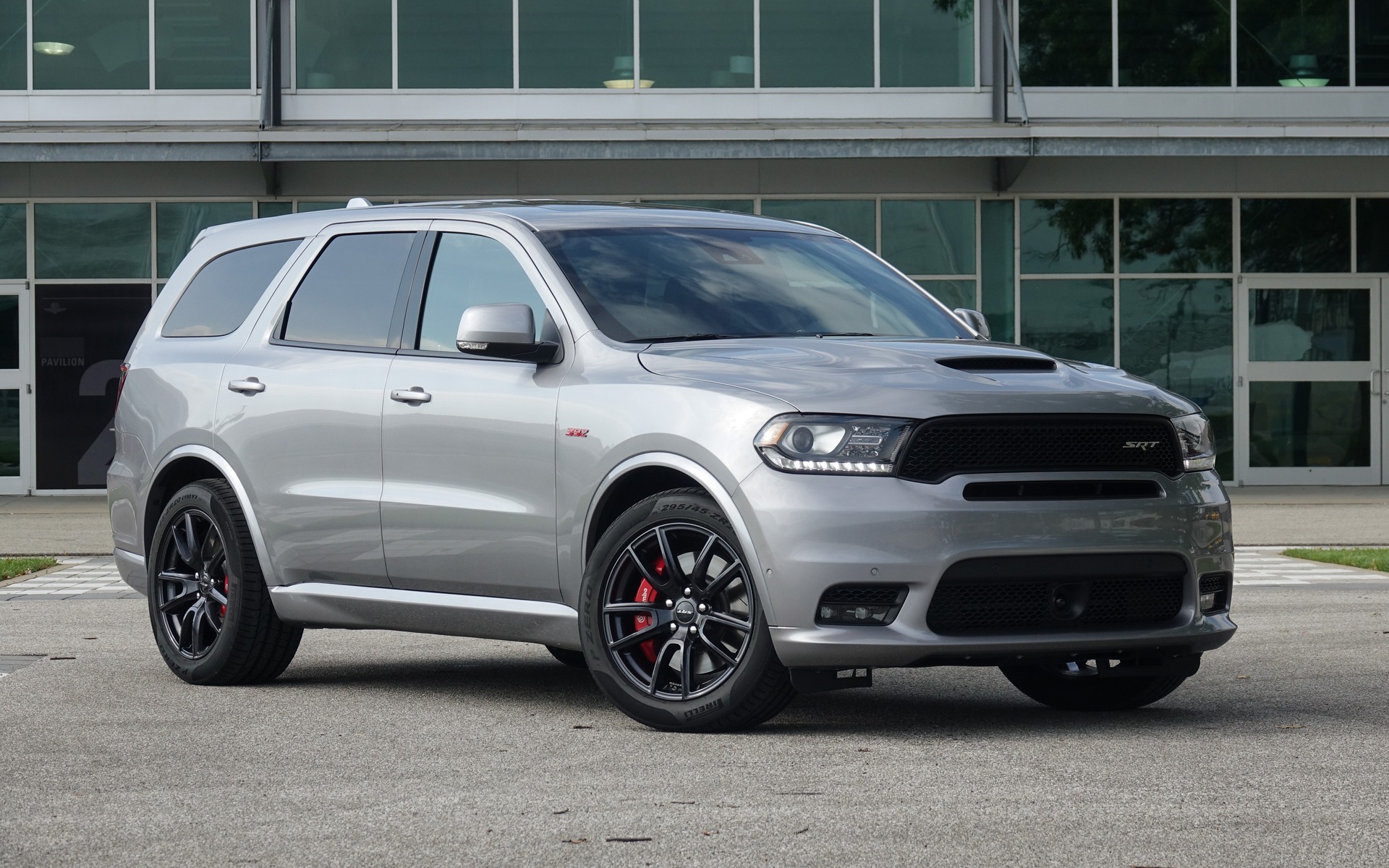 Strong points

Powerful engine and joyful sound
Surprisingly solid handling
Cargo volume and towing capacity
Great versatility

Weak points

Seats have limited lateral support
High fuel consumption
Substantial weight
Unproven durability and reliability
Full report
INDIANAPOLIS, Indiana – For Tim Kuniskis, head of the Chrysler, Dodge, Fiat and SRT brands for the Italian-American manufacturer FCA, it couldn't be simpler. For him, the Dodge Durango is nothing more and nothing less than "a Charger with three rows of seats." This brawny SUV is designed to stand out from its rivals and make no apologies in an era when we're all obsessed with the electric car.
That goes double for the new Durango SRT that offers "even more performance and personality," according to Kuniskis, at the pinnacle of an already very complete series. All Durangos are getting a facelift for 2018, including a redesigned grille and front and rear fascia, among other things.
As it should be, the SRT is obviously the best-looking of the bunch. There's nothing extravagant here. Only nicely flared fenders and flanks, without embellishment and just the right amount of muscle tone. It's like a welterweight boxer at the top of his game rather than a slightly pudgy heavyweight. Think Georges St-Pierre instead of Hulk Hogan.
The Durango SRT also gets a new hood whose large functional intake supplies the engine with fresh air and whose two vents then let the heat escape to improve performance. And right in front, there's a finely cut black grille, a pair of air intakes and LED fog lights for good measure.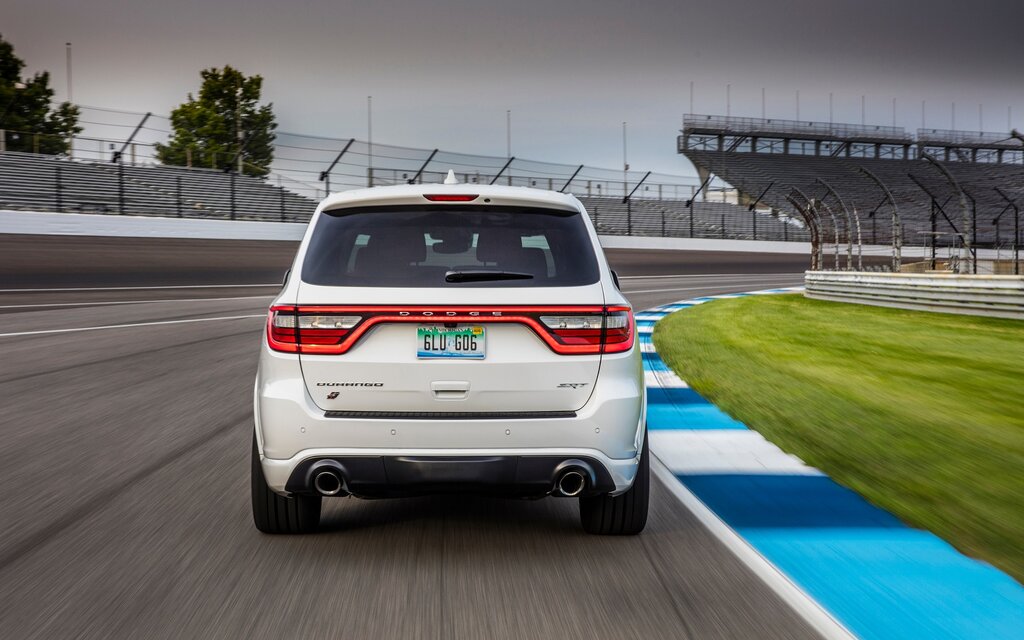 Another lionheart
The engine is the same naturally-aspirated, 6.4-litre, pushrod HEMI V8 that purrs in the Jeep Grand Cherokee SRT, a close cousin built on a shorter version of the same architecture. With 475 horsepower and 470 lb.-ft. of torque in its back pocket, the gang at SRT is boasting NHRA-confirmed times of 4.4 seconds and 12.9 seconds for the 0-60 mph (96.5 km/h) and quarter-mile, respectively. We can't wait to verify those claims ourselves.
Add to this Goliath alloy rims (20 inches in diameter and 10 inches wide) with a black satin finish, fitted with 295/45ZR20 tires. Behind the 10 widely spaced spokes, you can see red-painted, 380-mm front discs and 350-mm discs in back, pinched by six-piston Brembo callipers in front and four-piston callipers in back.
Inside, there's nicely textured thick leather on the seats and a new T-shaped electronic gear selector for the automatic transmission on the central console. It's much more pleasant and efficient than the buttons used in previous Durangos. And in the middle of a nicer dashboard, there's an 8.4-inch Uconnect screen on which you can easily explore multiple menus, including "performance pages" similar to those found in other members of the SRT family, like the Hellcat and the Demon.
Like a good tailback
In Indianapolis, the Durango SRT was perfectly at ease on a makeshift course that connected two series of turns to a fast section of the legendary, almost-oval circuit. This big, surprisingly agile beast enters turns easily with linear and precise steering commanded by a plump steering wheel with a trendy flat-bottom design.
Despite the vehicle's height, there's very little roll thanks to suspension springs that are 3% firmer in front and 16% on the rear axle. The rear rollbar is also 18% stiffer. The precision control comes courtesy of completely configurable Bilstein dampers and the now-familiar magic of electronics.
It took a great deal of effort over a long turn to alternately make the front and rear tires skid. We had to play with the steering wheel to maintain the slide. The SRT we drove was fitted with optional Pirelli P Zero "three-season" tires that are offer better traction and a very low wear coefficient of 220.
The vehicle weighs 2505 kilograms. While you can taunt the laws of physics, you can't totally thwart them. And while we're on the subject, this energetic driving session revealed how limited the front seats' lateral support is.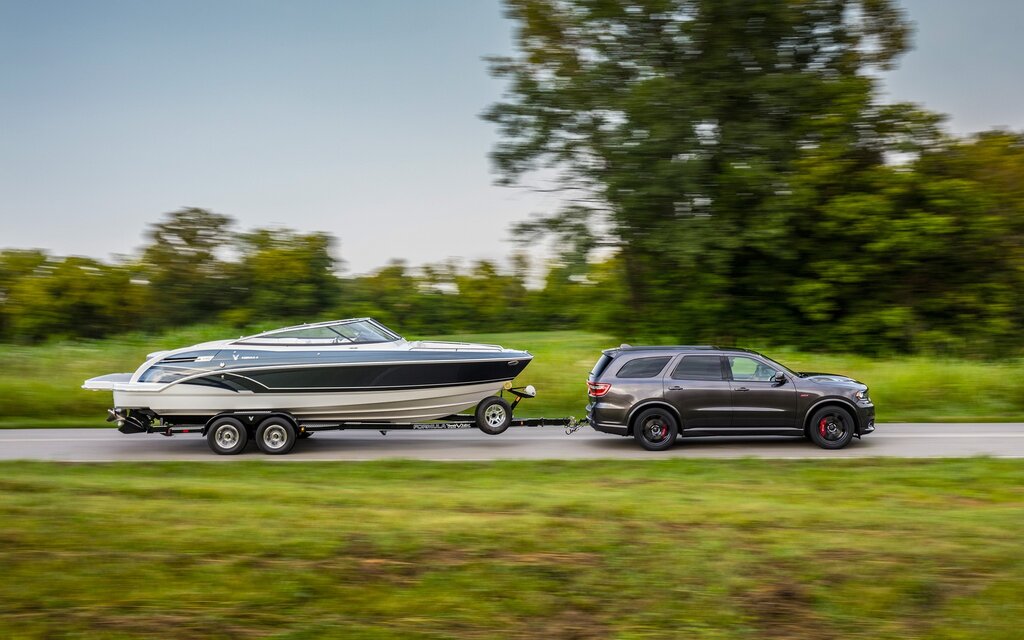 Mechanical opera in Indianapolis
In flat-out acceleration on the longest straightaway of this improvised course in Indianapolis, the Durango SRT released a sound as fabulous as that of the Hellcat Widebody and its 707-horsepower supercharged V8. The rumble was amplified by the empty stands and concrete walls. The folks at SRT really know a thing or two about sport exhausts. Case in point: the two chunky "nickeled chrome" colour exhaust tips (4 inches in diameter or 10 cm).
If you brake hard on a corner, the automatic gearbox will definitely surprise you by downshifting harshly and in rapid succession over its eight gears. It will also emit a positively gleeful roar every time the V8 upshifts and engages a new gear.
In Track mode, the automatic transmission shifts gears in 160 milliseconds and the all-wheel drive transmits up to 70% of the torque to the rear wheels for as neutral a ride as possible. And it works, too. There are six other driving modes, including Sport, less extreme, which quickens gear changes by 50%, while 65% of engine torque is sent to the rear wheels.
At a more moderate pace, the Durango SRT demonstrates impeccable poise on the road. It's comfortable and quiet, as long as you don't put the pedal to the metal, that is. But hey, you're only human, and you're going to give in to that temptation now and then. It's totally understandable, and it's for that reason that the SRT group thought of the (most likely) small passengers sitting in the third row by adding electronic ambient sound reduction.
As such, this new Durango SRT preserves its versatility. For times when its family-oriented traits aren't required, simply switch to Sport or Track mode, whichever is most appropriate for the circumstances. Bring on the wide open spaces, but don't forget your wallet: you'll need it for gas.
Share on Facebook