2017 Volkswagen Jetta GLI: No Longer the Bargain it Used to be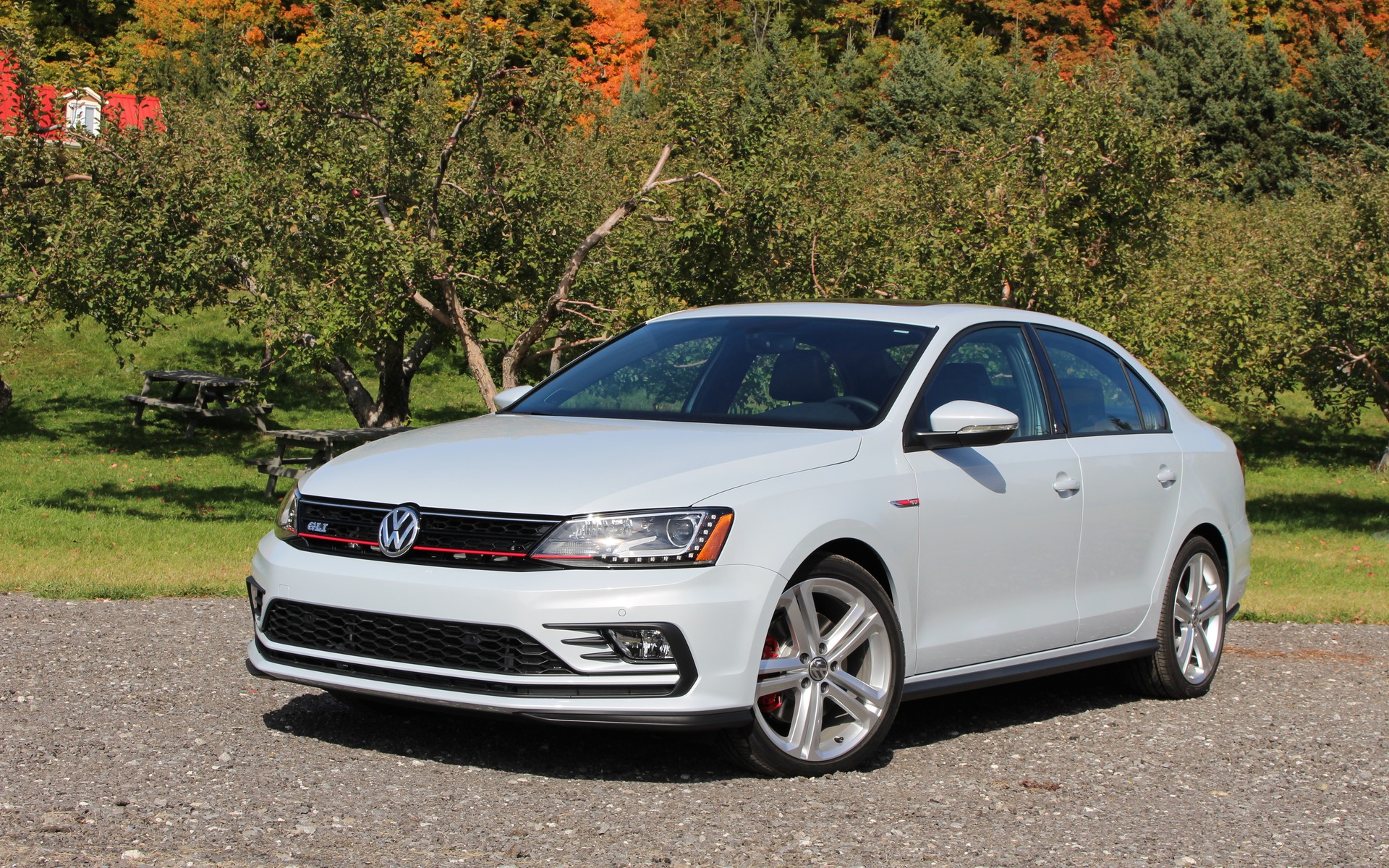 Strong points

Great performance and handling
Lots of back-seat room
Sporty, but still refined and comfortable

Weak points

High price
Not as powerful or torque-rich as a GTI
Conservative interior design
Full report
The Volkswagen Golf GTI has arguably been the compact performance hatchback of choice ever since it was introduced back in the late Seventies. However, the Jetta GLI, its performance sedan counterpart, shouldn't be overlooked either, even though it takes a more subtle approach, because sedan buyers aren't necessarily looking for a flashy car.
And while the GTI has received a few updates in recent years, including a more powerful engine, the GLI stuck with the 210-horsepower, 207-pound-feet version of the company's excellent turbocharged, 2.0-litre four-cylinder engine. It's still connected to our choice of a six-speed manual gearbox or a six-speed DSG automatic.
Despite its age—the current-generation Jetta was introduced for the 2011 model year—the GLI is still a hoot to drive. The engine's generous low-rpm torque makes take-offs amusing, and there's always plenty of power available for passing or barrelling down a twisty country road. The only beef here is that super unleaded fuel is recommended, although fuel consumption is more than reasonable. We averaged 8.9 L/100 km over the course of our test week with a DSG-equipped car.
No matter which Jetta we choose, the sedan is always willing to display its great balance of ride comfort and handling abilities. The 2017 Volkswagen Jetta GLI cranks up the dynamic character a few notches. Those country roads we mentioned earlier? Not only can the engine help keep a fast pace, but the car's chassis, suspension and steering are well tuned for a dynamic drive.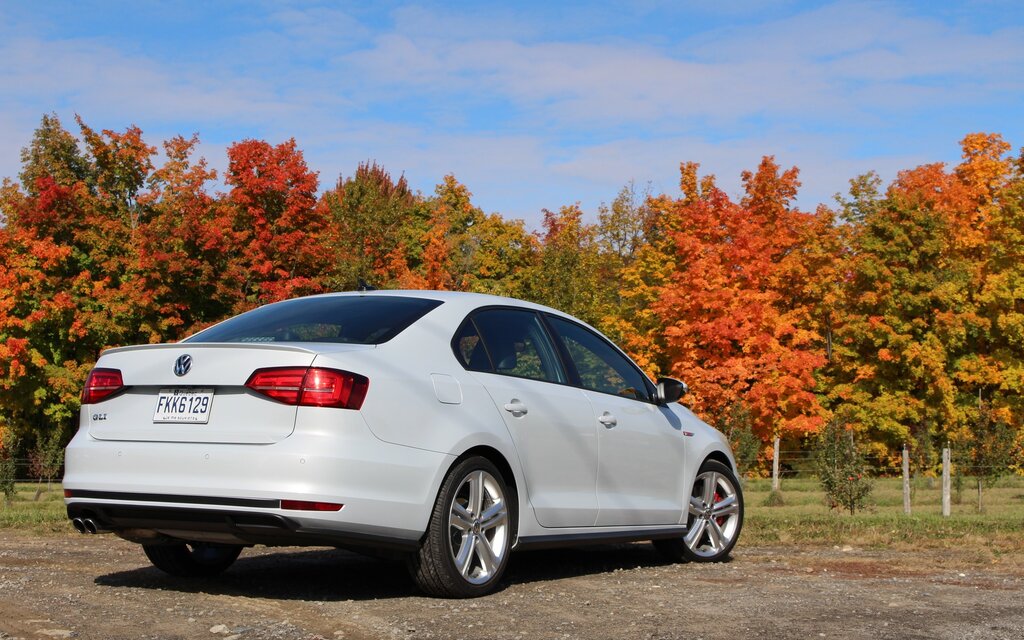 What's great is that this sportiness doesn't come at the expense of refinement and well-being for the passengers. Such as the family, because if we're in the market for a sedan instead of a hatchback, it might be because we have kids to carry around, or because we want to look like a mature and responsible adult, which is easier to pull off in a sedan.
Even if the family grows from kids to teenagers during ownership of the Jetta GLI, there's lots of room in the back seat for stretching out. In fact, the Jetta boasts one of the roomiest rear-seat areas in its class, in addition to the biggest trunk of the segment, rated at 439 litres.
It not that hard to distinguish a 2017 Volkswagen Jetta GLI from lesser variants of the sedan, but again, its appearance doesn't necessarily stand out, either. More aggressively styled bumpers, bigger alloy wheels and red striping are the main clues here.
Inside, the design is on the conservative side, although fit and finish is generally impeccable. There are no adjustable air vents for the rear-seat passengers, the back side of the centre console offering a 12-volt socket and a couple of rudimentary storage pockets. At least there's some red striping and stitching to spruce things up a little.
The base version of the GLI is gone for 2017, leaving only the Autobahn variant on sale, which includes adaptive bi-xenon headlights, LED daytime running lights and taillights, 18-inch alloy wheels, a trunk spoiler, a power sunroof, dual-zone climate control, heated front seats, leatherette upholstery, blind spot monitoring and an infotainment system with 6.33-inch touchscreen, navigation as well as Apple CarPlay, Android Auto and MirrorLink integration. In addition, the 400-watt Fender sound system is excellent.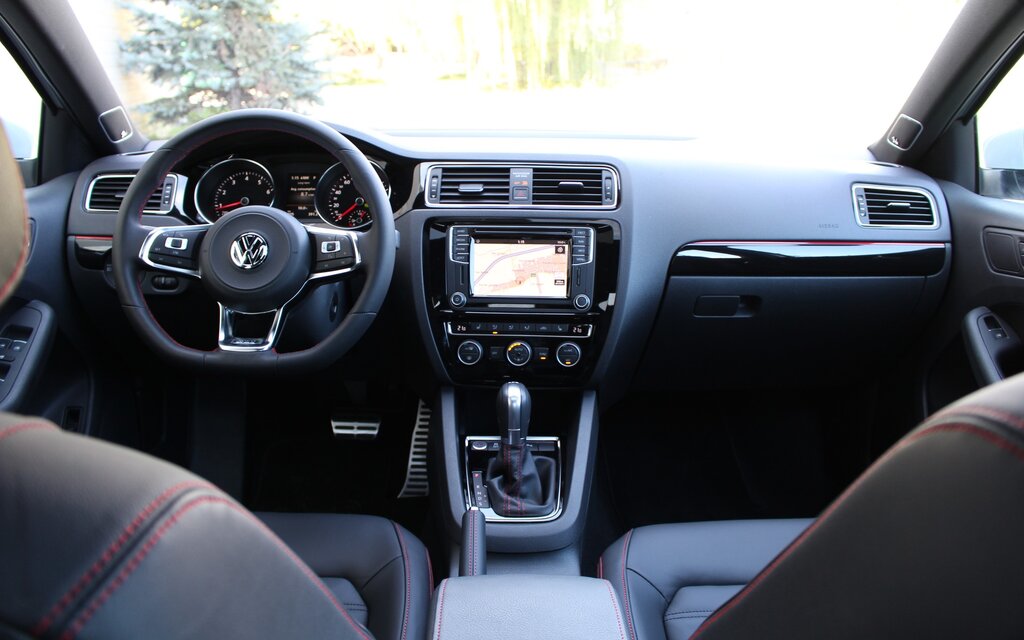 The problem about the 2017 Volkswagen Jetta GLI is price. Back in 2012, the performance-oriented Jetta carried a $27,475 MSRP, but five years later, the price of admission is $34,995 before freight and delivery charges. The DSG transmission adds $1,400 to the tab. Sure, there are more features bundled in, but it's still a hefty increase. The GLI's cousin, the Audi A4, is only a few thousand dollars away and offers almost as much power in base trim, more torque, better fuel economy and more prestige.
The GLI must also confront the brand-new 2017 Honda Civic Si sedan, which starts at $28,490. And the Acura ILX, which starts at just under $30K. And the $25K 2017 Hyundai Elantra Sport. Simply put, the aging VW should get more affordable as it ages, but right now, it's the other way around.
The Jetta will soon be redesigned, and we should see the new-generation model appear in 2018 as a 2019. The GLI might disappear from the brand's line-up for a year, maybe two, just like in 2011 when the current Jetta was introduced. The GLI is a very enjoyable and well-built sedan, and can quickly turn an ordinary commute into an extraordinary one. If this performance-infused Jetta has been in our line of sight for a while now, it might be wise to shop for one sooner than later, and VW will probably sweeten the dealer with an alluring rebate.
Share on Facebook