2017 Volkswagen Golf GTI: A Practical Plethora of Fun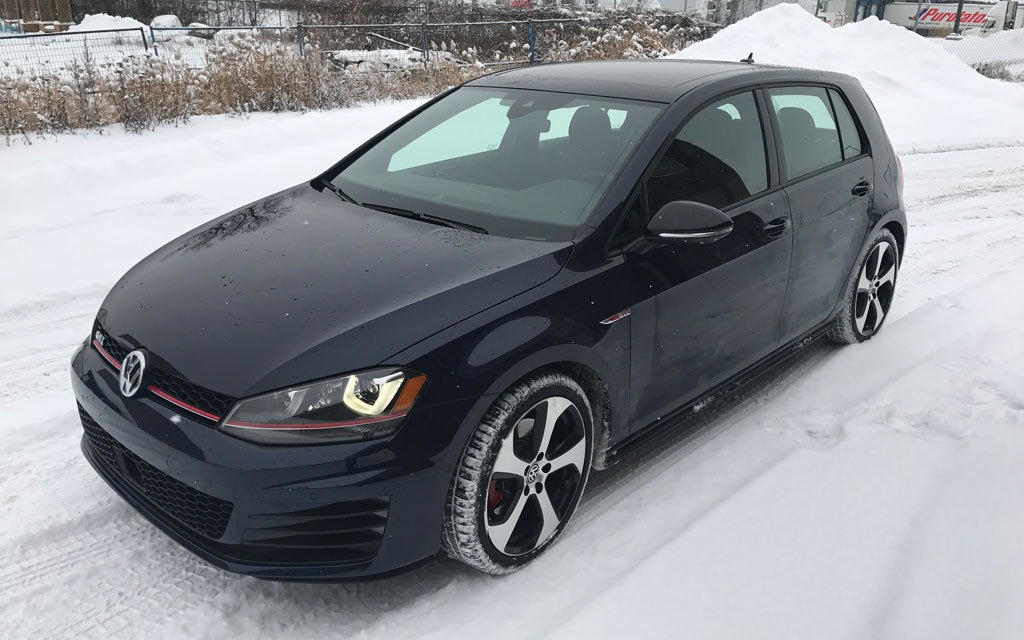 Strong points

Solid feel that you have to experience to believe
Retro plaid seats
Ergonomically almost perfect

Weak points

Price point of highest trim is too close to Golf R
Apple CarPlay isn't very useful
Negative stigma surrounding Dieselgate
Full report
I was excited as heck to try the 2017 Volkswagen Golf GTI, since hot hatches have always had a place close to my heart. We've seen resurgence from automakers in this category in recent years and I jump at every chance I get to slide behind the wheel of one.
This is the seventh-generation Golf (or as VW-philes like to call it, MK7) that went on sale for 2015 in North America. It's built on a new platform compared to the previous model and while it's slightly larger in size, it's actually lighter by 37 kilograms (80 lbs.). I much prefer the look of this generation which has a sharper, more modern body compared to the older bubbly and rounded design. There are a pair body styles to choose from, namely three-door and five-door.
Volkswagen has given the GTI all the mechanical ingredients for an exhilarating driving experience, starting with the turbocharged, 2.0-litre TSI four-cylinder engine making 210 horsepower and 258 lb.-ft. of torque. You can order an additional ten horses by purchasing the Performance trim for additional $3,850 (5-door) or $4,450 (3-door). This is a lot of power for a small car and it translates into instantaneous acceleration. The lack of any turbo lag is also immediately noticeable and full power is available from very low rpm. I'm a big "save the manuals" guy and this car would be perfect with a manual gearbox. However, the optional DSG transmission that it came with delivered quick and precise shifts without a hint of hesitation.
From the minute I started driving it, there was this overwhelming feeling of sturdiness. I've been trying to think of the best way to describe the drive in the GTI, and the only words that come to mind are solid, tight, precise and quality. That may sound a tad cliché, but the positive feeling the car returns to the driver is at a level above nearly every car I've tested this year. When a vehicle makes you want to drive it as much as possible and you're disappointed to have to get out when you reach your destination, then you know you have something special.
A large part of the 2017 Volkswagen Golf GTI's appeal comes from its magnificent interior. I've always been a big fan of leather, but the minute I saw the plaid seats I was in love. It's an awesome throwback option for the nostalgic VW enthusiast. Not only are they plaid, but they are comfortable while remaining rigid enough to hold you firmly in place. The flat-bottom leather steering wheel with contrast red stitching matches the theme perfectly and is highly functional.
I've witnessed some steering wheel controls that were a bit iffy, but the design and feeling of VW's are among my all-time favourites. Other positives include brushed aluminum and black piano trim, a conveniently located engine start button next to the shifter and the presence of a manual crank handbrake—these, too, are a dying breed. I cannot forget to mention the ambient LED lighting on the doors that really stands out at night, which is a real nice feature. The practicality of having four doors is also not lost on me and I was able to kart around my toddlers with little issue.
The GTI is available with Apple CarPlay, but it's more of a gimmick than a capable infotainment system replacement. You can access SMS, iTunes and Apple maps along with a few others, but sadly, no Google Maps or Waze and nothing that controls the car's systems so you often have to revert back to the standard system. Volkswagen's infotainment system is excellent and easy to use with a clean interface and a combination of either button or touchscreen operation.
In fact, I'd put it right up there between industry leaders Uconnect from Fiat Chrysler Automobiles and SYNC 3 from Ford. The 6.5-inch touchscreen is small by today's standards, but functionality is what is most important and it excels. Sound quality from the Fender audio system was clear and crisp and is able to pump out enough bass to wake the neighbours up.
While not the fastest model available, the 2017 Volkswagen Golf GTI is a gem that sits just below the vaunted Golf R in the lineup. It's a more affordable option that packs enough of a punch to be a really fun vehicle to drive. The base model starts at $29,495 and the 5-door Autobahn variant starts at $34,845. The question is should you shell out the extra few grand to get the Golf R? The difference in price between the top-of-line GTI Performance and the R is only $2,000. For the bump to 292 horsepower that the R provides, I'd say it's a no-brainer and that makes the GTI a bit less attractive at this price point.
I'm trying to think of something I didn't like about the GTI, but I'm drawing blanks. I cherished every minute behind wheel and was sad to return it after my week-long test drive. I suppose there is a negative stigma from the whole VW Dieselgate fiasco, but I don't suspect the typical GTI buyer is concerned about this. For me, it's all about the driving pleasure and the GTI is all kinds of fun.
Share on Facebook