2017 Dodge Challenger R/T: Keeping it Old School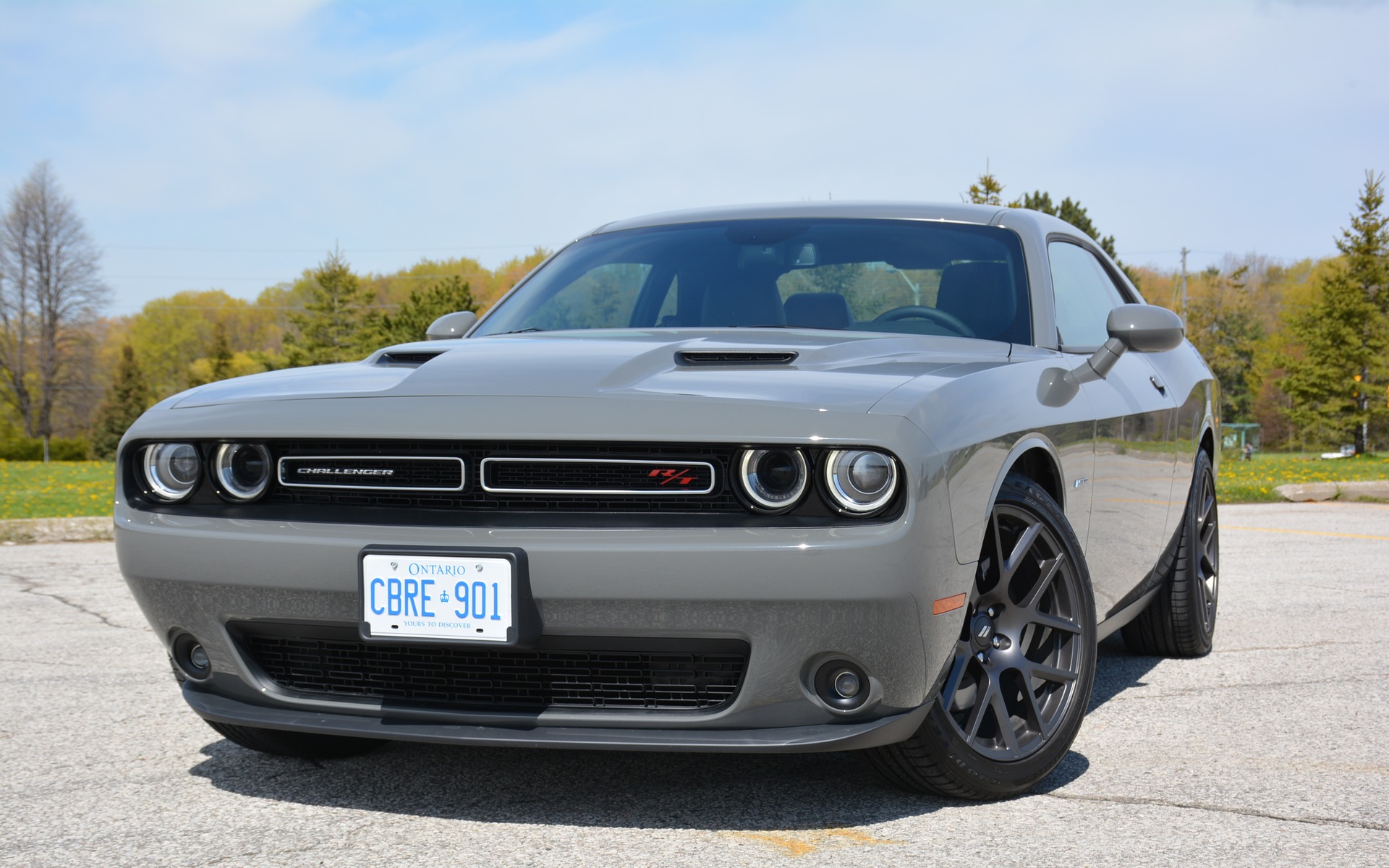 Strong points

Stunning old-school looks
Exhilarating ride
Surprisingly comfortable

Weak points

Outward visibility
Difficult access to back seat
Poor fuel economy
Full report
In a world of sleek silhouettes and modern curved vehicles, a drive-by of an old-school muscle car still makes an impression. For some, it's the boisterous engine thrust; for others, it's the crackle of its exhaust; and then there's its aggressive and imposing looks. In most cases, it's a sum of all parts that transports the gawker back to the good ol' days when larger and louder meant better.
Enter stage right the 2017 Dodge Challenger R/T. It's seen a modernized boost of technology from its engine to its suspension to the insides of its cockpit, but that hardcore exterior and grunting sounds have stayed intact.
If you're not a Dodge fanatic, the trim levels can get confusing, and vary significantly in price. For this test drive, we took out the R/T (Road and Track version) that starts out at $40,695 and has enough power to burn with a 375-hp, 5.7-litre HEMI V8 engine under its hood. Sure, there are options like the R/T Scat Pack, SRT 392 and 707-hp SRT Hellcat, but there's no proper venue outside of a race track to allow one to see those Challenger variants at its full power potential. And you would be paying a premium for what it's capable of doing rather than actually doing it.
The R/T is everything you need at the right price. Even with some fixins' including some safety technology, a Super Track Pak, high-performance brakes, an upgraded 8.4-inch infotainment unit and a power sunroof; this Challenger still looks the part of something special at a price just under $50K.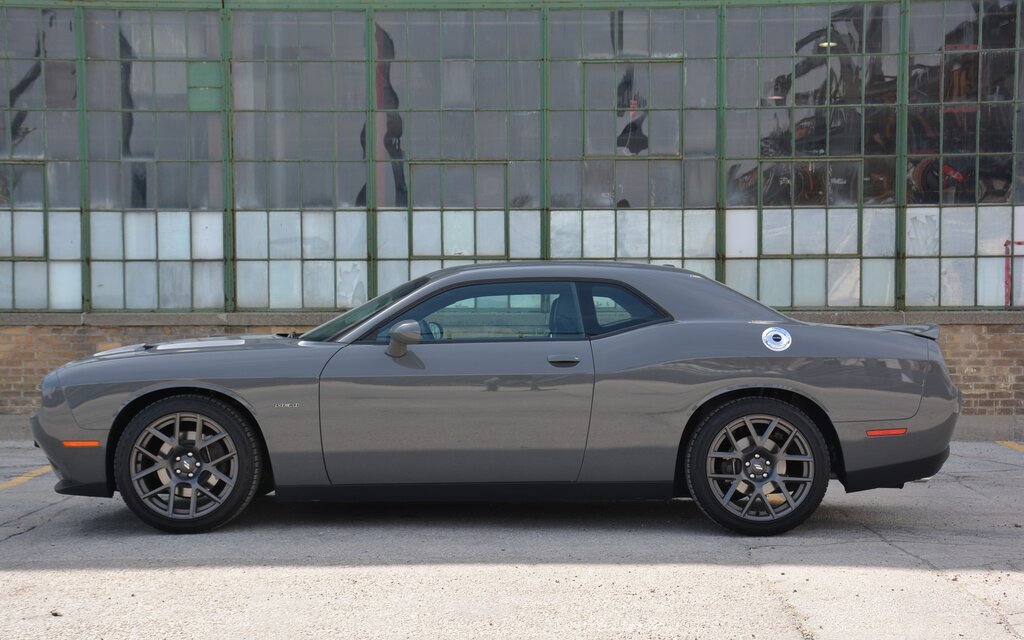 Looks aren't everything, just half the battle
The 2017 Dodge Challenger is a polarizing coupe. You're either into its looks or not—there's no in-between. Buying a Challenger comes with extra attention, whether you like it or not, and if that makes you sheepish, simply move along.
The Challenger falls into the same muscle car category as the Ford Mustang and Chevrolet Camaro, and it may be even more imposing than the lot. It's instantly recognizable by its hood scoops, 20-inch wheels, horizontal blocks that enclose both its circular HID headlamps with halo LED accent lighting, as well as its oblong taillights over chrome dual exhausts.
Challenger, R/T and HEMI badging finishes off that bold, muscular look, but its exterior Destroyer Grey colour that took it to another level at no extra charge. Throughout the week, it was amazing to see how many people asked about that unique and polished colour.
Unlike its striking old-school '70s exterior, the insides resemble more of a mainstream Dodge product. It even has seating for five, however a little body contortion would help to get back there. The Nappa leather seating gets you comfortable for the ride, but don't expect a lot of headroom, forcing you to dip your head while changing lanes, as visibility is not its strong suit. The premium leather look continues with a sharp-looking leather-wrapped steering wheel and six-speed shift knob that's ready for action.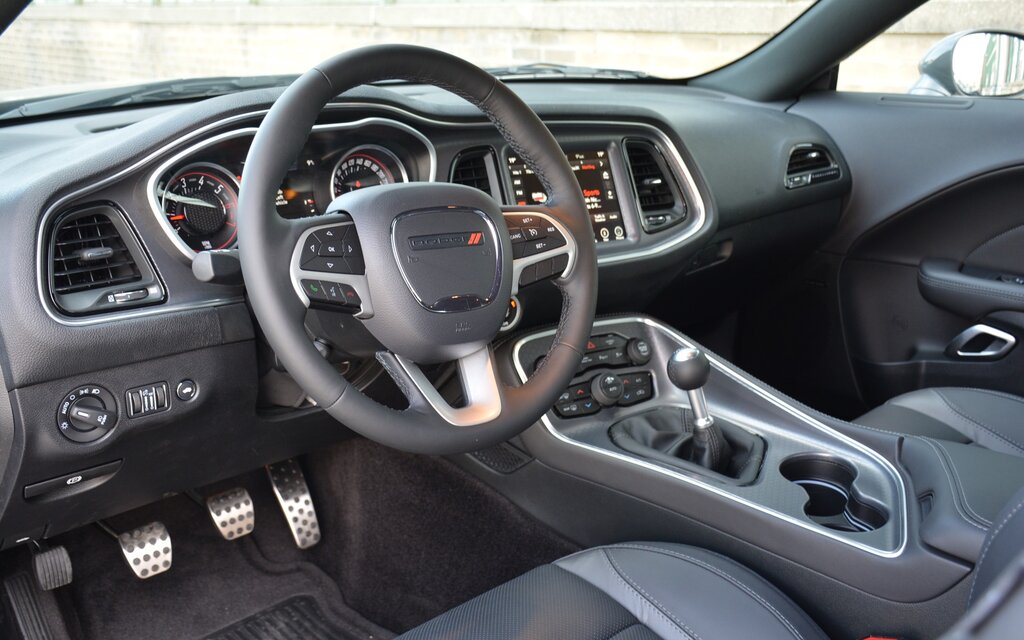 I'm just all about that action boss
Even when the Challenger is resting pretty, it's asking to take it out. Its mammoth grille stares back at you, reciting different movie lines. One day it's "Go ahead, make my day." The next day, it eggs you on with "You can't handle the truth!"
Call it hokey, but the Challenger R/T has a mind of its own, especially when the HEMI V8 roars on start-up. Those 375 horses and 410 lb.-ft. of torque don't hold back, and are unleashed immediately with a touch of the throttle.
The coupe's engine is exciting on its own, but that's nothing compared to its rage in Sport mode. An immediate jolt is felt, thrusting the driver and passengers forward as RPMs are lowered, while the Challenger gets friskier. As startling as it sounds, the jolt is surprisingly smooth throughout, as if it was just being a tease, but ultimately being your guardian angel and knowing how much is too much.
Stickhandling through its six-speed manual gearbox is heavy, the same goes for its clutch, but that's expected on a muscle car. The same tight and heavy feel is found in its handling, and when ready, the Challenger's responsive actions are quick, accurate and balanced with some body roll—all with a rear-wheel-drive setup. Additional high-performance brakes are firm and also responsive, supplying extra confidence to the driver.
A couple drawbacks come back to its heavy theme, as its large frame and 1900-kg (4190-lb.) weight is felt while driving, and especially when parking. The other comes down to fuel economy where I managed throughout the week an embarrassing combined fuel economy of 16.2 L/100 km, but it should be noted that it was mostly under city driving. The official combined rating is set at 13.1 L/100 km, while the city drive is rated at 15.6.
Verdict
If you're into old-school muscle cars, the 2017 Dodge Challenger R/T is the perfect balance of power and value. The coupe gets attention through its looks and sounds, and comes off as a vehicle that's worth more than its starting price of $40,695. As large as it is, it can hit those corners well and there's enough straight-line speed to get some necks to turn. But most of all, the Challenger takes you back to the muscle car era, and it's oh so cool.
Share on Facebook