2017 Dodge Charger Daytona 392: a Throwback to the Good ol' Days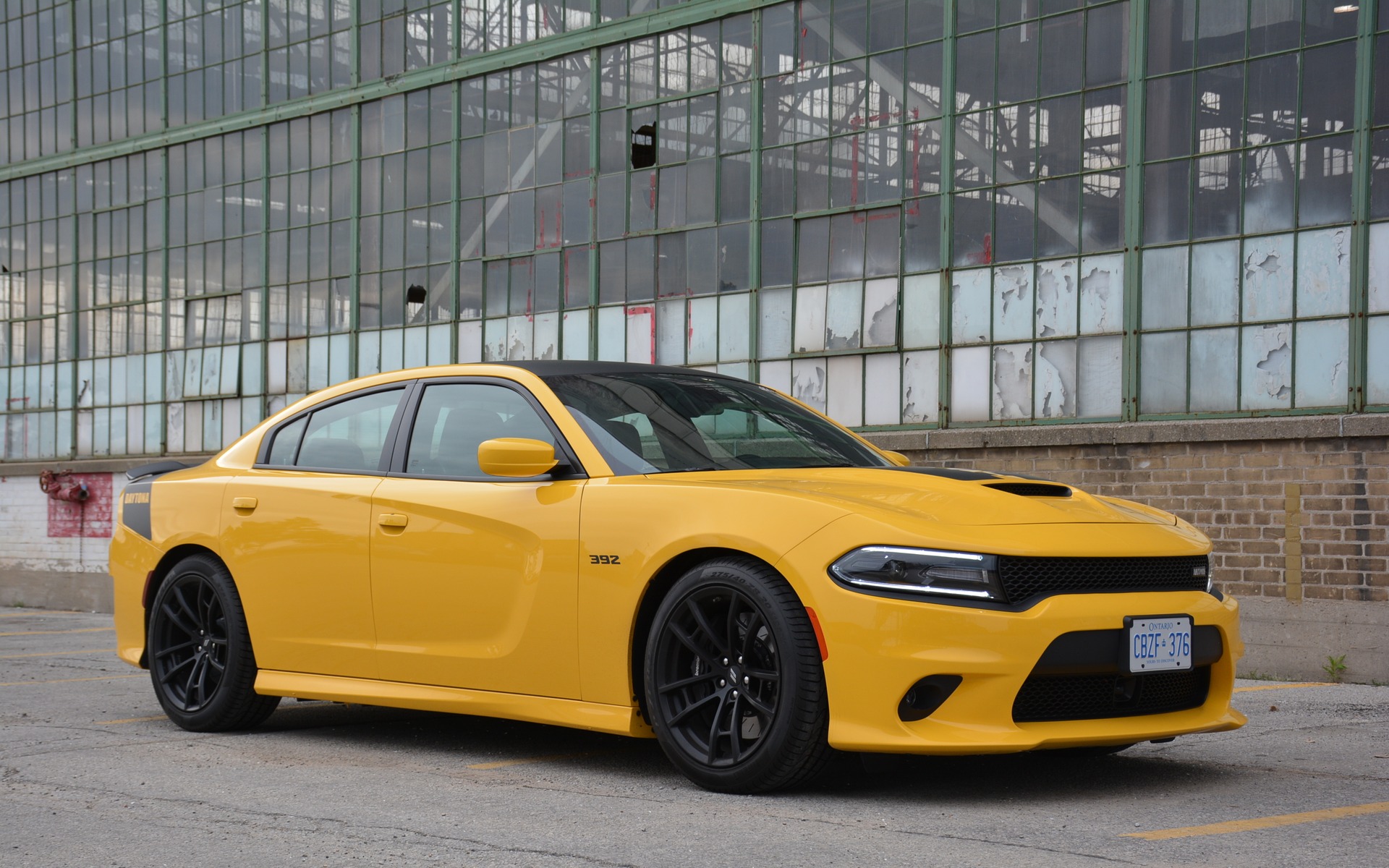 Strong points

Muscular and old school styling
Throaty sounds
Straight-line speed

Weak points

Interior refinement
Cornering can be tricky
Limited consumer base
Full report
Vehicle names come and go, but the good ones, especially the variants, are always remembered. In some cases, they get revived and that's been the case on several occasions for the performance-based Daytona name for the Dodge brand.
For 2017, the Daytona name is attached to the Charger, the well-known four-door muscular sedan. Daytona is exactly how it sounds—paying homage to the NASCAR race that ups the ante on the Charger's regular performance output.
However, it's not just a fancy name plastered on a car, it's iconic, representing one of Dodge's most memorable cars with a fascinating story to it.
Back in 1969, Dodge wanted to produce a winning NASCAR ride, but couldn't do it under NASCAR-sanctioned rules without having those same aerodynamic elements available on a public road car. So, the 1969 Dodge Charger Daytona was built (actually only 505 were produced out of 90,000 Chargers that year) with a pointed, 18-inch-long nose and a 23-inch-high wing. Not only was it an instant success, it became the first to break the 200-mph barrier on a closed circuit at Talladega.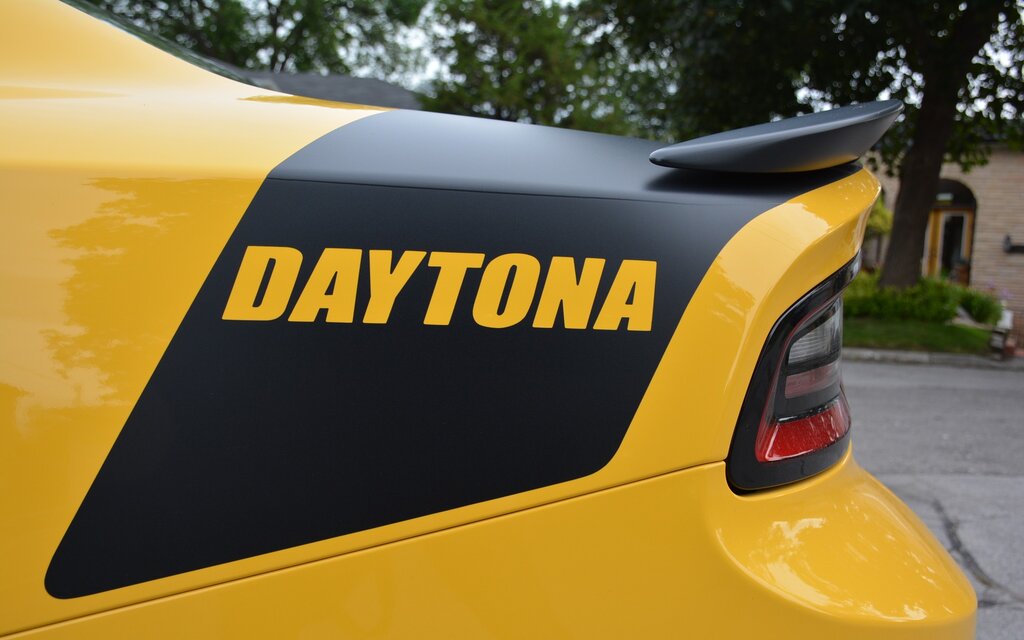 What makes the Charger Daytona special?
Fast-forward to 2017, Dodge offers up two optional Daytona packages on the Charger R/T: the regular version and the Daytona 392. The biggest difference between the two is under the hood, as the regular version is powered by a 370-hp, 5.7-litre HEMI V8; while the 392 comes with the larger 6.4-litre HEMI V8 unit that produces 485 horses of trouble and 475 lb.-ft. of torque. Both are mated to an eight-speed automatic transmission and a rear-wheel-drivetrain.
For this test drive, we took out the 392 package that receives wider 20x9.5-inch black forged aluminum wheels, a high-performance suspension, six-piston front and four-piston rear Brembo brakes, and a one-piece Satin Black spoiler.
Nothing would be complete without badging up the wazoo. If this muscular 2017 Dodge Charger Daytona 392 wasn't bright enough with its Yellow Jacket paint job, it sports a slightly different front fascia from the R/T with subtle Daytona badging off to the side. The Satin Black graphics continue with the words "HEMI" over its aluminum hood scoop, as well as side-to-side over the trunk lid with the words "Daytona." Not to leave any badging off, the '392' is shown in-between its front tires and the A-Pillar.
There's a lot that comes with the Daytona 392, but it would have been nice to bring back the long nose and massive rear wing from the original. However, who's to say Dodge didn't try? It might just be a look that worked in the late 60s, but not today.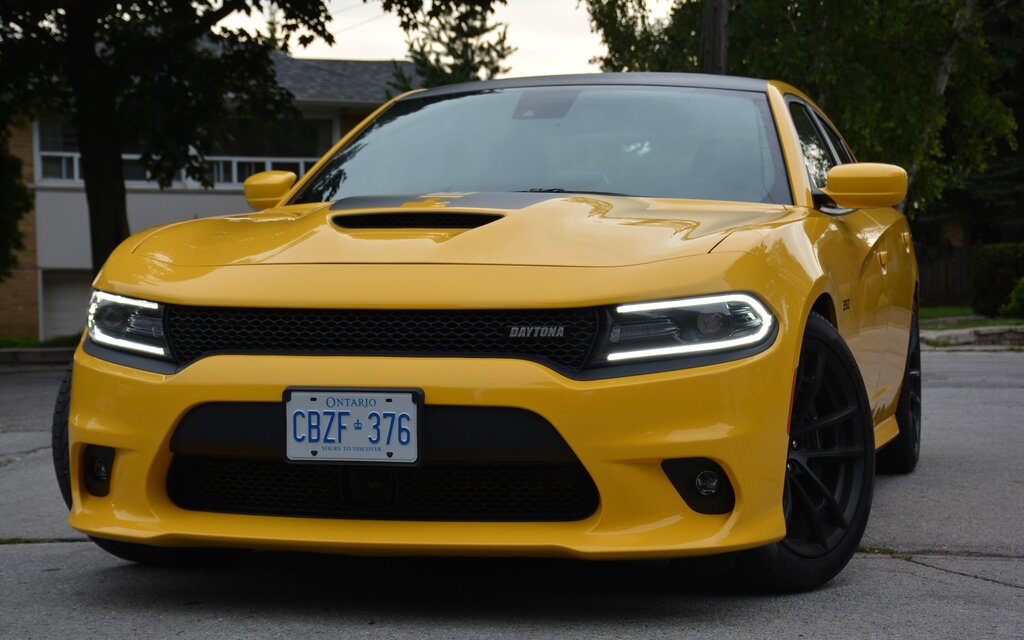 When needed, it takes charge
As many automakers are shifting from sedans to SUVs, and from gas-powered units into ones that are electrified and semi-autonomous, Dodge stays the course with vehicles like the Charger and Challenger. There's something to be said for a company that goes against the grain, and an instant advantage of less competition.
Start up the Daytona 392, and it takes you back to a time where bigger meant better. Interestingly, the reality is the Daytona is not at the top of the Charger family when it comes to power; that award goes to the SRT Hellcat that reaches unheard-of dimensions with 707 hp and 650 lb.-ft. of torque.
However, there's no need to fret over only having 485 hp—that's more than enough machismo to get around. It's a car that's meant to have fun in, so rev that engine and soak in the stares from on-lookers that are bewildered by its perfection: a roaring engine and bright yellow colour.
Once at cruising speed, the 392 settles into a more routine drive with seamless gear shifts. Bumps are felt along the way, but the Charger surprisingly absorbs many of them thanks to its suspension. A little trouble might occur on tight turns, as the Charger's body roll comes into play, but that's expected from a beast that has a curb weight close to the 2000-kg mark.
You don't buy this car for its fuel economy, but Dodge uses cylinder deactivation for it to achieve respectable ratings of 15.6 L/100 km in the city and 9.6 L/100 km on the highway. However, good luck in achieving that as the Daytona 392's more exciting technology comes in the form of a Super Track Pak with launch control. Place it into Sport mode, find a safe and legal environment, and have at it. You won't regret it!
Verdict
The 2017 Dodge Charger Daytona 392 is a throwback to the good ol' days—it's large, in charge and doesn't care about what anyone thinks. It's simply ready for action, and at a price tag starting at $57,195 ($46,695 for the regular Daytona), it's hard to find a better bundle that offers you a large and muscular sedan with 485 horsepower.
Sure, the styling is gimmicky with plenty of badging, but that's the true joy of it. With so many new SUVs and hybrids out there, this Daytona 392, and the whole Charger series is a rare breed and refreshing to see. If you're into muscle cars, maybe the time is now, before they go the way of the dinosaurs.
Share on Facebook