2018 Dodge Challenger GT: Twelve Months a Year
Strong points

Timeless retro style
All-season capability
Great infotainment system

Weak points

Almost as expensive as a V8-powered R/T
Heavy weight
FCA's build quality issues a concern
Full report
Musclecars may obviously not be perceived as environmentally friendly vehicles, especially now that electrified powertrains are starting to gain traction on the market, by choice or by obligation. The Dodge Challenger, the Chevrolet Camaro and the Ford Mustang are most enjoyable with their honking V8 engines, but there are more sensible powertrains in these iconic automobiles.
Rear-wheel drive used to be the only way to go in these muscle cars, until now. Fiat Chrysler Automobiles is trying something new and unique by offering an AWD system in the 2018 Dodge Challenger. And why not? The components have been available in the automaker's parts bin for ages, so it probably was an inexpensive addition.
However, just like in the Dodge Charger and Chrysler 300, which ride on a similar platform, the all-wheel drivetrain can only be teamed up with the Challenger's base powertrain, which consists of a 3.6-litre V6 and an eight-speed automatic transmission. With 305 horsepower and 268 pound-feet of torque on tap, the musclecar isn't all that muscular, but quite frankly, it does the job nicely. The V6 sounds good and the gearbox juggles through its cogs swiftly and smoothly, and although we're not dealing with HEMI power, the Challenger GT is an amusing drive nonetheless.
It's not an exhilarating drive, though.
It's hard to imagine a Challenger without a HEMI V8. Or a Mustang without its Coyote V8. Or a Camaro without its—I guess you get the picture. However, some people will purchase this car on looks alone, and admittedly, the V6 variants now look pretty similar to the V8 versions. When the current-gen Challenger was introduced back in 2008, the emasculated styling of the six-cylinder car wasn't very alluring.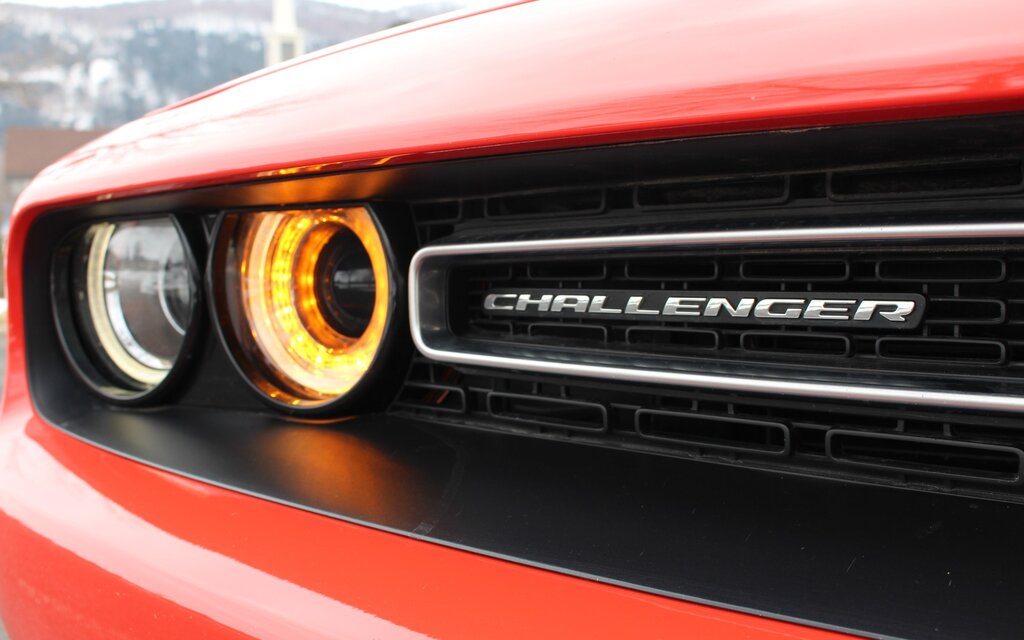 Installing the AWD hardware didn't change the car's front/rear weight distribution of 52/48%, but it did add about 240 lbs. (109 kg) to its overall weight. Which makes the Challenger even less adept at throwing its weight around. The GT must be considered as what its badge suggests—a grand touring coupe above anything else.
Thanks to the all-wheel drivetrain's ability to disconnect the front axle under light driving conditions, fuel economy isn't all that compromised. Strangely enough, it rises by 0.4 L/100 km around town, but by 0.9 L/100 km on the highway. We averaged a decent 10.5 L/100 km during its stay with us.
The 2018 Dodge Challenger GT is equipped just about the same as the SXT Plus trim, expect it gets 19-inch wheels and wheel-mounted paddle shifters. That means leather upholstery, heated and ventilated front seats, a heated steering wheel, a 10-way power driver's seat and an intelligent key system—among other things—are standard.
It also benefits from FCA's excellent Uconnect 4C infotainment system with 8.4-inch touchscreen. Its interface is easy to use with big button zones and there are plenty of features to fiddle with. Or, we can simply plug our phone into the USB jack and use Apple CarPlay or Android Auto.
The Challenger's cockpit is quite nice. The design may be dated, but it still looks good, and what the brand calls Hectic Mesh interior trim adds some flair to the overall appearance. We feel sunken into the car's dark cabin, but outward sightlines are surprisingly good. The rearview camera also helps a lot.
Adults can fit in the Dodge's back seats, if front-seat occupants are willing to crank their chairs forward. However, when that happens, no one will be comfortable enough for a ride down to Old Orchard Beach. Or head up north for skiing, because with AWD, it's a much easier task. The trunk is huge at 459 litres, but a little shallow, like in big old coupes of the 60s and 70s, and the liftover level is pretty high. And is it really that complicated to install a $1 plastic door handle on the inside of the trunklid to keep our hands clean when we close it?
The 2018 Dodge Challenger GT will likely please a very small portion of the car's clientele. For those who are smitten by the looks, but don't care about what's found under the hood, this one is undeniably a four-season musclecar. However, at $39,245 before freight and delivery charges, the GT costs almost three grand more than a RWD SXT, and only two grand short of an R/T. On the other hand, no other sports coupe that drives its four wheels is available for under $40K.
AWD is now available in the Challenger for few sacrifices, and between the Dodge, the Ford and the Chevy, this one is the closest thing to yesteryear's musclecars. However, the nature of the beast calls for a V8, and we'd stick with the RWD powertrain and a good set of winter tires.
Share on Facebook