2017 Volkswagen e-Golf: Watch Out, Bolt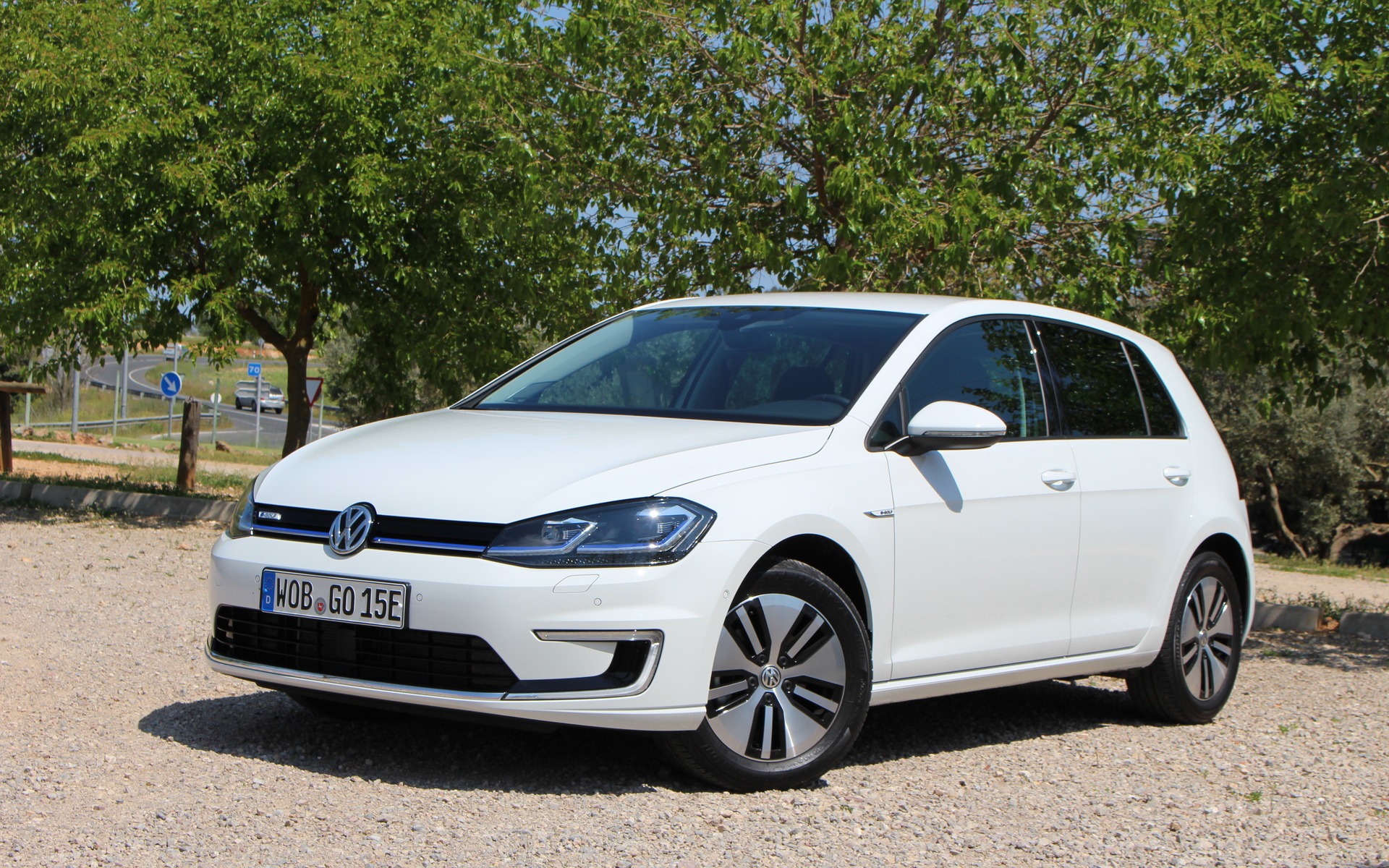 Strong points

Good range
Handles well
No interior or cargo space compromise

Weak points

Limited usefulness away from the city
Skimpy standard-issue tires
Like any EV, needs rebates to be affordable
Full report
MALLORCA, Spain – We're finally getting it. The fully electric e-Golf will be on sale in Canada in June, better armed to take on the newcomers in the EV segment.
The e-Golf originally went on sale in 2014 in various countries, including the United States, but Canada didn't get it. It might have been just as well, because the 2017 edition gets more power and a greater driving range.
The all-important number is 201. That's the estimated range of the 2017 Volkswagen e-Golf—at least according to VW Canada. In Europe, and during our media preview of the Golf family in Spain, which includes hatchbacks, Variant wagons, the GTI, the R and the Volkswagen Golf GTE plug-in hybrid, the announced projected range is 300 kilometres.
Why such a difference? Because Volkswagen prefers playing the conservatism card. The 201-km range is actually touted as an average; we could easily do better, and after driving the e-Golf, we think it would be hard to do worse. In fact, one of the fully charged cars we sat in displayed a range of 289 km, so the e-Golf could potentially come close to the maximum distance a 2017 Chevrolet Bolt EV can travel before needing to be plugged in. By the way, last year's e-Golf could only muster 133 km on a full charge.
The 2017 model's electric motor produces 134 horsepower and 214 pound-feet of torque, up from 115 hp and 199 lb.-ft. of the 2015 and 2016 editions, and slightly more rivals such as the Nissan LEAF, the Kia Soul EV and the Hyundai Ioniq EV. Acceleration is strong, thanks to the generous low-end torque, and although the car eventually runs out of breath, it does so at a speed that negates the very notion of eco-driving. According to the manufacturer, the zero to 100 km/h sprint takes 9.6 seconds. In short, for normal, everyday driving, the e-Golf is plenty powerful.
With a 240-volt outlet, the 2017 Volkswagen e-Golf can be fully charged in four to five hours. Or 26 hours with a household, 120-volt plug, so a charging station at home is obviously a must, and a quick-charge inlet is standard.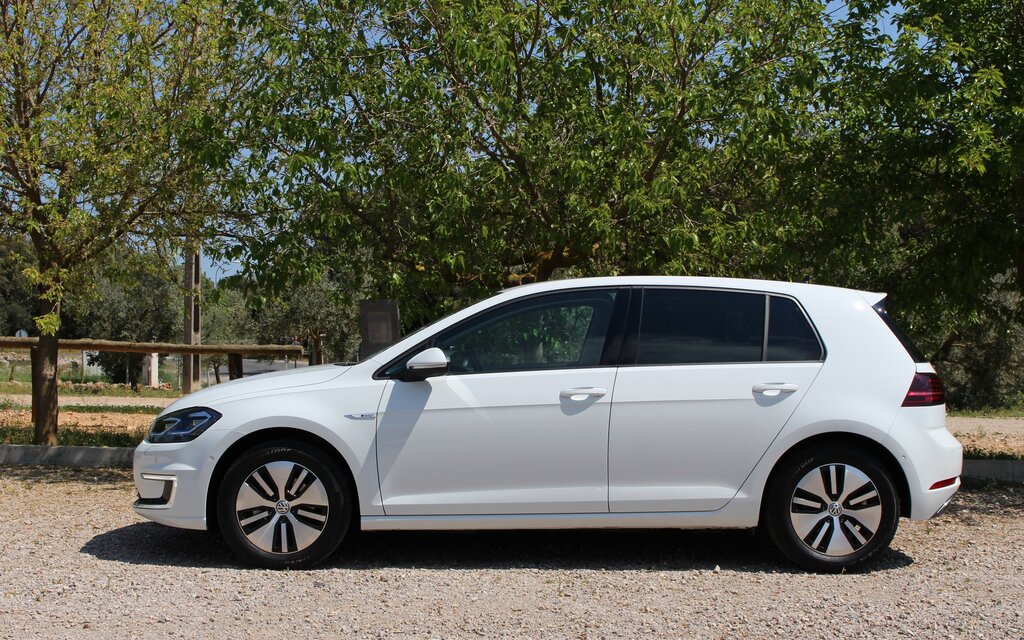 On the road, the e-Golf's ride is as refined and solid as any other of its sisters, and its handling isn't compromised by the extra weight of the 35.8-kWh battery pack. Steering feels light, a little numb on-centre perhaps. Since the seventh-generation Golf (VW is actually calling this one gen 7.5) was designed from the start to accommodate a variety of gasoline, diesel and electrified powertrains, the battery pack is actually installed flat into the platform, and cargo space is untouched. That means the e-Golf is as spacious and versatile as any other Golf five-door hatchback.
Visually, the 2017 Volkswagen e-Golf can be recognized by its unique bumper and front grille, in addition to the same headlight cluster, front fender and taillight revisions applied to the 2018 model-year Golfs. It also features exclusive 16-inch alloy wheels, called Astana, which are wrapped around low rolling-resistance tires that demonstrate their limits much more quickly than the car itself.
As is usually found in EVs, a few display screens show the energy flow and provide eco-driving tips. The e-Golf can also be charged based on a defined schedule, in case the cost of electricity varies according to the time of day, and the car's cockpit can be heated up prior to unplugging and hitting the road. In fact, the Canadian-spec e-Golf is equipped with a heat pump to help out during cold Canadian winters.
Base price is set at $35,995 before freight and delivery charges, landing right in its rivals' price range. Maximum provincial rebates apply as followed: $5,000 in British Columbia (before tax), $14,000 in Ontario (after tax) and $8,000 in Quebec (after taxes). Initially, only half of Volkswagen dealers across Canada will sell and service the e-Golf, including about 75% of the dealerships in Quebec.
An order form was set up on Volkswagen Canada's website, and according to Public Relations Manager Thomas Tetzlaff, as this is being written, almost half of the 250-unit allocation of 2017 models have already been spoken for.
Standard features include cloth upholstery, heated front seats, a heated windshield, dual-zone climate control, an intelligent key system, a leather-wrapped wheel with blue stitching as well as an eight-speaker sound system with eight-inch touchscreen, rearview camera and USB audio input.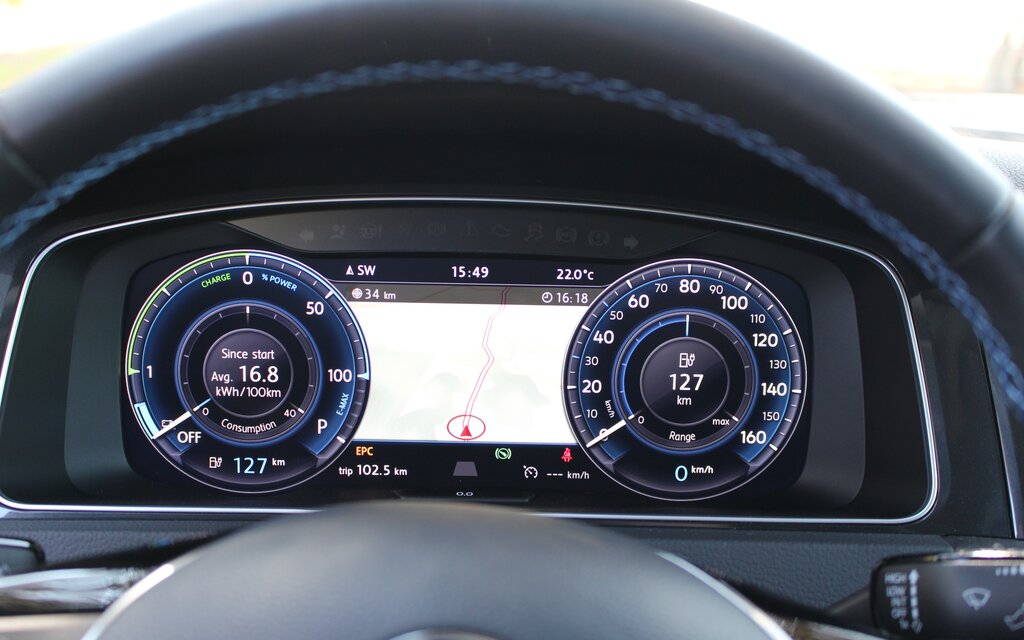 The $2,305 Technology Package adds ambient lighting, park distance control and steel door sill plates in addition to a 9.2-inch touchscreen infotainment system with gesture control, navigation, solid state drive storage and Wi-Fi hotspot (subscription required). However, this system incorporates a volume slider instead of a physical knob, which we don't like. Leatherette upholstery can replace cloth for an extra $360.
And then there's the $2,305 Driver Assistance Package, which requires the Technology Package, that equips the e-Golf with adaptive cruise control, blind spot monitoring with rear traffic alert, front pre-collision warning with autonomous emergency braking, lane assist, park assist as well as the dazzling 12.3 fully digital driver instrument screen, or Volkswagen Digital Cockpit.
So, here's another EV on the Canadian market. It's still a segment with microscopic sales numbers, and government rebates do help soften the blow of their high prices compared to their conventional, gasoline-powered counterparts. EVs are not for everyone, of course, but if we're looking to purchase one that's fun to drive, versatile and that offers good range, the e-Golf is as compelling as a regular Golf. The Bolt EV may offer more kilometres per charge, but the e-Golf offers more smiles per kilometre.
Share on Facebook