2016 Subaru BRZ And WRX: Let Loose On Some Great Roads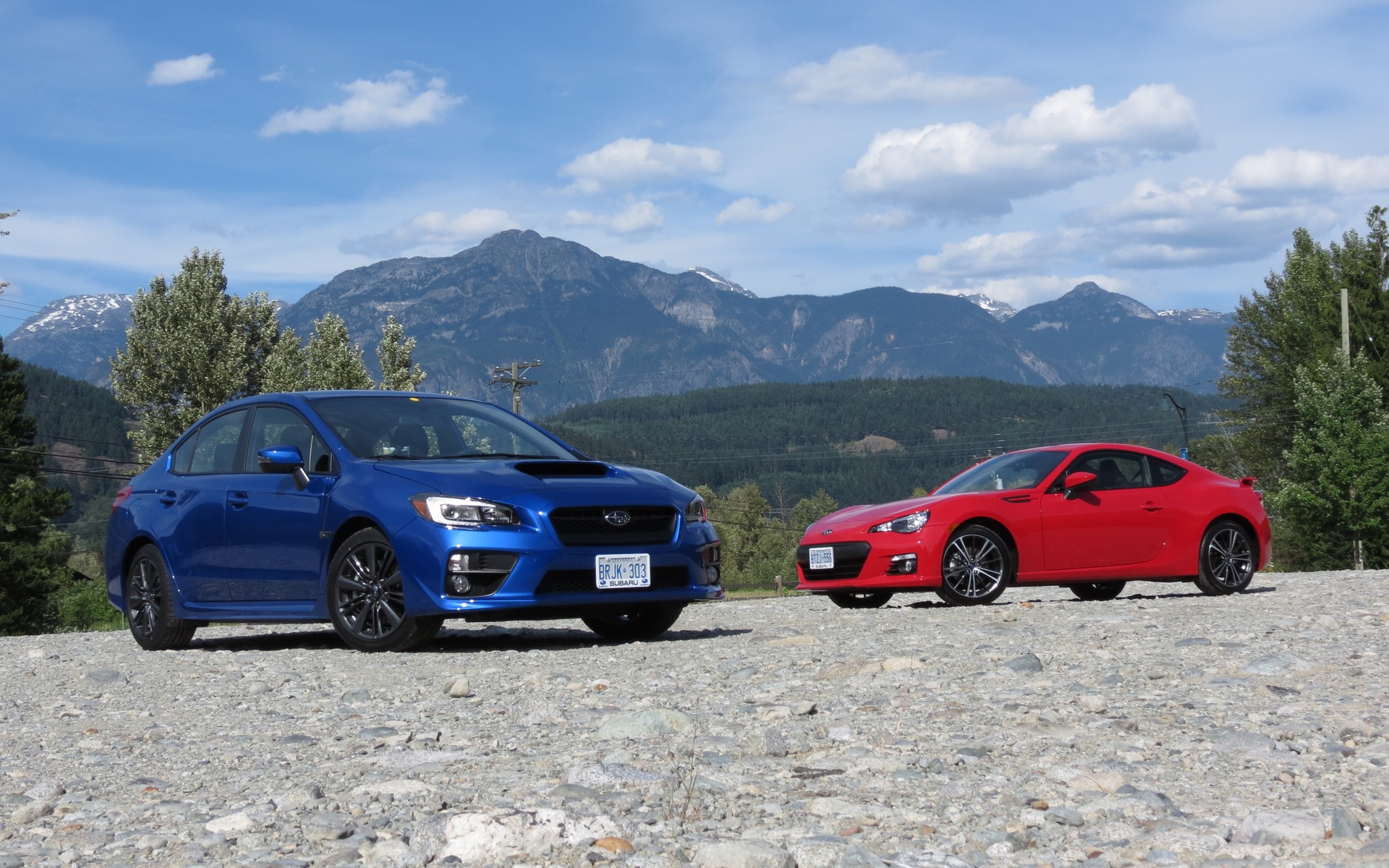 KASLO, British Columbia – As one of the smaller members of an industry dominated by giants, Subaru always does things a little differently. In contrast to their competitors, its Canadian salespeople almost always arrange their presentations and promotional activities without worrying about what their US counterparts are up to. In many cases, their approach makes a lot more sense. 
It was far more instructive to drive the new Legacy after a tour of the plant where it has been manufactured for the last 25 years than to pen yet another paean of praise in some fancy hotel after a cruise down the been-there-done-that Pacific Coast Highway in California.
You have fun, too. Last winter, after driving the company's three SUVs on icy roads and a snow-covered track in the hinterland of Montebello, I played spoons with a Québécois traditional music group known as La Tuque Bleue, and enjoyed my very first taste of curling with other auto journalists and the whole gang from Subaru, including their boss. Take it from me, they know how to party.
These guys are in love with cars, driving and performance. Like you, like us, and like me. No harm in that.
A new way to conquer the West
The evidence is in: the WRX sees few changes in 2016 for the second year in its current iteration, and the BRZ coupe has even fewer in its fourth model year. The Subie crowd nevertheless decided to invite a handful of journalists to drive them over a network of roads in British Columbia that criss-cross the foothills of the Rockies. The cars were to arrive a few days earlier by ship from Japan.
Subaru chose the invited journalists from among those who really, really love to drive. My addiction is well-known, so I was an obvious choice. The invitation arrived early in April for a date in mid-June, right in the middle of the production cycle for the 50th anniversary Car Guide. I accepted anyway. What was I thinking?
When everyone had arrived, we got together in Subaru's regional office in Richmond. Along with some healthy nourishment, we were treated to a brief presentation announcing that Subaru sold over 42,000 vehicles in Canada last year. This was 13.9% more than the previous record year, twice as many as in 2008, and 10 times as many as 20 years ago. You could say that things are going fairly well. They certainly are for the sportier offerings, which command a 12.9% market share, as compared with 2.3% for the brand as a whole.
When the talking was done, we all left to pack our stuff into the four cars parked outside. Three were for the journalists at each stage, and the fourth was for Joe Felstein, who has just moved out of public relations to become marketing manager for Subaru Canada, and Anton Pawczuk, who heads up training and product planning. They are both car guys, and believe me, they love to drive.
A friendly foursome 
There were two BRZ coupes with the Sport-tech package and manual transmissions, a WRX with manual transmission, and a second WRX with the optional continuously variable automatic transmission (CVT). Two other WRXs were provided for Jud Buchanan and Marc Guimont of the Vehicle Dynamics Group (VDG), who organized everything. And that was it. No support vehicle, no army of clipboard holders; just the hard core. 
Each car had a pre-programmed Garmin GPS with a detailed itinerary of all routes. We would be covering a total of 1,204 kilometres in two half-days and a full day of driving, Jud Buchanan announced. That would not include detours, about turns and other peregrinations for photographic purposes, and the inevitable wrong turns.
We started off in a BRZ coupe with a stick shift. I teamed up with Jim Kenzie of the Toronto Star, as I have dozens of times over dozens of years. He took the wheel for the first leg through Vancouver, and I took the time to inspect the upgraded instrument panel, console, steering wheel, minor controls and door panels. Less basic, and better looking. Hard to comment on the "Pure Red" paint that replaces last year's "Lightning Red" on our BRZ. These are the only changes for 2016.
I took over in Squamish, headed for Pemberton, which is to the north of Whistler. Even at a modest pace on a crowded highway 99, the BRZ is never boring. Its sensitive steering feeds data directly into the driver's hands about every inch of asphalt (or whatever), working in harmony with the carefully calibrated suspension that never becomes harsh. Belted into a well-shaped seat that is just firm enough, with a short and accurate gear lever to play with, this is what the lawyers call "quiet enjoyment." 
An exhilarating Rocky Mountain version of the Targa Newfoundland 
The intensity rises a notch or two the following morning, in the same red BRZ. We first attack Duffy Lake Road, a favoured route for British Columbians who love to drive cars or ride motorcycles. As luck would have it, I leave from the driver-change point right behind Jud Buchanan, the ringleader, in his WRX.
I have known Jud forever, especially since my three entries in Newfoundland's Targa Rally. Jud and I, with our co-drivers and a third team, twice shared the Churchill Trophy, awarded to the three best teams from one country. Even better: Jud Buchanan is the only competitor to have been awarded a Platinum Plate for completing seven Targas in a row while finishing within the more challenging "plate time" specified for their vehicle class. That means nearly 300 timed special stages – an accomplishment that will likely never be repeated.
So Jud and I know each other very well. Over a devilishly quick section of road that twists as it rises and falls, he ups the pace substantially and I do what I can to stay on his tail. You really have to push the BRZ in every gear to get the best out of its naturally aspirated 2.0-litre engine, which produces maximum torque of 151 lb-ft and 200 horsepower at 6,400 rpm, especially if you are trying to keep up with a WRX in which the same 2.0 litre engine is turbocharged to produce 268 horsepower and, more importantly, 258 lb-ft at just 2,000 rpm.
The BRZ coupe demands finesse and exploitation of its built-in agility in order to maintain momentum. Because we lack the power to correct the slightest misstep or misjudgment, Jud pulls away from us on the straights, but the BRZ draws closer in the corners and on braking. The WRX is all stability, efficiency and faultless engine response. It is the perfect solution for a sporty vehicle that is to be driven year-round in this country, with no worries about the road or the surface.
Some dirt with your asphalt?
For me, this little session with Jud Buchanan was more than worth the price of admission, but the rest of the adventure was equally enjoyable. Everyone had a good time on the two dirt-road sections that Jud and Marc cunningly incorporated into the plan, and care was taken to make sure every participant had an equal share of the fun. The BRZ demands even more subtlety and deftness to perform well over these very slippery surfaces. With the antiskid system in Sport mode, a good time was had by all.
The WRX with the CVT transmission is pure pleasure. The little sedan with the boxy shape is in its element. With its antiskid system completely off, you initiate the drift with the steering wheel and maintain it as long as you wish with the accelerator. Pure joy, turn after turn. When the asphalt resumes, you are reacquainted with a combination of front suspension and steering that is wonderfully linear and accurate.
Like the BRZ, the WRX turns in like a good hunting dog, nose to the ground, and goes exactly where you point it. The only difference is that it is somewhat heavier, and leans farther when cornering. The pleasure to be found in driving the two cars is very different, yet equal. Their personality and purpose are at opposite ends of the spectrum, yet complementary within the same family.
For driving variety, route selection, driving time and hostelry choices (with a tip of the hat to the Kaslo Hotel on Kootenay Lake), and their unusual approach to simplified logistics, Jud and his group certainly deserve their five stars.
For its well-built, agile, reliable, affordable and unpretentious sporting vehicles, I would give Subaru four and a half stars. The WRX will get its missing half-star when it finally gets the sculptured shape it so richly deserves.
The BRZ will get its half-star when it acquires a more muscular version of its naturally aspirated engine. Let's say 2.2 litres, with another 30 horsepower and 30 lb-ft or so, and suspension, brakes and tires to match.
When that happens, I will be happy to go back to Duffy Lake Road, and take highway 31A to Kaslo, as well as highways 6 and 97, to see what difference it makes. On that occasion, it would be good to have a WRX STI for comparison purposes, with its stronger 2.5-litre engine, livelier steering, bigger brakes and the splendid shift linkage that stirs its manual transmission. I can see it now.
Share on Facebook