2015 Nissan Micra: Small Car for a Small Price?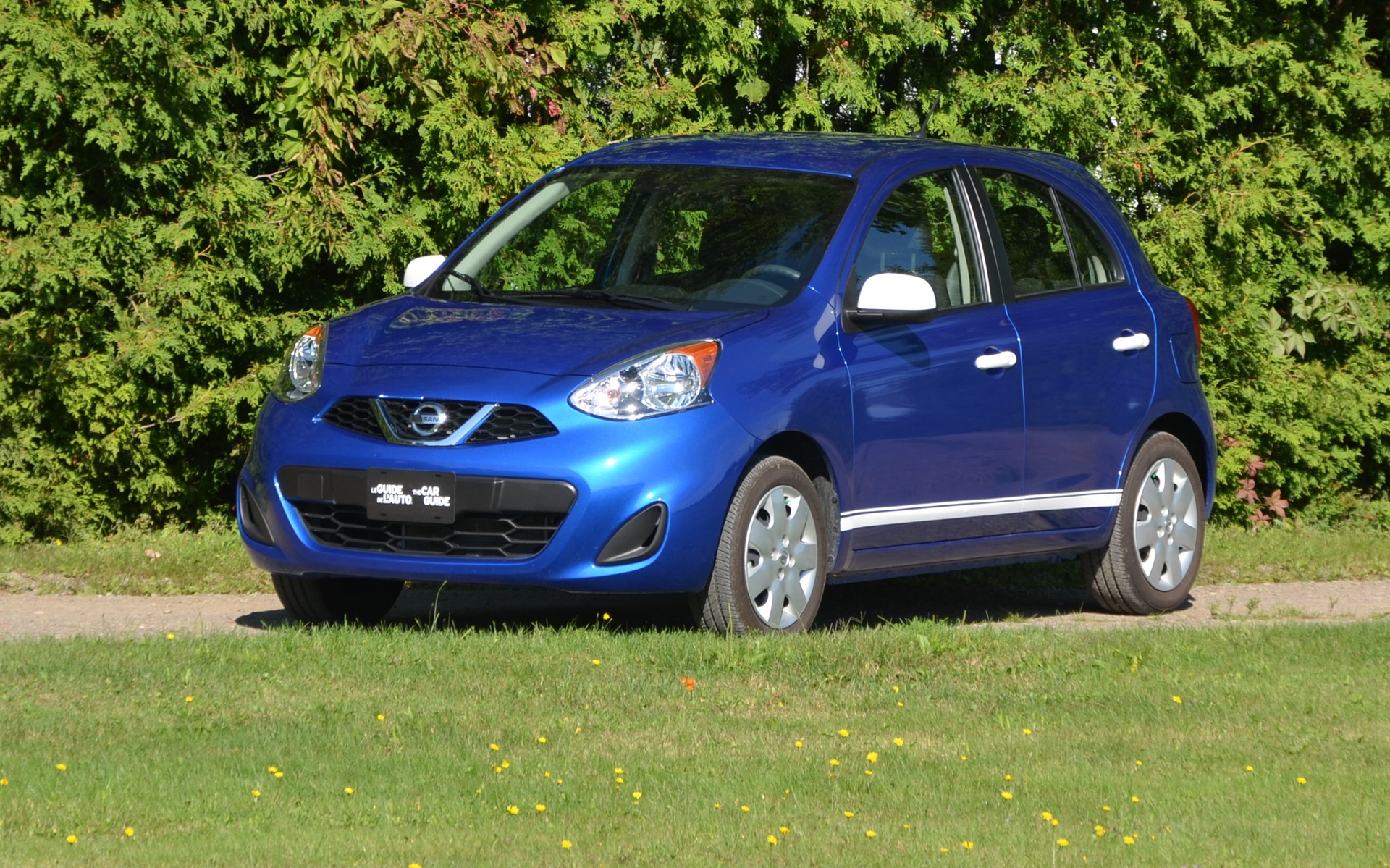 Strong points

Nice appearance
Comfortable for a city car

Weak points

Manual transmission has strange gear ratios
Very loud acceleration
Fully loaded top-end version is very pricy
Significant fuel consumption
Full report
There's a new kid on the block: the Nissan Micra, considered by its manufacturer as a sub-compact and by me as a city car. Its size places it between a Chevrolet Spark and a Honda Fit, with its engine being more powerful than the former and less powerful than the latter. To put it into context, the Versa Note, which shares its platform with the Micra, is a little longer than a Fit.
Low price appeal
In their bestseller 22 Immutable Laws of Branding, marketing gurus Al and Laura Ries tell us that a brand must look to "own a word" in the mind of the consumer. In the Micra's case, it's not a word but a number: 9,998, as in nine thousand, nine hundred and ninety-eight dollars. If I were a sociologist, I could undoubtedly explain the public's fascination with the sub-$10,000 price point, but the truth is that no one leaves a Nissan dealership with a Micra for $9,998. I had the opportunity to drive two Micras over a two-week period: the first was an automatic SR worth $18,283, and the second was a manual SV worth $15,698 (in both cases, the price includes transport and preparation), so we're a long way from $9,998! The price can be as much as double the starting figure, which is quite frankly way too expensive for this car, but Nissan has nonetheless succeeded in getting people talking about the Micra.
This newcomer (if you don't count the Micra sold in Canada from 1984 to 1992) is rather easy on the eyes, at least in my opinion. As for the passenger compartment, it's pretty generic with its hard, grey plastics. None of the trims come with a tilt steering wheel, so finding a comfortable driving position will be a little more difficult for some. The few controls are generally user-friendly, but the heating control is unusually hard to turn in the Micra SR. The RearView Monitor, when there is one, is very small – but hey, at least there is one! There aren't many storage spaces, but as in most other Nissan products, the glove compartment is positively Olympic-sized.
The front seats, although hard, turned out to be pretty comfortable. All variants, with the exception of the basic S version, come with a driver's seat armrest. While the front is comfortable, it's a totally different story in back, where the bench is more like a 2x4 than a sofa. Fortunately, head and leg room is decent, at least for someone who is 5'6". The trunk is very small (one of the smallest in the category) and the hatch, which doesn't open very wide, has no inside handle to close it, so expect to get your fingers dirty in winter.
A question of rpm
Under the hood, there's a brave little 1.6-litre four-cylinder that develops 109 horsepower at 6,000 rpm and 107 lbs.-ft. of torque at 4,400 rpm. It comes factory standard with a five-speed manual transmission or with an optional a four-speed automatic. You might think it wise to take the manual with its additional gear, but this would be a mistake. The gear ratios for the automatic transmission are such that, at 100 km/h, the engine revs slower than with the manual gearbox (2,600 rpm vs. 3,000; at 120, we're talking 3,100 versus 3,500). To be fair, however, the automatic was fitted with 16-inch tires while the manual had 15-inch tires, which definitely didn't help the cause.
If you drive mostly in the city, the manual might be a good choice for you. Otherwise, you should think twice. In any event, the manual isn't much fun to use with its soulless (and not very easy to modulate at first either) clutch, not to mention its long – albeit precise – shifting distances. Heel-and-toe aficionados will be sorry to hear that the pedal position prevents drivers from using this technique, but why on earth would you heel-toe in a Micra anyway?
Be that as it may, we recorded an average fuel consumption of 7.4 L/100 km with the automatic and 6.3 L with the manual. Basically, if you opt for the automatic, you do it to reduce the noise level and make the ride more fun – not to increase fuel efficiency. In any event, neither of them is terribly fuel efficient given how little the Micra actually weighs. A more appropriate average would be 6.0 L/100 km, regardless of the transmission.
Honesty is the best policy?
In the small world of small cars, driving pleasure is an abstract notion. However, the Micra, even with the manual transmission, isn't entirely tedious, despite the chainsaw sound from under the hood when you accelerate with gusto. The steering is precise, at least more so than that of the Toyota Yaris, Chevrolet Spark and Mitsubishi Mirage that make up its main competition, and it offers a small turning radius. Expect some body roll (the car leans) and understeer (the front end wants to continue going straight) but, unless you're possessed by an F1 pilot, it isn't anything you won't be able to handle. The suspension is pretty comfortable despite the short wheelbase.
Nissan has hit the bull's eye with the Micra both with its marketing and with a serious, mature product. If you're on a limited budget or if you're in the market for a car that is neither sporty nor big, it's the perfect car for you. The Micra is an honest car, but let's be honest about it: if you're willing to pay more than $18,000, a Versa Note may be a better alternative.
Share on Facebook