2014 MINI Cooper: For Right-Brain Buyers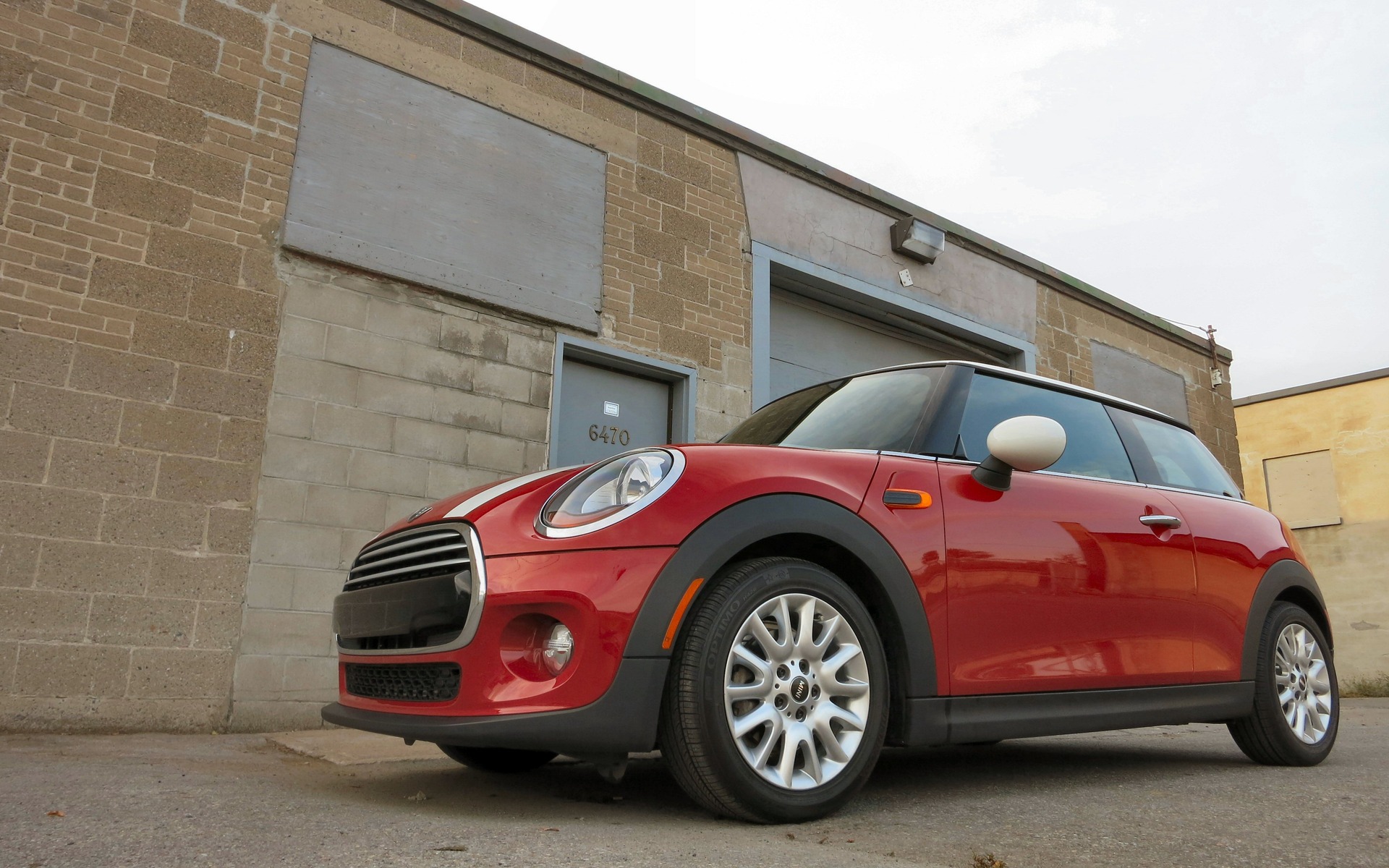 Strong points

Powerful three-cylinder motor
Good fuel efficiency
Above-average handling
Stylish

Weak points

No rear seat room
Small cargo compartment
Expensive compared to other subcompact and compact hatchbacks
Minimal level of standard equipment
Full report
The 2014 MINI Cooper finds itself performing a delicate balancing act.  All-new for the current model year, the MINI Cooper asks us to pay a premium price for style and efficiency while glossing over the practical problems presented by its ultra-subcompact size.  The fact that for its $20,990 starting MSRP you could pick up almost any other entry-level hatchback on the market - and some at a distinct discount - doesn't seem to phase the legions of MINI buyers who are happy to sacrifice passenger and cargo capacity in exchange for what they rightly perceive as a fun driving experience rife with character.  Kudos to MINI for building such an effective brand identity around the Cooper, and a further mazel tov for gradually evolving a very good automobile to keep filling that niche year-after-year.
Three Cylinders Of Goodness
The push towards ever-smaller engines has found automakers investigating the feasibility of three-cylinder designs in mass-market models.  The 2014 MINI Cooper presents the most well-executed three-cylinder drivetrain to date, a 1.5-litre unit offering 134 horsepower and up to 170 lb-ft of torque thanks to the intervention of its turbocharger's overboost feature.  The six-speed manual transmission that was outfitted to my test car is standard equipment and offers well-spaced ratios that provide complete control over the engine's effective power band (a six-speed automatic transmission is available on the options sheet).
I was routinely impressed by how well the MINI Cooper drove, with the availability of power across a wide range of speeds catching my eye in particular.  Unlike other three-cylinder applications where one frequently feels the need to downshift into first gear when negotiating a slow corner, the Cooper asks for no such compromises, and aside from a certain distinct exhaust note its behaviour is indistinguishable from a larger four-cylinder mill.  Perhaps that isn't totally true, as few four-cylinders would be able to return the 9.0-litres per 100 kilometres that I saw with the MINI in mixed driving.  This was achieved despite my having disabled the automatic engine start/stop system, a feature that was far too rough and abrupt to be considered comfortable in daily driving (blame the three-cylinder setup for that one).
Handling comes out as above average, too, with the 2014 Cooper demonstrating a willingness to turn in quickly as well as a calm demeanour when hustled.  Setting the car's driving mode to Sport adds a bit of tension and twitchiness to the car's throttle, along with higher effort steering, and while highway behaviour was a bit less composed than I would have liked the MINI shone around town.
Give And Take
The 2014 MINI Cooper's platform has stretched its wheelbase by 28 mm for the current model year, and it also gains 114 mm of overall length.  Still, this is a very small car, and while that might help the Cooper stay true to its super-subcompact roots and allow its traditional styling cues to maintain their appeal, it has a definite impact on practicality.  The two-door hardtop is very much a two-person car.  There's room in the rear for an extra passenger in a pinch – and more space back there than there was in 2013 - but two additional riders pushes credibility for longer trips and a full car is impossible.  At the very least, the car's 246 litre trunk offers 85 additional litres when compared to the model it replaces, and there's 1076 litres of total cargo room available with the rear seats folded forward.
Price Versus Expectations
Despite its status as the most expensive subcompact hatchback available in Canada, the 2014 MINI Cooper is somewhat stingy with its standard features.  Relocating the car's speedometer to sit directly in front of the driver in place of its previous centre-dashboard position has opened up a lot of design real estate, but instead of making the most of its across the board MINI has saddled base models with a small, orange-coloured LCD screen that offers a basic vehicle menu system along with radio and Bluetooth phone information.  The head unit is surrounded by a big circle of plastic, which matches the many other plastic circles that have been placed around the cabin.  If you pay more, you can fill this void with one of two full-colour LCD screens (with one offering a navigation system to boot), but with the window sticker already showing a significant mark-up compared to the competition I expected more from the Cooper.
There are definitely some nice touches to be found inside the MINI's passenger compartment.  Both myself and my passengers were charmed by the engine start/stop toggle, which glows red amidst a row of similarly-classy switches at the bottom of the centre stack.  My test vehicle also came with a dual-panel sunroof, a somewhat bizarre affectation for an automobile that will only rarely ever have someone sitting underneath the second sheet of glass.
You Better Shop Around
I like the 2014 MINI Cooper for its sense of style, its excellent three-cylinder engine that is both powerful and efficient, and its willingness to shed weight and size in favour of handling proficiency.  I'm less enamoured of the fact that the car isn't as practical as many of its rivals, due to its small footprint – something I would be more willing to overlook if the Cooper was competitively priced.  It's not, however, and it asks buyers to accept a compromise in utility (along with modest standard equipment) in exchange for the prestige associated with the brand.  If you can make that logical leap, or honestly don't need the room, then MINI has a very good car waiting for you.  If you're more inclined to think with your head than your heart, then make sure you drive at least one of the many other options at the Cooper's price point before deciding what you can and can't live with in a car.
Share on Facebook