2015 Jaguar F-Type S: Hell Hath No Fury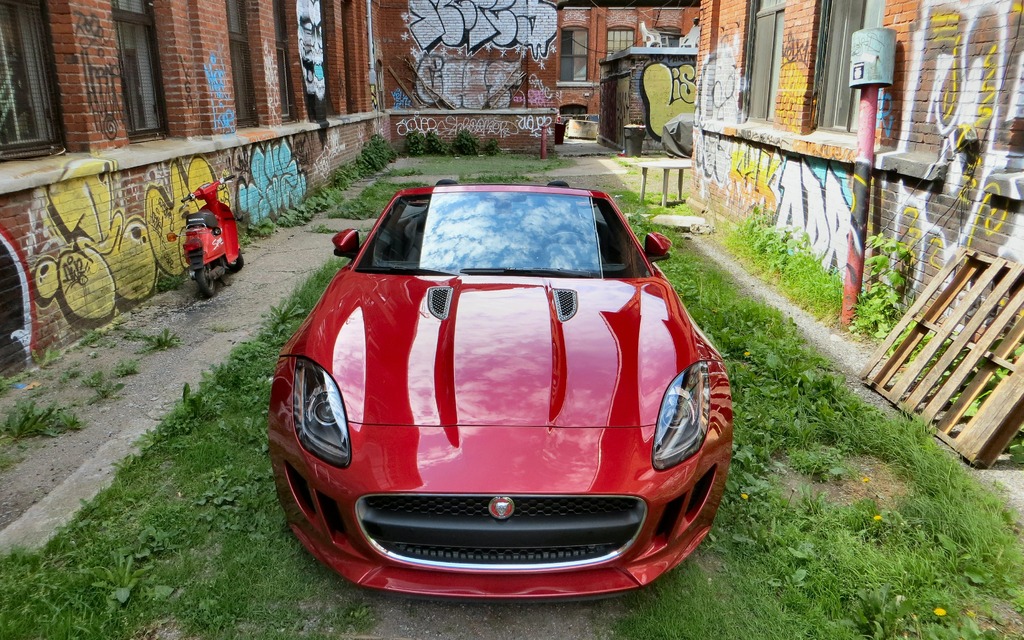 Strong points

Breathtakingly beautiful
Very comfortable as a daily driver
Outstanding exhaust sound
Powerful supercharged V6 engine
Fun to drive on the street and the track

Weak points

A few build quality issues
Lack of storage space inside the cabin
Some wind noise at highway speeds with the top up
More expensive than similar-performing rivals
Full report
The 2015 Jaguar F-Type S is a call to arms for anyone harbouring the fear that the British brand had settled into a long middle-age building plush and powerful grand touring cars and executive sedans.  The F-Type S is so shockingly gorgeous, and so immediately engaging that sitting in the driver's seat and putting this roadster through its paces is like being repeatedly struck by lightning.  Not only has Jaguar built a sports car that is worthy of its racing and performance heritage, but it has managed to give it the sculptured physique of an Athenian goddess and priced it to make executives at both Porsche (Boxster S) and Chevrolet (Corvette convertible) nervous.
Middle Child
I was privileged to pilot the mid-tier edition of the 2015 Jaguar F-Type - the S model - which squeezes 40 additional horsepower and seven extra lb-ft of twist out of the same supercharged 3.0-liter V6 engine found in the base F-Type.  This gives the two-seat convertible 380 horses and 339 lb-ft of torque in total, numbers that are well matched with the F-Type S' relatively modest curb weight and meaty 19-inch rims.  Helping to corral that prodigious output is an eight-speed automatic transmission that can be controlled by paddle shifters mounted on the steering wheel, along with several different driving and adaptive suspension modes (all part and parcel of what the S trim brings to the table).
Hell Hath No Fury
As it turns out, the more robust engine tuning isn't the best part of the Jaguar F-Type S' upgraded equipment.  It's actually the 'Dynamic' mode, accessible via a button mounted on the center console that not only stiffens up the car's dampers but also opens a secondary set of baffles in its exhaust system to transform the vehicle's aural experience from 'aggressive' to '1st degree murder.'  Full-throttle launches now carry the same level of sonic assault as a mid-Pacific aircraft carrier take-off, and off-throttle burbles, rasps, and detonations herald your approach at the next stoplight with the kind of fury typically reserved for evangelical sermons about the wages of sin.  With the transmission in Sport mode, paddle-initiated downshifts are accompanied by a Doberman-bark that will ensure your neighbours hate you even more than they envy you.
Road Course Braggadocio
Of course, the luxury universe is well-populated with loud-sounding, adroitly-sculpted personal pleasure-craft, but the 2015 Jaguar F-Type S separates itself from the usual suspects by purporting that it can handle a corner just as well as it can pound pavement into submission in a straight line.  After spending a session with the F-Type S on a tight road course I can certainly vouch for Jaguar's right to claim sports car credentials for the roadster, with much credit going to the S model's upgraded suspension tuning.  Feedback through the car's steering and chassis was transparent enough to impart confidence during my first few laps in the vehicle, and while the F-Type S might not demonstrate the same sense of balance as the similarly-priced Boxster S or the hairy-chested torque of the less expensive Corvette convertible, it offers a howling, all-hands-on-deck track experience that is as thrilling as it is quick.
Tee Time For Two Please
Don't think for a second that the 2015 Jaguar F-Type S is so busy playing the hooligan that it can't tone things down when it's time to simply roll through town at a relaxed pace and absorb the admiring stares and flat-out gawking of other drivers and passers-by.  Keep the car out of Dynamic mode and you'll find yourself being coddled by the suddenly softer suspension system and the reams of leather upholstery sprayed throughout the cabin as though by a fire hose.
For those intending to use the F-Type S as a daily driver, one of the key differences between the roadster and its bigger GT brother the XK convertible has to do with size.  Not so much how it fits in your driveway, but rather from a practicality perspective: there's very little storage space within the new drop-top's cabin, and its trunk is weekend-friendly for luggage but not so keen on a trip to a big box store.  There were also a few quality miss-steps inside the F-Type S' cockpit - a seatbelt that refused to retract, and wind noise from the driver's side mirror - but other than that I was sufficiently impressed by how well the car cleaned up its riot act and delivered a high level of luxury motoring when called upon to do so.
My New Best Friend
The 2015 Jaguar F-Type S carves its own path as a premium roadster that makes an emotional appeal alongside its fantastic on-road performance and sultry sheet metal.  By avoiding the recent vogue to pursue lap times and braking distances as the Holy Grail of sports car design, Jaguar reminds us with the F-Type S that ultimately it's the relationship between a vehicle and its driver that matters the most in the long run.  Instead of insulating you in an antiseptic sliver of aluminium and glass and letting you tag along as more of an observer than a willing participant on the track, Jaguar's roadster sets your hair on fire and then puts the top down so you can drive quickly enough to put it out.  And that's exactly what a friend would do, isn't it?
Share on Facebook