The Volvo 240 Versus V60: Two Decades of Evolution Later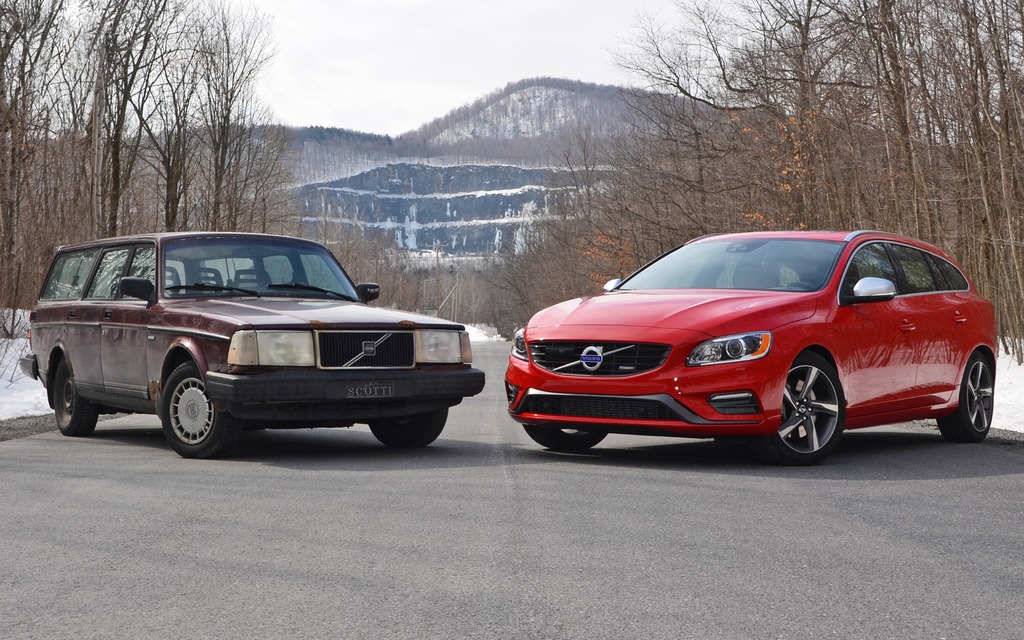 Today's comparative match-up pits two similar cars against one another. Both are fully equipped red Volvo wagons.
But there's one important difference between the two competitors: one is fresh out of the plant, still exuding that new car smell, while the other left its native Sweden more than two decades ago and has covered more than 300,000 kilometres in all possible conditions—earning a reputation for being invincible along the way.
The elder of the two is a 1993 Volvo 240 Estate. Although its total mileage is unknown (an electrical problem fried the odometer ages ago), this vehicle has endured more than 20 Quebec winters and driven a small family from one end of the province to the other. It proudly bears a few battle scars, but has seen better times overall.
The new whippersnapper is a 2014 Volvo V60. It's fully equipped with all the options you could imagine and features a sumptuous fire-engine red robe. No one would mistake these two wagons in a parking lot!
But despite appearances, these two cars aren't actually all that different.
A look back into the past
In a direct comparison, the Volvo 240 struggles to keep up. But, for a moment, let's pretend that it's not 2014. Let's look back a few years, back to when Bill Clinton was leading the United States, and the Canadiens beat the Kings for a Stanley Cup win. It's 1993! On the market since 1975, the 200 series has aged like a fine wine and this year it will reach its peak. Our Volvo 240 Estate comes rolling out of the Torslanda plant in Sweden. Built to suit the needs of Canadian businessmen, the car comes with all the luxuries: heated seats, cruise control, automatic transmission, cassette deck, power mirrors. At the time, the Volvo 240 already enjoyed a terrific reputation for its robustness, reliability, simple mechanics, and its assault-car appearance. Plus, Volvos were widely regarded as the safest vehicles around, mainly due to their very thick body shells.
They were also at the cutting edge of technology. With its unpretentious style and aerodynamically challenged angles, the 240 was popular among academics and large families. In addition, this vehicle was frugal with a 2.5-litre engine and four-speed automatic transmission. Its rear-wheel drive architecture makes it predictable on the road in both summer and winter (provided it has good tires!), as noted by the couple who bought our burgundy 240 Estate—they've driven through plenty of fierce winter storms in vehicles with rear-wheel drive. To top it all off, our test model came with a driver's side air bag and seat belts with pre-tensioners.
Back to the present (never mind the future!)
To prepare for its battle against a legend, the V60 armed itself with a ton of options: R-Design package, turbocharged inline-6 engine, all-wheel drive, six-speed automatic transmission, sport suspension and steering, adaptive cruise control, lane departure warning system, blind spot sensors, active headlamps (that move according to the angle of the steering wheel), intelligent traction control, dual-zone air-conditioning, heated front AND rear seats, leather interior, satellite navigation… Need we say more? The V60 is designed to provide passengers with the comfort and safety that Volvo is known for, plus a touch of sportiness.
Now that we have returned the two cars to their respective eras, let's compare them and see what 20 years of evolution have done to Volvo wagons!
Exterior: Not just skin deep
With so many years and trends separating these cars, their styles could not be more different. The V60 projects a sporty and luxurious image (thanks to 18-inch wheels, chrome exhaust tips and eye-catching body), while the 240 is much more serious-looking. This car's exterior isn't about impressing the Joneses. It's more utilitarian, designed to maximize space in the passenger compartment and keep its occupants safe. If you want to turn heads, this car probably isn't your best option.
But then again, who buys a wagon to attract attention?
Point: 240 Estate
Interior: Practicality versus luxury
Once again, the difference is flagrant. The 240's interior keeps it simple: every gauge serves a purpose, black plastics are ubiquitous, and the only curve you'll see is on the steering wheel. The seats are covered in grey fabric and, while relatively comfortable, they're flat and lack side bolstering.
Meanwhile, the V60 is all about esthetic appeal and luxury. The seats are comfortable and enveloping, with superb lateral support. The dashboard is taken up by a screen that can be configured to your driving style. There is a good quality sound system and great vehicle soundproofing.
Point: V60
Performance: You'd be surprised!
Since there's no nice way to say this, let's just cut to the chase: The V60 charges from 0-100 km/h in 5.8 seconds, while the 240 kind of saunters to the same speed in 14. The V60's top speed is more than 200 km/h, contrasting with the 240's maximum of 150 km/h (remember that it's as aerodynamic as a fortress). The V60 is powered by 350 ponies, while the 240 trotted out of the plant with a mere 112. In fact, the only surprise in this category was the fact that old Volvo still accelerates as fast as it did when it was brand-new. Not bad for an old-timer! And there's another twist. During our weeklong test drive, the two vehicles posted very similar fuel consumption rates: 11.4 L/100 km for the V60 and 11.9 L/100 km for the 240.
Point: V60
Day-to-day driving: Spontaneity versus wisdom
When you're driving the V60, you just have to spot an opening in traffic, hit the accelerator and the all-wheel drive works with the onboard computer to direct the wagon exactly where you want it to go. With the 240, you have to anticipate how the other cars will move and predict when there will be an opening in the line of vehicles to your right, as you can't quickly overtake other vehicles.
It goes without saying that the more recent Volvo is more fun. It's more powerful yet quieter, and it has more gadgets to keep you busy. Plus, its adaptive cruise control means that it practically drives itself. You can spend hours behind its wheel without getting tired.
The only aspect for which the 240 has an advantage is visibility. The vehicle's square design affords excellent 360-degree views, whereas the V60 is hindered by major blind spots. That said, the sensors help resolve this problem.
The two vehicles share one trait that I found touching. Despite the 20-year age difference and all the advancements in aerodynamics that occurred along the way, both wagons are sensitive to cross-winds!
Point: V60
Conclusion: Two approaches to the same problem
It would be easy to call this a closed case and declare the Volvo V60 the winner. But there's one last point to consider: price.
The V60 we drove goes for $59,000 plus tax. Back in 1993, the 240 sold for approximately $24,000. When you take inflation into account, that's equivalent to about $39,500 today. Thus, the difference is almost $20,000.
What's more, this Volvo 240 wasn't bought new by its current owner. While we won't disclose its price, let's just say that it cost a little less than a good bicycle.
And now it's time to crown our winner!
Here is how we calculated the points:
One point for each category win, and a handicap of one point for every $1,000 over the 2014 price of the less expensive car.
This leaves us with a final score of 1 versus -56. The Volvo 240 Estate takes first place! It just goes to show you that even though Volvo's new products are terrific, nothing beats a classic!
Share on Facebook