2013 Toyota Prius C: An Urban Hybrid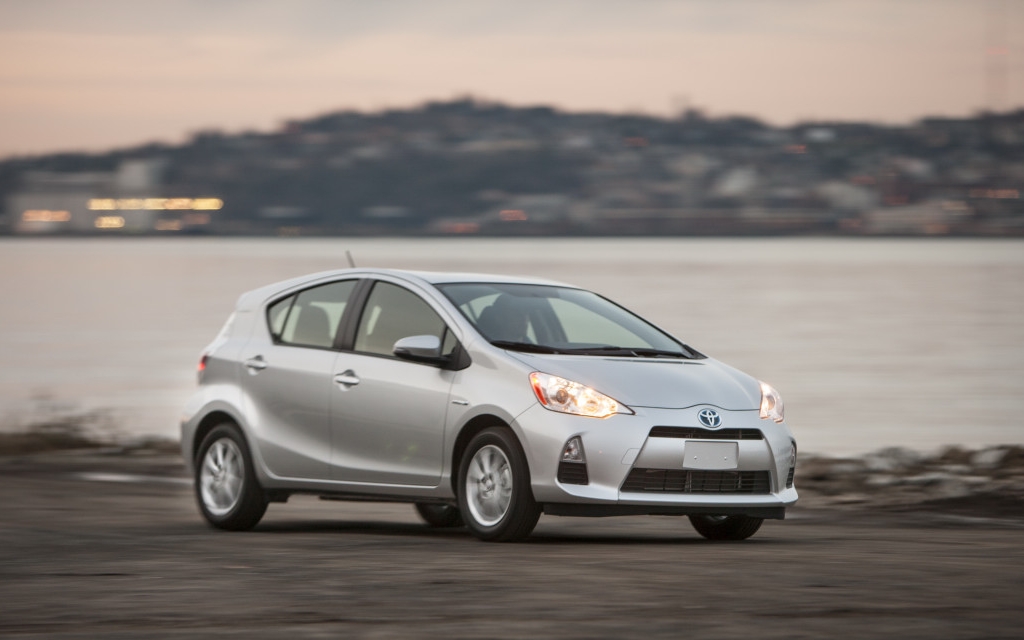 Strong points

Elegant exterior
Fuel efficient engine
Nice interior
Decent handling
Good finish

Weak points

Average soundproofing
Hard plastics
Mediocre performance
Hard suspension
Full report
Toyota swears by its hybrids. Having broken new ground with the first Prius more than 10 years ago, the automaker is now adding more hybrid models to its line-up. We recently witnessed the unveiling of the V, which is a bigger version of the original Prius – some may even consider it a wagon – and a Plug-In version is expected within the next few months. But to complete the family, they have also added a sub-compact designed specifically for city use: the Prius C ("C" stands for "city). This hybrid is an urbanite's car, pure and simple.
Derived from the Yaris
Obviously, developing a platform just for this model would have been too costly, since the Prius C is expected to sell in limited numbers due to its higher-than-average pricing (for the category). So, it made sense to use the Yaris' platform instead. Not a bad idea considering that this model was extensively revamped last year. This means that the Prius C capitalizes on all the improvements made to the platform. The technology used in the Yaris is relatively simple and includes MacPherson struts up front and a torsion bar in back. The front gets disc brakes while the rear gets drum brakes, as is the case on most sub-compacts.
In fact, the only feature that is more technologically advanced on the Prius C is the hybrid system. It's composed of a 1.5-litre four-cylinder engine whose total power combined with the electric motor's output is 100 horsepower. This is paired with a continuously variable automatic transmission. This hybrid powertrain is a head and shoulders above the system that equips the Honda Insight. While the Toyota system allows you to drive in all-electric mode, Honda's electric engine does nothing more than back up the combustion engine.  
Sweet design!
I've never been a big fan of Toyota designs. But I'm willing to admit that the Prius C is not that hard on the eyes! Don't ask me why, but it seems as though the Toyota designers who work on sub-compacts are a more cheerful lot than those in charge of their sedans. The result is that this little hybrid has a lot of character. I especially liked the air intakes, which were inspired by the ultra-sporty LF-A. Plus, for dynamic effect, the bubbled lower sections of the side panels flow into the rear wheel wells and right to the fenders. The rear section has been nicely crafted, too.
Inside, you'll find an elegant dashboard and effective use of contrasting black and silver plastics. As on all other Prius models, the display gauges are located in the centre of the dash and are fairly easy to see and read. Anyone who is concerned about the central position of the instrument block can breathe easy; it doesn't take long to get used to it.
Cool feature: This vehicle includes a display that shows you how much gas you are using and compares it with how much you would use in another model. Meanwhile, another animated display gives you a visual of how power is distributed throughout the vehicle. While all this kind be a little distracting while you're driving, it's nice to know that you can always see what the battery's charge level is, whether the vehicle is operating in all-electric mode or whether the powertrain has been called into play.
Although the dashboard is attractive, the plastics are very hard. Toyota should definitely consider sprucing it up with softer materials. Not to mention the fact that the stylists got the steering wheel all wrong; it's just plain ugly. However, the rubber radio and telephone buttons are pleasant to the touch.
Putt! Putt!
This car was designed for city use, meaning it's relatively petite and offers average power – after all, how much power do you need for city driving? Also, its suspension system is rather simple as road handling is not a major priority for this car, either. Rather, this vehicle's focus is all on fuel economy. After driving this car for a week without paying special attention to my driving style, I recorded an average of 4.8 litres per 100 km. This confirms just how advantageous this hybrid can be when it comes to fuel consumption.
That said, if you prefer responsive cars with sport performance capabilities, you might want to look elsewhere. The 0-100 sprint is more of a saunter at 11 seconds (and that's when you really give the accelerator your all). Whenever you push the vehicle out of its comfort zone, a lot of noise ensues, as the engine has to work very hard and the soundproofing is not as good as it could be.
Nonetheless, the Prius C is agile and can weave through traffic with ease. Driving it can even be described as "enjoyable." Keeping up with city traffic is no problem and its performances are on par with many others in the category. It certainly comes ahead of its direct rival, the Honda Insight.
When all is said and done, this vehicle is an interesting option for city drivers who want to keep their fuel consumption – and GWG emissions – to a minimum. Finally, like any self-respecting Toyota, it is sure to be reliable over the long term.
Share on Facebook