2013 Toyota Prius c: The Surprising Cost Of Thrift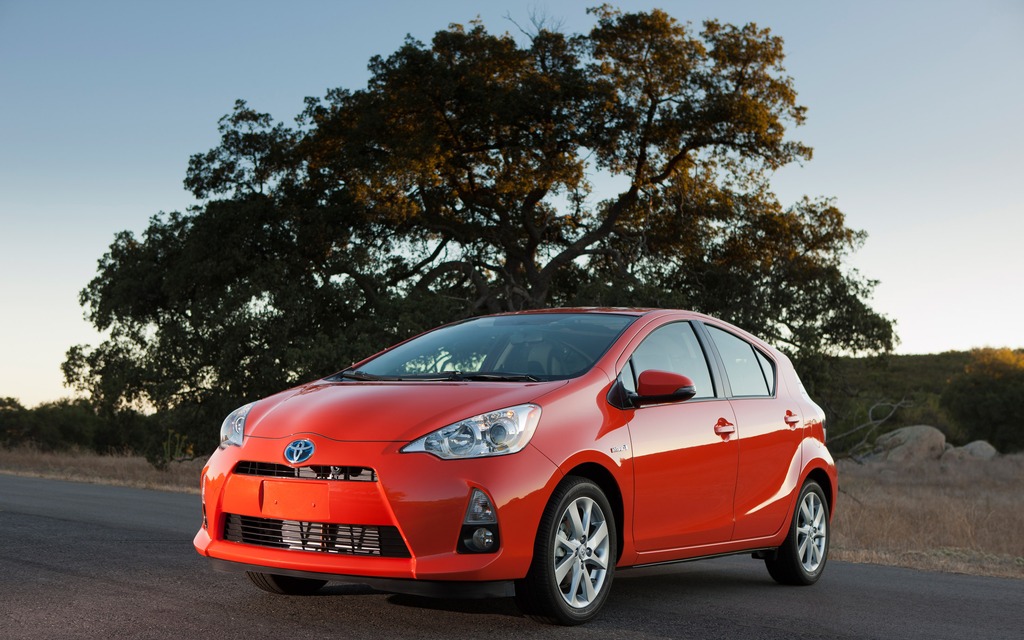 Strong points

Great on gas
Nice seats for a subcompact car
Decent cargo space
Inoffensive styling

Weak points

Not very fun to drive
Interior materials not as nice as most competitors
Low level of standard / optional equipment
Tight back seat
Expensive for its segment
Full report
Few hybrid vehicles have found as much success and acceptance as the Toyota Prius. When an automobile strikes a chord with a group of customers, it's only natural to want to use it as the launch pad for a number of additional, complementary vehicles that will hopefully expand the family of buyers to include those on the edges who may have been enticed by the fuel economy of the original Prius but who either needed more space (Prius v) or wanted a less expensive alternative (Prius c).
The 2013 Toyota Prius c would seem to be the ultimate expression of frugality in the subcompact segment: a small, lightweight hybrid car that leverages the efficiency of Toyota's Hybrid Synergy Drive system at a price point that is affordable enough for most new car shoppers. In many ways, this would be an accurate assessment of what the Prius c has to offer - but it's not the whole story. Let's dig down deeper into Toyota's smallest hybrid car and see what a week spent with the hatchback taught me about living green on a budget.
Economical Look And Feel
Judging the 2013 Prius c based on appearances wouldn't tell you anything about its superior fuel economy or above-average price tag. The subcompact hatchback is designed to mesh perfectly with the sea of similarly-utilitarian small cars out on the road, although it does share more than a passing resemblance with the Toyota Yaris hatch with which it shares its platform. The four-door Prius c is significantly smaller and lighter than the standard Prius, and this is reflected in its reduced interior room and smaller overall package. The vehicle's back seat is fine on short hauls for adults, although one wouldn't want to spend more than 30 minutes cooped up back there, and its cargo area provides more than adequate space for occasional shopping trips.
Equipment available with the vehicle is basic - power windows and door locks, a moonroof, satellite radio - and feels a bit spartan when compared with competitors from Hyundai and Ford. I was pleased, however, to see a traditional floor shifter for the vehicle's automatic transmission as opposed to the fussy dash-mounted tranny appendage found in all other Prius designs.
The materials used throughout the interior of the Prius c walk a fine line between the 'eco-feel' surfaces offered in the more expensive models bearing the Prius name and the kind of plastic one would expect in a subcompact car. The seats are upholstered in a surprisingly nice, two-tone breathable cloth, and the dashboard's swept, asymmetrical design adds a splash of personality to an otherwise straightforward cabin. One quickly gets used to center-mounted rectangular set of LCD displays that serve as the Prius c's dash gauges, and a full-colour set of menus - accessible via steering wheel-mounted buttons - offer insight into fuel consumption, trip information, the power flow between the hybrid's battery and its gasoline engine, and even provides a coaching system to improve one's green driving skills.
The Ultimate In Fuel Sipping
It's clear that no one is buying the 2013 Prius c because of its fashion-forward styling or the charm of its short list of comfort features. No, the star of the show for the subcompact hatchback is the Hybrid Synergy Drive system, which is composed of a 1.5-liter, four-cylinder gasoline motor and not one, but two battery-powered electric motors.
All together, the Prius c's drivetrain generates a total of 99 horsepower, which is enough grunt to accelerate the tiny subcompact at an acceptable rate as long as one does not attempt to overtake too long a line of cars on the highway. Somewhat buzzy, although never anaemic, the Prius c is in no way fun to drive with the foot to the floor, but it does manage to match the performance offered by other cars in its class like the auto-equipped Fiat 500.
The reward from the Toyota's low-power hybrid system is ridiculous fuel economy. I saw 5.8 l/100 km during my time with the car, in a mix of driving that was fairly evenly split between stop and go and highway cruising. I was impressed by the car's efficiency, even though my real-world experience came in over its advertised 3.7 l/100 km rating. The Prius c also offers an EV mode and an automated engine start/stop system to help further improve efficiency, although the former was only useful in extremely short bursts before the efforts of the small battery were depleted.
A few final notes: one might expect the handling of the Toyota Prius to be lively, given its small, low-mass chassis, but dynamically the car just doesn't engage the driver in the same way as several of its subcompact rivals. I was also put off by the fact that there is no button visible to deactivate the vehicle's traction control system, which became a problem when a sudden snowstorm saw the hatchback get stuck in my driveway. The Prius c instantly cut the power to the front wheels as soon as they began to spin, which made it impossible to climb up the incline without much digging and cursing.
Thrift, But At What Cost?
From a certain perspective, the 2013 Toyota Prius c is all-around a perfectly acceptable little hatchback, one that doesn't stand out in any particular areas except for its incredibly efficient drivetrain. Taking a step back and looking at the bigger picture, however, reveals the hybrid's Achilles' heel - pricing.
The Prius c starts at an MSRP of $20,440, which is a stunning $6,190 more than its Yaris platform-mate. While the Prius certainly eclipses the Yaris in terms of fuel economy, in all other areas the car feels like it should cost at least $5,000 less, an impression that is further reinforced when driving almost any of its subcompact rivals and marvelling at their handling, power delivery, refinement, and features availability. The 2013 Toyota Prius c is an amazingly efficient automobile, but it's also one that asks buyers to pay a lot more than average for a very average automobile wrapped around a spectacularly frugal hybrid system.
Share on Facebook