2012 Lotus Evora S: It won't change you, except...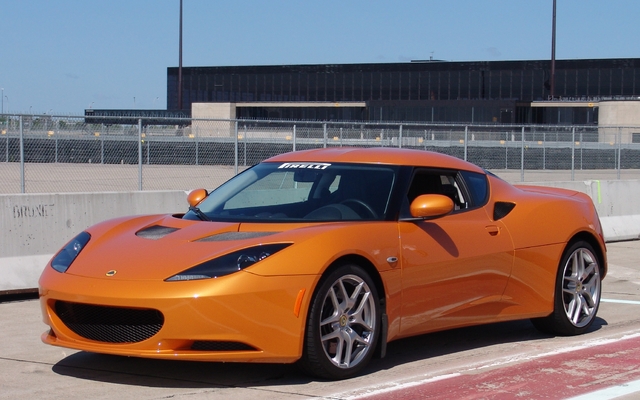 Strong points

Super precise steering
Superior handling
Surprising comfort
Very powerful engine (S)
Guaranteed exclusivity

Weak points

Imprecise shifter
Non-existent rear visibility
Very small network of dealers
No footrest
Ridiculous back seats (2+2)
Full report
Lotus, the little English manufacturer steeped in history, is barely surviving in this era where huge corporations reign supreme. For various reasons, it had to stop producing the Elise and Exige, fun little two-seaters that handle more like go-karts than GTs. To target a different clientele that is just as eager to break the rules on the road but looking for a little more comfort (the Elise and Exige had concrete suspensions), Lotus unveiled a brand new sports car last year: the Evora. Without this car with a central engine, Lotus wouldn't have too much to offer.
The most frequently heard comment about the Evora is that its engine is just barely sufficient. Don't misunderstand: the Evora base version, with 276 hp and a weight of less than 1,400 kilos goes from 0-100 km/hr in 5.1 seconds, which is very fast. But, since it's a purebred sports car, we were hoping for better...
Time to shine for the S
The Evora S is making its debut this year. The S, with its 345 hp and weighing only 1,437 kilos, is explosive. Each horspower carries 4.16 kilos, which about the same as the Porsche Cayman S, give or take a few grams. The 0-100 km/hr time is 4.5 seconds and the maximum speed is 277 km/hr. Now, if that's not powerful enough for you, you might have to try an F18...
The Evora's Toyota-made 3.5-litre V6 is equipped in the S version with a Harrop HTV 1320 compressor. The engineers managed to place a radiator for the compressor imperceptibly on the front sub-frame, which is bolted to the main chassis like the rear sub-frame. Bolted sub-frames were chosen for ease of repair. The Elise and Exige had a full platform, which made things more expensive when repairs were needed. There have also been several small changes here and there to make the handling sharper (suspension anchors, rear roll bars that are 0.5mm thicker, etc.).
The transmission also comes from Toyota, by way of Aisin. There's a regular gearbox and also a Sport version, which always comes in the Evora S. As for the tires, Lotus had originally approached Yokohama for the Evora project, but the tires provided quickly reached their limits. After some in-house testing, the engineers quickly realized that the Pirelli PZero did the job perfectly. The standard tires are 19 inches, but you can opt for 20-inch PZero Corsa in the rear (235/35R19 in front and 275/30R20 in back).
The first is exciting, the second is sensational
Last week, guideautoweb.com had the chance to drive both a regular Evora and an S at the ICAR Circuit in Mirabel. The regular version with its excellent power, incredibly solid chassis, impeccably precise steering and forgiving stability in turns should satisfy most drivers. Basically, the car is capable of providing thrills and can make anyone look like a genius. Almost anyone...
But that was before getting behind the wheel of the S. Holy smokes! With all of the changes that Lotus made, it's even more responsive than the regular Evora. The engine howls a gleefully pleasant sound (but never as pleasant as the sound of a big V8). Speaking of which, note that the Evora S' exhaust system possess a valve that helps, at more than 4,700 rpm, the   flow more easily. Finally, the rear visibility is quite simply atrocious, but we didn't care... We were on a race track!
The six-speed manual transmission has a perfect gear ratio for the track and the high torque helps novices leave it in third gear. However, I didn't really like the stick, which frequently sticks between third and second. A regular Evora test driven a little earlier with a conventional gearbox seemed less wayward. The pedals are ideally positioned for the heel-toe technique. The only thing missing is a foot rest, but considering how narrow the chassis is there, I can understand Lotus' decision not to include one. The precision of the steering is reminiscent of a Porsche Cayman S. As for the brakes, they never demonstrated even the slightest sign of fatigue even after several laps on a very winding circuit.
Normal, Sport or Professional
Three levels of traction and lateral stability control are available to the driver. Normal mode is for everyday driving and is perfect for the road. For use on a track, Sport mode, which lets the tail end loose and intervenes only in emergencies, is recommended. This is the mode that we used at ICAR and its reactions were quite simply perfect. When you push on this button, the engine's red line goes from 6,800 to 7,200 rpm. Speaking of rpm, I must note that diodes light up on the dashboard to tell the driver when to upshift. One light: no problem... Two lights: start to think, my friend... Three lights: what are you waiting for ?
Experienced drivers will choose to disconnect all of the systems, but be aware that with a car that can reach 1.2 G in turns, speed remains very high in curves. If a driver loses control of the Evora S without any system standing guard, the consequences will be catastrophic.
Although we haven't (yet) been able to drive the Evora S on public roads, a few high speed encounters with the rumble strips didn't manage to destabilize the car nor shake the driver. The comfort of the Evora doesn't seem to be compromised in the S. But if you define comfort in terms of the number of storage spaces, you may as well forget about the Evora, S or otherwise. There are very few places to put your cellular phone or other devices. However, there is a glove compartment. That's glove – singular, since it's only big enough for one. You can order an Evora with or without rear seats. If you opt for the 2+2 configuration, you risk being disappointed. These seats are only big enough for a grocery bag. As for the trunk, it isn't very big, but if you have a bit of patience, you'll manage to squeeze in a golf bag...
For true racing enthusiasts, Lotus is proposing, in Europe only for now, the race-ready GT2 (Enduro unveiled in Geneva in 2011) and GT4. These cars include only what is needed on a race track (no air conditioner, radio, GPS, etc.). But for mere mortals like us, there's the $74,000 Evora ($75,500 for the 2+2 version) and the $88,000 Evora S ($89,500 for the 2+2).
Share on Facebook