2025 Hyundai
IONIQ 5

N Debuts in L.A. as Track-Ready EV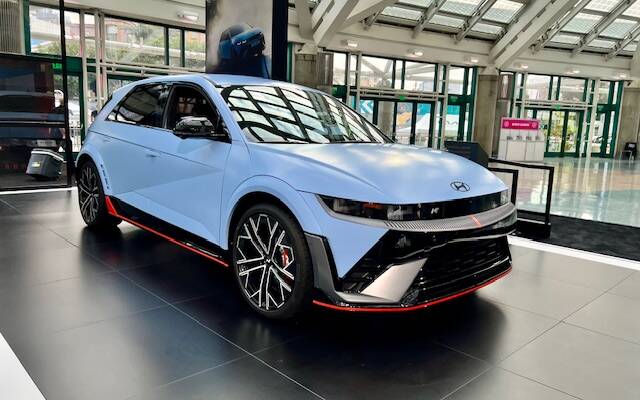 Hyundai chose the Los Angeles Auto Show to host the North American debut of the high-performance IONIQ 5 N electric crossover, which we first saw this summer at the Goodwood Festival of Speed. N is to Hyundai what M is to BMW, and it already gave us conventionally powered cars like the Veloster N, Elantra N and Kona N. Now, the Korean automaker's sporty sub-brand is introducing its first all-electric vehicle and hopes to win over many performance enthusiasts in the process.  
The IONIQ 5 N features an 84kWh battery and two electric motors that combine to generate 601 horsepower—or 641 horsepower for 10 seconds when drivers push the red "N Grin Boost" button on the steering wheel. With launch control activated, the IONIQ 5 N can sprint from 0-100 km/h in just 3.4 seconds.
The Three Pillars of N
The 2025 Hyundai IONIQ 5 N is built on the same Electric – Global Modular Platform (E-GMP) that currently underpins the IONIQ 5, IONIQ 6, Kia EV6 and Genesis GV60. However, the engineers at N have packed a number of components and technologies previously introduced on concepts such as the RM20e, RN22e and N Vision 74.
So, despite being an EV, the IONIQ 5 N is just as capable on a track as ICE-powered N models. Development was based on three performance pillars including 'Corner Rascal,' 'Racetrack Capability' and 'Everyday Sportscar,' all adapted to the specific configuration of an electric drivetrain.
A More Rigid Body
Corner Rascal capabilities begin with enhancements to the body-in-white (BIW) structure with 42 additional welding points and 2.1 metres of additional structural adhesives. Also, the motor and battery mounting are reinforced, while the front and rear subframes are enhanced for lateral rigidity. World Rally Championship-inspired integrated drive axles are applied front and rear and reinforced to endure stronger electric motor torque while reducing unsprung mass with 21-inch forged aluminum wheels. The latter are wrapped in Pirelli P Zero performance tires.
The IONIQ 5 N steering system was strengthened for improved rigidity, while special calibration improves steering response and feedback. Elsewhere, the N-tuned brakes represent Hyundai's most powerful braking system to date. To address the harsh braking demands of race tracks, an N-specific regenerative braking system was developed specifically for the IONIQ 5 N, offering up to a maximum of 0.6 g of deceleration force and remaining engaged under ABS activation scenarios with a maximum of 0.2 g. 
N Active Sound+ and N e-shift
There is so much more to talk about, mind you. Engineers have developed two new features that enhance the driving experience by simulating the power-shift feel, rev-matching downshifts and powertrain notes of an ICE vehicle. The first one, called N Active Sound+, uses a 10-speaker system that offers three distinct sound themes—'Ignition' simulates the sound of a turbocharged four-cylinder engine, 'Evolution' provides a signature high-performance sound inspired by the RN22e concept, and 'Supersonic' is inspired by twin-engine fighter jets. 
The second feature is called N e-shift, which makes drivers think they're dealing with an eight-speed dual-clutch transmission. It simulates a gearshift by controlling motor torque output and simulates the power-shift feeling between shifts, including synchronized audible cues. We're pretty curious to see how it actually performs.
A Rear Wiper at Last
The new IONIQ 5 N is 15 mm lower than its regular counterpart, not to mention 50 mm wider to accommodate the 21-inch wheels and 275/35R21 Pirelli P Zero tires. The rear diffuser is the main reason why it's 80 mm longer, too. As for styling, the front and rear ends sport a unique look, while the N-exclusive 'Luminous Orange' at the bottom of the black front bumper cover continues along the side skirts.
Great news: the IONIQ 5 N adds a rear window wiper, addressing one of the biggest complaints about the IONIQ 5 crossover.
The interior is obviously full of N-branded elements including the sport seats, sport steering wheel, pedals and door sills. About that steering wheel: you'll find N buttons that set the desired drive mode and activate the N Grin Boost function, and paddles at the driver's fingertips that engage N e-shift and N Pedal features.
Review Coming up Soon
While pricing remains a huge question mark, we can tell you that the 2025 Hyundai IONIQ 5 N will arrive in dealerships starting in the spring of 2024. You won't have to wait that long to read our first-drive impressions, though. The Car Guide has been invited to put this new performance EV to the test on the roads of South Korea and do a few hot laps at the Korea International Circuit, which hosted a Formula 1 Grand Prix from 2010-2013.
Come back on November 21 for our full review!
Share on Facebook