2024 BMW i5: Give Me a High Five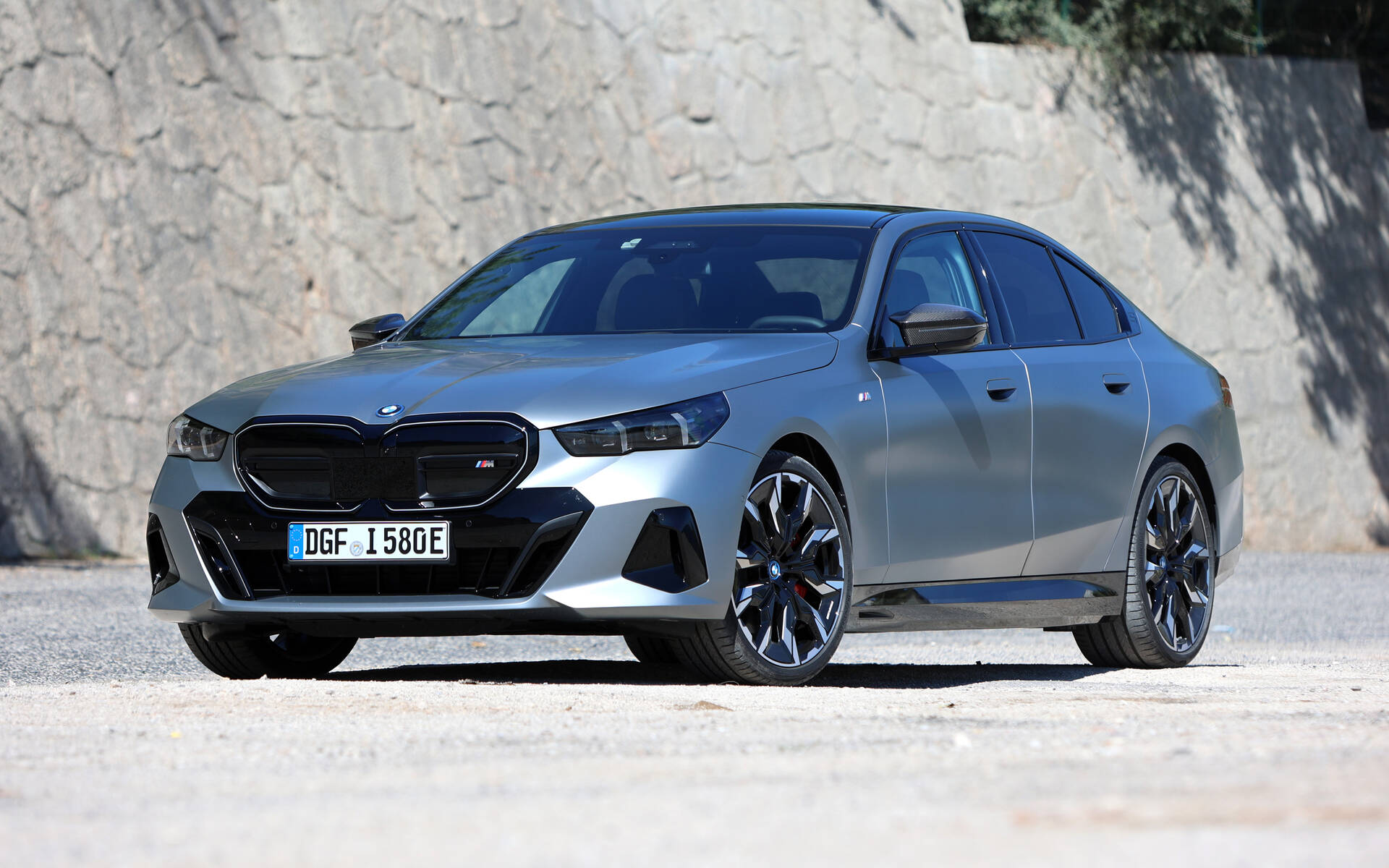 Strong points

Remarkable driving dynamics
Outstanding build quality
Sharp looks and details
Plenty of selection

Weak points

Busy HMI requiring steep learning curve
Hands-free driving tech can still be improved
No Touring variant in North America
Full report
I'll be honest, I wasn't particularly enthused by BMW's redesigned midsize sedan when it debuted in May. The grace and timeless elegance of the 5 Series suddenly seemed to come with question marks, and the electrified variants on the way only amplified my concerns.
But then I was invited to Lisbon, Portugal and got the opportunity to take a closer look at the zero-emission BMW i5, which dramatically changed my perspective. The beauty of this car lies in the many details that one takes the time to discover from every angle, making it a unique fashion statement and hopefully an inspiration for the next 3 Series.
Whether in conventionally powered or all-electric configuration, the new 5 Series won me over the more I laid my eyes on it, took pictures of it and, with a previous-generation model standing nearby, realized that it isn't such a radical departure after all.
Pick Your Poison
Right now, BMW Canada offers the gas-only 530i xDrive with a 2.0-litre turbo engine and the fully electrified i5 M60 xDrive. The latter is a high-performance sedan delivering 593 horsepower and serving as the top dog until the new M5 launches next year as a 2025 model with some form of hybrid technology.
Also coming in a few months is the base i5 xDrive40, a dual-motor model that should generate 396 horsepower if we look at the specs for the smaller i4 xDrive40. Alas, it was missing at the media event in Portugal, so we had to settle for a single-motor, 335-horsepower variant called eDrive40.
While the i5's lower centre of gravity helps preserve the 5 Series' remarkable handling, BMW engineers couldn't escape the weight of the battery, which is roughly equivalent to four large adults. Somehow, the car proves responsive and engaging, with most of the credit going to its super-sharp steering. The suspension does a magnificent job, as well, further elevating the driving experience.
The 84.3 kWh battery (net capacity: 81.2 kWh) is expected to provide around 480 km of range in the upcoming i5 xDrive40. That doesn't sound exceptional, but remember that a Mercedes-Benz EQE can travel no more than 418 km. As for the sportier i5 M60 xDrive, maximum range is down to 412 km—again, better than a Mercedes-AMG EQE (362 km). Tesla needs not to worry, although it could spend more effort on body rigidity and refinement behind the wheel, which the two German rivals have in spades.
M60 is a Rocket
Riding on 20-inch wheels and high-performance tires, the more aggressively styled i5 M60 xDrive isn't as showy as the M5, but there's no mistaking its allegiance or aspirations, even at first glance. It's impossible to resist the urge to activate Sport mode, but not every driver will like the so-called BMW IconicSounds (it can be turned off) adding a new dimension to driving experience. This is a sedan that generates just shy of 600 horsepower and sprints from 0-100 km/h in 3.8 seconds despite weighing 2,475 kg.
Blessed with all-wheel drive, rear-wheel steering, an adjustable air suspension and various drive modes, the i5 M60 xDrive delivers the kind of thrills that are hard to find in other electric cars. Obviously, it sacrifices a bit of comfort versus the base i5, but that's the price you have to pay for such dynamic handling. Just how bad the roads in your area are will help you determine which model to select.
Inside the new 5 Series and i5 are two large screens forming the BMW Curved Display, along with the latest technologies available including YouTube, Netflix, sports and video games to kill time while the car is charging. For the record, BMW says the i5 has a DC fast charging capacity of up to 205 kW, meaning it can go from 10-80 percent in about 30 minutes.
One could argue that BMW has gone overboard, here, and I tend to agree. All these icons, apps and menus can be really confusing and distracting while driving. And don't get me started on the complicated navigation system. Thank God for Apple CarPlay and Android Auto. It's nice to have so much technology when you need it, and the attractive graphics make it all the more inviting, but the learning curve is fairly steep and takes precious focus away from the road.
On the Way to Autonomous Driving
Ironically, the many distractions created by the infotainment system are addressed by an improved semi-autonomous driving assistant. While far from perfect, the car will stay centred in in its lane and maintain a set distance with the vehicle ahead without requiring a hand on the steering wheel every ten seconds. You can keep your arms crossed if you want—as long as you're still paying attention to the road. The second you look away or close your eyes, a warning will sound.
The i5 can automatically change lanes by activating the turn signal, which a number of other cars already do, or simply by looking at the corresponding side mirror. How about that? You don't even need to lift a finger. Colour me impressed. On the other hand, I found that lane changes could be smoother.
As for fit and finish, well, the cabin is sumptuously appointed with premium materials, rich colours and a wide array of customization options, making Teslas pale in comparison. That being said, for all the technology and refinement inside the i5, the driving position is arguably the most satisfying element.  
How Much?
A base 2024 BMW 530i xDrive with no options costs $73,652 including freight and PDI. Check a few boxes, and you're looking at a price of about $85,000—close to what the upcoming i5 xDrive40 will command.
The i5 M60 xDrive, meanwhile, starts at $98,152 (again, including freight and PDI). With just a single option, you're likely to top $100,000 and have to pay a luxury tax, which will increase the price even more. Anyway, this is a seriously accomplished EV in terms of innovation, luxury and excitement, one that eclipses German rivals and becomes the new leader in the segment.
Share on Facebook