2024 Nissan Z NISMO: Faster, Sharper, Pricier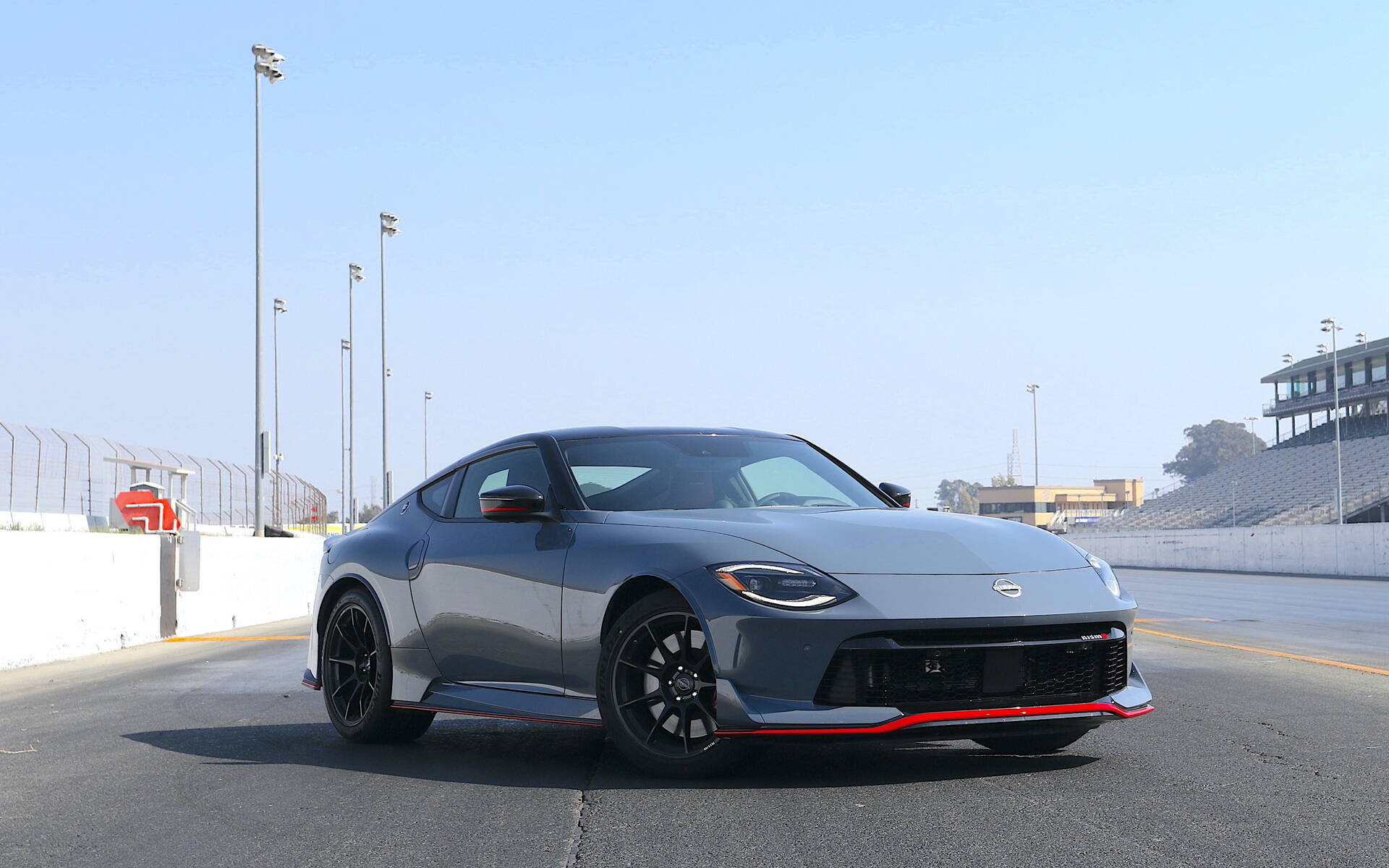 Strong points

Superb twin-turbo V6
Stiffer yet not uncomfortable
Stronger brakes
Sharper steering

Weak points

No manual gearbox
Autobox is not super-quick
Noisy at high speeds
Steep price
Full report
The new Z NISMO is a tremendous addition to Nissan's entry-level sports coupe lineup as a sharper and better-equipped model ready to take on some of the best performance cars in the mainstream segment. 
While the standard Z is more suited for the road, Nissan says the NISMO targets owners who want a fun track toy at the same time. That's no easy task, because a car that offers a pleasant ride on the road may lack stiffness and sharpness on the track. Conversely, a track-focused vehicle is almost certain to annoy drivers on regular pavement, especially bad one.
From a design standpoint, the focus was to enhance both styling and aerodynamics. Notable changes include a revised front bumper with a NISMO-branded lip spoiler, a unique lower body kit with red accents and lightweight 19-inch wheels, as well as rear bumper corners featuring a new shape to aid with air separation. There's a taller and wider rear spoiler, too.
Inside, not much is different except for a few additions such as a new leather and Alcantara sport steering wheel with a red accent mark at the 12 o'clock position, unique black and red Recaro seats (also in a combination of leather and Alcantara), NISMO-specific graphics and start-up animation on the fully digital TFT instrument cluster, plus engine start/stop and drive mode selection buttons finished in anodized red.
A Stiffer and More Potent Z
Most of the work was done to the chassis, which is a good thing. Torsional stiffness is increased, while the upgraded suspension gets firmer springs, retuned dampers and larger stabilizer bars. All of this contributes to better handling and extra grip in corners.
Speaking of which, the Z NISMO rides on Dunlop SP Sport Maxx GT600 performance tires that are 10 mm wider in the rear than those on the Z Performance model. The front brakes use larger, 15-inch rotors, while steering is more direct so as to provide enhanced feedback. The beefed-up hardware adds 70 kg versus an automatic-equipped Z, but Nissan insists on the fact that the NISMO is faster on the track. 
And then there's the engine. As you can imagine, some modifications were made under the hood, including improved cooling and revised electronic wastegate control providing increased turbocharger boost and turbine speed (227,000 rpm instead of 222,000 rpm). The twin-turbo 3.0-litre V6 gains 20 horsepower for a total of 420 horsepower, while peak torque is bumped 34 lb-ft to 384 lb-ft.
Sadly, the only transmission available with the Z NISMO is a nine-speed automatic (not even a dual-clutch unit), supposedly to improve performance on the track. At least engineers have made enhancements for faster and more dynamic shifting, particularly in the new Sport+ drive mode.
The six-speed manual gearbox is exclusive to the standard Z for now. However, Nissan is keeping the door open to offering it with the NISMO in the future, if customer demand is strong enough. Get the message?
Not Uncomfortable
We initially feared the stiffer suspension would make the ride uncomfortable, but as we found out, the Z NISMO proves quite compliant. Granted, the media test drive took place around Sonoma, California, where the roads are in much better shape than those in Canada. Still, there were some rougher stretches where the car displayed surprising smoothness and mercifully spared our poor backs. Quite a contrast with, say, the Honda Civic Type R.
In normal driving conditions, the slight boost of power and torque is not really noticeable. But who cares? The twin-turbo V6 has ample motivation at lower revs and unleashes its fury at higher revs. The sound is more present, though, and makes for a sportier atmosphere behind the wheel.
Road noise in the fast lane is similar to what you'll hear in other Z models. As for fuel consumption, the NISMO can be efficient when making gentle use of the throttle, posting a score of 7.7 L/100 km at speeds of 80-110 km/h. On the other hand, if you accelerate like there's no tomorrow, as we did at some point during the test drive, you'll be looking at about 18.5 L/100 km. Yikes.
On the twisty roads snaking through the forest and between vineyards, the Z NISMO demonstrated seriously sporty aspirations. The chassis upgrades play a big role, obviously, with sharper steering than your ordinary Z. You can attack corners and muscle your way through them with more confidence resulting from the stiffer suspension and extra tire grip. NISMO-specific Sport+ mode increases throttle response, which we certainly appreciated, although some drivers might find it a bit too responsive. Meanwhile, the brakes are strong and durable, and they offer slightly better pedal feel, too.
Our only real complaint when it comes to sporty driving is the relatively slow-shifting autobox. It does a decent job on its own, but you'll never mistake it for Porsche's dual-clutch PDK, that's for sure.
On the Track
While the fairly smooth suspension of the Nissan Z ensures a more comfortable ride on bad pavement, it doesn't prove ideal on a track. Alas, the heavy rain that marred our lapping session at Circuit Mont-Tremblant last year prevented us from really pushing the car.
This time, however, the weather at Sonoma Raceway was warm and sunny. We started our track day with a Z Performance and indeed found it rather soft and a bit tough to control due to excessive body roll, not to mention a twitchy back end under hard acceleration. Granted, Sonoma is a challenging venue with brutal elevation changes and fast corners.
Everything changes with the Z NISMO, which is a lot more competent on the track. Cornering is flat and stable, steering is more direct, and the stiffer suspension enables higher speeds when going into corners. The grippier rubber (with 10 mm of extra width in the rear, remember) also makes a difference. On straightaways, the car delivers stronger acceleration and increased top speed. We managed to attack the corner at the end of the longest straight going 25 km/h faster, which is considerable. No lap times were recorded, but the Z Performance definitely felt slower by several seconds.
Braking remained consistent throughout the entire session on the track, but since we only did three hot laps in a row, we can't exactly call that a definitive assessment of their endurance. The transmission seemed to handle the stress of track driving, but once again we wish shifts were quicker.
Our Verdict
In the end, the 2024 Nissan Z NISMO makes a pretty convincing case as far as driving dynamics are concerned. It's fun to push around—sharper on the track, yet not unpleasant on public roads. On the flip side, the price is rather hard to swallow. Starting at $75,998 plus $1,950 freight and PDI ($66,085 total in the U.S.), this isn't a sports car that many people can afford.
As a reminder, the base Z Sport costs $50,998 ($43,305 in the U.S.), while the Z Performance carries a tag of $61,998 ($53,305 in the U.S.). If you make sharp handling a priority and plan to hit the track on a regular basis, then the investment is certainly worth it. Otherwise, you should find ample satisfaction and value in a non-NISMO model.
Share on Facebook