2025 Lotus Emeya is an All-Electric Four-Door Hyper GT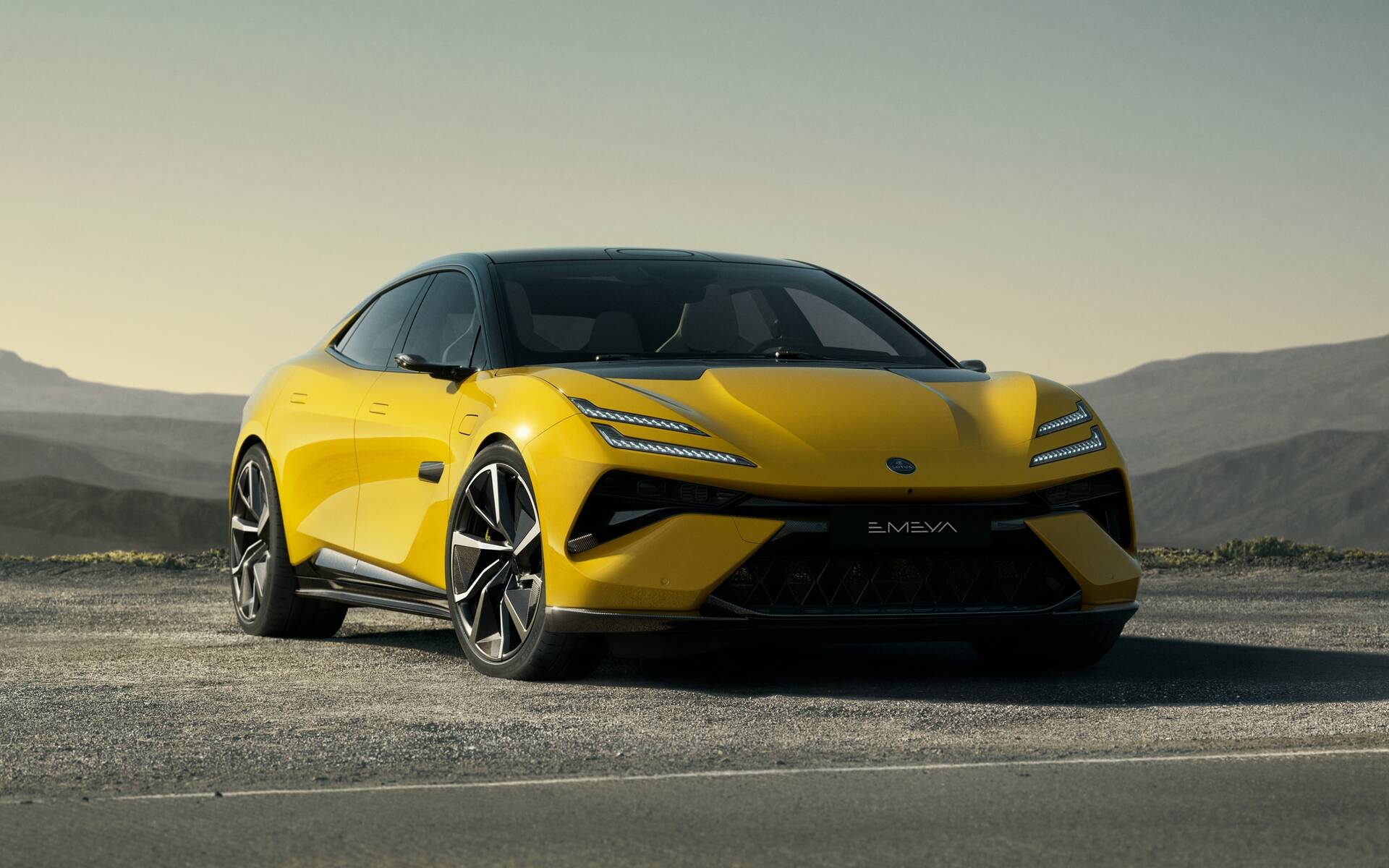 Following the debut of the boldly styled Eletre SUV last year, we learned that Lotus was working on an electric four-door sedan to take on the likes of the Porsche Taycan. Codenamed Type 133, the car made its global debut today and will be called Emeya—a name that was apparently chosen to embody the ambition and commitment that Lotus has for this new vehicle.
Built on a platform that was completely designed in-house, the Lotus Emeya is a four-door sports grand tourer. Styling is largely influenced by the Eletre, including the black roof, flush door handles, muscular lower body and aggressively sculpted nose. The split headlights are unlike any others, though.  
The rear three-quarter view is pretty handsome. The swooping roofline incorporates a hatch and an active spoiler, the latter generating up to 550 lbs of downforce when deployed, while the thin, full-width light bar for the taillights adds a futuristic touch above the sporty bumper and diffuser.
603 or 905 Horsepower
Motivation for the Emeya comes from a dual-motor system delivering 603 horsepower and 524 lb-ft. of torque. In high-output trim, it cranks things up to 905 horsepower—much more than the aforementioned Taycan—and 726 lb-ft. Lotus says 0-100 km/h acceleration is achieved in less than 2.8 seconds, while 80-120 km/h sprints are a matter of two seconds. For those keeping track, the Tesla Model S Plaid and Lucid Air GT Performance/Sapphire are both more explosive.
In the ride and handling department, the Emeya benefits from an electronically controlled air suspension that can make adjustments more than 1,000 times per second. As for range, Lotus failed to be specific beyond saying the 102kWh battery can regain 150 km with approximately five minutes of charge using a 350kW DC fast charger and return to 80 percent within 18 minutes.
We don't know how much the car weighs, either. Given the brand's obsession with lightweight cars, you can bet engineers went to great lengths to prevent the Emeya from being just another heavy EV.
Inside, the large centre touchscreen is complemented by a 55-inch head-up display with augmented reality, which sure sounds impressive. Too bad there are no pictures of it. A KEF surround sound system with active noise cancellation is also part of the package. And as you'd expect, sustainable materials help reduce the car's carbon footprint. This includes a new luxury thread made from repurposed fibres from the fashion industry, as well as PVD aluminium, Alcantara, Nappa leather and Ultrafabrics polyurethane.
Further information on the Lotus Emeya will be released this fall. Details on market availability and pricing will be announced at a future date. Production is slated to start next year and North American-bound units will arrive as 2025 models.
Share on Facebook