All-Electric Eletre Debuts as Lotus' First-Ever SUV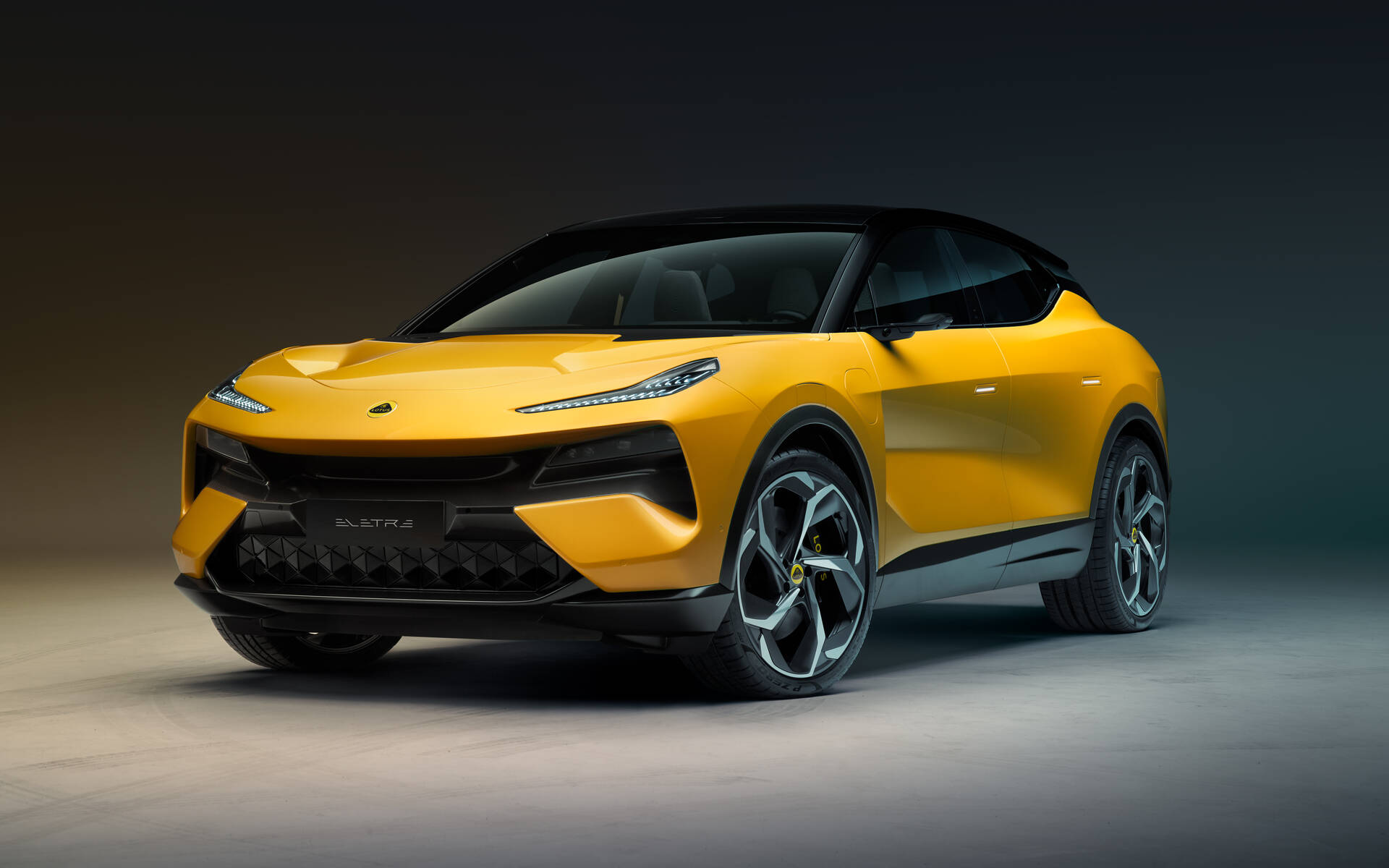 You can now scratch Lotus off the short list of car companies that have yet to introduce an SUV.
The British automaker known for its super-lightweight and extremely dynamic sports cars has just revealed its first SUV. It's called Eletre.
Set the join the Evija electric hypercar and Emira sports coupe (the latter powered by a combustion engine), this spectacular vehicle combines two electric motors in an AWD setup and is said to deliver at least 600 horsepower. It can sprint from 0-100 km/h in less than three seconds and reach a top speed of 260 km/h before coming to a quick stop thanks to brake callipers featuring up to 10 pistons.
The exact size of the battery is not specified at this point, but Lotus claims over 100 kWh. Using a dedicated 800V electrical architecture, the Eletre can charge via DC fast chargers with up to 350 kW. Range is estimated at 600 kilometres based on the WLTP standard used in Europe, which likely means around 500 kilometres for us North Americans.
Unsurprisingly, the drive promises to be quite exhilarating. Standard goodies include an adaptive air suspension, four-wheel steering, active anti-roll bar and advanced torque vectoring system. Four drive modes are available—Range, Tour, Sport and Off-Road, not to mention Individual. Oh yeah, this new Lotus is one you can venture off the beaten path with.
Physically, the Eletre stands 5.1 metres long (with a wheelbase of just over 3 metres), 2.23 metres wide and 1.63 metres tall, giving it similar dimensions to the Lamborghini Urus. The exterior is somewhat inspired by other Lotus models, particularly the two-tone look with a black roof, but the front fascia is even more aggressive and unique.
The side view shows stunning wheel designs (up to 23 inches in size), cameras replacing the conventional mirrors (select markets only) and flush-mounted door handles, while the rear end is capped by an active spoiler at the top of the liftgate and a full-width LED bar acting as taillights. By the way, the Eletre is littered with cameras and lidar sensors enabling advanced semi-autonomous driving.
The interior offers seating for four or five and puts on a show of its own, starting with a Tesla-like 15.1-inch touchscreen. The driver faces a slim digital instrument panel complete with a head-up display, while the front passenger gets a similar panel with infotainment options.
Connecting all of the above is another light bar that changes colour to communicate with occupants, Lotus says. Wool blends for the seats, microfibre on the soft-touch points and recycled carbon fibre in many other spots highlight the Eletre's unique material selection.
Lastly, the company brags about "a wealth of practical storage space." The centre console includes a storage tray with wireless charging for smartphones, as well as twin cupholders of different sizes which sit flush to the surface until they're needed. The door panels feature storage that will take a one-litre bottle. Trunk capacity, alas, is not specified.
Lotus says the Eletre is the first in a new range of premium lifestyle performance electric vehicles to be built at an all-new, state-of-the-art production facility in Wuhan, China. It has been "Born British, Raised Globally," with design led by the U.K., supported by collaborative work with teams in China, Sweden and Germany. Units will start rolling off the line later in 2022. 
Share on Facebook