2023 Volvo S60 and V60 Cross Country: Exceptional in a Sense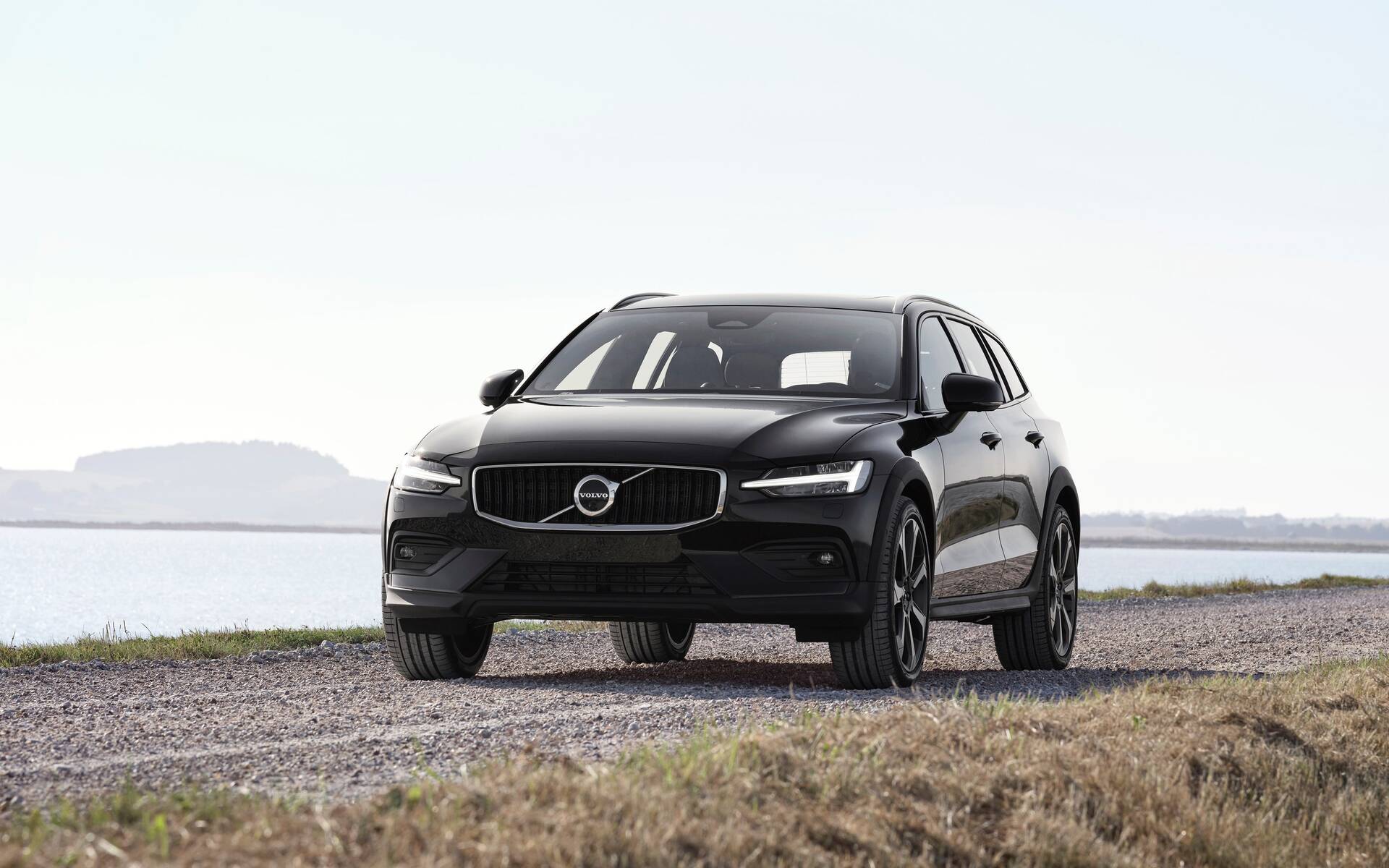 Strong points

Highly comfortable seats
Spacious interior
Good performance and fuel economy (B5)
Impressive T8 powertrain

Weak points

Infotainment system could be more user-friendly
Driver assistance features are too intrusive
Full report
Passenger cars accounted for less than 20 percent of new vehicle sales in Canada last year. SUVs and pickups rule the road, but that doesn't necessarily mean they're better, smarter buys. For many people, a good old sedan or wagon makes more sense.
They're certainly hard to come by, though. Due to their record-low popularity, these cars now occupy little space on most dealer lots, and some are becoming almost as rare as exotic models.
Volvo's S60 sedan and V60 Cross Country wagon, which we happened to test drive in recent weeks, are two examples. In 2022, the Swedish luxury brand sold just 888 units of its 60-series models in the country. In addition to the two we've just mentioned, the range also includes the standard V60 wagon (the V60 Cross Country is a more adventurous, higher-riding variant not unlike the Subaru Outback).
Those 888 units represented only 8.6 percent of total Volvo sales in Canada last year (10,289 units). More than a third wound up in Quebec, where drivers are historically enamoured with Volvos. The more SUV-like V60 and V60 Cross Country attracted about three quarters of 60-series customers.
Of course, the wagons' larger and more versatile cargo area is more appealing than the sedan's smaller, less practical trunk. As such, they make a sensible (and fuel-efficient) alternative to most SUVs and crossovers. And once you're behind the wheel, these cars prove really pleasant to drive and comfortable, too.
V60 Cross Country = The Swedish Outback
As you know, the shrinking compact luxury car segment is heavily dominated by the German trio of the BMW 3 Series, Mercedes-Benz C-Class and Audi A4. Then there are a handful of other contenders including the Lexus IS, Acura TLX, Cadillac CT5 and Genesis G70. Volvo stands out by offering a long-roof body style on top of the classic four-door configuration.
As we alluded to earlier, the V60 Cross Country is the closest thing to a modern crossover. It's built in Sweden just like the standard V60, but it rides on slightly wider tracks and boasts extra ground clearance (197 mm vs. 138 mm). It therefore has a tighter turning radius and some actual off-road capability.
The interior is much the same, mind you. The clean, understated dashboard is highlighted by a nine-inch touchscreen in a portrait-style, driver-oriented layout. That's great, but we must warn you that the infotainment system is not particularly user-friendly and that some of the controls are rather small.
Fit and finish is commendable, with high-quality materials throughout the cabin. The oohs and the aahs coming from passengers when they lay eyes on the elegant Orrefors crystal-infused shifter partly make up for the frustrating touchscreen.
Regal Comfort
In typical Volvo fashion, the V60 Cross Country is extremely comfortable, especially up front. The bucket seats provide remarkable support, and we wish every other vehicle had them. Meanwhile, the suspension achieves a proper balance between ride quality and handling. Steering is very precise, as well.
This high-riding wagon is motivated by a turbocharged four-cylinder B5 engine with mild hybrid technology. The 247 horsepower are nice, but it's the 258 lb-ft. of torque from 1,800-4,800 rpm that make it quite flexible. Acceleration is both lively and progressive. For the record, the V60 Cross Country sprints from 0-100 km/h in 6.9 seconds, which is amply quick for a family hauler.
Fuel consumption is rated by Natural Resources Canada at 9 L/100 km, a decent figure for a car that weighs nearly two full tons and is blessed with all-wheel drive. Expect about 10 L/100 km in winter driving conditions, which isn't bad at all. The catch? You have to feed the B5 engine with premium gasoline. Performance does come at a price.
The smooth-shifting, eight-speed automatic transmission makes power delivery linear, but with so many gears to play with, the available manual mode isn't the easiest to use, so we basically forgot about it after a short while.
Some V60 Cross Country drivers will appreciate the ability to tow up to 900 kg (2,000 lbs), good enough for a small camping trailer. For heavier loads, the standard V60 is the one to get, as maximum towing capacity increases to 1,588 kg (3,500 lbs).
S60 = 3 Series Fighter
Next to the V60 Cross Country, the S60 looks plainer and tamer. Not just because it's a sedan. The four-door model doesn't have a spectacular interior like the BMW 330i or Mercedes-Benz C 300, which feature larger displays, fancier colours and all sorts of textures. It does, however, trump its German competitors in rear-seat room.
Built at Volvo's new South Carolina plant, the S60 offers more powertrain options. The mild hybrid B5 is the standard unit, just like in the V60 Cross Country, and you can have it with either front-wheel drive or all-wheel drive.
Alternatively, the S60 features a plug-in hybrid T8 powertrain rated at a combined 455 horsepower. Performance is improved, but so is fuel economy. In addition to sprinting from 0-100 km/h in a mere 4.5 seconds (two full seconds quicker than the B5-powered S60), this variant averages 7.6 L/100 km according to Natural Resources Canada. But wait, it gets better: thanks to the 14.9kWh lithium-ion battery, pure electric driving is possible up to 64 km.
If only the V60 Cross Country could do the same...
Share on Facebook