2023 Volvo XC40: Just a Tad Greener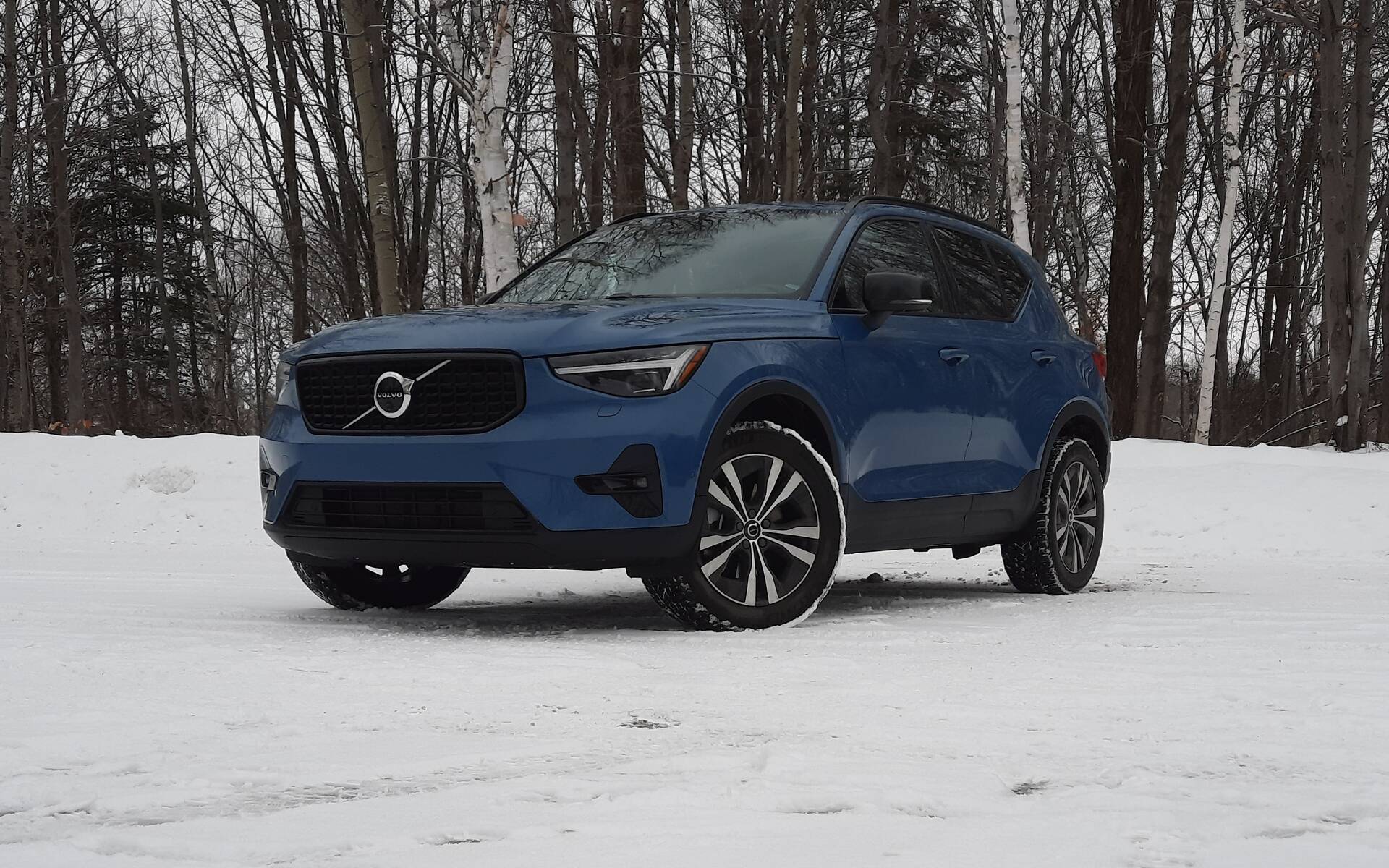 Strong points

Attractive and refined inside and out
Strong B5 engine with mild hybrid tech
Safe and agile handling

Weak points

Driving position could be better
Multimedia system is slow and distracting
Watch out for the price
Full report
Volvo made an excellent move five years ago when it added the smaller XC40 to its crossover lineup. It's now one of the Swedish brand's two best-selling models along with the XC60, and it also ranks among the segment's most popular contenders in Canada.
Blessed with a few upgrades for 2023, the XC40 is in our opinion the second best buy you can make, behind only the Audi Q3. We recently put it to the test in winter conditions to see how it would fare. For the most part, we weren't disappointed.
Mild Hybrid
The two variants of the turbocharged 2.0-litre four-cylinder engine (T4 and T5) have each received a 48V battery and tiny 10kW electric motor as part of a powertrain upgrade to make the XC40 a mild hybrid crossover (hence the new B4 and B5 monikers). The first one delivers a good but fairly modest 194 hp and 221 lb-ft. of torque, but the second option is much more impressive with 247 hp and 258 lb-ft. For a vehicle of this size, it's perfect, as evidenced by 0-100 km/h acceleration in 6.4 seconds per Volvo's numbers. It can even safely tow up to 3,500 pounds.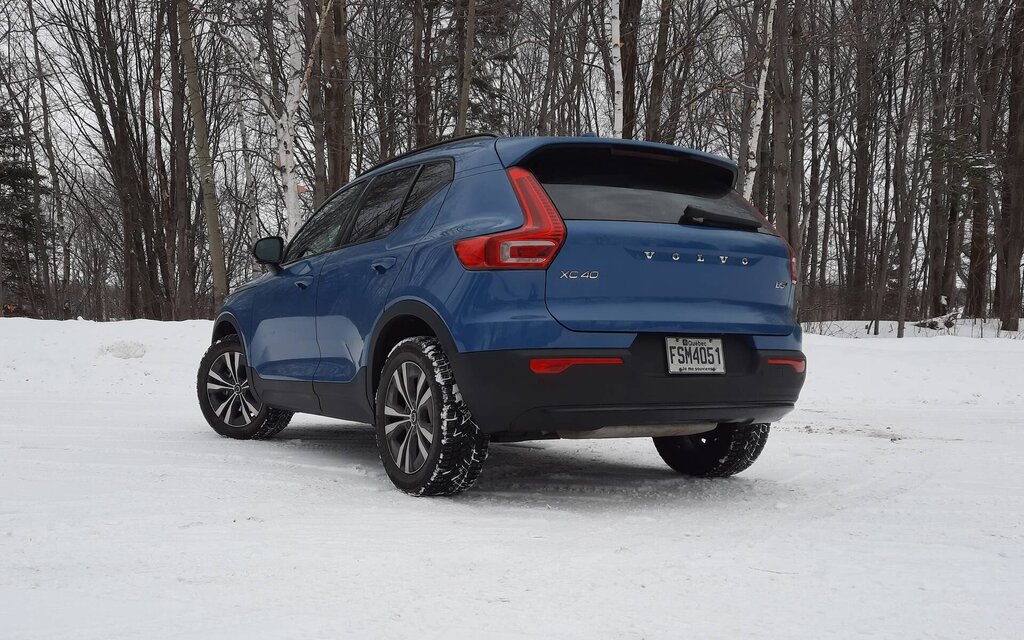 The XC40's AWD system proves quite effective on wet or snow-covered roads, but the eight-speed automatic transmission is not always smooth at lower speeds as it wants to quickly move on to a higher gear in order to save fuel. On that note, the B5 is officially rated at 9.2 L/100 km, just three tenths of a litre more than the B4 and two tenths fewer than in 2022 with no electrification. During a week where we faced temperatures ranging from -10 degrees to 0 degrees, it achieved a respectable 9.9 L/100 km.
Safe and Nimble
Beyond its healthy performance, the 2023 Volvo XC40 is pleasant to drive thanks to a sweet combination of agility and comfort. True to its reputation, the company packed a number of active safety and driver assistance features, and those not only work great but they also avoid becoming intrusive. The 360-degree camera system even pops up on the screen automatically in certain situations for greater peace of mind.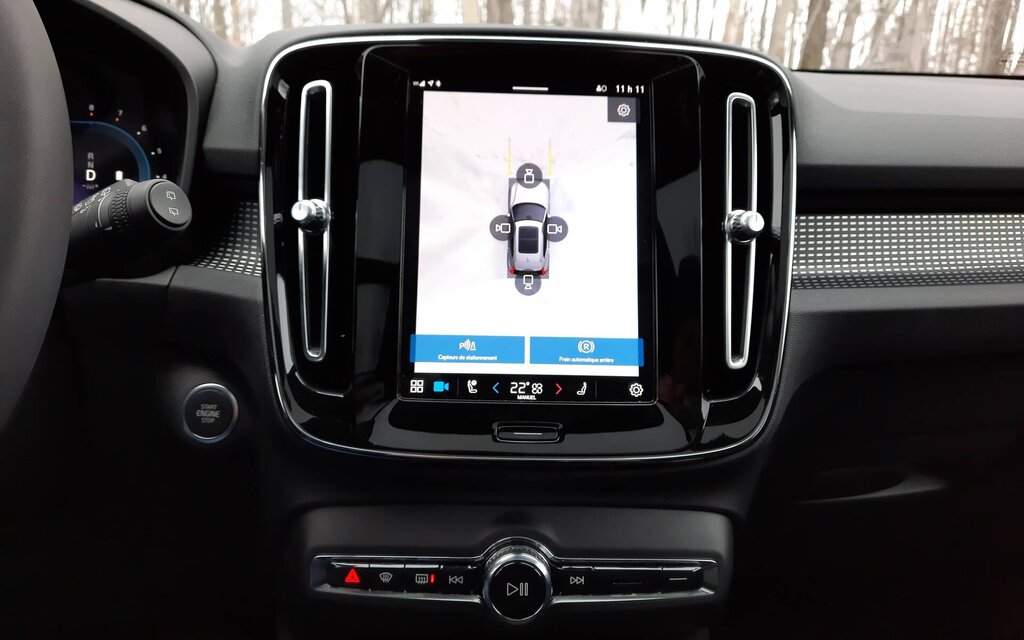 On the other hand, the driving position could be better. The seat is relatively firm (more so than in other Volvo models), though comfortable enough on long trips. The seat cushion doesn't go down low enough, leaving you perched and not really at one with the vehicle. Furthermore, the XC40 lacks space for the driver's right leg and foot, while the brake pedal shows strong resistance in typical braking manoeuvres (not a problem at all during emergency manoeuvres).
Lateral visibility is compromised by the large B-pillars, and it's not much better when looking through the rear. Making matters worse, the image from the backup camera is not that big due to the vertical layout of the centre display. We did, however, like the adjustable thigh support in our tester, as well as the quick-heating seats and steering wheel.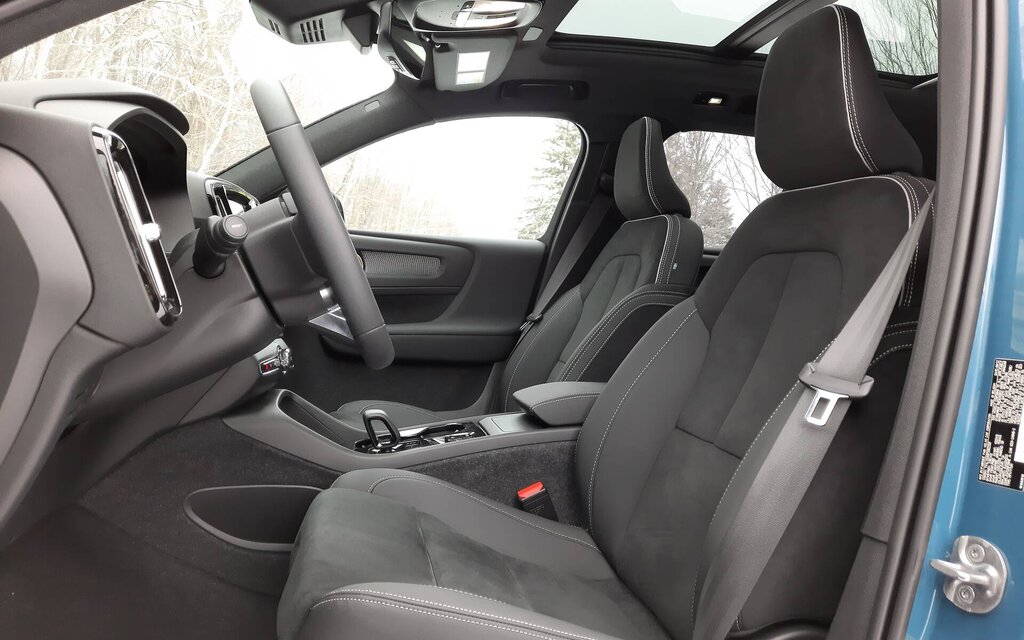 Ok Google
In an effort to make life easier for Android device users, Google built-in (which is already standard on the electric variant) rolls out to the entire XC40 lineup for 2023. Google Maps becomes the native navigation system, Google Assistant is there for voice control, and the Google Play store makes it possible to add new apps. Also, with the upgraded infotainment system comes the ability to receive over-the-air (OTA) updates, meaning the vehicle will continue to improve over its lifetime.
We found the human-machine interface sleek and easy to read thanks to the driver-oriented centre screen, but the infotainment system itself is occasionally slow and causes too much distraction while driving. A prime example is when you want to adjust the HVAC settings. What's more, the home menu is simplistic and rather pointless—you'll spend a lot more time going through the apps menu. Having additional physical controls around the screen, on the centre console and on the steering wheel wouldn't hurt. Got the message, Volvo?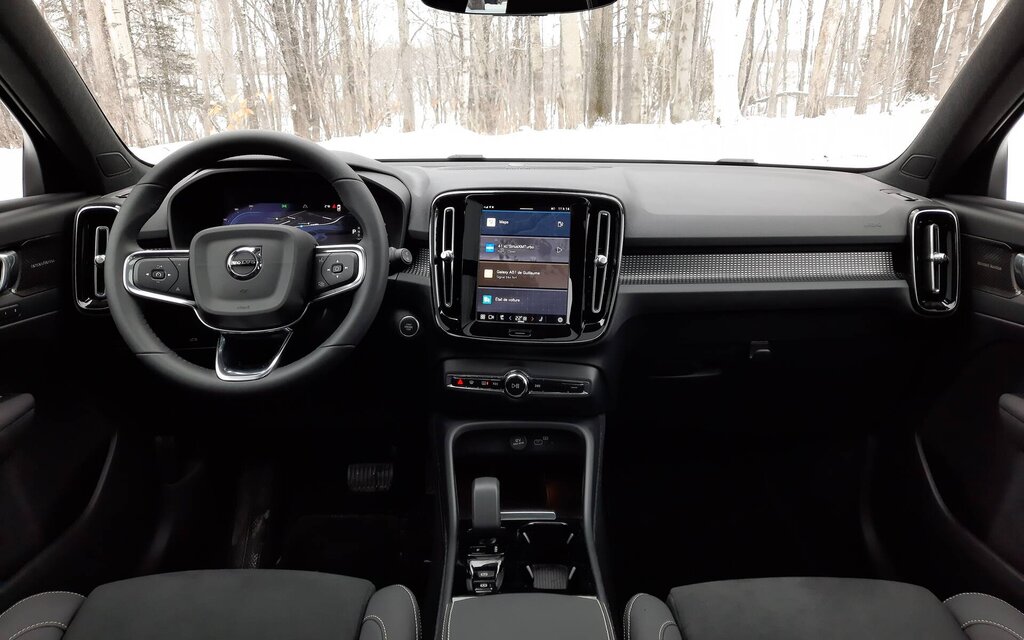 Attractive and Refined
As far as we're concerned, the 2023 Volvo XC40 is one of the most aesthetically pleasing luxury crossovers out there, with a great silhouette and attractive details like those "Thor's Hammer" LED headlights and available two-tone exterior. New body colours are offered including Fjord Blue, which couldn't be more fitting for this Scandinavian star.
Inside, look for refined materials and superb build quality. The combination of suede and synthetic leather in our tester was just lovely. The digital instrument panel is nice, too, although it lacks information when compared with German competitors. Ergonomics and storage must be commended.
The rear doors open at a limited angle, but once you've settled in, comfort is adequate. The cargo area that lies behind is fairly long but not very wide, resulting in a mere 452 litres of cargo room. A centre pass-through makes it possible to load items such as two pairs of skis (but not more). If you lower the seatbacks completely flat, you'll get 1,628 litres of total cargo space, which is much more satisfying and above the segment's average.
Which XC40 Model Should You Choose?
The 2023 Volvo XC40 starts at $45,484 including freight and PDI. Although competitive, that price only gets you the less powerful B4 engine. The $3,500 extra for the optional B5 variant is definitely worth it.
You can also have this engine with the Plus package, which adds a panoramic roof, power liftgate, parking assist and more. Prepare to pay $52,684, which is just $2,000 shy of the more spacious and generously equipped XC60, by the way.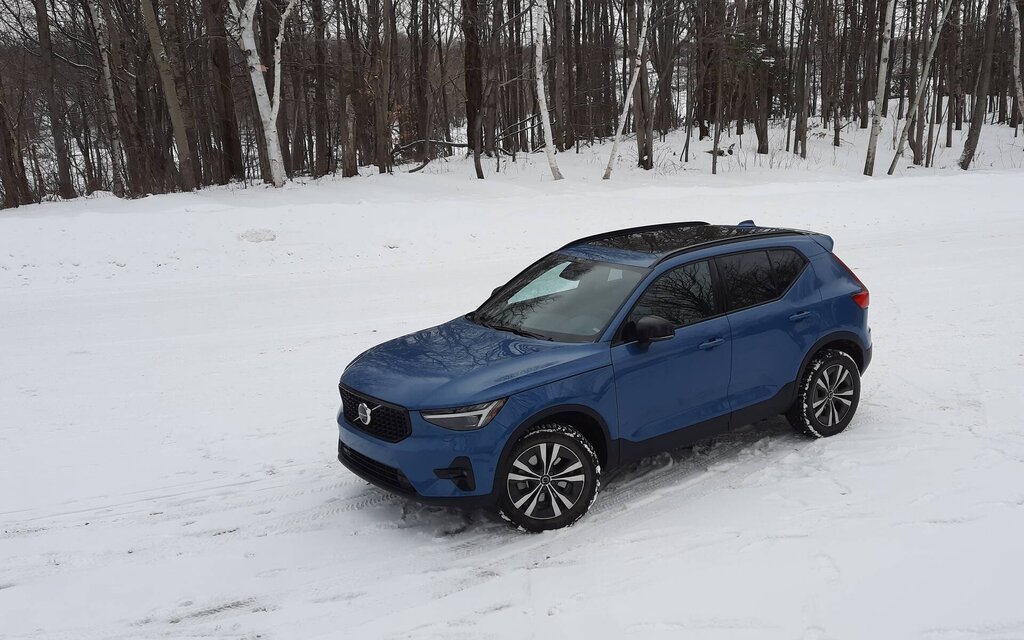 A top-line XC40 B5 Ultimate with Pilot Assist, 360-degree camera, Harman Kardon premium audio and other extras will cost you no less than $58,834. That's frankly too much money, if you ask us. As a silver lining, Volvo's leasing and financing rates are currently lower than those of many competitors.
Now, consider this: a fully electric, 402-horsepower XC40 Recharge with 359 km of range could be yours for less than $60,000. And that's not even counting federal and provincial EV rebates of up to $12,000 combined. The choice is yours.
Share on Facebook