2023 Subaru Ascent: Still Far From the Top of the Hill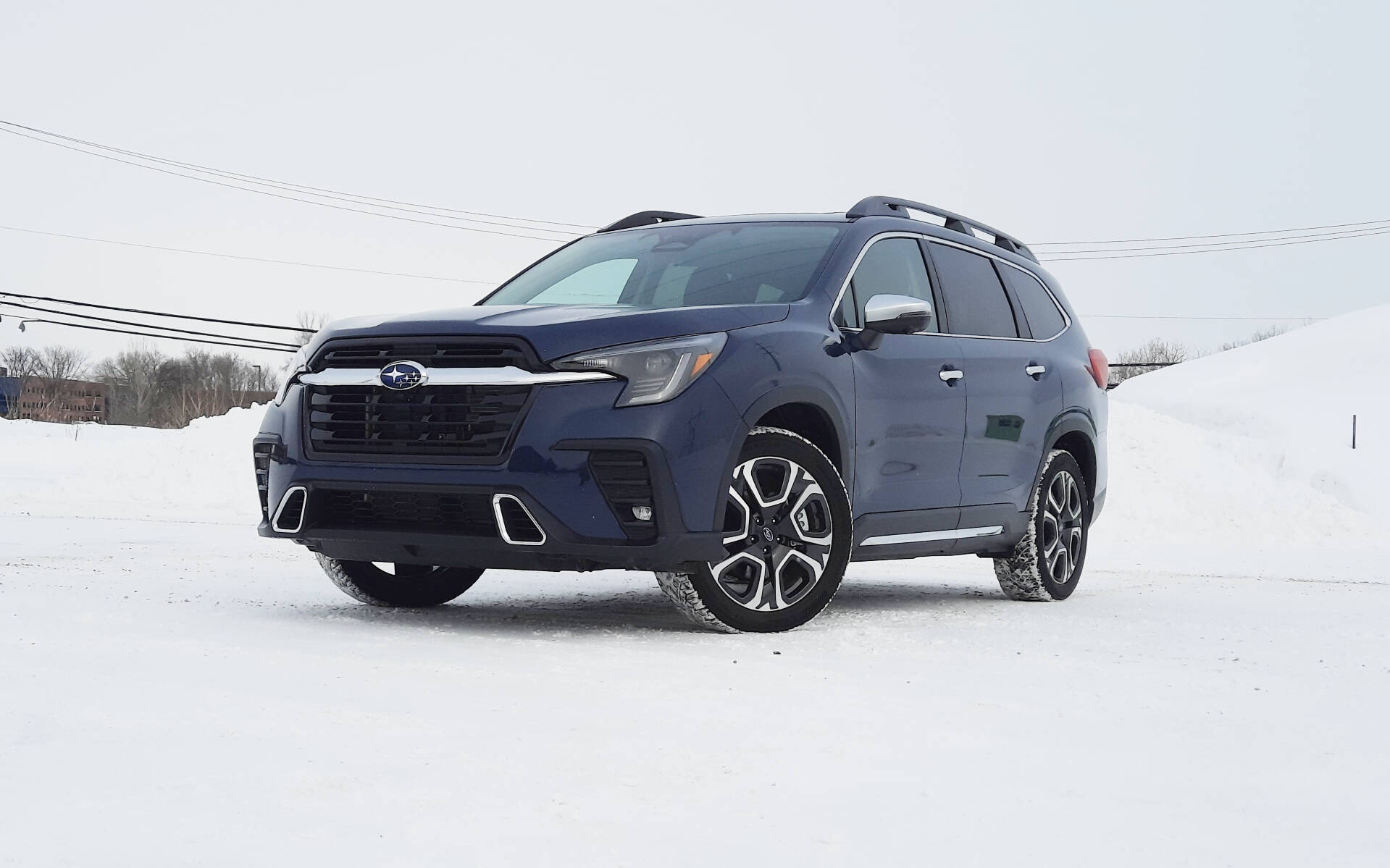 Strong points

Good seats and driving position
Improved safety and connectivity
Excellent AWD system

Weak points

Below-average cargo capacity
Performance and fuel economy could be better
No hybrid option or off-road model
Full report
The Subaru Ascent has received a proper mid-cycle update for 2023. While it definitely benefits from being an SUV, outselling the Impreza and Legacy combined in Canada last year, this three-row midsize model can still be found at the bottom of the segment, looking up at every other contender.
To be clear, the 2023 Ascent has pretty much everything a large family of Subaru lovers look for, but not enough to catch up to the competition.
Following the Lead
The Ascent borrows many design cues from other Subaru vehicles, which means it's best described as conservative when compared to some of its rivals.
Up front, the revised grille and headlights are joined by a stylish new bar flowing from the Subaru logo. A new front bumper cover features lower-edge air ducts to improve aerodynamic flow under the vehicle. Overall, the Ascent looks a bit more aggressive than before, which is a good thing given the Palisades and Tellurides and Pilots grabbing a lot of the attention.
By the way, our latest test drive involved a top-of-the-line Ascent Premier featuring chrome trim on the front air intakes, door handles and mirror caps. Two-tone 20-inch wheels replace the standard 18-inch alloys.
Fresh Additions Inside
The interior of the 2023 Subaru Ascent has evolved to include a tablet-style, 11.6-inch Full HD centre touchscreen (previously 6.5 or 8 inches) as standard. Apple CarPlay and Android Auto integration no longer requires a USB cable, which is also good news, and we like the physical buttons that remain on each side of the display. That being said, we've seen faster-executing infotainment systems. What's more, some of the controls at the bottom (like ventilation) take the driver's attention away from the road.
The Ascent Premier stands out with woodgrain inserts and lovely brown Nappa leather upholstery. Fit and finish needs to be commended, as well. However, if you really dig luxury and refinement, you should probably shop elsewhere. The all-new 2024 Mazda CX-90 is one name that comes to mind, but there are others.
Visibility is great, and we quite enjoy the car-like driving position that almost makes you forget you're sitting in a three-row crossover. The front seats are a bit more accommodating that those in the Outback, the second row is fairly spacious, as well, while the rear seats are best left for kids. Subaru added a new Cabin Connect feature for 2023. When activated, an overhead console microphone picks up the driver or front passenger's voice and then transmits through the rear speakers for easier communication with third-row occupants.
As for cargo, all Ascents except the base model feature a power liftgate, which is good. However, there's just 458 litres of space in the trunk, and 2,061 litres when the second and third rows are folded. Both figures are below the segment's average. You also need to know that the second-row seats don't fold completely flat but still create a flush cargo surface with the rear seats.
Questionable Engine-Transmission Combo
We applaud Subaru for making the 2023 Ascent safer with the latest version of EyeSight. A wide-angle mono camera works together with the dual-camera EyeSight system, expanding the field of view to recognize pedestrians and bicycles sooner when the vehicle enters an intersection at low speed. Meanwhile, an additional feature called Automatic Emergency Steering works in conjunction with the Pre-Collision Braking System to help avoid a collision at speeds less than 80 km/h. And for better all-around situational awareness while parking, an available Surround View Monitor offers a 360-degree overhead view of the vehicle. Let's not forget the convenient digital rear-view mirror.
Alas, the combination of a turbocharged 2.4-litre four-cylinder engine (260 horsepower, 277 lb-ft. of torque) with a continuously variable transmission continues to underwhelm in the Ascent.  It's perfectly fine in the Legacy or Outback, but not really in a vehicle that weighs a bit more than two tons. When it comes to three-row SUVs, we prefer the flexibility and performance of a six-cylinder engine and conventional automatic transmission.
Sure, the Ascent can still tow up to 5,000 lbs (2,000 lbs in base trim) and benefits from an excellent AWD system, but it can't do better than 11 L/100 km combined according to Natural Resources Canada (about 12 L/100 km during winter, as we found). Other four-cylinder rivals and even the V6-powered Nissan Pathfinder prove more fuel-efficient than that. At least Subaru doesn't require premium gasoline.
Our Verdict
We'll say it again: the 2023 Subaru Ascent has pretty much everything Subaru-loving parents look for. However, it's easy to see why most families that need three rows of seats turn to the many alternatives in the segment. The Ascent is neither the most spacious nor the most luxurious. Styling is nothing to write your mother about, while the powertrain disappoints in terms of performance and fuel economy.
There's no hybrid option, either. And what about a Wilderness model? Despite the rise of adventurous midsize SUVs with improved off-road capability, such as the Nissan Pathfinder Rock Creek, Ford Explorer Timberline, Honda Pilot TrailSport and Kia Telluride X-Pro, the Ascent is not jumping on the bandwagon. Heck, Subaru preferred to expand its Wilderness range with its smallest crossover, the Crosstrek.
One last thing: you should probably forget about the base Convenience model which, ironically, lacks a number of convenient features (including Subaru Starlink connected services). The main reason for it is to lower the base MSRP to $40,995. A mid-grade Ascent Touring or Onyx will give you better value, plus the optional second-row captain's chairs won't cost you a thing.  
Share on Facebook