2023 Nissan Pathfinder Rock Creek: Keeping the Xterra Spirit Alive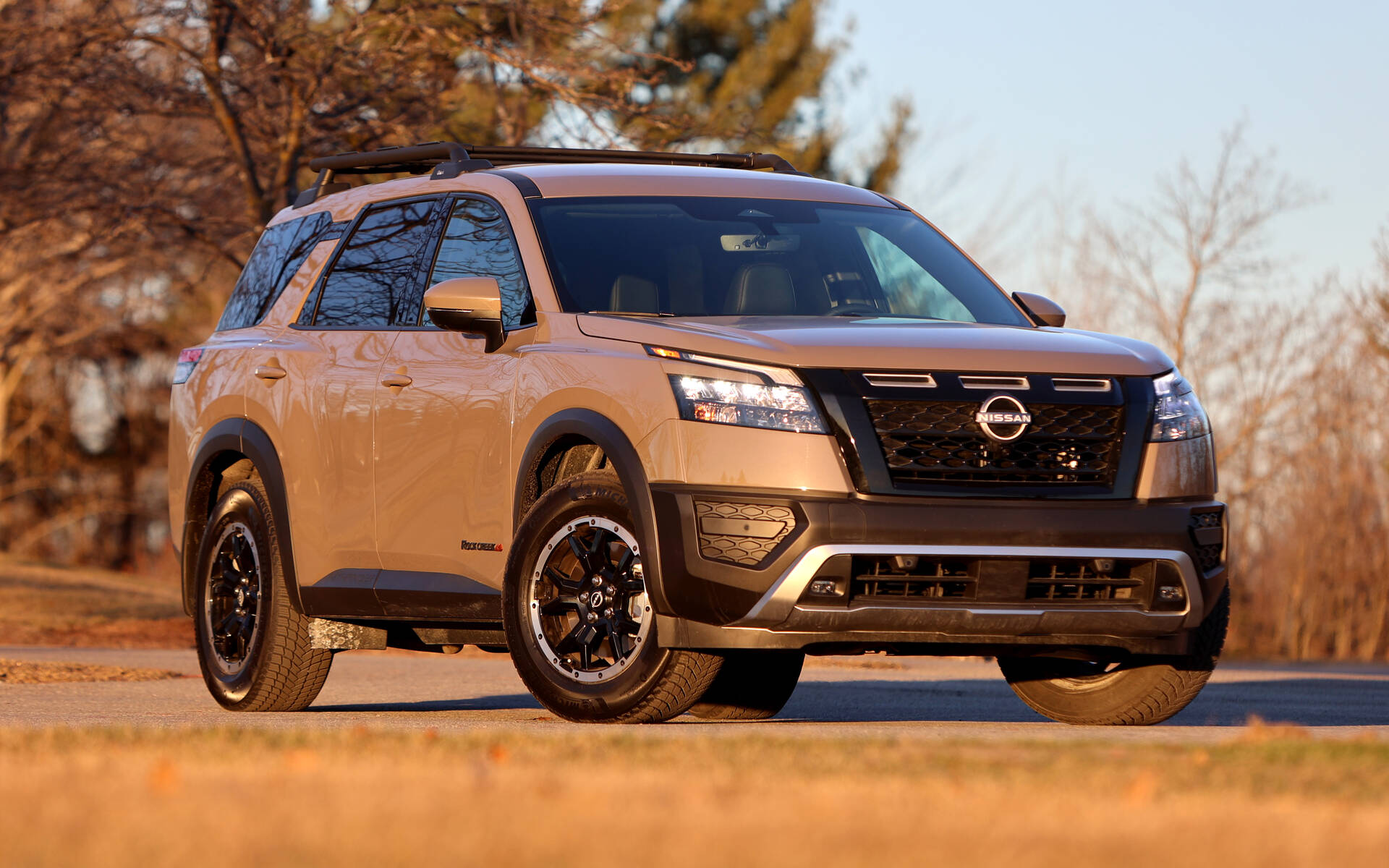 Strong points

Great looks
Nice interior layout
Comfortable seats
Superior towing capacity

Weak points

Stiff suspension
Obsolete centre display
Disappointing fuel economy
Full report
The previous-generation Nissan Pathfinder lived on for about a decade as a replacement for the Quest minivan (which retired in 2014) as well as a more modern and more urban-oriented version of its rugged predecessors.
While it proved to be a good seller, many Pathfinder fans missed their beloved SUV's adventurous ways. The elimination of the Xterra in 2015 only made things worse, as Nissan suddenly found itself with no direct answer to the Jeep Wrangler and Toyota 4Runner.
The brand new Pathfinder introduced for 2022 was met with plenty of praise, but it still lacked a model that could satisfy off-road enthusiasts. There is finally one now, at least one that can compete with the likes of the Ford Explorer Timberline, Honda Pilot TrailSport and Kia Telluride X-Pro.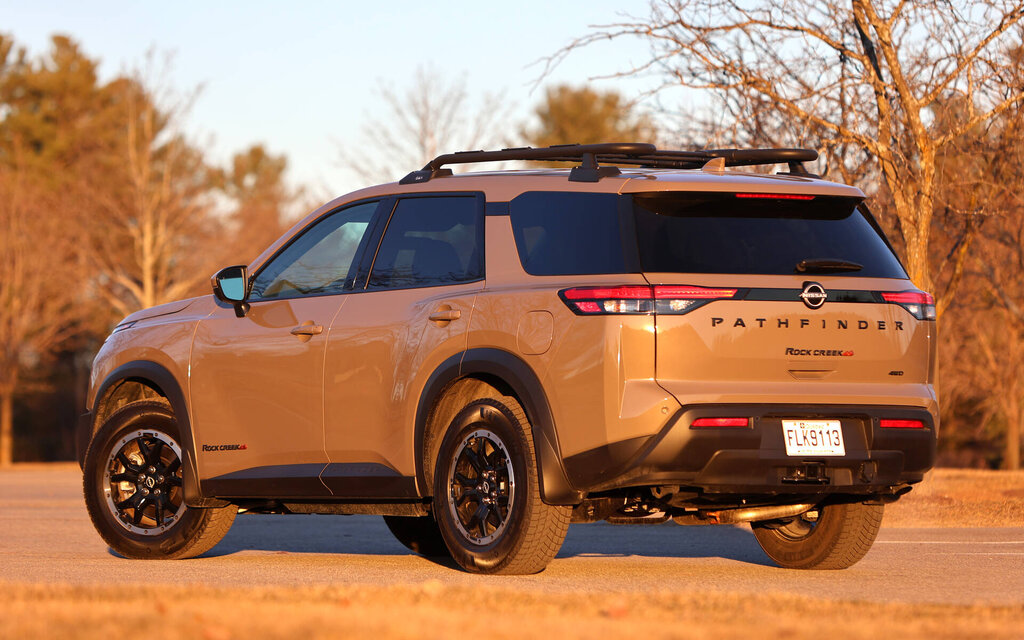 Rock Creek
Nissan did offer a Rock Creek edition of the Pathfinder in 2021, but it was definitely not as tough or capable as the 2023 version, which boasts substantial upgrades. It all starts with a 16mm suspension lift, 18-inch, beadlock-style wheels in a two-tone finish, all-terrain tires and a new tubular roof rack that can carry as much as 100 kg (220 lbs) of extra gear. The Baja Storm Pearl body paint (one of three available in Rock Creek trim) is particularly attractive, too.
Inside, Rock Creek logos can be found on the exclusive leatherette/fabric seats and centre armrest. Orange contrast stitching is applied to the seats, steering wheel, instrument panel, centre console and door panels. As a mid-range model, this Pathfinder is decently equipped but by no means a luxury proposition. There's no sunroof or wireless smartphone charger, while the second row is just a bench seat instead of two captain's chairs.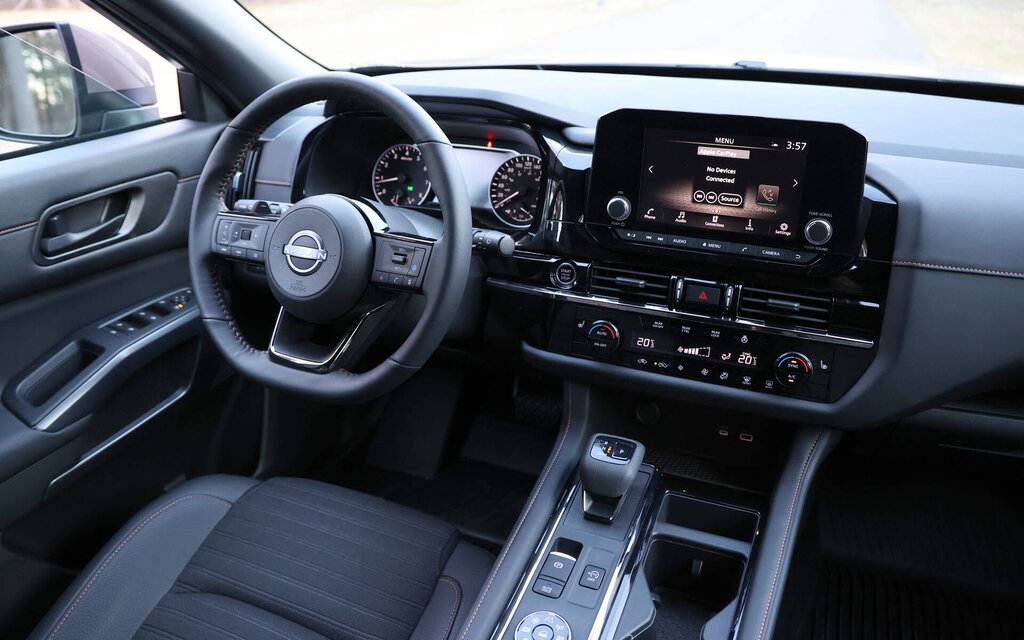 ProPILOT Assist is missing, as well, and the eight-inch centre touchscreen with obsolete graphics is a carryover from older Nissan products. How disappointing. If you want the sharper-looking nine-inch display, you need to move up to the less adventurous SL model.
That's not the way things work with competitors, mind you. Nissan claims that people looking for a rugged SUV don't necessarily want all the bells and whistles. Maybe. Or maybe not. For the record, the company managed to sell only 4,776 units of the Pathfinder in Canada last year, less than half of what it could have moved if supply hadn't been an issue.
Mild Off-Roader
The 2023 Nissan Pathfinder Rock Creek is designed to tackle more challenging terrains than its stable mates, but it's no Xterra. Remember, the latter was a body-on-frame SUV using a proper four-wheel drive system shared with the Frontier midsize pickup.  
Like I said earlier, the suspension gets a 16mm lift and the wheels are fitted with all-terrain tires. This sounds good, but ride quality suffers as a result: you can feel every shock absorbed by the suspension. Meanwhile, the tubular roof rack generates a fair amount of wind noise at speed and also increases drag.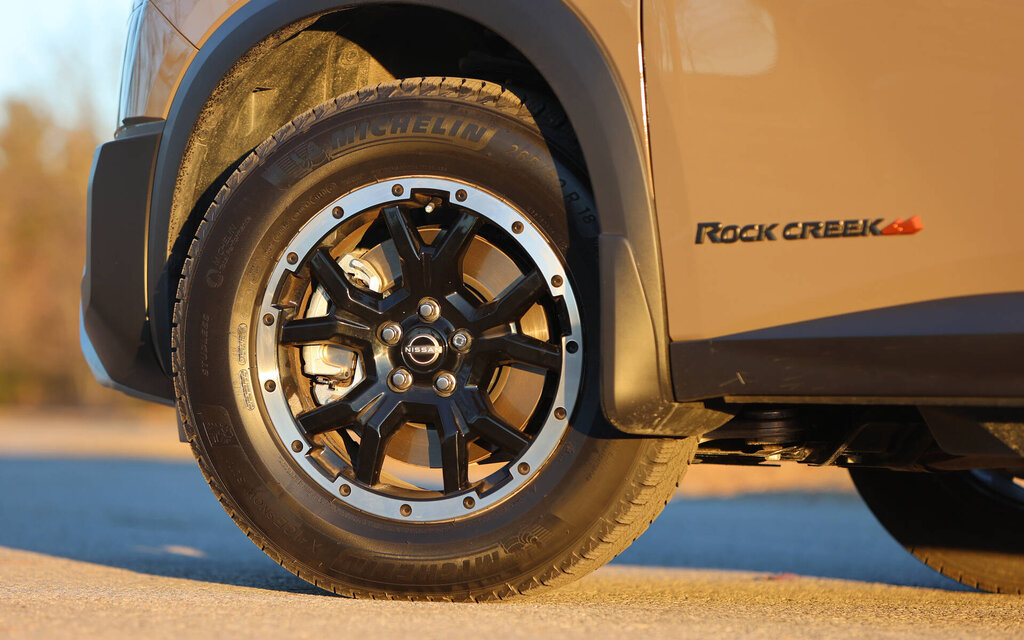 Interestingly, the 3.5-litre V6 engine delivers up to 295 hp (+11) and 270 lb-ft. of torque (+11) in the Pathfinder Rock Creek, but you have to feed it with premium gasoline in order to benefit from the extra output. Basically, you could get the same numbers with other models by using 91-octane fuel.
By the way, combined fuel consumption goes up 0.6 L/100 km (including 0.8 L/100 km on the highway) with the Rock Creek. For this test drive, I settled for regular gasoline and wound up with an average of 12.3 L/100 km. Despite the cold temperatures, that's not very impressive considering that I spent most of my time on the highway.
Other than the stiff ride, life inside the Pathfinder Rock Creek is generally pleasant. The cabin is spacious and has great third-row access with Nissan's EZ Flex system activated by a one-touch button. The front buckets are remarkably comfortable, giving the SUV an edge over most rivals. Furthermore, the centre console is smartly designed with excellent ergonomics.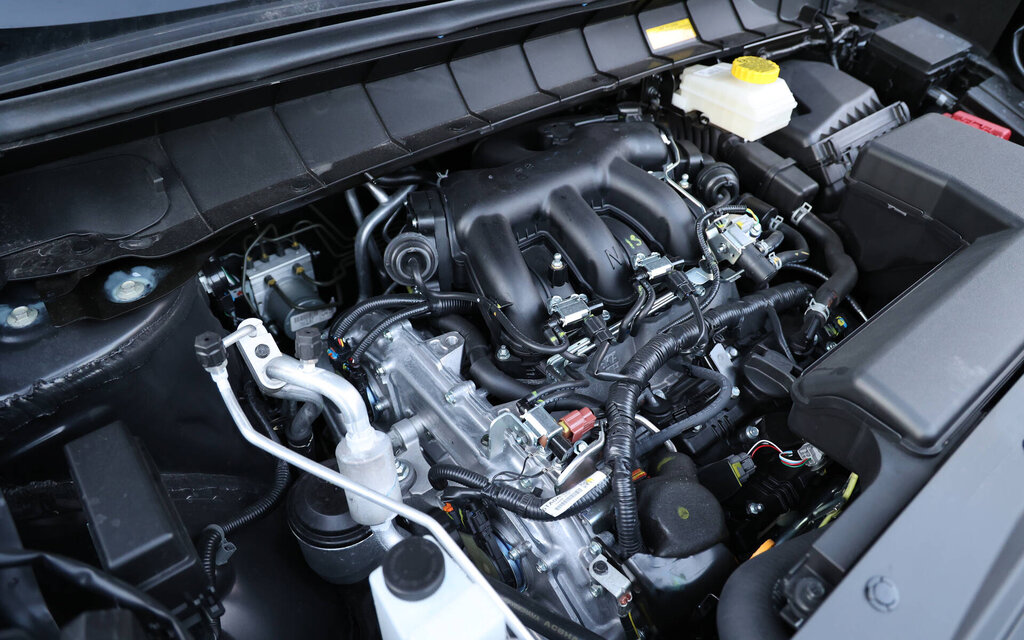 Old Technology
The flexibility of the V6 is very much appreciated, just like the new nine-speed automatic transmission, which is way more enjoyable than the CVT it replaced. On the other hand, an increasing number of three-row midsize SUVs are turning to turbocharged four-cylinder engines or offering a hybrid variant. Nissan has no plans for that at the moment.
Sooner or later, the Pathfinder will fall behind in the race. The company needs to come up with a more modern and more sophisticated engine—and I sure hope that it won't be the one currently powering the Infiniti QX50 and QX55, which has proven to be a real disappointment.
One last thing: at about $54,000, the 2023 Nissan Pathfinder Rock Creek is competitively priced in the segment. If you don't believe me, just head over to Ford, Honda, Kia or Volkswagen and you'll see that their prices have exploded in recent years.
Share on Facebook