2023 Jeep Compass: So Many Better Options Out There
Strong points

Finally a new engine
Uconnect 5 infotainment
Off-road capability (Trailhawk)

Weak points

No hybrid option yet
High price
Smaller than other compact SUVs
Limited headroom in the back
Full report
The Jeep Compass may not be one of the brand's best-selling vehicles, but following a mid-cycle update last year, it gets a new powertrain for 2023 and deserves more consideration.
We headed to California to put the 2023 Jeep Compass to the test on and off the road. Below are our first impressions of this small SUV.
Tigershark is Gone
Introduced in 2017, the second-generation Compass started with a naturally aspirated 2.4-litre four-cylinder Tigershark engine producing 180 horsepower and 175 lb-ft. of torque. Many drivers complained about its loud and unrefined operation, so for 2023 engineers gave the Compass a new turbocharged 2.0-litre four-cylinder engine instead.
This one delivers 200 horsepower and 221 lb-ft. of torque. It's a detuned version of the engine you can find in the slightly larger Cherokee (270 hp). Jeep brand director Scott Tallon told us the move makes sense as the Compass is more about efficiency than performance.
Meanwhile, the six- and nine-speed automatic transmissions have both been replaced by an eight-speed unit which we found rather smooth during our time in the Golden State.
You may have heard that Jeep offers a plug-in hybrid variant of the Compass in other markets. Here in North America, all we have is the much more expensive Wrangler 4xe and Grand Cherokee 4xe. If you ask us, a Compass 4xe could be a hit among Canadians. Call it a missed opportunity.
Jeep officials have repeatedly said they intend to electrify their entire lineup by mid-decade, but they remain mum about the Compass. Rivals such as the Ford Escape, Honda CR-V, Hyundai Tucson, Kia Sportage, Mitsubishi Outlander and Toyota RAV4 all offer PHEV models, and sister company Dodge even has one now with the Hornet.
No Interior Changes
With the 2022 refresh, don't expect any changes inside the Jeep Compass for 2023. The interior may not blow you away, but it's nicely executed. Depending on the trim level, you can have a 10.25-inch digital instrument cluster in front of the steering wheel, with a 10.1-inch centre touchscreen powered by Uconnect 5 technology. The latter proves sharp and user-friendly.
The driver's seat is fairly comfortable, but we must warn you that there's limited space up front, especially when it comes to shoulder room. Blame the narrow centre console. In the rear, tall passengers will almost inevitably complain about a lack of headroom.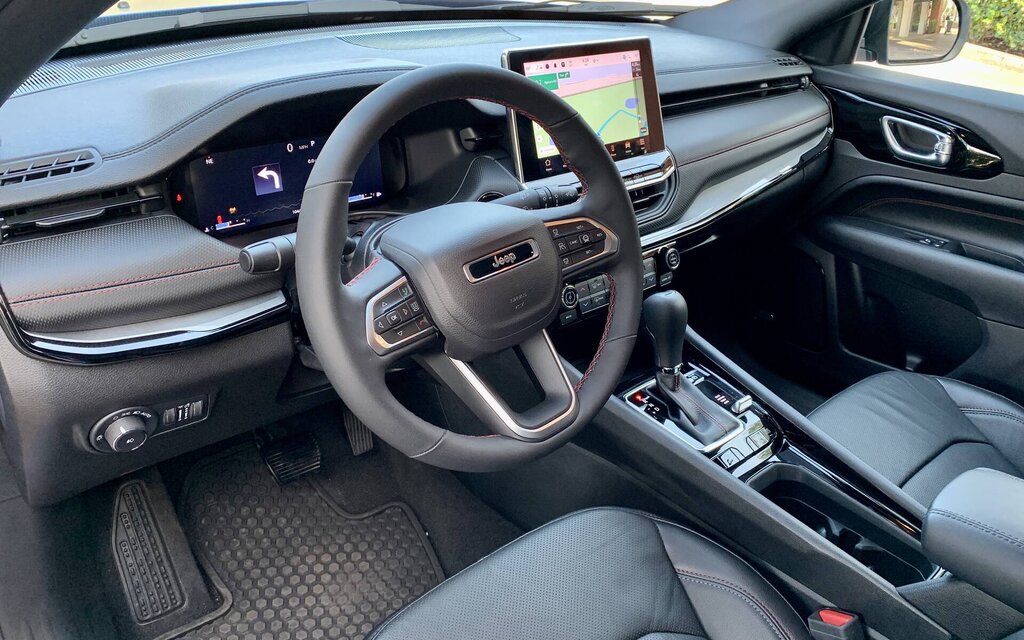 On the Fence
Within Jeep's lineup, the Compass slots between the Renegade and the aforementioned Cherokee. And that's a bit of a problem—the same one that the Mitsubishi Eclipse Cross is facing, in fact.
Just like the Eclipse Cross, the Compass can't compete with smaller SUVs due to a higher price, and it also has a hard time standing out among compact SUVs given its cramped interior. Sales are suffering as a result.
Any Good Off the Road?
We put the 2023 Jeep Compass through its paces in a mix of sand, rocks and mud, with plenty of elevation changes on top of that. Nothing too extreme, granted, but it was the kind of trails that a majority of Wrangler owners would never tackle.
Without even taking air out of the factory tires, the Compass Trailhawk showed impressive poise and capability. Imagine what it could do with more adequate rubber. On the other hand, we found the ride to be relatively firm once back on the road.
At the end of our test drive in what could be described as ideal weather conditions, average fuel consumption amounted to 9 L/100 km, which is just two tenths worse than the official NRC rating. Consider it an improvement. Last year with the 2.4-litre Tigershark engine, the Compass 4x4 was rated at 9.5 L/100 km, and we achieved 10 L/100 km following a trip of more than 500 km on and off the road.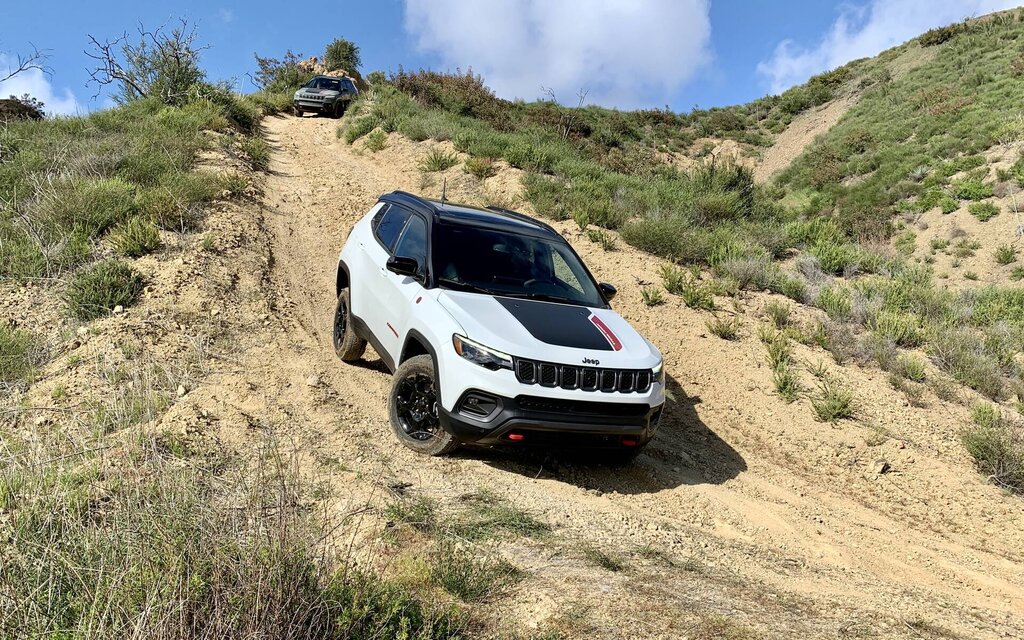 How Much?
For 2023, all Jeep Compass models come standard with four-wheel drive. A smart decision, wouldn't you agree? The base Sport model, which used to be available with front-wheel drive, has been axed from the lineup.
In Canada, pricing starts at $35,495, an increase of about $2,000 from 2022. The mid-grade Altitude model costs $41,895, while the top-of-the-line Limited sits at $43,395. Don't forget to add freight and PDI ($2,095) plus tax.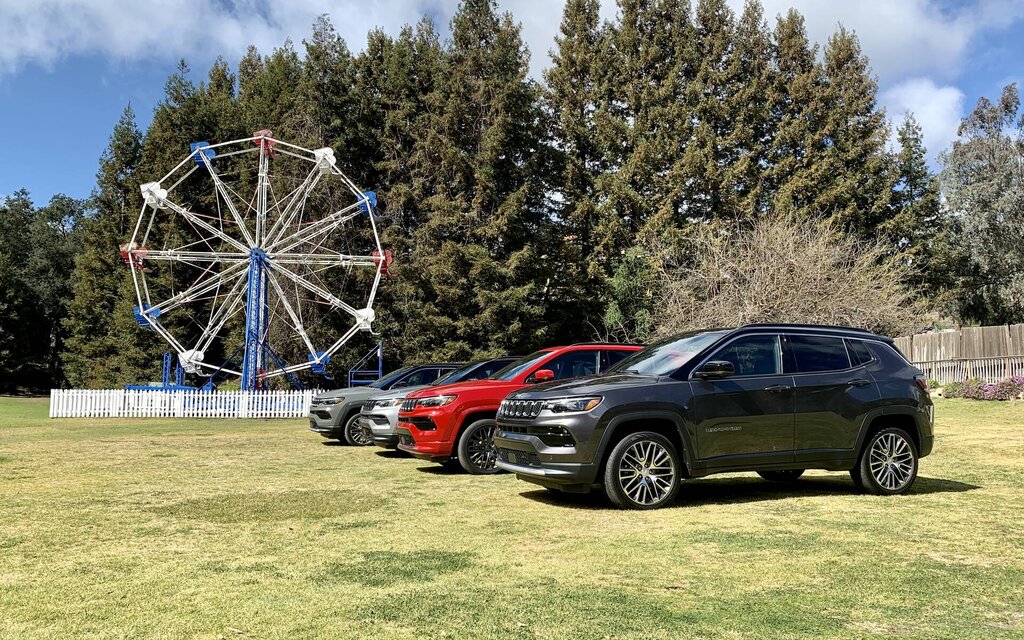 Our Verdict
While our time with the 2023 Jeep Compass was pretty short (we barely drove over 100 km), we have to admit the new engine is a blessing. Now, having said that, what we really want is a plug-in hybrid option. Sadly, there's no sign of it yet.
It's hard to make a case for the Compass. Other than superior off-road capability, this compact SUV offers little value. You're better off with just about any other competitor, even with the changes Jeep made for 2023. If you insist on buying a Compass, though, our advice is to settle for a cheaper, lower-trim model.
Share on Facebook