2023 McLaren Artura: Big Fish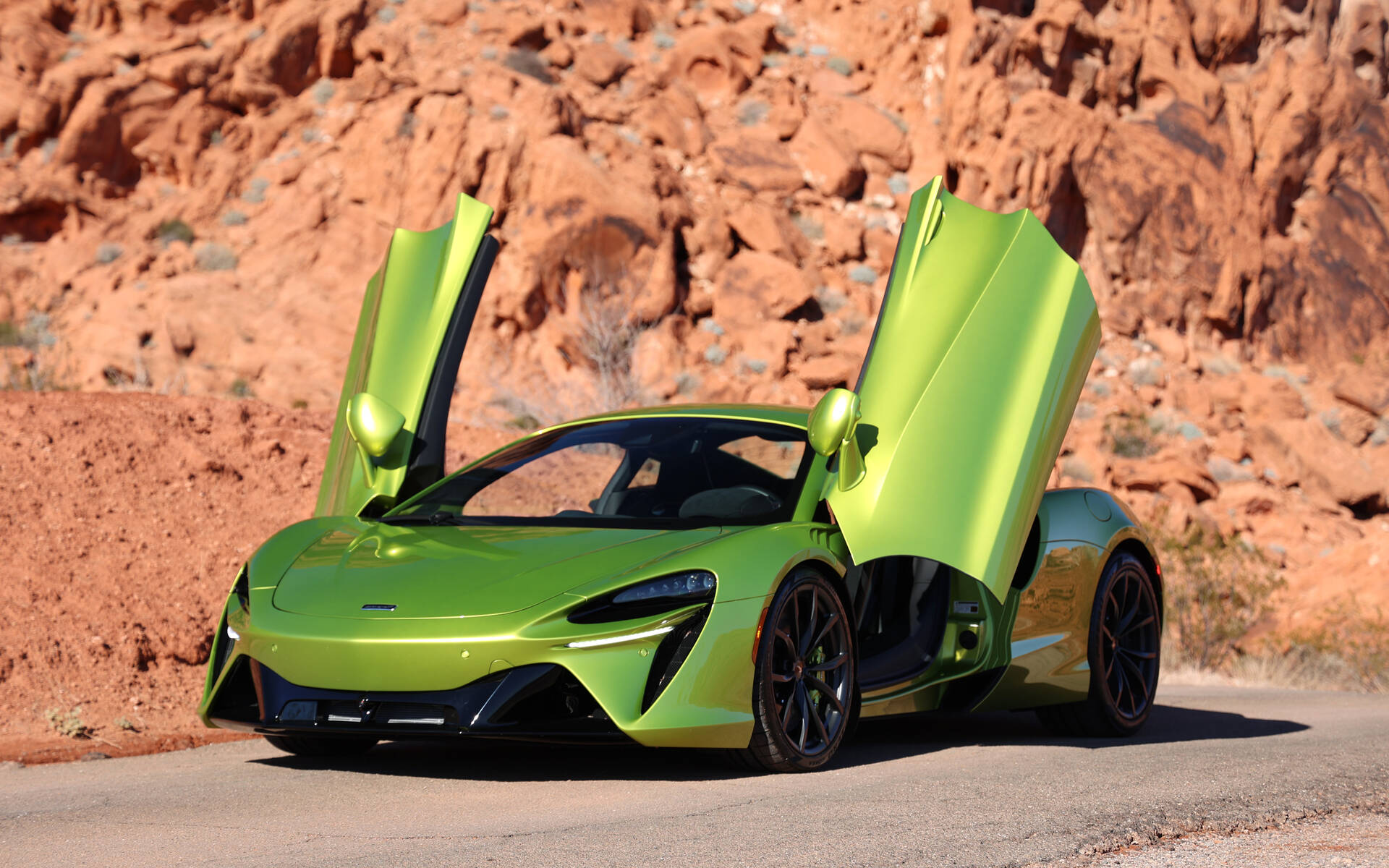 Strong points

Impressive powertrain and tech
Phenomenal performance
Remarkably easy and fun to drive
Gorgeous look

Weak points

Luxury tax hit
No roadster variant (for now)
McLaren's future isn't the brightest
Full report
Unlike many other McLarens, the all-new Artura is not named using a series of digits and letters. A combination of the words "Art" and "Futura," it slots between the GT and 720S as a wonderful new supercar with hybrid technology.
With 720S production ending as we speak (and the company likely planning an Artura-based successor), this model arrives as a direct response to the Ferrari 296 GTB and Maserati MC20. Built around the new McLaren Carbon Lightweight Architecture (MCLA) that's lighter and more rigid than the previous one, it also boasts a 10 percent lighter aluminum chassis and 25 percent less electrical wiring than other McLarens.
The Artura's M630 powertrain combines a twin-turbocharged 3.0-litre V6 engine with an electric motor that weighs only 33 kg. An eight-speed dual-clutch transmission sends power to the rear wheels only. Interestingly, it has no reverse gear. The motor takes care of reversing by literally rotating in the opposite direction. There's also an electronic locking differential—a first for McLaren.
The motor draws energy from a 7.4kWh battery, the latter providing a zero-emission range of approximately 30 kilometres. DC fast charging is not possible, so owners can only use level 2 (240V) chargers. Alternatively, the Artura can charge the battery on the go when Sport or Track mode is activated. How clever and convenient.
Great for Drivers… and the Neighbours
My test drive of the 2023 McLaren Artura began near the Las Vegas Speedway, on pretty much the same suburban roads where I got a crack at the 12C back in 2011. McLarens are fashionably loud and unapologetic about it, so it was quite a strange experience to cover short distances in absolute silence this time around. Imagine getting out of your driveway in the morning without waking up the neighbours and then having a blast on the open road. The guy right next door to me owns an Audi R8, and I don't need an alarm clock to know when he goes off to work at 7, that's for sure.
You know what else is fantastic with the Artura? Having a green licence plate and all the benefits that come with it. Remember, this is first and foremost an exotic, high-performance car that makes no compromises.
The sound of the V6 is almost as exhilarating as the symphony of the turbocharged 4.0-litre V8 in the 765 LT. The car weighs barely more than a Volkswagen Jetta and comes with a myriad of high-tech goodies. The electronic locking differential I've already mentioned enables torque vectoring for superior handling that makes you feel like a pro behind the wheel. Drift mode gets the Artura sideways with amazing ease, although that comes at the expense of tire longevity. Incidentally, the stock Pirelli P Zeros can be replaced by P Zero Corsa units for drivers who plan to hit the track on a regular basis.
Slipping inside the McLaren Artura requires a slight contortion, but once you've settled inside, the car feels like an extension of your body. Two types of seats are available, with the bucket-style Clubsport Seats saving 8 kg. The driving position needs no improvements and visibility is relatively good. Sitting close to the ground, you can enjoy an extremely tight connection with the road, while the various drive modes make it possible to adapt the car to your driving style and road conditions more than with any other McLaren.
In full EV operation, the Artura can get to speeds of up to 130 km/h without burning any fuel. Comfort mode adjusts performance and ride quality for a smoother driving experience. Of course, things get really interesting—and more fun—when you select Sport or Track. The latter increases suspension stiffness by 15 percent, McLaren says, but I'll tell you it feels more like 40-50 percent stiffer.
Part of what makes the Artura so thrilling is the ability to rev the engine up to 8,500 rpm and listen to its mad growl. That and the instant torque delivery—almost 90 percent of which is accessible in a few hundredths of a second. With Launch Control turned on, 0-100 km/h sprints are a matter of three seconds, 0-200 km/h runs are achieved in 8.3 seconds, and 0-300 km/h takes 21.5 seconds. At no point does the car give the impression of running out of steam. It simply does whatever the driver wants in effortless fashion. As such, you could totally live with it on a daily basis—weather permitting, of course—which is not something I'd say about the Audi R8 or Lamborghini Huracán.
Modern Interior
Past McLaren interiors were not quite as sophisticated as those of the competition, but the new Artura changes all that with a smartly designed and attractive digital instrument panel. On the upper corners of the frame are uniquely styled controls for drive mode selection and suspension adjustment. The clean, straightforward layout combined with superb fit and finish will ensure the car ages well. On that note, the 10-inch centre display is powered by a new infotainment system with OTA update capability, another first for McLaren.
The Artura's cabin can be tailored almost endlessly thanks to a large selection of trim options and colours. This is in addition to the palette of 34 body colours, which can be paired with a black roof and a carbon fibre package. Music lovers don't want to miss the powerful Bowers & Wilkins audio system, although I'm not sure they'll listen to anything other than the engine in Sport or Track mode.
Personally, I think this new McLaren is one of the most stylish supercars on the planet. It has that racy look and timeless appeal without relying on all kinds of spoilers, body kits and glitzy extras. Just pure automotive art, the work of renowned designer Robert Merville.
Now, how much does the 2023 McLaren Artura cost? In Canada, the base price is set at $276,900. With a freight and PDI charge of $5,424 plus the inevitable luxury tax on six-figure cars, customers must spend a minimum of $310,556 before they even start to add some options. As a silver lining, the Ferrari 296 GTB is significantly more expensive with a base MSRP of $312,986. Also, delivery times at McLaren are about 6-8 months now, shorter than those of its Italian rival.
Share on Facebook