Mitsubishi Outlander: Growth in spite of everything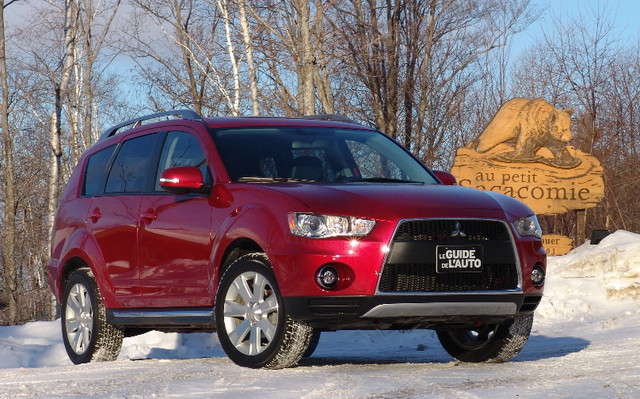 It was barely 24 months ago now, in 2008, when the Mitsubishi Outlander finished first in Le Guide de l'auto comparison of no less than eleven compact SUVs. But two years in the auto industry is enough to be left in the dust by new arrivals. As any skier will tell you, when you're on top, there's only way to go – down. However, Outlander sales have been far from slow, and they even increased last year despite a downturn in the market.
But Mitsubishi doesn't want to give too many chances to the Honda CR-V, Toyota Rav4 and especially not to the new Hyundai Tucson and Chevrolet Equinox. And with Mitsubishi's still very, very modern and aggressive style, good engines and an all-wheel drive already found in the Lancer Evolution MR that is the envy of almost all of the planet's SUVs, the chances for their competitors are few and far between.
Subtle subtleties
To update its compact SUV while awaiting a brand new generation in the next three or four years, Mitsubishi is using the Lancer's front grille on the Outlander. In fact, you'll see that they have more than just a front grille in common; they share the same style to a large extent. If you want my opinion (and even if you don't!), this very nice front end suits the Outlander marvellously. But, of course, it's a matter of taste. The entire front end was redone in order to integrate this grille, while the changes to the tail end are very subtle. In fact, I didn't even notice them until the guy from Mitsubishi showed them on a big screen! The alterations in the passenger compartment are equally subtle…
The 2010 Outlander comes in three versions: ES, LS and XLS. The ES' engine, a 2.4-litre, four-cylinder engine featuring 168 horses and 167 lbs-ft of torque, is unchanged and this version comes in front-wheel or all-wheel drive. The LS is only available with all-wheel drive and is a little better equipped, while the XLS features a different all-wheel drive. Both the LS and the XLS have a 3.0-litre V6 and 230 horses, ten more than last year's engine. As for the torque, it's increased by 11 lbs-ft. By the way, to get to the Outlander's various engines, you'll have to open up its surprisingly heavy hood.
Significant changes for the XLS
It's the XLS that's getting all the attention this year. The V6's performances are very good and its six-speed automatic gearbox is among the smoothest around. You can even change gears using shifters located behind the steering wheel. However, its transmission doesn't shift as quickly as a twin-clutch transmission and its sport mode doesn't improve performances much. On the Outlander XLS that we test drove (Mitsubishi only brought this version, since it's the only one that offers mechanical changes), this transmission helped the engine rev at only 1,900 rpm at 100 km/hr and at 2,200 rpm at 120 km/hr. Thus, fuel consumption and the noise level are both lower. Mitsubishi claims to have an average fuel consumption of 11.2/100 km in town and 8.2 on the highway. During our brief test drive, we recorded a figure of 9.3, with most of our kilometres done on the highway at about 115 km/hr.
The new Outlander's all-wheel drive is its most impressive feature. This system, christened S-AWC (Super All Wheel Control), is derived from the one found in the Lancer Evolution MR. While the Lancer's S-AWC is used to make it sportier, in the case of the Outlander it's geared more toward vehicle handling when road conditions deteriorate. There are three modes offered: Tarmac, Snow and Lock. The first is used on dry roads and involves only the front wheels (but the rear wheels intervene when it senses the need), while the second, as you would have guessed, is used on snowy roads. Finally, Lock mode helps lock the front wheels in a 50-50 torque distribution, which allows the vehicle take on most winter conditions. The S-AWC, which will be offered on other Mitsubishi products over the next little while, interacts with the Active Front Differential, lateral stability control, traction control and ABS brakes.
Winter exercises
During the launch of the Outlander, the people from Mitsubishi brought us to Lac Sacacomie in Saint-Alexis-des-Monts, a superb and rather snowy resort. Two activities were planned: a climb in the snow and a short jaunt on the frozen lake. In the first activity, we had to start right off the bat in Snow mode and climb from a dead start in the middle of a hill. The vehicle did well in spite of a little skidding from the wheels. Then, we did the same climb in Lock mode without any skidding. I must admit that the Toyo Observer tires on our vehicles were very efficient.
The next exercise took place on an icy course covered in snow. In Snow mode, the Outlander was very confident, notably because of its various electronic lateral stability and traction control systems. On the other hand, you have to have to use your foot and the steering wheel meticulously. Once Lock mode was activated, we immediately felt it when the Active Front Differential started to work, and at that exact moment the front end pointed in the right direction. So, yes, this system is very efficient and smooth, as long as you don't launch yourself headlong into an icy curve covered with snow. Of course, it can't defy the laws of physics, and excessive confidence can lead you right off track, as a colleague from Ontario demonstrated so brilliantly...
On the road, once the surprise of discovering the large turning radius wears off, there isn't much to say. I still hate audio systems that have a button to push to raise or lower the radio volume instead of a simple dial to turn, visibility is very adequate and the rear seats are more or less comfortable. Unless you're a masochist, appreciating the XLS' ridiculously excessive third row of seats is going to require you to remove your legs, arms and head before you get in!
Despite a 2.7% downturn in the Canadian compact SUV market, Mitsubishi Outlander sales increased by 31% last year (6,507 units in 2008 versus 8,530 in 2009). An exceptional warranty, fair prices and an obvious affinity in Quebec for Mitsubishi products (Quebec counts for a large part of Canadian Mitsubishi sales) can explain these figures. With its new front end and a much more exciting XLS version, the Outlander should continue to boom.
Share on Facebook