All-New 2024 Subaru Impreza Adds RS Model, Bigger Engine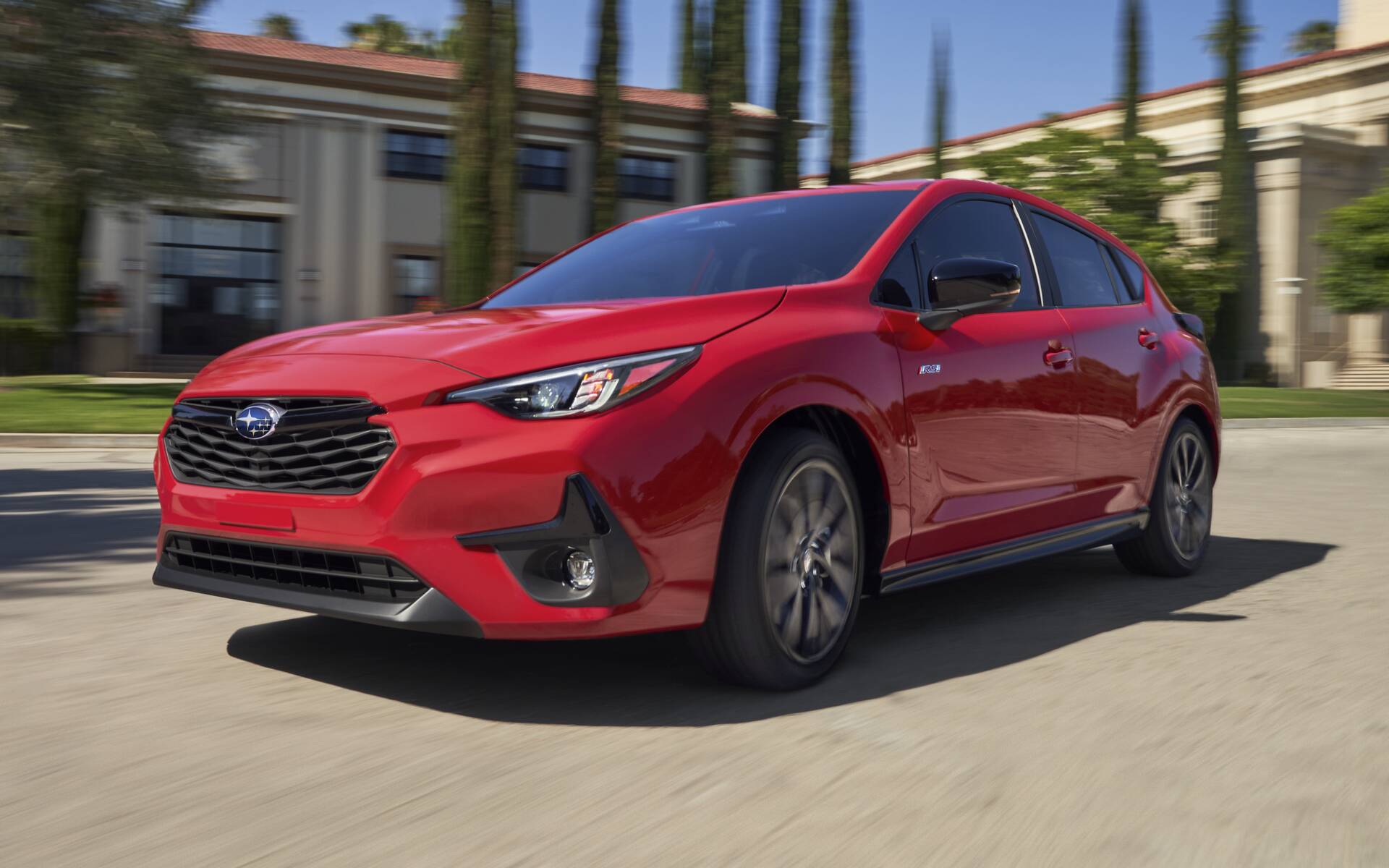 Los Angeles, California—As Subaru makes its way through the entire family lineup revamping exteriors, updating interior amenities and technologies, and upgrading performance and efficiency, they have finally landed on the baby of the family: the entry-level Impreza.
Today at the 2022 Los Angeles Auto Show media day, rallycross driver and professional skateboarder Bucky Lasek and his daughter Paris helped showcase what Subaru feels Impreza ownership is all about: fun.
Making a Lasting Imprez-ion
Now, in full honesty here, I will admit to being a little biased when it comes to the Impreza since it was the very first car I owned. I diligently did my research, test-drove multiple cars (back to back on the same day as you're supposed to), and I was immediately drawn to the Impreza. It was a 2006 Impreza sedan with a lovely manual transmission and absolutely no bells and whistles—and I adored it. So, any Impreza I am introduced to always has to "live up" to that original vehicle. Truth be told, this latest iteration may just be the closest the company has come so far.
Of course, the Impreza has seen quite a few growth spurts and lineup changes over the years, all of them with purposeful intent and in favour of helping the vehicle gain popularity and reach a wider buying audience. For 2024, Subaru has taken the Impreza to an even more mature level.
Available as a hatchback only (as is the case with the 2023 model), the new Impreza boasts an immensely streamlined lineup, narrowed down to just four models: Convenience, Touring, RS (we'll get to that in a moment!) and Sport-Tech. The last one is a Canadian exclusive.
While the Impreza has retained its overall shape and look, the front grille is now larger and the car appears sportier and more athletic. Two new colours are available, and every model features roof-rail mounting points for optional equipment. Inside, the 2024 Impreza gets redesigned and more comfortable seats as well as new technoplogy.
Significant upgrades have been made to the bits and pieces you'll never see from the outside, but make all the difference while on the road, such as an active torque split AWD (standard), improved suspension, and a steering system that's been adapted from the WRX for more precise and hands-on driving.
Bringing Back the RS
Yes, you read that correctly. For anyone who's been a fan of the Subaru Impreza over the years, you will immediately recognize the RS badges. These two letters stand for more performance and power—not quite to WRX levels, but at least a boost over the base models.
For 2024, Subaru is bringing back the 2.5-litre BOXER engine, only available in the RS and top-line Sport-Tech models. This engine will produce 182 horsepower and 178 lb-ft. of torque. My Impreza-loving heart flutters as my '06 Impreza had that "same" 2.5L BOXER, albeit not as technologically advanced or sophisticated and with slightly less horsepower.
Also unique to the RS are 18-inch dark metallic alloy wheels, RS badging, simulated carbon-fibre accents and red-stitching inside, as well as aluminum alloy pedals and a black headliner.
Of course, the 2.0-litre mill remains in the lineup, producing 152 horsepower and 145 lb-ft. of torque. And for the new generation, the gas tank has been increased from 50 litres to 63 litres.
As is the case across most manufacturers, gone are the days when we get to row our own gears. None of the 2024 Impreza models offer an optional manual gearbox, not even the RS. In its place is a CVT that offers better fuel efficiency and the ability to "shift" via paddle shifters through eight simulated gears if you feel the need while driving.
Naturally, all models are equipped as standard with Subaru's incredible symmetrical all-wheel drive system, which definitely sets the Impreza apart from its direct competition, mainly the heavy-hitting Honda Civic and Toyota Corolla.
Tech-y Tidbits
We're not finished yet. The 2024 Subaru Impreza gets a boost in interior features including wireless Apple CarPlay and Android Auto integration and a wireless charging pad, both as standard. An 11.2-inch, tablet-style touchscreen is available.
The fourth generation of EyeSight will also be part of the mix on top models, offering up improved visibility with a standard wide-angle mono camera. DriverFocus will be available for the first time in the Impreza. It's a feature designed to help keep you focused on driving, alerting you when your eyes close too often or when you turn your head away from the road too often. It also means that driver profiles can be saved via your face. That's right: the car "sees" you as you get in and can immediately set your seat position, driver settings, radio settings and more.
Availability and pricing for the 2024 Subaru Impreza will be announced in the coming months. We'll keep you posted as soon as new details emerge.
Share on Facebook