2022 Porsche Cayenne Turbo GT: A Real Rocket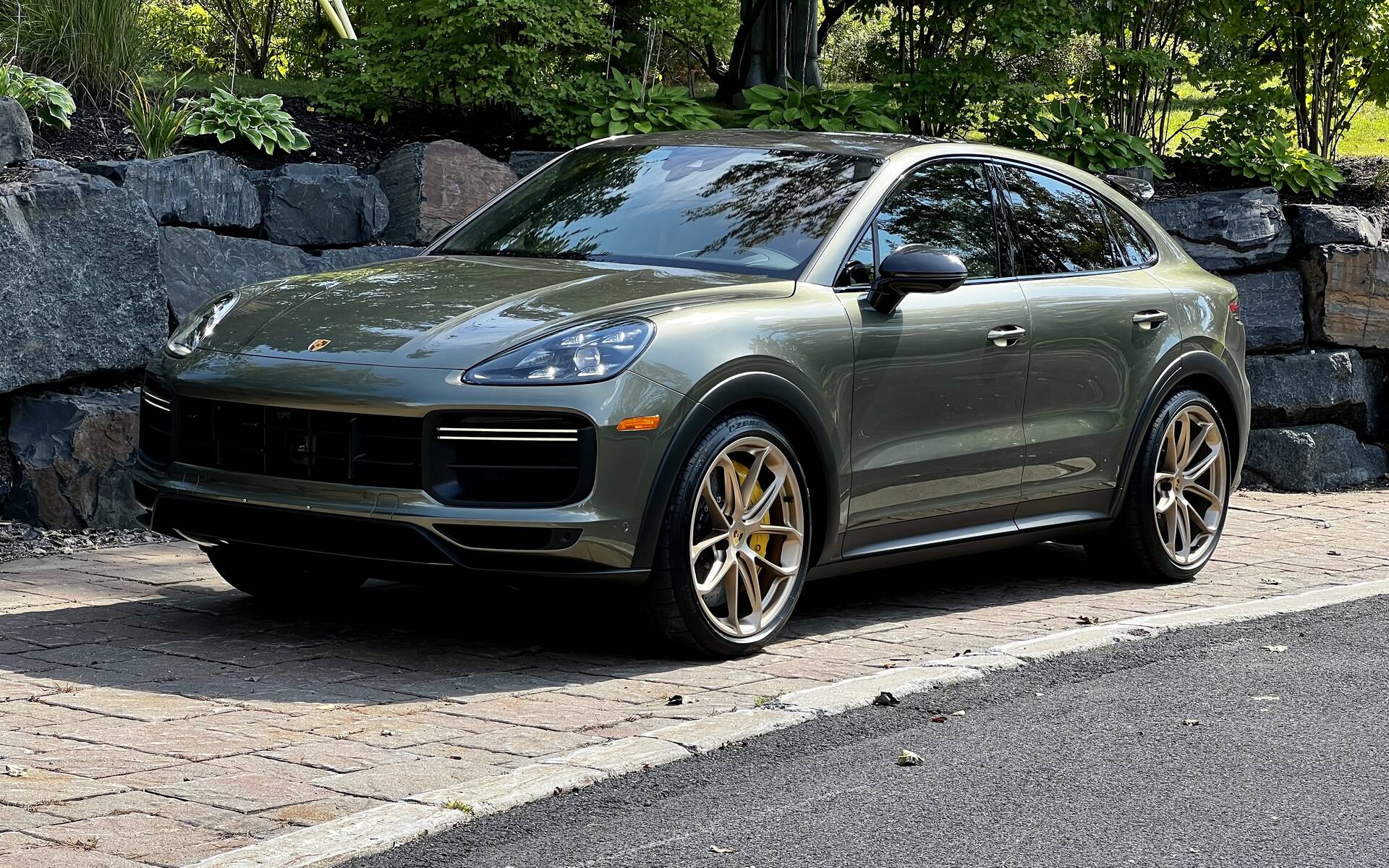 Strong points

Phenomenal power
Super-sporty dynamics
Fantastic exhaust note
Great tires

Weak points

Dizzying price
Expensive options
Heavy weight
Poor fuel economy
Full report
Nineteen. That's how many Porsche Cayenne models you'll find in the Canadian lineup with the addition of the new Turbo GT, which is exclusively available in Coupe configuration. Of course, we're used to such generous selection, with the 911 and Panamera offering a whopping 23 and 24 models, respectively.
Now, consider the many different packages and optional accessories, which always figure into the German automaker's business model, and you get the recipe for making your Cayenne absolutely unique in the world.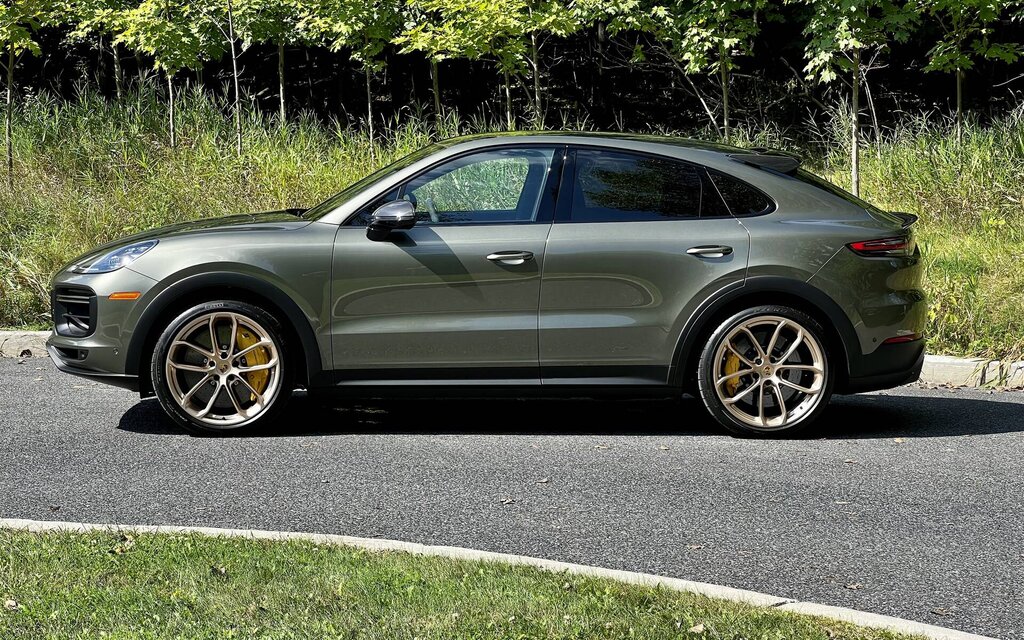 Brawnier and Louder
The 2022 Porsche Cayenne Turbo GT slots between the 541-horsepower Turbo and the 670-horsepower Turbo S E-Hybrid. Using a twin-turbocharged 4.0-litre V8 engine, it delivers 631 horsepower and 626 pound-feet of torque, accelerating from 0-100 km/h in a mere 3.3 seconds with the Sport Chrono Package. The Cayenne Turbo GT is therefore half a second quicker than the heavier Turbo S E-Hybrid.
Why isn't it called Turbo S? After all, this model is purely ICE-powered. Porsche's management decided to go with the Turbo GT moniker to mark a clearer distinction with the plug-in hybrid variant at the top of the range.
Engineers increased the twin-turbo engine's boost pressure to 23 psi, while the titanium sport exhaust is devoid of a centre muffler but equipped with active flaps. The result is a fantastic sound coming out of the centrally mounted tailpipes.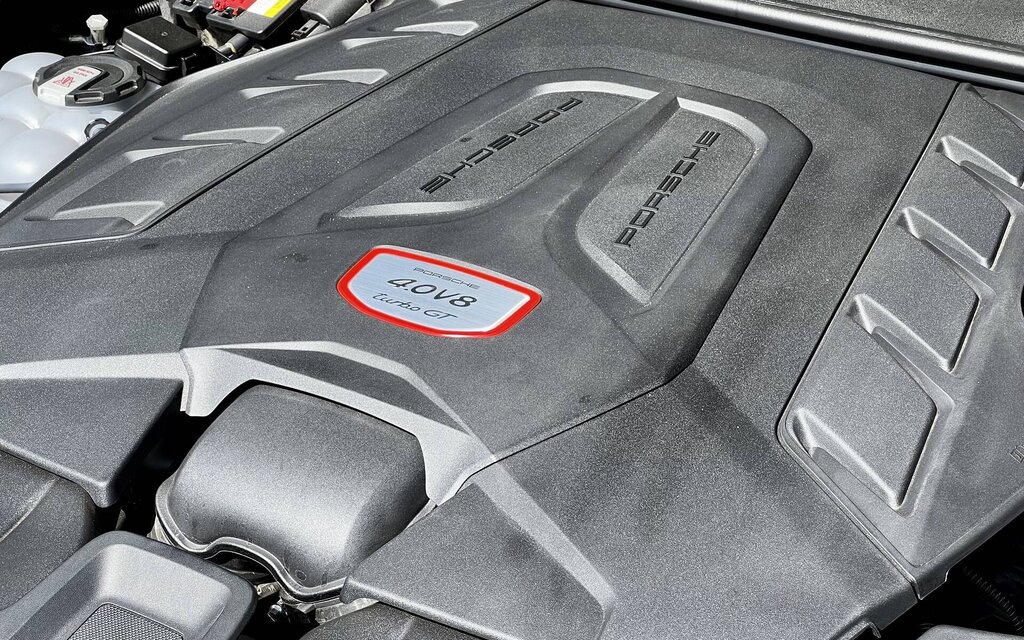 Lower and Firmer
The racier character of the 2022 Porsche Cayenne Turbo GT is accentuated by a drop of 17 mm in ride height compared to the Cayenne Turbo, revised geometry (negative camber has been increased by 0.45 degrees), 15-percent stiffer air suspension in Sport+ mode, Porsche Ceramic Composite Brake discs and specially developed Pirelli P Zero Corsa tires on 22-inch alloy wheels.
On slick pavement, the Turbo GT is a real joy to drive, displaying impressive precision and responsiveness for a luxury SUV that weighs more than two metric tons. Remarkably, body roll in corners is almost completely eliminated thanks in part to the active sway bars.
Also deserving credit is the four-wheel steering system making the Turbo GT very nimble, along with a rear-biased AWD system. Then there's this: a red Sport Response button within the drive mode selector on the steering wheel. When pressed, engine and transmission response is dialed up for 20 seconds. The downside to all of this is a firm suspension that turns rough or bumpy roads into a much less pleasant experience, making you feel every little imperfection along the way.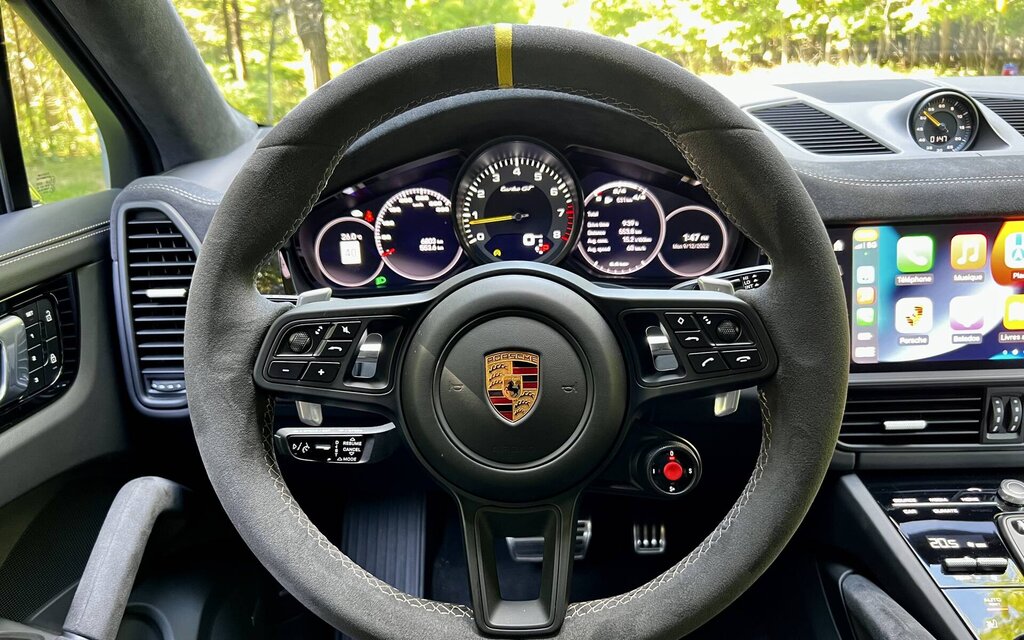 Wicked Looks
The Cayenne Turbo GT stands out with a unique front fascia that incorporates larger air intakes, a carbon roof reducing weight by 22 kilograms while lowering the vehicle's centre of gravity, and a black finish for the rear diffuser and wheel arches. Believe it or not, the handsome Light Oak Green Metallic body on our tester is a $13,050 option. Oh, and those 22-inch Satin Neodyme wheels are not too shabby, either.
The Turbo GT interior is largely appointed in Alcantara and features a multifunction sport steering wheel with a yellow top centre marker. The front seats provide excellent support in corners. Porsche's new PCM 6.0 infotainment system is part of the mix, too, but while Apple CarPlay integration is wireless, Android Auto users must still plug a USB cable.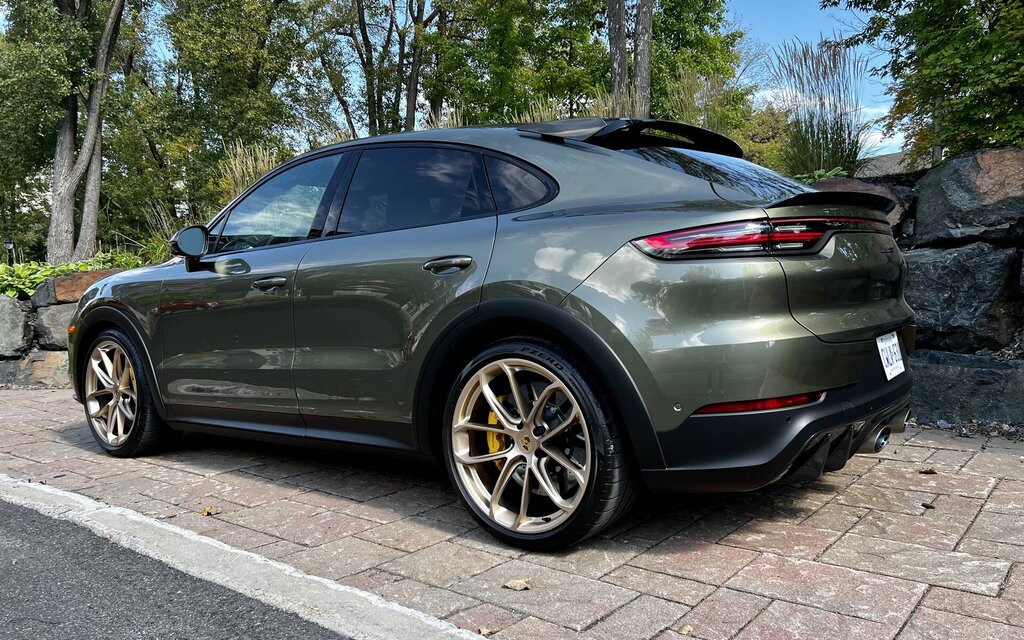 Our Verdict
With wicked looks and exceptional dynamics, the 2022 Porsche Cayenne Turbo GT is a hardcore, track-loving SUV for customers who enjoy sporty driving first and foremost. It naturally has a price to match, starting at $200,700 and climbing all the way up to $228,910 in the case of our tester. Incidentally, this four-wheel rocket lapped the Nürburgring in a time of 7:38:09 with Lars Kern behind the wheel, showing how even SUVs can duplicate the feats of world-class sports cars. 
Share on Facebook