2023 Honda CR-V: The RAV4 Can Rest Easy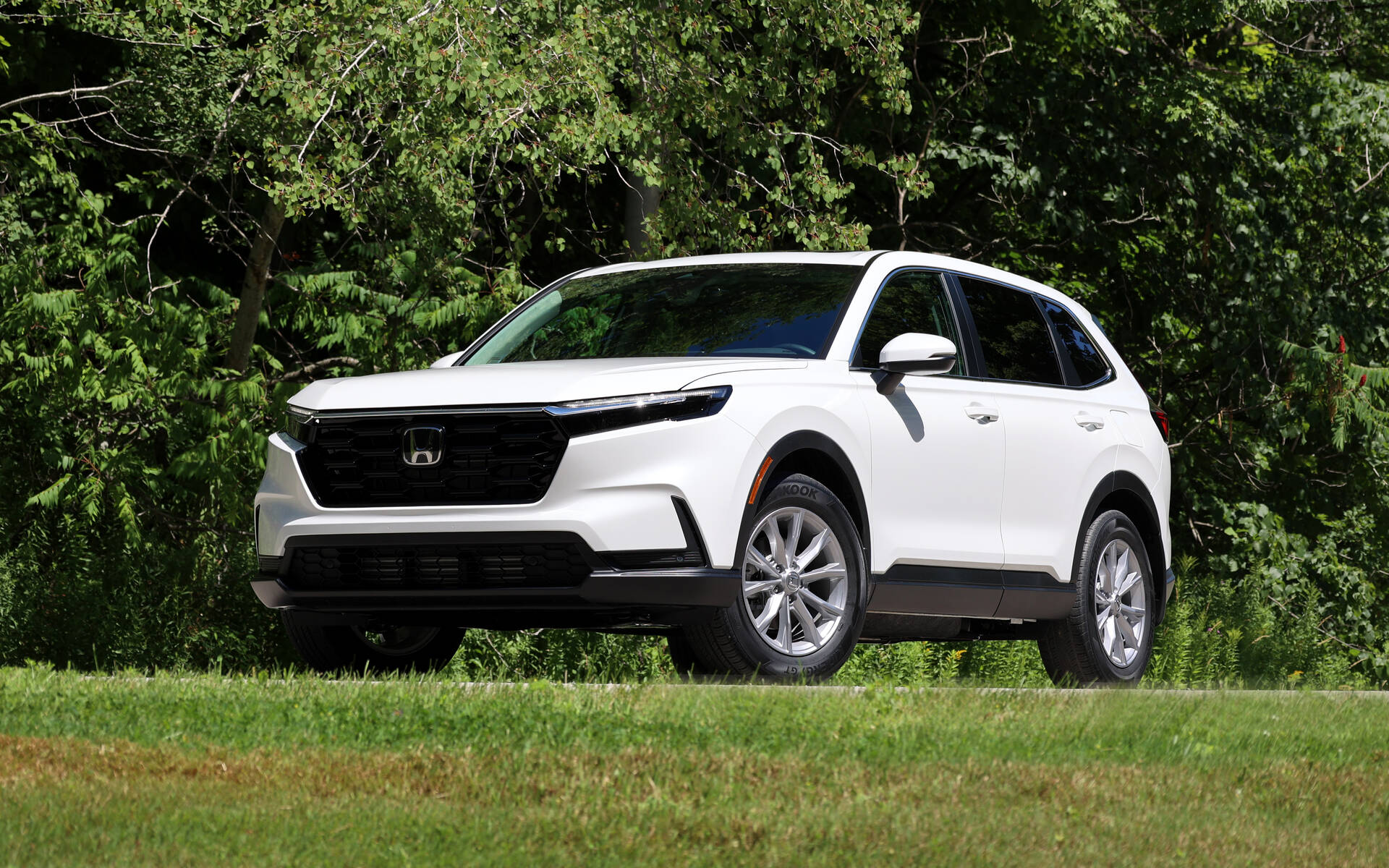 Strong points

Superb driving experience
Improved noise insulation
Fantastic interior layout

Weak points

High price
Generic looks
Hybrid tech on top-line Touring only
No plug-in hybrid variant
Full report
Built in Alliston, Ontario alongside the Civic, the CR-V is now the Japanese automaker's most popular vehicle. Last year alone, Honda Canada sold 50,935 units of its compact SUV—about 7,000 more than the Civic, but 11,000 fewer than the Toyota RAV4, which is also manufactured locally.
Despite supply chain issues that just won't go away, Honda is committed to increasing its North American production. In fact, with the Insight and Clarity both retiring, 2023 will be the first year that all of Honda's products for Canada and the U.S. are built outside of Japan.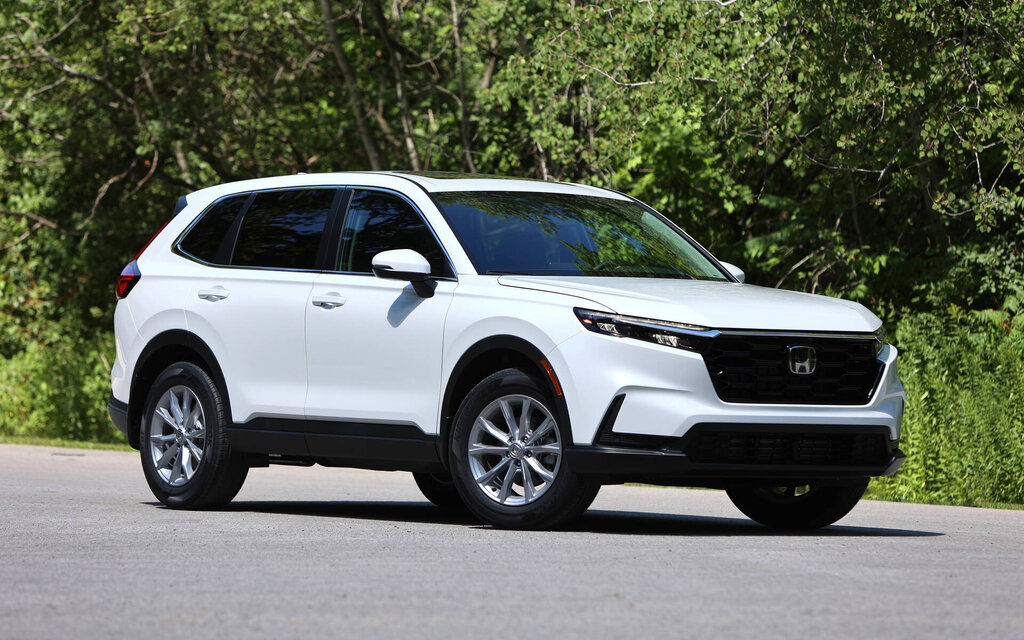 How Much?
Honda has denied Canadians a hybrid variant of the CR-V for too long, supposedly because the U.S-made model would have been too expensive to bring here. But now that the new generation has arrived and the CR-V Hybrid is also assembled north of the border, you would think that Honda can sell you one at a good price. Sadly, you're wrong.
Pricing for the 2023 Honda CR-V ranges from $36,740-$50,840 including freight and PDI. Each trim level is up more than $3,000, making the CR-V a seriously expensive compact SUV. Do the many changes and upgrades made by Honda justify those hikes?
First of all, no one will be impressed by the available content of the new CR-V. Forget about a panoramic sunroof or ventilated seats. You must select the EX-L model at $45,340 to get wireless Apple CarPlay and Android Auto, wireless smartphone charging and a nine-inch touchscreen instead of the standard seven-inch display. The conservative-looking instrument panel retains an analogue speedometer, and the fact there's no 360-degree camera is disappointing.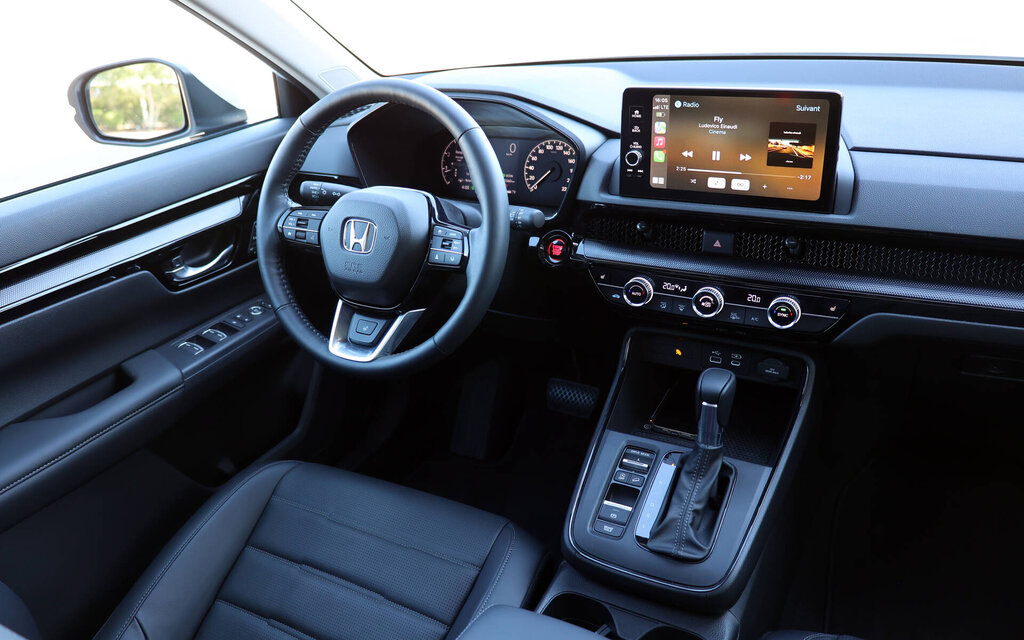 In terms of styling, the evolution is nice but not spectacular. There's a Sport model that stands out with a unique front fascia, black wheels and roof rails plus a few other extras. Although it fails to get your pulse going, the new CR-V's design will likely age more gracefully than its predecessor. Inside, Honda also took a prudent approach, mirroring the Civic interior and offering black as the lone colour choice.
Unsurprisingly, at a time when compact SUVs keep getting dangerously close to their midsize counterparts, the 2023 Honda CR-V is 67 mm longer that it used to be, and similar to the Mitsubishi Outlander and Volkswagen Tiguan size-wise. And yet trunk capacity is down a few dozen litres to 1,028 litres, or 1,112 litres if you lower the load floor. It's still an exceptionally versatile vehicle. Wider-opening doors and rear seats featuring eight angles of recline improve access and comfort, not to mention the installation of booster seats.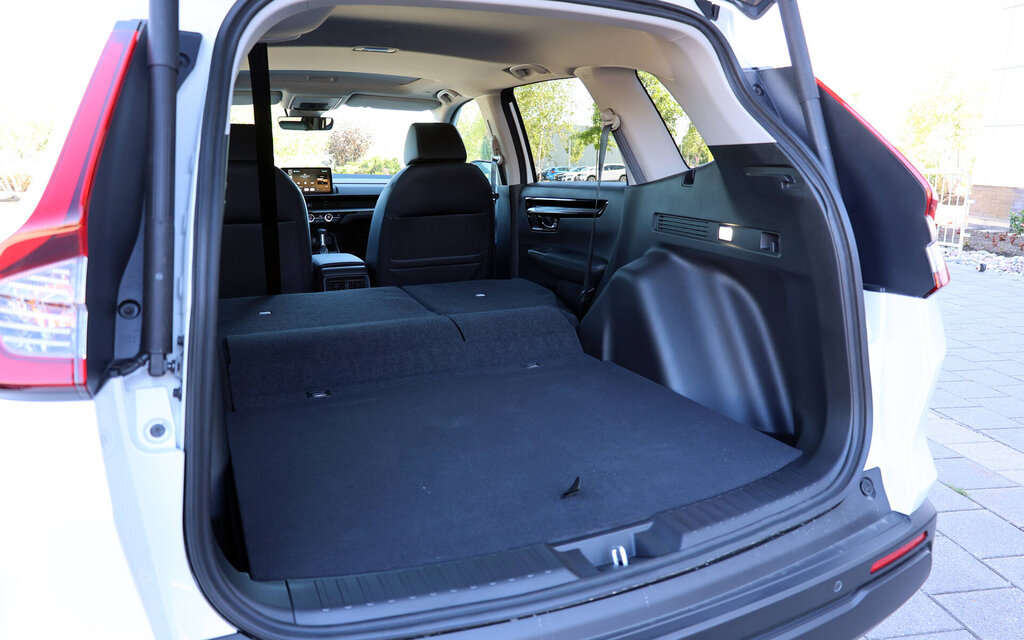 Five Models
Honda Canada offers a selection of five CR-V models for 2023 (while the RAV4 has a dozen). The base LX FWD accounts for less than 10 percent of CR-V sales in the country. You must spend an extra $2,800 to get all-wheel drive. Next up is the Sport, then EX-L (as tested) and finally Touring Hybrid.
The first four boast the same turbocharged 1.5-litre engine that's still rated at 190 horsepower and mated to a continuously variable transmission. The latter does a great job overall, but the little engine will scream if you push it hard, although throttle response is improved and the cabin is quieter now. As a matter of fact, the noise reduction work performed by Honda engineers is definitely one of the highlights of the new CR-V.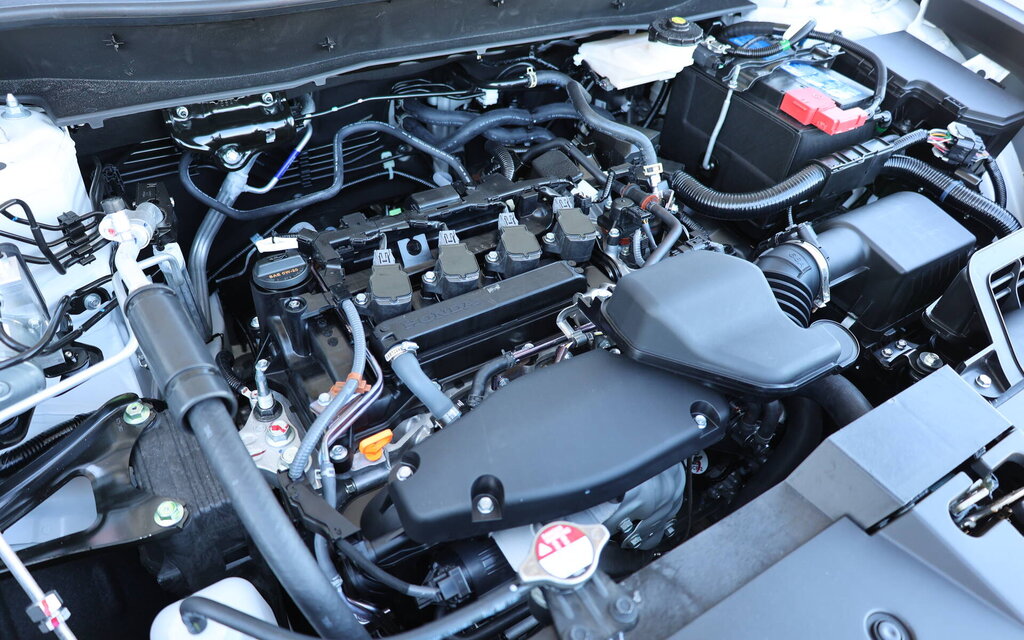 Available later this fall, the Touring Hybrid is the only model to feature a gas-electric powertrain, which is a shame (U.S. customers have two hybrid models to choose from). We're sad to report it's slightly less efficient than the RAV4 Hybrid at 6.4 L/100 km combined (vs. 6.0 L/100 km) and also less powerful at 204 hp (vs. 219 hp). Fuel economy is approximately 20 percent better than with a turbocharged CR-V, and the AWD system doesn't need a driveshaft.
Speaking of which, Honda's Real Time AWD system has been updated and can now send up to 50 percent of the engine's torque to the rear wheels. Also, the CR-V features Hill Descent Control for the first time, while a new Snow mode maximizes available traction in slick snowy conditions (something we obviously couldn't validate in the middle of September).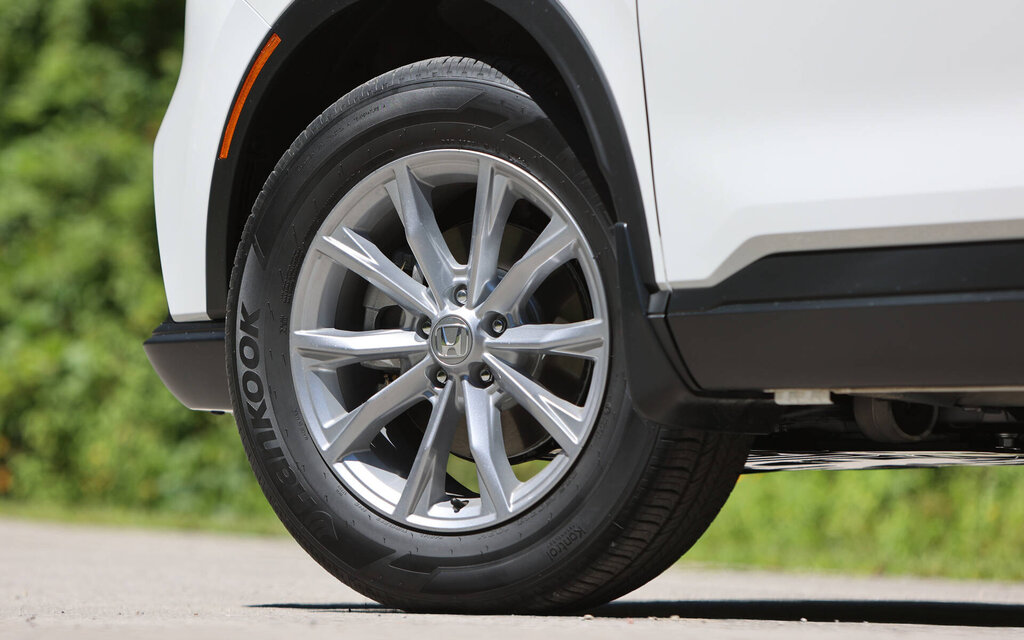 A Place to Relax
Similar to the Tiguan or a Volvo XC90, the 2023 Honda CR-V is desperately lacking character. On the plus side, it offers families a smooth and confident driving experience along with remarkable active and passive safety attributes, a fantastic interior layout and comfort levels that are way above those of its predecessor. As mentioned earlier, noise insulation is so effective that the new CR-V feels like a luxury SUV. The seats are vastly improved, too—you just can't get tired in them. What's more, steering is ultra-precise and the suspension benefits from wonderful calibration.
Granted, the CR-V is not as spirited or sexy as a Mazda CX-50, and clearly not as fun. But you know what? It's a great place to escape the daily grind—comfortable, easy to drive, versatile and surefooted. Oh, and the 18-inch wheels on turbocharged models may not look super-sharp, but they sure make more sense than the 20-inch units on the Outlander and CX-50.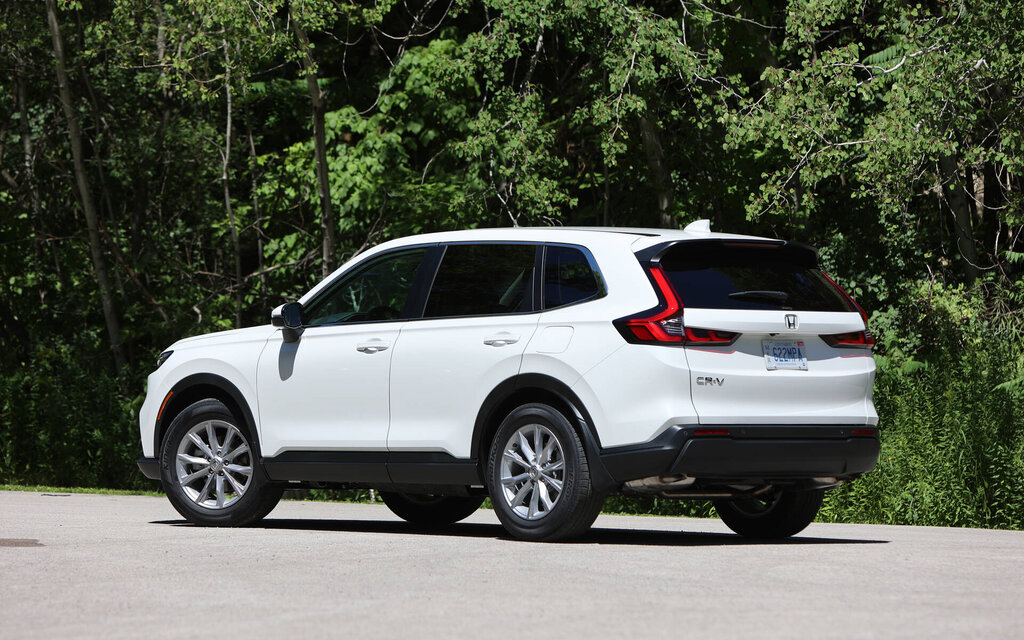 Disappointing Hybrid
Toyota will sell you a RAV4 Hybrid for about $36,000. Hyundai's Tucson Hybrid starts at around $42,000, while a Ford Escape Hybrid retails from $38,000. All three are more reasonably priced than the CR-V Touring Hybrid, which tops $50,000 as mentioned earlier. Sure, it's loaded with gadgets and amenities, but many potential customers simply want a more fuel-efficient alternative that will save them money. Also, unlike the competitors listed just above, there is no plug-in hybrid variant of the CR-V.
Incredibly, Honda Canada expects most CR-V buyers to choose the hybrid model—though not at first since availability will be limited for 2023. As production ramps up, look for the technology to trickle down to other models, eliminating some gas-powered options in the process.
We're curious to see what proportion of the CR-V's customer base will remain loyal to this compact SUV. In spite of the new design and many improvements, the price hikes combined with higher rates for leasing and financing are likely going to scare off quite a few people. Who wants to pay up to $900 a month over four years to lease a 2023 Honda CR-V?
Watch: 2023 Honda CR-V Makes Official Debut
Share on Facebook