This C5 Corvette Turned Off-Roader Could be Yours For Small Bucks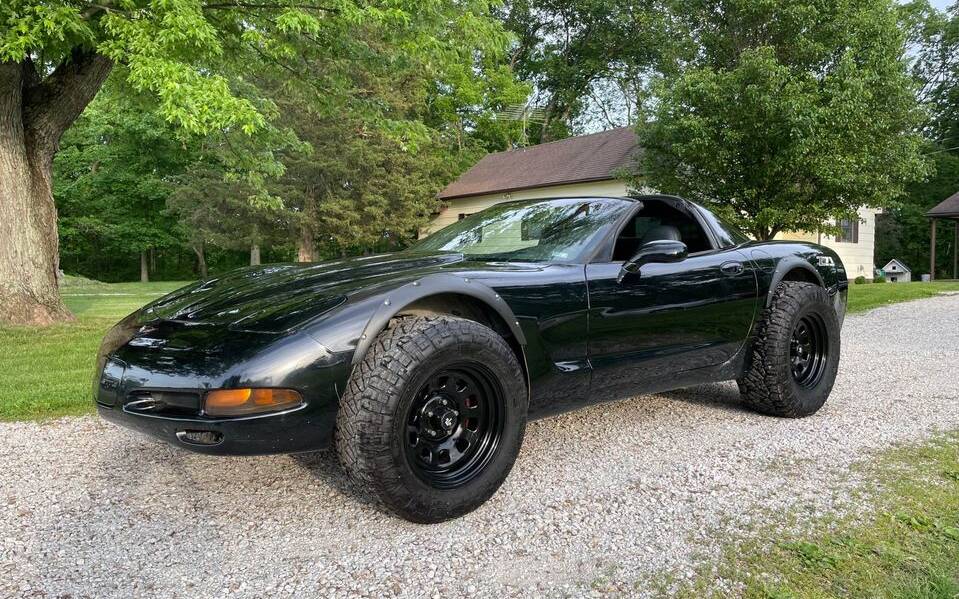 Fans of the Chevrolet Corvette and off-road vehicles now have a golden opportunity to combine their two passions for a small amount of money.
A tuning enthusiast in Illinois, who specializes in Corvette conversions, is selling on Marketplace a fifth-generation (C5) 1999 Corvette built to venture far away from paved roads and tackle all kinds of terrains and obstacles.
Featuring a 5.7-litre V8 engine and six-speed manual gearbox, the car is jacked up four inches and rides on 33-inch Nitto Ridge Grappler tires. That's the same tire size as a Jeep Wrangler Rubicon or Ford Bronco Badlands, by the way. The fenders had to be chopped in the process and those in the rear wear "Z71 off-road" decals as if the work came straight from the factory and received Chevy's seal of approval.
The suspension is revised, now complete with coil-over springs. Wheel alignment needed to be adjusted, as well. Overall, this doesn't look like a botched job, and the following video shows the many surprising capabilities of the modified C5 Corvette:
Of course, the car is slower (0-100 km/h in about seven seconds instead of five with the original), but everything else is pretty impressive.
That includes the asking price of just $8,500 USD, which is the equivalent of $11,000 CAD at the current exchange rate. The listing is still live at the time of writing, so go take a look. Or you might want to wait a few more months: the seller says he's going to get his hands on yet another, newer Corvette (likely a C6 or C7) and perform a similar build.
Watch: 2023 Chevrolet Corvette Z06 Debuts With 670 Horsepower
Share on Facebook