Upcoming Ford Bronco Raptor Looks Beefy in New Pics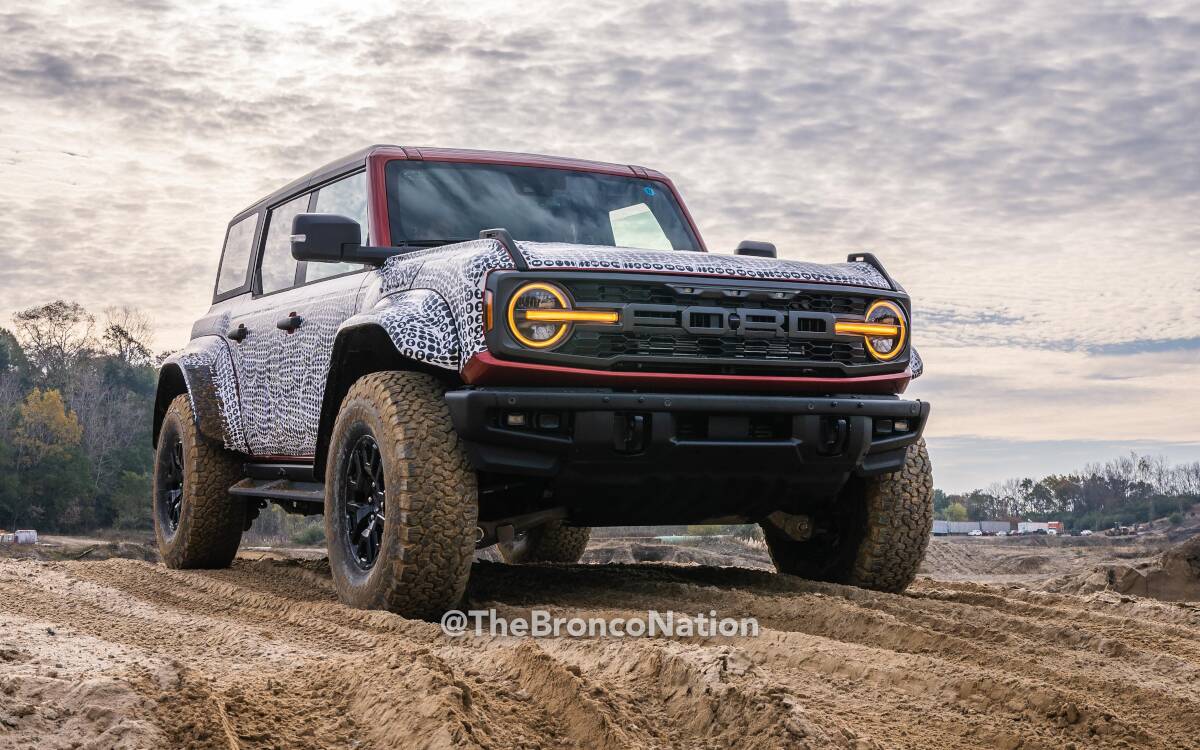 Ever since Ford confirmed the debut of the Bronco Raptor sometime in 2022, the buzz around the high-performance variant of the rugged four-wheeler has only gotten bigger. While the automaker shared a brief teaser in a video posted on Twitter in September, enthusiast website Bronco Nation had unique access to the vehicle following the SEMA Show and today gives us our best look yet.
What you see here are official pictures of the upcoming 2023 Bronco Raptor under light camouflage. One thing's for sure: it looks massive.
Similar to the F-150 Raptor, the model gets a beefed-up suspension with Fox Live Wire dampers increasing travel and ground clearance. Of course, it's impossible to miss the 37-inch BFGoodrich K02 all-terrain tires (35-inch tires may come as standard) under the widely flared fenders that add even more muscle to the Bronco Raptor.
In true Raptor fashion, the front grille sports big "FORD" lettering instead of the Bronco name found on other models. We saw in the previous video that the contrasting finish on the grille surround is also found on the fender flares. Meanwhile, the headlights boast an amber-coloured signature.
Now, what could possibly be under the hood? The most powerful Bronco right now uses a 2.7-litre EcoBoost V6 that produces 330 horsepower and 415 pound-feet of torque when fed with premium gasoline. Is there any hope of matching the new Jeep Wrangler Rubicon 392, whose 6.4-litre HEMI V8 cranks out 470 horsepower and 470 pound-feet of torque, sprinting from 0-100 km/h in just 4.5 seconds? Ford aficionados would love that, but we'd be surprised if that was the case.
Further information about the 2023 Ford Bronco Raptor will be gradually announced as we get closer to the official reveal in 2022. Stay tuned!
Watch: All-new Ford Bronco is "Built Wild"
Share on Facebook