Montreal, Toronto Among Worst Cities for EV Range
Range is critical for mass adoption of electric vehicles. Of course, not all EVs are created equal, and not all parts of the globe will allow you to travel the farthest possible distance with a fully charged battery.
We know that climate and road conditions can significantly affect the battery capacity of an EV. A study posted by carinsurance reveals some of the best and worst cities in the world to drive an EV, and Montreal and Toronto sadly yet unsurprisingly belong to the second group.
The ranking of 75 global cities is based on the performance of a Tesla Model 3 Standard Range when accounting for the average annual temperatures using Geotab's Temperature Tool for EV Range.
Sydney (Australia), Los Angeles (USA) and Athens (Greece) are tied for first place when it comes to getting the most range out of a Model 3, with an average of 351 kilometres. Lisbon (Portugal) and Mexico City (Mexico) round out the top 5 with an average of 349 and 346 kilometres, respectively.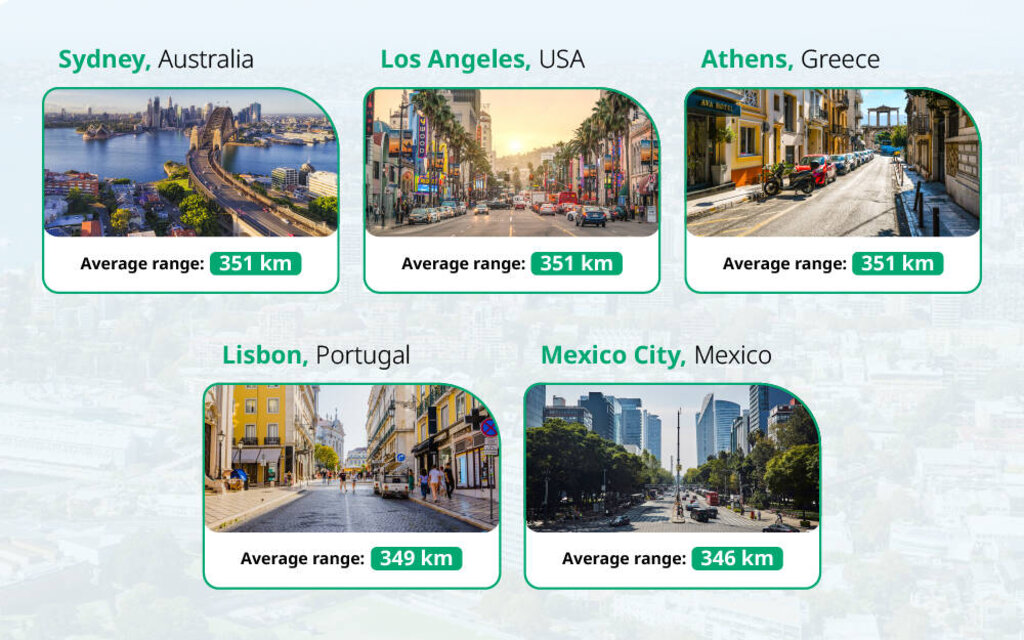 On the flip side, the worst places to run an EV are found in Northern climates. In Reykjavík/Kópavogur (Iceland), a Model 3 driver can expect to travel just 296 kilometres on average with a full battery. Next up are Tartu (Estonia), Oslo (Norway) as well as Helsinki and Espoo (Finland) with 307 kilometres.
Six other cities including Montreal fare marginally better in terms of EV range, averaging 313 kilometres. Toronto (321 kilometres) is the only other Canadian city in the study, which considered the two most populated cities from each of the OECD member nations.
According to Geotab's analysis, the ideal operating temperature to get the most range out of your EV is 21.5 degrees Celsius. At this temperature, EVs are achieving on average 115 percent of their rated range. You can click on the link above to see how various EV models are affected by temperature.
Share on Facebook